/
Holiday
/
Walking Wellness Nepal
Kathmandu, Nepal, Pokhara, Annapurnas | Walking & Trekking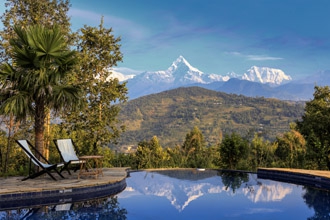 Grade:

?

Gentle

Suitable for people who enjoy easy-paced walks or exploring the countryside on foot.

Find out more...

Gentle

Duration: 11 days from the UK
Walks on: 5 days
Flight inclusive from £3440, Land only from £2495
Escape the stresses of daily life and relax in some of the Himalaya's best boutique hotels with gentle walks and wellbeing activities to revive mind, body and spirit.
Highlights
Enjoy gentle walks in stunning scenery with guides who will introduce you to Nepal's culture, wildlife and flora.
Join yoga/meditation classes suitable for all levels, and relax in inviting spas with infinity pools.
Enjoy a range of uplifting activities, from salt therapy to pottery, at Dwarika's Dhulikhel resort.
See the sun rise over the snow-capped Annapurnas on a dawn boat ride in Pokhara.
Explore the ancient Newar city of Bhaktapur in the Kathmandu Valley
Stay in four of the best boutique hotels in Nepal, with excellent wellness facilities.
Reviews
The early morning magic of a Himalayan dawn followed by the most delicious breakfast, a calming hour of meditation and then a gentle walk through brilliant green terraced fields and pretty Newari villages. I have never felt so serene and at one with the world. When can I go back?!
Jude Limburn Turner, Mountain Kingdoms
Next
Featured in the Independent as one of the top 5 places to go on holiday this May.
Nepal's natural beauty makes it the perfect place for a wellness holiday; no-one can fail to find serenity watching dawn break over the Himalayas. A fantastically rich culture and a heritage which combines ancient Hindu and Buddhist traditions, provide the perfect environment for relaxation, reinvigoration and reflection.
After a night in the wonderful Dwarikas heritage hotel in Kathmandu you fly to lakeside Pokhara where on a clear morning the mirror-like waters of Phewa Tal perfectly reflect the surrounding peaks. Staying in a lush valley just outside town you will walk through the beautiful rural countryside, enjoy a Hatha yoga class, take a dawn boat ride on the lake and relax in the pool and spa. Moving on up into the foothills of the Annapurna's you explore picturesque hill villages on foot and enjoy the seclusion of your Himalayan hill-top retreat here with its delicious organic food and spectacular mountain views. Mornings are spent bird-watching or practicing yoga, suitable for all levels.
Your final holistic eco-resort in hilltop Dhulikhel is a veritable temple to well-being complete with panoramic mountain views; sunrise and sunset are magical. There is superb range of wellness resources here which you can enjoy as part of the holiday; choose from crystal and salt therapies, yoga and meditation groups, pottery or traditional Nepalese art classes. A guided walk through terraced fields takes you to the lovingly tended organic farm which supplies the resort. Learn about the challenges of organic farming in the Himalaya and discover some enterprising eco-initiatives which include a greenhouse built entirely of plastic bottles and chicken-house lit by recycled glass bottles!
There is time for a last morning of well-being activities in Dhulikhel before the drive to Kathmandu airport via the ancient city of Bhaktapur. Here you will stop to walk the 15th century streets, explore ancient Newari temples and palaces and admire the artistic skill of the local people who are famous for their skill in painting Buddhist thankas.
Alongside the easy walks, a yoga class, suitable for all, is included at each of the Himalayan resorts. And to complement your wellness activities each resort offers delicious food – fresh, seasonal and produced using the best local ingredients, usually sourced from the hotels' own organic farms or from local farmers. You will return home replenished in both body and soul, full of peace, harmony and happiness.
---
At a glance
Duration: 11 days from the UK
Walks on: 5 days
Max. Altitude: 1,700m/5,578ft, Dwarika's Resort Dhulikhel,
Guaranteed to run for a minimum of 4 clients
Maximum group size: 8
Land only joining city: Kathmandu
Accommodation types: Boutique hotels
Meal arrangements: As indicated in itinerary, 8 breakfasts, 5 lunches, 7 dinners
Itinerary overview
| Day | Activity |
| --- | --- |
| 1-2 | Fly to Kathmandu. Transfer to Dwarika's Hotel, Kathmandu. |
| 3-4 | Fly to Pokhara. Transfer to The Pavilions Himalayas, Pokhara for gentle walks, yoga/ meditation, spa and Pokhara visit. |
| 5-7 | Dawn boat ride. Transfer to Tiger Mountain Pokhara Lodge for 3 nights, with village walks, birdwatching and yoga. |
| 8-9 | Fly to Kathmandu and transfer to Dwarika's Dhulikhel. 2 nights at Dhulikhel with wellbeing activities, spa and farm walk. |
| 10-11 | Bhaktapur sightseeing. Transfer to airport for evening flight. Arrive UK. |
| | |
Leader: Local Leaders in Resort
Your holiday will be led by the appropriate experts in each resort. All speak excellent English and are professionally trained.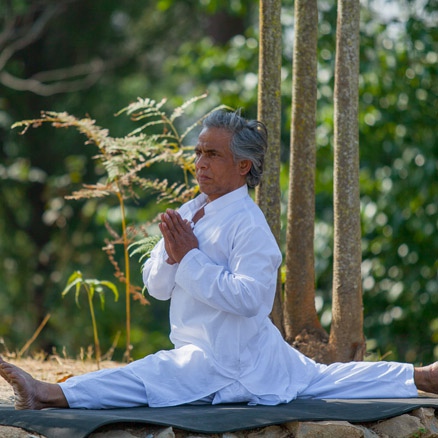 ---
Holiday Itinerary
Day 1 - Fly London to Kathmandu
Depart London on your overnight flight to Kathmandu.
Overnight: In flight
Day 2 - Arrive Kathmandu. Group transfer to Dwarika's Hotel. Relax at Dwarika's, Kathmandu.
On arrival you will be met and transferred to Dwarika's Hotel, a lovely place to stay with its beautiful courtyard garden and pretty swimming pool. This delightful heritage hotel is built in local palace style and is furnished with Nepalese furniture, carvings, statues and other works of traditional art. It is a peaceful haven away from the hub-bub of the city and an excellent place to unwind after your flight from London. Depending on your arrival time you may have time to visit the spa for a massage or other treatment or have a swim in the attractive pool. Dwarikas has several excellent restaurants including the wonderful Krishnarpan Restaurant, renowned for its traditional Newari cuisine served in local style. This restaurant serves great food and has a fantastic ambience.
Overnight: Dwarika's Hotel, Kathmandu
Day 3 - Fly to Pokhara and transfer to your hotel.
After breakfast you will be driven to the airport for the short domestic flight to Pokhara, Nepal's second city. Pokhara has a wonderful location, being set on the banks of picturesque Lake Phewa Tal and enjoying magnificent views of the Annapurna range of mountains.
On arrival you will be taken to the Pavilions Hotel, just outside Pokhara. The Pavilions is a luxury resort set in in a tranquil rural location amid paddy fields and enjoying the most fabulous mountain views. The hotel is wonderfully quiet and peaceful, an oasis of calm that makes it a great place to relax.
Facilities at the resort are excellent and include a lovely infinity swimming pool and a spa. The beautiful rooms are set in garden villas and are large and comfortable, all having whirlpool baths, separate rain shower cubicles, enormous beds and offering wonderful hand-made soaps and shampoos made with herbs from their own garden.
The Pavilions Himalayas prides itself on its environmental credentials and is considered one of the most eco-friendly hotels in Asia with solar photovoltaics, solar water heaters, rainwater harvesting, greywater and blackwater recycling systems, biogas generation and heat pumps. In addition most of the delicious organic food served in the restaurant is grown on their own farm or is bought from local producers.
From the resort it is just a short drive to explore Pokhara and there are pleasant walks from the hotel in addition to all the facilities of the spa and wellness centre. The philosophy of the hotel is that your visit should be a retreat from daily life, with an opportunity for some pampering, leaving you with a feeling of wellbeing and peacefulness. Personal yoga and meditation classes are available while in the spa trained therapists can provide luxurious treatments using custom-made products. In addition the hotel offers cookery classes, tours of their organic farm and walking and birdwatching.
In the afternoon or evening you will have a group Hatha yoga/meditation class (included) and later enjoy a delicious dinner in the beautiful dining room.
Overnight: The Pavilions Himalayas, Pokhara
Day 4 - In Pokhara, guided walk - 2-4 hours. Visit to the lakeside.
On a clear day, there are astounding views of the Annapurna range of mountains from the hotel terrace, including famous Machhapuchare or 'Fishtail' Mountain. It is well worth while getting up early to see sunrise on the mountains, as the moment when the first flush of pink colours the peaks the view is truly stunning; you might ask the hotel reception to arrange an early morning call for you so that you do not miss it.
After breakfast, you will head out for a walk with a guide from the lodge through beautiful rural countryside. Your guide will discuss the various walk options with you; these include a visit to the nearby village of Chisapani, further afield to the village of Khalse or a longer walk up to Shanti Stupa (the World Peace Pagoda) and back.
Later you will be driven into Pokhara to visit the lakeside area for lunch and some free time in town. The lakeside in Pokhara is the tourist centre of town where you will find hotels, cafes, bars, restaurants and countless shops and road side stalls. It is a great place for souvenir hunting and people watching. If you fancy venturing further afield you could visit the centre of town to see the Mountaineering Museum which has interesting displays on expeditions in the Annapurna Range and on the mountain people living in the region.
Later you will be brought back to the hotel with time to enjoy an additional treatment or class (payable locally) or just to relax by the pool and soak up the sublime setting.
Overnight: The Pavilions Himalayas, Pokhara
Day 5 - Dawn boat ride on Phew Tal. Transfer to Tiger Mountain Pokhara Lodge. Village walk - 2-3 hours.
Another chance to see dawn over the mountains as you head off early for a boat ride on the lake. Weather permitting, on this excursion you will enjoy wonderful views of the not so distant mountains and of the terraced hillsides around the lake. You can also see local people going about their daily lives along the shores; boats loaded with produce crossing the lake, water buffalo wallowing up to their noses in the water and children splashing about in the shallows. You will pay a visit to the two-storied pagoda style temple called Tal Barahi which is located on a small island and have a picnic breakfast by the lake.
Later you will drive to Tiger Mountain Pokhara Lodge in time for lunch. Tiger Mountain Pokhara Lodge is a magnificent property perched 1,000 feet above the Pokhara valley and enjoying the most stunning views of the Annapurna range. Luxury at Tiger Mountain is not in shiny fixtures and fittings, it is all about simplicity. The luxury of being able to stop and admire a magnificent view or a small flower, to breathe in the scent of the forest or enjoy an exciting new cuisine. The lodge has a central lodge, bar and dining room and the comfortable rooms are arranged in clusters of cottages resembling a Nepali village. All have attached bathrooms, private verandas and mountain views. The lovely, award-winning swimming pool reflects the distant white peaks of the Annapurna and in the spa a range of Ayurvedic and Shiatsu therapy is available as well as yoga and meditation sessions.
After lunch you will have a guided walk from the lodge. Your guide will take you through pretty countryside to visit some nearby villages, passing through fields of millet, mustard, potatoes and other crops. Along the way you will meet friendly local villagers and smiley school children on their way home from school. You might also see some of the prolific local bird life. Walking in the countryside around Tiger Mountain Lodge offers a wonderful insight into local culture, flora and fauna as well as being pleasant exercise.
Later back at the hotel you may like to indulge in a sunset cocktail on the terrace or round the fire, followed by a three course dinner.
Overnight: Tiger Mountain Pokhara Lodge
Day 6 - Early morning guided birdwatching. Guided walk with picnic lunch - 3-4 hours.
This morning before breakfast you can go on a birdwatching walk with a local guide. This area is fantastic for birdlife and on just a short walk you are sure to see an amazing variety of species. Bulbuls, Barbets, Babblers and other species typical of the middle hills of Nepal are regularly seen. The diversity of butterfly species at the lodge is impressive too with a checklist of species found in the grounds alone standing at over 275. The lodge can provide a checklist of the birds and butterflies of the area and field guides are available in the lodge library.
After breakfast on the lodge terrace you will head out for a longer walk taking a tasty picnic lunch with you. The lodge employs local guides from the community who like nothing more than taking guests out to explore the forest, farmland and villages of the area. These guides are very knowledgeable on the local culture, flora and fauna and also work together on their own research programmes, be it recording the waterfowl of the Pokhara Valley Lakes or studying the butterfly species around the lodge grounds, so you are sure to have a rewarding walk. There are many good walks from the lodge and your guide will tailor your route to suit the interests and inclinations of the group.
After returning from the walk you may wish to relax by the pool, perhaps indulge in a massage or take a private yoga session (local charge).
Overnight: Tiger Mountain Pokhara Lodge
Day 7 - Yoga Class. Morning walk - 3 hours. Afternoon at leisure.
Today you will have an early morning yoga class with a local guru, suitable for all levels.
After your breakfast with a view, you will head out on another nature walk through villages, farmland and forest, returning to the lodge for lunch. The afternoon will be free for you to to relax by the pool or in the lovely lodge gardens. Or why not try an optional traditional Asian massage - Ayurvedic, Hara, Shiatsu or Reiki massage are all available.
In the evening you will have your last dinner at the lodge.
Overnight: Tiger Mountain Pokhara Lodge
Day 8 - Fly to Kathmandu and drive to Dwarika's, Dhulikhel - 1 hour. Afternoon wellness activities.
Another sunrise over the Himalayas before you say a sad farewell to the staff at the lodge and drive to the airport for your flight to Kathmandu. On arrival you will be met and driven the 20 miles or so to Dhulikhel. Dwarika's Resort in Dhulikhel is a charming holistic hotel, quite unlike any other. Set on a ridge above the town at an altitude of 1,700m/5,600ft it enjoys panoramic views of the mountains. It is the perfect place to spend your last few days in Nepal. Dwarika's Dhulikhel promises 'a Himalayan approach to wellbeing in rustic luxury'. Built almost entirely from natural materials in Dwarika's own inimitable style, the resort really does have a wonderfully relaxing atmosphere in the tradition of ancient Buddhist and Hindu beliefs.
In the afternoon you will be able to take part in some of the activities offered by the hotel, and which are included in your holiday. While at Dwarikas you will have full access to a whole range of holistic activities including: an incredible Himalayan salt room, chakra sound therapy chamber, meditation maze, group yoga session, group meditation session, group pottery session, infinity pool (equally wonderful swimming and admiring mountain reflections!), fitness centre, sauna, hot tub, garden of nine planets, art & painting session and crystal house. Time passes all too quickly at Dwarika's Dhulikhel and we recommend planning your stay to ensure that any 'must-do' activities aren't missed.
The hotel also prides itself on its tasty home-grown organic food, both western and Nepali, and served in three different specialist restaurants.
Overnight: Dwarika's Resort, Dhulikhel
Day 9 - Morning walk to Dwarika's Farm - 3-4 hours. Afternoon wellbeing activities.
Today you might like to sign up for one or more of the activities offered by the hotel: The resort offers two Chakra Sound Therapy sessions a day, at 11am and 2pm, as well as morning and evening yoga and group meditation sessions to which anyone is welcome, or you may join a pottery session, art and painting or cinetherapy.
After breakfast you will have a walk to see the hotel's organic farm at Darimbot, a walk of about 1½ hours downhill, where you will be shown round by the gardener. The farm is about 13 acres and all manner of seasonal fruit, vegetables and herbs are grown there and they also rear domestic animals such as goats, cows etc. The walk back to the hotel is uphill! If you would prefer a shorter walk you may visit the New Land Farm, a smaller farm which is located within the grounds at the top of the resort, where they also rear chickens, quails and ducks housed in an innovative building using recycled glass bottles.
In the afternoon you may take part in some of the activities offered by the hotel. Or why not explore the lush landscaped grounds, reflect on the many uplifting and affirming signs which are scattered between the trees, or laze in the sun on a swinging day-bed contemplating the distant Himalaya. Bliss.
In addition to the included activities you might also like to sign up for one of the optional extra activities such as a cooking class with the hotel chef, who will teach you to make dumplings with a dipping sauce and Nepalese masala tea, or book a massage or a therapy in the Pancha Kosa Himalayan Spa. To avoid disappointment these popular activities and personal wellness sessions should be booked on your arrival at the resort.
We recommend heading up to the glass-walled lounge at the very top of the resort for inspiring views of the pink-hued Himalaya at dawn and dusk.
Overnight: Dwarika's Resort, Dhulikhel
Day 10 - Morning wellbeing activities. Afternoon sightseeing in Bhaktapur. Group transfer to airport.
A last chance to enjoy the facilities and activities at Dwarika's Resort and then in the late morning you will drive to the town of Bhaktapur where you will have lunch and a sightseeing tour. Bhaktapur is one of the three cities built in the Kathmandu valley by the ancient Malla kings. The town is rather more laid back than Kathmandu city and has quite a rural feel to it, being a town mainly of farmers and craftsmen. The people of Bhaktapur are famous for their skill in painting thankhas, paintings on cotton or silk usually depicting a Buddhist deity, scene, or mandala. Despite a number of buildings being badly damaged in the 2015 earthquake Bhaktapur's Durbar Square area still has some wonderful examples of Newari craftsmanship in its temples and palaces. Many of Bhaktapur's buildings have their origins in the 15th Century and the side streets have a really medieval feel to them with streets being mostly brick paved. It is still very much a lived in city, and with much of it being closed to traffic walking around is a pleasure and you will get a real taste of how things must have been in medieval times.
Later you will drive to the airport to check in for your flight home.
Overnight: Departure Day
Day 11 - Arrive UK.
Map
Map Key
Airport
Point of interest
Mountain Peak
Day walk in this area
Flights
Internal Transfers
Trek
---
2021
| Dates | Availability | Land Only | Flight Inclusive from |
| --- | --- | --- | --- |
| Thu 21 Oct - Sun 31 Oct 2021 | Guaranteed | £2495 Book | £3440 Book |
Hold your place
Not quite ready to book? Why not call us on +44 (0) 1453 844400 to hold a no obligation place while you make up your mind?
---
Optional supplements
Single Room Supplement
From £965
Insurance
No Surcharge Guarantee
No surcharges will be applied to your holiday after you book. Prices on this website are updated regularly. The Flight Inclusive holiday price, or Land Only holiday price, will be confirmed to you at the time you make your booking. There will be no surcharges after your booking has been confirmed.
Flight inclusive holidays
The 'flight inclusive' holiday prices shown on this website are based upon our preferred airlines and the best priced economy class fares we are able to secure at the time of publication.
We will be able to advise on fares with alternative airlines, upgrades to Business Class, and the options for flights from regional UK airports, please contact us for more details.
Booking your holiday
For the majority of our holidays, a deposit payment of £100.00 per person is required to secure your place(s), however a small number of holidays require a higher deposit - please refer to the holiday itinerary for more details. If the holiday departs within 60 days, a minimum deposit of £750.00 per person is required.
Book now!
Book your small group holiday securely online – click the 'Book' button next to your chosen departure or visit our How to Book page
Complete and return a Booking Form available to download here.
Call us on +44 (0)1453 844400 and one of our travel specialists will talk you through the booking process.
What's included
Local English speaking guide/s in each resort
All domestic flights and transfers
1 night at Dwarika's Hotel, Kathmandu on twin share bed and breakfast basis.
2 nights at The Pavilions Hotel in Pokhara on twin share basis with gentle walks, a yoga/meditation classes, Pokhara visit and dawn boat ride. All meals at the Pavilions except lunch on Day 4
3 nights at Tiger Mountain Pokhara Lodge on a full-board twin share basis with walks, birdwatching and a yoga class
2 nights at Dwarika's Resort, Dhulikhel on half-board twin share basis with access to wellbeing facilities including yoga and meditation classes and a walk to the organic farm
Bhaktapur sightseeing
Meals as indicated in itinerary
Economy class return air fares from the UK and UK departure tax (flight inclusive only)
Single, timed group airport transfers for international flights
All road transport by private vehicle
A free Mountain Kingdoms Water-to-Go bottle
Carbon offsetting with the Ecoan Tree Planting Project (for clients taking our flight inclusive option)
Opportunity to join one of our pre-trip meets in the Cotswolds
What's not included
Travel insurance
Nepal visa fees
Dinner in Kathmandu on Day 2, lunch in Pokhara on Day 4 and lunches in Dhulikhel on Days 8 and 9
Additional optional meditation/yoga classes.
Spa treatments and therapies – book and pay locally.
Cooking class with chef and Pancha Kosha Himalayan Spa and therapies at Dwarikas Dhulikhel – payable locally.
Tips.
---
---
---
Extend your holiday
Fly within five nautical miles of Everest
As well as Everest, see views of other 8,000m giants; Makalu, Kanchenjunga, Cho Oyu and Lhotse
Flights operate in the early morning, when weather conditions are at their best.
While in Kathmandu, why not experience the spectacular sight of Mount Everest? Instead of trekking into the region to gain a good view of this must-see landmark you could see it in under an hour! We fly with either Buddha Air or Mountain Air who both operate modern Raytheon Beechcraft 1900 aircraft. These hold between 16 and 18 people and as the seating is only two abreast everyone is guaranteed a window seat. The excursion includes hotel transfers, a celebratory glass of bubbly and a certificate signed by your captain after you land.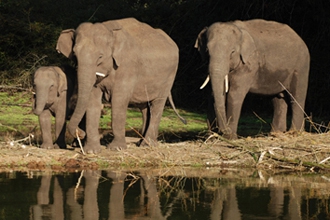 Jungle activities including an elephant experience, bird watching, rafting and nature walks
See wild elephant, rhinoceros, leopard, deer, wild boar and if you are lucky, the famous Royal Bengal Tiger
Stay at the delightful Tiger Tops Karnali Lodge situated on the edge of the park
After your adventurous time in the Himalaya why not add a relaxing Jungle Safari to your trip? The Royal Bardia National Park is situated in the west of Nepal. We use Tiger Tops Karnali Lodge, which is acknowledged to be the best lodge in the area. Bardia's remote geographic location and the fact that the lodge has only 12 rooms, lends a degree of exclusivity to the experience, in comparison to other more popular parks. From the lodge you will be able to participate in safaris and have the chance of seeing some of the country's wonderful wildlife, for instance, wild elephant, rhinoceros, leopard, deer, wild boar and if you are lucky, the famous Royal Bengal Tiger. There is also the possibility of visiting the villages of the Tharu tribal people that surround the lodge. With its abundant wildlife, relaxing lodge and first class service, our Bardia extension is an experience you will savour!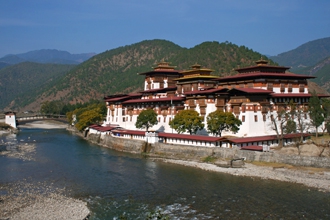 5-day cultural tour or 8-day gentle walking options available
See the main sights in Paro, Thimphu and Punakha
Bhutan is just a short flight from Kathmandu
Though only a short flight from Kathmandu, Bhutan offers a very different Himalayan experience to Nepal. Characterised by lush valleys, terraced hillsides and soaring peaks the landscape is endlessly picturesque, whilst the imposing dzongs (monastery/fortresses) and Swiss chalet style houses give each town or village a look that is distinctly Bhutanese. Here are just two options – if you would prefer something different please discuss with this office.
A taste of Bhutan - five-day cultural tour This five-day tour visits Bhutan's key sights and cultural centres including magnificent Taksang Monastery (Tiger's Nest), the beautiful riverside dzong at Punakha and the fascinating treasures housed in the National Museum at Paro. The tour will be led by a knowledgeable Bhutanese guide and accommodation is in comfortable hotels with all meals included.
A short walk in Bhutan - eight-day gentle walking and cultural tour This eight-day gentle walking trip offers the perfect introduction to some of the cultural highlights and scenic delights of Bhutan. You begin with sightseeing om Thimphu and a walk to Cheri Monastery, one of Bhutan's most historic temples before travelling over the Dochu La Pass to Punakha, the former winter capital. In Punakha you take a lovely valley walk and visit the beautiful riverside dzong. Driving back to Paro you take a pretty walk from the Dochu La through beautiful forest. You then drive up to the Chele La Pass and take the lovely walk to Kila Nunnery, before ending your trip with the walk up to Tiger's Nest Monastery, Bhutan's greatest cultural treasure and a fitting conclusion to a superb extension. You will stay in good quality, comfortable hotels throughout and all meals are included.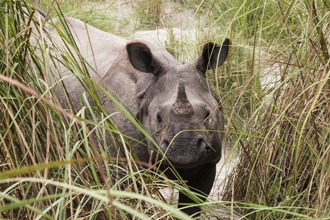 Activities include; bird watching, elephant washing, canoe ride, elephant experience, landrover safari and jungle walks
Choice of accommodation from budget to luxury
Suitable to add to any holiday flying in/out of Kathmandu
Why not extend your adventure in Nepal by visiting Nepal's jungle region for a complete contrast to the high mountains and the Kathmandu Valley. Chitwan is home to a rich and varied wildlife. Here are found wild elephant, rhinos, leopard, sambar, chital (spotted) deer, wild boar and arguably the most magnificent of cats, the Royal Bengal Tiger. You may even see sloth bear, gaur (wild cattle) and crocodiles. Chitwan is also wonderful for birdlife especially in the spring, when the jungle rings day and night to the calls of several kinds of Asian cuckoo.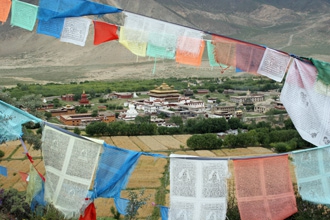 Visit some of Tibet's most important historical and cultural sites and monasteries of Tibetan Buddhism.
Offers a scenery completely different to that of Bhutan and Nepal.
Suitable to add to any holiday flying in/out of Kathmandu.
​A visit to Tibet offers an exciting extension to a visit to Nepal or Bhutan. Regular flights to Lhasa from Kathmandu make it possible to visit most of the major sights in and around Lhasa on an 8 day itinerary and a visit to Tibet will provide an exhilarating contrast to your trek or tour in Nepal or Bhutan. Tibet's high plateau offers totally different and starker scenery to that of the other Himalayan countries. Here you will see some of the most important historical and cultural sites and monasteries of Tibetan Buddhism – the Potala Palace and Samye, Ganden and Drepung Monasteries.
If taking this extension you will need to spend an extra day beforehand in Kathmandu while our agents there process your Tibet visa. They will need your passport for the day for this purpose. You need to let us know in good time if you wish to take this extension as we need to put this process in hand and send your details to the Chinese Embassy in Kathmandu well before your departure date.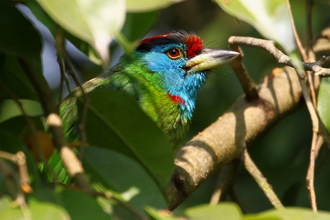 Koshi Tappu is home to over 500 species of birds
Look out for exciting wildlife like jungle cats, crocodiles and rare water buffalo
Explore the park by foot, raft and jeep
Stay in the pleasantly located Koshi Camp
Koshi Tappu Wildlife Reserve is one of the finest birdwatching and wildlife areas in all Asia. Located in south-east Nepal, the reserve covers 175 square kilometres with large expanses of open water created by the Koshi barrage, with marshes, lagoons, sandbanks and mudflats offering an outstanding wetland habitat. The reserve is home to over 500 species of birds, with the resident inhabitants being joined by large numbers of migratory species from Siberia and Tibet, which take up residence from November to February. The Koshi Tappu Wildlife Reserve provides one of the best places in Nepal to view migratory water fowl, waders and shore birds with many species seen here which are not recorded elsewhere in the region.
There is also much wildlife to be seen in Koshi Tappu including blue bull, golden jackal, Bengal fox, fishing cat, jungle cat, mongoose, civet cat, porcupine, Indian flying foxes and rare Gangetic dolphins as well as rare Marsh Mugger crocodiles. In addition, Koshi Tappu is the last habitat of the endangered Arna, a type of wild water buffalo.
During your visit you will explore the park with bird and animal spotting from a raft trip on the Koshi River, birdwatching walks, jungle walks and jeep trips. You will also have the opportunity to visit a family in one of the very interesting nearby local villages for a taste of rural Nepalese life. The Koshi Camp offers simple but comfortable accommodation and an expert staff of naturalists and birdwatchers to give you a comprehensive introduction to this wonderful area.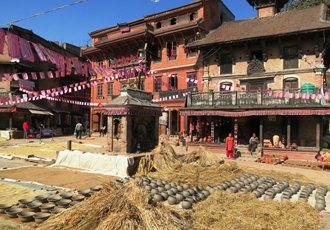 Observe traditional crafts such as pottery, woodcarving and thangka painting
Choose from a selection of full and half day guided tours
Travel in a private car with a driver and an English-speaking guide
The Kathmandu Valley has a long and rich history and a vibrant culture and there is much that is worthwhile to see there - crowded bazaars, ancient temples, Buddhist stupas, crumbling shrines and picturesque palaces. The Malla kings who ruled in the valley created three major cities in the valley, Kathmandu, Bhaktapur and Patan and each of these cities has buildings that are showpieces for the art and architecture of local Newari craftsmen. We offer a selection of half day trips and full day trips to these sites the valley.