Our grading system explained
Gentle
Gentle / Moderate
Moderate
Moderate / Vigorous
Vigorous
Vigorous / Strenuous
Strenuous
Expedition Grade
What makes Tibet so special?
Lying in the shadow of the Greater Himalaya, Tibet is a barren, high-altitude plateau of brown rolling hills, pierced occasionally by enormous peaks, and covering an area the size of Western Europe. Sealed off from the outside world for many years, holidays to Tibet offer a fascinating chance to explore this beautiful and reclusive country.
Much of the appeal of taking a holiday in Tibet lies in the mystery of the region. When Tibetans enjoyed self-rule they preferred isolation and shunned contact with the outside world. Reaching Lhasa was one of the last great challenges during the era of exploration in Empire days. It is a country that personifies all that is mysterious, and its red and yellow hat sects of Tibetan Buddhism are growing in strength again after the shock of the Chinese Cultural Revolution.
The exiled Dalai Lama encourages Westerners to go on holiday to Tibet and to experience its unique culture - we also believe a journey to 'the Roof of the World' to be a worthy and fascinating goal.
Mountain Kingdoms have been Tibet trekking specialists for more than twenty years. We improve and refine our Tibet trekking holidays every year, researching new routes and adapting to changing conditions, so you can be certain that we have the very best trekking itineraries in this stretch of the Himalayas.
Tibet trekking holidays & tours

A breathtaking high-altitude landscape pierced with sacred mountains and ancient towns where Tibetan culture is fiercely preserved.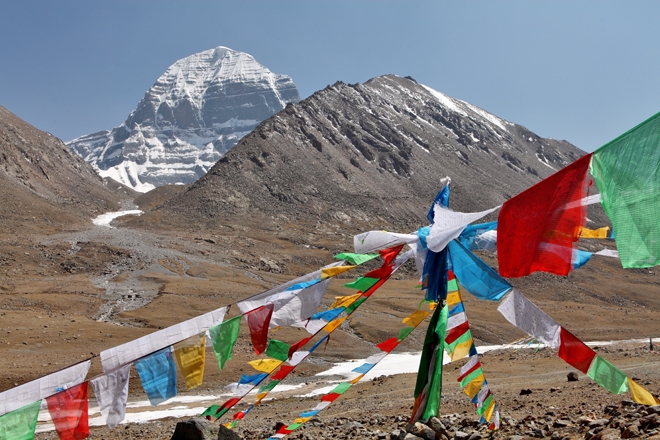 Trek in the company of pilgrims around Mount Kailash, the holiest mountain in the Himalaya
Complete a kora (circuit) of the mountain to cleanse your sins
Drive across the vast Tibetan Plateau and camp beside Lake Manasarovar
Enjoy a spectacular acclimatisation trek in the Langtang Valley in Nepal with great mountain views
Departures:
Jan
Feb
Mar
Apr
May
Jun
Jul
Aug
Sep
Oct
Nov
Dec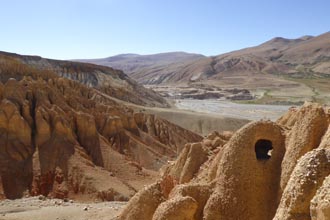 Take a three day acclimatisation trek in the Himalayan foothills of Nepal
Tour the fascinating sights of Lhasa and visit the cave hermitage of Drak Yerpa
Fly 800 miles across Tibet and past Mount Kailash to land at the airport of Ali, giving easy access to the ancient kingdoms west of Ali
Explore the mysterious kingdoms of Guge and Shangshung
Enjoy walks to visit cave dwellings, remote monasteries and ruined castles and visit the holy hot springs at Tirthapuri
Drive west to east across just part of the great Tibetan plateau, using the new road to Kathmandu from Tibet driving past Kailaish and through Kyirong and part of Langtang
Departures:
Jan
Feb
Mar
Apr
May
Jun
Jul
Aug
Sep
Oct
Nov
Dec
---
Introduction
Lying in the rain shadow of the Himalaya, Tibet offers exceptional walking and trekking opportunities during the summer months. Trekking in the rarefied air requires excellent acclimatisation so it's not possible to rush a holiday to Tibet - just as well with so many wonderful sights to see.
Culturally, Tibet still packs an impressive punch. In Lhasa, the Potala Palace is the landmark sight with its towering white walls and prostrating pilgrims. The Jokhang and surrounding streets of the Barkhor Market form both the spiritual and commercial heart of the old city. Outside of Lhasa, the old towns of Gyantse, Shegar and Shigatse provide a glimpse of life in old Tibet with their monasteries and forts. Our Definitive Cultural Tour of Tibet provides an in-depth exploration of these significant religious and cultural sights.
Away from the cultural centres, the landscape of Tibet is its crowning glory. The sacred mountain of Kailash is one of Tibet's most impressive natural sights attracting both trekkers and pilgrims alike. But it is probably the endless, high-altitude plateau of brown rolling hills, pierced occasionally by enormous peaks, that best characterises Tibet and leaves an indelible impression on all visitors. Travel on our Ancient Kingdom of Tibet trekking adventure and you'll discover the timeless landscapes and fascinating cultural remnants of the vast Tibetan plateau.
You can combine the key sights of Tibet with those in the equally fascinating Himalayan kingdom of Bhutan and stunning Nepal on our Cultural Highlights of Nepal, Bhutan & Tibet tour.
---
Key Facts
Capital city: Lhasa
Population: 3,145,000 (est 2015)
Size of country: 474,300 km sq
Currency: Renminbi
Power supply: 220v / 50hz
Sockets: Round-three pin variety, but can also be European or British type sockets
Language: Standard Tibetan and Mandarin Chinese
Time difference: GMT +7 hours
Visas: British nationals require a Chinese visa to visit Tibet.
Religion: Tibetan Buddhism with a small minority of Muslims and Christians
Popular dishes: Tukpa, noodles with meat
Popular drinks: Yak butter tea
Did you know: The Tibetan Plateau is roughly 4 x the size of France with an average altitude of 4,500m.
FCDO link: FCDO travel advice China (Tibet)
---
Climate
When is the best time to travel to Tibet?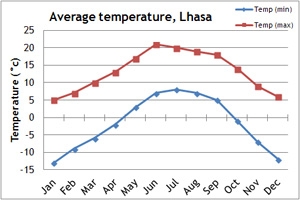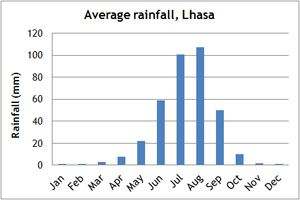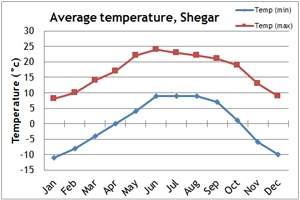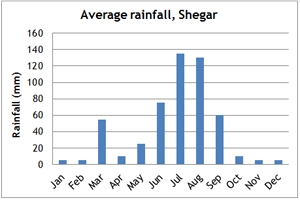 Our climate charts will give you a guide as to the weather conditions and therefore the best time of year to travel to Tibet.

Late spring-early summer and autumn are considered the best time to travel to Tibet, particularly if you would like to go on a trek. The days are usually dry and bright and the nights are likely to be cool. Remember that at altitude the temperatures will be lower.

In the summer months, Tibet experiences monsoon rains. This can cause travel problems, and in the winter, temperatures can be extremely cold.