Our grading system explained
Gentle
Gentle / Moderate
Moderate
Moderate / Vigorous
Vigorous
Vigorous / Strenuous
Strenuous
Expedition Grade
Galapagos Islands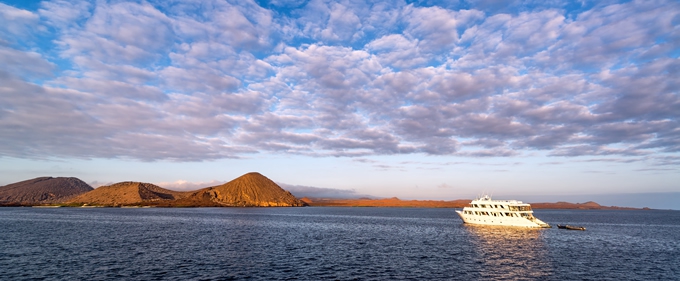 An ancient archipelago of volcanic islands set off the coast of Ecuador, the Galapagos Islands are one of the world's premier destinations for viewing wildlife either by land or by sea.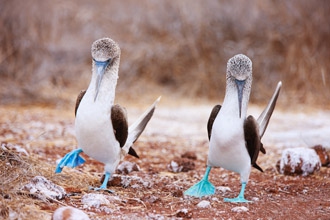 Spend four days exploring the nature & culture of northern Ecuador's Otavalo area
Enjoy comfortable, handpicked accommodation with lots of character including a centuries-old, traditional hacienda
Explore the landscape and wildlife on three different Galapagos islands
Experience close encounters with incredible wildlife of the Galapagos, on foot and in the water
Flight inclusive from £6775, Land only from £5395
---
Introduction
Lying directly on the equator, about 1,000km off the coast of Ecuador, is an extremely remote archipelago of islands and islets called the Galapagos. Celebrated not only for the abundance and diversity of its wildlife, the Galapagos also has a remarkable amount of endemic species that can be found nowhere else on earth. In fact, 95% of the species discovered by Charles Darwin on his historic visit in 1835, still remain present on the islands today.
Their remote location, unusual natural history and geographical position, at the confluence of three major oceanic currents, are the reasons why the Galapagos Islands have emerged as such a unique wildlife destination. Giant tortoises, Marine iguana, Blue-footed boobies and Sally lightfoot crabs are among the most well-known of the islands' fearless creatures, but there are thousands of other birds, animals and plants that can only be seen on a visit to the Galapagos. And, it is the opportunity to see so many of these rare creatures in such close proximity, that makes a visit to the Galapagos Islands a truly unforgettable experience.
The archipelago consists of six main islands: Isabela, San Cristobal, Santa Cruz, Floreana, Santiago and Fernandina – the latter two of which remain uninhabited. In addition, there are 12 smaller islands and around 40 tiny islets that can only be visited by boat. Of the 128 named islands in the archipelago Isabela is the largest at 4,588 km2 and Darwin the smallest at only 1.1 km2. Most of the islands are actually summits of volcanoes submerged below the ocean, and due to its volcanic nature and relative youth (in geological terms) the archipelago is continuously changing.
For a very different perspective, our Gentle Walking Ecuador and Galapagos Safari stays in scenic accommodation on three different islands giving you the opportunity not only to discover the amazing wildlife and landscapes of the islands on foot, but also to gain an understanding of the culture and history of the communities that have made the Galapagos their home. This holiday begins on mainland Ecuador with an excellent variety of walks to reveal the beautiful scenery and absorbing culture of Quito and the Otavalo region. This is undoubtedly a holiday that gives you the best of all worlds.
---
Key Facts
Capital city: Puerto Baquerizo Moreno
Population: 26,640 (2012)
Size of country: 7,880 sq km
Currency: US dollars
Power supply: 110-120 Volts
Sockets: US-style two-pin variety
Language: Spanish
Time difference: GMT -6 hours
Visas: British passport holders can currently stay on the Galapagos Islands as tourists for up to 90 days without a visa
Religion: Roman Catholic and other
FCDO advice: FCDO travel advice
---
Climate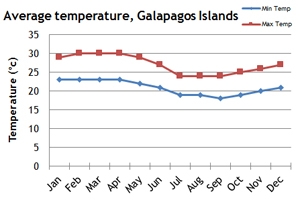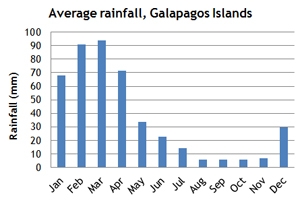 Wildlife viewing in the Galapagos is excellent all year round although certain activities and species are best seen at particular times of the year. For example, giant tortoise eggs hatch between December and April whilst March sees the massed arrival of Waved albatross on Espanola.
Temperatures in the Galapagos remain fairly constant throughout the year with variations between 20 and 28˚ centigrade. December to May are the warmest months to visit with good levels of sunshine punctuated by heavy, short-lived showers mainly in the afternoon. With sunshine and showers, the islands become green and colourful with an abundance of flora as well as flora. June to November is the cooler season known as 'garua' when the days are generally cloudier and misty. July and August is often a time of high winds making the seas choppy and therefore less suitable for cruising in a smaller boat.
If you are planning on snorkelling, underwater visibility is best around mid-December to March when waters are also warmer.