Our grading system explained
Gentle
Gentle / Moderate
Moderate
Moderate / Vigorous
Vigorous
Vigorous / Strenuous
Strenuous
Expedition Grade
Uzbekistan

The great Silk Road cities of Samarkand, Khiva and Bukhara are undoubtedly Uzbekistan's dazzling jewels, but it also has beautiful mountains and hospitable people just waiting to be discovered.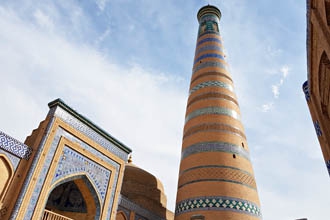 See the fascinating World Heritage Site of Ichan Kala, Khiva
Explore the ruins of ancient fortresses in the Kyzylkum Desert
Visit the exotic covered bazaar and colossal Kalyan Minaret at Bukhara
Discover the domed mosques and ornately decorate madrassas of Samarkand
Stay in comfortable, well located 3 and 4 star hotels throughout
Take an optional extension to the Fergana Valley
Flight inclusive from £2730, Land only from £1955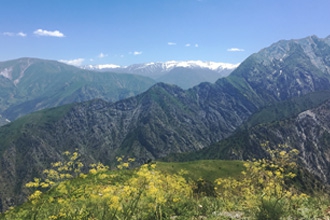 Discover the four fabulous cities of the Great Silk Road - Tashkent, Khiva, Bukhara and Samarkand
Explore the Nuratau Mountain range on a series of delightful village walks offering a real insight into traditional rural Uzbek life
Enjoy three days of walking in the picturesque Chimgan mountains with high peaks and alpine-style meadows
Stay in welcoming accommodation including good city hotels and friendly, family guesthouses
Flight inclusive from £2775, Land only from £1875
---
Introduction
To travel through Uzbekistan is to discover a country, barely thirty years old, newly freed from the Soviet Empire, where the people are justly proud of both their new country and of their ancient history.
The very names of Samarkand, Khiva and Bukhara are enough to evoke Arabian tales of fabled desert cities, suspended in the mists of time. And the reality appears surprisingly close to the legend with little evidence of the modern world imposed on the architectural and cultural splendours of the past.
Travelling east along the old Silk Road on our Silk Road to Samarkand cultural tour, Khiva is the first of the great cities. A World Heritage site, the land of the ancient Mongol empire has remained untouched for almost 1,000 years. Within its walls lay a treasure trove of pristine historical monuments including mausoleums, a mosque, a castle and a palace.
Following the ancient route across the Kyzyl Kum desert, Bukhara appears like a movie set rising out of the desert floor. It has similarly impressive architecture to Khiva, with wonderful blue-domed mosques and Madrasahs, as well as the magnificent fortress known as the Ark. It is also the centre of Uzbekistan's traditional carpet making industry and intricately patterned examples can be found draped throughout the bazaars and ancient thoroughfares.
Last, but definitely not least, comes Samarkand, perhaps the most famous of all the Silk Road cities. It is home to Tamerlene's mausoleum and famous Registan Square - one of the most relevant and visually stunning examples of Islamic architecture to be found anywhere in the world.
Beyond the fabled Silk Road cities Uzbekistan has many other impressive cultural sights including the ruined fortresses and cities of the Kyzylkum Desert and the traditional artisan workshops of the Fergana Valley famed for their fine handmade carpets, textiles, jewellery and ceramics.
For those who would like to see a different side of Uzbekistan, and gain an insight into traditional, rural Uzbek life, the picturesque mountain ranges of Nuratau and Chimgan reveal the country's natural beauty and offer good walking trails and welcoming village homes. Our Silk Road, Mountains & Monuments walking holiday is an unforgetable way to combine the cultural highlights of the ancient cities with some active days hiking in the hills.
Related news and articles
Uzbekistan - Top 10 Travel Essentials
---
Key Facts
Capital city: Tashkent
Population: 31,025,500 (est 2013)
Size of country: 447,400 sq km
Currency: Uzbekistan Som
Power supply: 220 – 240 volts
Sockets: European two-pin round variety
Language: Uzbek is the official language, Russian, Tajik and Karakpalak are also spoken.
Time difference: GMT + 5 hours
Visas: British nationals require a visa to visit Uzbekistan which must be obtained in advance.
Religion: Muslim 90%, Russian Orthodox Christianity 5%, others 5%.
Popular dishes: Palov - a main course dish made with rice, meat, grated carrots and onions.
Popular drinks: Green tea is the national hot drink.
Did you know: In 2002, ancient pyramids were discovered by Russian and Uzbek archaeologists in the Kashkadarya & Samarkand regions of Uzbekistan. They are believed to be as much as 2,700 years old.
FCDO advice: FCDO travel advice
---
Climate
When is the best time to travel to Uzbekistan?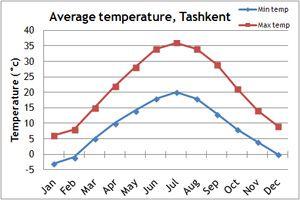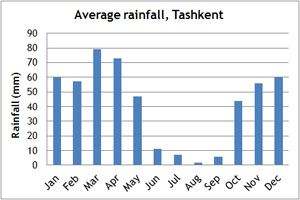 Our climate charts will give you an idea of the weather conditions in Uzbekistan.

Uzbekistan has an extreme continental climate, with very cold temperatures between December and Februrary followed by a mild, rainy spring. Summers are long, hot and dry and but temperatures begin to cool from October onwards. The best time to visit Uzbekistan is in spring (mid March to May) or autumn (September and October). However, November can also be a very good time to visit - although, much colder, with an average temperature of around 10 degrees in the cities, the days are generally dry and bright with clear skies providing a backdrop for Uzbekistan's impressive architectural sights. This is also a much quieter time to visit so, as long as you wrap up warm, it can be a really good time of the year for sightseeing.'

If you can't make the dates of our group departures, then take a private departure on dates to suit you, or we can create a Tailor Made holiday to Uzbekistan, especially for you and your family or friends.