What's included
An excellent, English-speaking Uzbek guide accompanying you to each of the four towns
Economy class return air fares from the UK & UK Departure Tax (flight inclusive only)
Single, timed group airport transfers for international flights on arrival and departure
All internal flights and domestic transfers
Good standard hotel accommodation (usually 3-4 star) in main cities
All road transport by private vehicles
All meals on tour except days 4, 8, 12 and 15 (breakfast only)
Sightseeing and entrance fees where specified
Carbon offsetting with the Ecoan Tree Planting Project (for clients taking our flight inclusive option)
A free Mountain Kingdoms Water-to-Go bottle
The opportunity to join one of our pre-trip meets in the Cotswolds
and much more...
Call our
friendly team
Silk Road to Samarkand
Tour
Duration: 15 days from the UK
Private Departures Available

Land only from £1,835
Book now or call 01453 844400
A kaleidoscope of cultures, landscapes and architecture in one superb Silk Road tour.
Highlights
See the fascinating World Heritage Site of Ichan Kala, Khiva
Explore the ruins of ancient fortresses in the Kyzylkum Desert
Visit the exotic covered bazaar and colossal Kalyan Minaret at Bukhara
Discover the domed mosques and ornately decorate madrassas of Samarkand
Stay in comfortable, well located 3 and 4 star hotels throughout
Take an optional extension to the Fergana Valley
The Great Silk Road, and the ancient cities that have grown prosperous along its length, are some of the most amazing places of the ancient world. This Central Asian region is an area of opposites: old and new, lost and rediscovered. Uzbekistan lies along the Silk Route, and has four of the greatest and most powerful cities of the area within its borders. Samarkand, Khiva, Bukhara and Tashkent have been influenced by Genghis Khan, his descendants and all the conquerors that followed.
Our cultural tour will show you a country, barely twenty years old, newly freed from the Soviet Empire, a people still proud of their new country and of their ancient history. The empires of the Mongols, Alexander the Great and the Persians have all made their mark, as well as the more recent empires of the Ottomans and Russians.
Your tour starts in Tashkent, the modern-day capital of Uzbekistan. You will see architectural achievements of the Russians and Uzbeks, as well as ancient mosques of the old city. You visit Khast Imom and Chorsu Bazaar, where you will have the opportunity to see local life in action.
Next you travel to Khiva, a UNESCO World Heritage site. Stepping out of your hotel and through one of four enormous gates, you enter Ichan Kala, the inner fortress of Khiva. Within its walls, Khiva houses over 180 historical monuments, mausoleums, mosques, madrassas, a castle and a palace.
Bukhara is the next stop, a unique 'open air' museum. The historic centre of Bukhara boasts countless blue-domed mosques and madrasahs, embroidery workshops, craft workshops and bazaars.
Onwards to Samarkand, jewel of Uzbekistan and the most famous of the Silk Road cities. Marco Polo rightly declared it "a very large and splendid city". Samarkand is home to Tamerlane's mausoleum and famous Registan Square. This central square is one of the most visually stunning examples of Islamic architecture to be found anywhere. Also in Samarkand is the Observatory of Ulugh Beg, Emperor of the Mongol Empire, grandson of Tamerlane, and respected Astronomer.
In just two weeks, we will introduce you to this spectacular land and let you experience a sense of being in a different age and a different world. This in-depth cultural tour offers you a carefully chosen mix of guided tours, free time for exploration and fascinating travel through varied landscapes. Journeys are made by road, air and an exciting central Asian rail journey. Accommodation has been carefully selected throughout with hotels hand-picked for comfort and character.
We now also offer an extension ot the Fergana Valley, east of Tashkent. This immensely fertile region was an important Silk Road stopping point between Kashgar and Samarkand and is famous for its fine craftsmen, particularly in silk, ceramica and carpets.
Silk Road to Samarkand Private Departure
We can also offer this holiday as a private departure for a minimum of two people sharing. Prices start from £2,295 per person, land only. International flights available from £500. Please contact the office for further details or to book your private departure.
Call 01453 844400 or Email us
---
At a glance
Duration: 15 days from the UK
Guaranteed to run for a minimum of 4 clients
Maximum group size: 12
Land only joining city: Tashkent
Accommodation types: Hotels
Meal arrangements: 14 Breakfasts, 10 Lunches and 10 Dinners included.
Itinerary overview
| Day | Activity |
| --- | --- |
| 1-2 | Depart London and fly to Tashkent, the capital of Uzbekistan. Afternoon sightseeing of Old Tashkent. |
| 3-5 | Fly to Urgench then drive to Khiva. Sightseeing tour of the architectural complex, Ichan Kala, a World Heritage Site. Day at leisure. Day trip to the Kyzylkum Desert. |
| 6-9 | Drive to Bukhara. Sightseeing in and around the city. Day at leisure. Sightseeing outside of Bukhara. |
| 10-14 | Drive to Samarkand (stopping en-route for a masterclass at a local workshop). Explore the ancient city of Samarkand. Day at leisure. Sightseeing outside of Samarkand. Train to Tashkent. |
| 15 | Depart Tashkent, fly to London. |
Leader: Local leader, Uzbekistan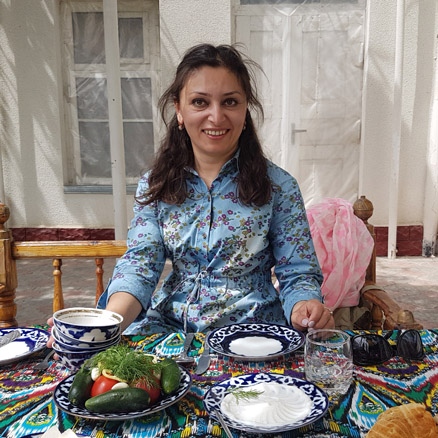 Our tour is led throughout by a knowledgeable, English speaking, Uzbek guide. In addition to helping you get the most out of your visit and taking care of you, your leader will co-ordinate all your arrangements, ensuring that everything runs as smoothly as possible.
---
Silk Road to Samarkand Itinerary
Day 1 - Depart London.

Depart London on an overnight flight to Tashkent.

Overnight: In flight

Day 2 - Arrive in Tashkent. Group transfer to hotel. Sightseeing.

On arrival in Tashkent you will be transferred to your hotel. Tashkent is the capital of Uzbekistan and rightfully claims to be the biggest and most cosmopolitan city of Central Asia. Although it has been continuously inhabited for over 2,000 years, a massive earthquake in the 1960s levelled the entire city and a modern city was born. The city is noted for its tree lined streets, numerous fountains and pleasant parks.

In the afternoon, you will be taken on a sightseeing tour which will include visits to Chorsu Bazaar in the old part of Tashkent, Kukuldash Mosque and Khast Imom. Khast Imon is the official religious centre for Muslims in Central Asia and consists of Barak Khan Madrassa (16th century), Tilla Shaykh Mosque (the Osman Koran, believed to be world's oldest Koran, is kept in the library of this Mosque) and the mausoleum of Abu Bakr Kaffal Shoshi (a 13-14th century Islamic scholar). You will also have the chance to ride the Tashkent Metro, famed for its wonderfully ornate stations.

If you are travelling on the Fergana extension you will join the group for sightseeing on this day.

Overnight: Bek Hotel Or Similar, Tashkent

Day 3 - Fly to Urgench - 1 hour. Drive to Khiva - 40 km. Sightseeing of the Ichan Kala architectural complex.

You will be transferred to the airport to catch the early morning flight to Urgench. On arrival in Urgench you will be driven to Khiva. The short drive to Khiva is in itself an interesting insight into the culture, peoples and modes of transport in Uzbekistan. Expect to see anything and everything, from modern cars and motorbikes to beaten up Soviet style cars and trucks, and carts pulled by donkeys.

In the afternoon you will have a tour of the Ichan-Kala architectural complex (12-19th century). This is a UNESCO World Heritage Site and was the residence of the last Khan. The complex includes the Ismail Khodja mausoleum, Mohammed Amin Khan Madrassa, Kunya-Ark Castle (16-17th century), Kalta Minor tower, Tash-Hovli Palace (19th century), Pahlavan Mahmud Mausoleum (14-18th century), and the Juma Mosque (10th century).

Overnight: Hotel Malika Khiva Or Orient Star Or Similar, Khiva

Day 4 - Day at leisure in Khiva.

You will have a day at leisure in Khiva for exploring and sightseeing on your own. Your hotel is well placed for easy access to the old city.

Overnight: Hotel Malika Khiva Or Orient Star Or Similar

Day 5 - Day trip to the Kyzylkum Desert.

Today you will spend the day in the Kyzylkum Desert, a sand desert that is one of the largest in Asia. The name means 'red sand' in Turkic languages and much of the area is covered in sand dunes called barchans. This area is famous for its Bactrian camels, the so called 'ships of the desert' and the caravan routes of the Silk Road once crossed this region from oasis to oasis and from caravanserai to caravanserai.

You will visit Ayaz Kala, a 4th century fortress set on the banks of the Amu Darya River, and later you will visit the ruins of the ancient city of Tuprak Kala. This city was the capital of the Khorezm culture which flourished in this region in the in the 1st-6th centuries AD. The fortress of Tuprak Kala was the palace of the Khorezm Khan, who ruled the area.

Lunch today will be taken in a local restaurant.

Overnight: Hotel Malika Khiva Or Orient Star Or Similar, Khiva

Day 6 - Drive to Bukhara, 450 km - 8 hours.

Today you will be driven to Bukhara, which is regarded by many to be one of the most cultural and evocative cities in the world. Again the drive is in itself an exciting and interesting part of your adventure tour. The journey will take around 8 hours to complete.

Firstly, you drive back through Urgench and cross a wide river (in ancient times called by its latin name, Oxus), now called the Amu Darya. The bridge is a series of flat topped metal barges, welded together. This then brings you to the main road leading to Bukhara. The country is surprisingly green and cultivated, though you will also see remnants of decaying Soviet industry too. You may see camels, roadside water melon sellers and more donkeys and carts. The road itself is of a reasonable high standard.

Overnight: Kukeldash Hotel Or Similar, Bukhara

Day 7 - Full day sightseeing in Bukhara.

Today you will tour some of the wonderful monuments of Bukhara. In the morning you will visit the Samanid Mausoleum, burial place of Ismail Samani and other members of the Samanid dynasty, who ruled in central Asia in the 9th and 10th centuries. You will continue to the nearby Chashma-Ayub Mausoleum, said to be the site of Job's (Ayub's) well, a holy spring connected in legend to the Prophet Job and known for its pure water and healing properties. You will also visit Bukhara's famous bazaar, said to be one of the oldest and largest in the world and an important stop on the Silk Road. Nowadays the bazaar is famed for its handmade carpets and colourful hand-embroidered fabrics and it's also a great place for buying dried fruits, nuts, spices, rice and bread.

Then it's on to Bolo Haouz Mosque, also known as the Forty Pillar Mosque. This mosque dates back to the early 18th century and its slender, elegantly carved wooden pillars hold up a beautifully restored painted coffered ceiling. You will end the morning at the massive Ark Fortress, formerly the residence of the khans of Bukhara and a symbol of their great power.

After lunch in a local restaurant you will have more sightseeing, taking in the Poi Kalyan Ensemble which includes four monuments - the Kalyan Mosque, the Miri-Arab Madrassa, the Kalyan Minaret and the smaller Amir-Allimkhan Madrassa. Bukhara is also famous for its very fine embroidery, using gold and silver thread, and you will have time to visit an embroidery workshop before going on to Magok-i-Attari mosque, part of the Lyab-I Hauz religious complex, one of Bukhara's oldest mosques and nowadays housing a museum of carpets.


Overnight: Kukeldash Hotel Or Similar, Bukhara

Day 8 - Time at leisure in Bukhara.

Today is free to do your own sightseeing or further exploration of Bukhara. Your hotel is centrally located for your sightseeing.

Overnight: Kukeldash Hotel Or Similar, Bukhara

Day 9 - Sightseeing around Bukhara.

Today you will venture further afield from Bukhara. Firstly to visit the Bahauddin Naqshbandi memorial complex to see the tomb of Bahauddin Naqshbandi, one of the most renowned Sufi philosophers of Central Asia who is considered the patron of all craftsmen. Also in the outskirts of Bukhara is the Sitora-i Mokhi Khosa, the summer palace of the last emirs of Bukhara, built outside the city so the ruler could escape the summer heat the building fuses European and oriental features. It's a fascinating place to explore and you can also enjoy a nice cup of coffee in the cafe..

The Chor Bakr Necropolis, the so called City of the Dead, is located a few kilometres west of the city. It has been a burial place for many centuries and is an unusual and mysterious place. You will return to the city by way of Chor Minor, a quirky construction with four distinctive 'towers'.


Overnight: Kukeldash Hotel Or Similar, Bukhara

Day 10 - Drive 50km to visit pottery workshop for masterclass and lunch. Continue to Samarkand, 230km - 7 hours.

Pottery has long been one of the most important crafts of Central Asia and the skilled craftsmen of the area are famed for their beautiful pottery. This morning you will visit the village of Gijduran, just 50km from Bukhara, whose potters have been producing beautiful ceramics for many, many generations. Their ceramics are particularly distinctive with geometric patterns in colours of mainly green, brown and blue. Here you will visit a pottery workshop and enjoy a pottery masterclass, or you can take a painting or embroidery class instead.

You will have lunch with the family before driving on to Samarkand. On this drive you will pass through many small townships and villages, all very interesting and a unique window onto a totally different way of life. You will arrive in Samarkand in time for your evening meal.


Overnight: Zilol Baxt Hotel Or Similar, Samarkand

Day 11 - Sightseeing in Samarkand.

Samarkand is located in the magnificent region of the Oxus and Syr Darya rivers and occupied a strategic and advantageous geographical position on the Great Silk Road. It is one of the world's most ancient cities, with a history which stretches back over 2750 years, which makes it as old as Rome, Athens and Babylon. It served as the capital city for Tamerlane. There are magnificent examples of medieval architecture preserved in Samarkand, striking in their shapes and rich colours.

You will have a full day sightseeing to take in some of the wonderful sights of the city. Firstly you will visit the 15th century Guri Amir Mausoleum, a masterpiece of medieval Islamic architecture, where the great Mongol conqueror Timur (also known as Tamerlane) is buried, along with his two sons and two grandsons. The Guri Amir is a fine example of medieval craftsmanship and is important architecturally as being the prototype of much Mughal architecture found in India, such as the Taj Mahal.

You will continue to Registan Square, one of the impressive squares in the world. It was the heart of the ancient city of Samarkand - a public square where people gathered to hear royal proclamations and enjoy celebrations and also a place of public executions. It is bounded by three madrassas, masterpieces of Islamic architecture, the Ulugh Beg Madrassa, The Sher-Dor Madrassa and the Tilya-Kori Madrassa.

After lunch you will visit the Bibi Khanym mosque, one of the most important monuments of Samarkand which commemorates Tamerlane's favourite wife, Bibi-Khanym - indeed, according to legend, it was built by Tamarlane's wife to celebrate his safe return from a trip to India.

Later you will visit the Moné Café and Bakery, famous for its cakes and sweets (refreshments at your own expense).


Overnight: Zilol Baxt Hotel Or Similar, Samarkand

Day 12 - Day at leisure in Samarkand.

Today is free for you to relax and to continue to explore this fascinating city. You may wish to visit three of Samarkand's beautiful churches: the Russian Orthodox Church, St John the Baptist Catholic Church and the Armenian Church. All are within walking distance of your hotel.

You will also have the option today to visit the Khovrenko Wine Factory for a wine tasting. In addition to a tour of the factory and a small attached museum there should be the chance to try several wines, "normal" wines, dessert wines, and even their version of cognac (cost for this trip approximately USD20.)

Overnight: Zilol Baxt Hotel Or Similar, Samarkand

Day 13 - Sightseeing outside of Samarkand and El Merosi Theatre visit.

Today, you will be taken on a sightseeing tour outside the city and will visit a paper mill where silk paper is produced using bark from mulberry trees, Ulugbek Observatory and the Astrological Museum.

Before dinner you will visit the El Merosi Theatre where you can see a show demonstrating the traditional costumes of Uzbekistan through the ages, along with classical Uzbek music.

Overnight: Zilol Baxt Hotel Or Similar, Samarkand

Day 14 - Sightseeing and bazaar visit. Train to Tashkent - 2.5 hours.

In the morning you will visit the Shakhi Zinda Necropolis, one of the few such complexes in ancient Samarkand. The necropolis is a collection of ancient tombs and grand mausoleums built in various architectural styles over many centuries and grouped together in narrow 'streets' or avenues. These monuments were crafted from majolica, mosaic and terracotta - each is unique.

Later you will have lunch and visit Samarkand's famous bazaar, a great experience and also a chance for some last minute shopping, before catching the late afternoon train to Tashkent.

You can spend your last evening together in the hotel courtyard enjoying a drink and reflecting on your wonderful experiences in Uzbekistan.


Overnight: Bek Hotel Or Similar, Tashkent

Day 15 - Morning at leisure. Transfer to airport and fly to London.

You will have the morning at leisure before transferring to the airport for your flight home.
Map
Map Key
Airport
Point of interest
Mountain Peak
Day walk in this area
Flights
Internal Transfers
Trek
---
2021
2022
Hold your place
Not quite ready to book? Why not call us on 0044 (0)1453 844400 to hold a no obligation place while you make up your mind?
Optional supplements
Single room supplement
From £265
Insurance
No Surcharge Guarantee
No surcharges will be applied to your holiday after you book. Prices on this website are updated regularly. The Flight Inclusive holiday price, or Land Only holiday price, will be confirmed to you at the time you make your booking. There will be no surcharges after your booking has been confirmed.
Flight inclusive holidays
The 'flight inclusive' holiday prices shown on this website are based upon our preferred airlines and the best priced economy class fares we are able to secure at the time of publication.
We will be able to advise on fares with alternative airlines, upgrades to Business Class, and the options for flights from regional UK airports, please contact us for more details.
Booking your holiday
For the majority of our holidays, a deposit payment of £100.00 per person is required to secure your place(s), however a small number of holidays require a higher deposit - please refer to the holiday itinerary for more details. If the holiday departs within 60 days, a minimum deposit of £750.00 per person is required.
Book now!
Book your small group holiday securely online – click the 'Book' button next to your chosen departure or visit our How to Book page
Complete and return a Booking Form available to download here.
Call us on 01453 844400 and one of our travel specialists will talk you through the booking process.
Loyalty discount
Find out more
What's included
An excellent, English-speaking Uzbek guide accompanying you to each of the four towns
Economy class return air fares from the UK & UK Departure Tax (flight inclusive only)
Single, timed group airport transfers for international flights on arrival and departure
All internal flights and domestic transfers
Good standard hotel accommodation (usually 3-4 star) in main cities
All road transport by private vehicles
All meals on tour except days 4, 8, 12 and 15 (breakfast only)
Sightseeing and entrance fees where specified
Carbon offsetting with the Ecoan Tree Planting Project (for clients taking our flight inclusive option)
A free Mountain Kingdoms Water-to-Go bottle
The opportunity to join one of our pre-trip meets in the Cotswolds
What's not included
Lunch & dinner on days 4, 8, 12 and 15
Travel insurance
Visa fees
Refreshments at Moné Café on Day 11
Optional wine tasting in Samarkand on Day 12
Camera fees (this is a very small charge levied to take photos inside some of the museum complexes)
---
---
Review your holiday
Reviews
Read holiday reviews by Mountain Kingdoms travellers.
Overall score: 5.0 (Based on 13 reviews)
An excellent introduction to Uzbekistan 14/11/2019
Really enjoyed the experience, fellow travelers where delightful companions, and our local guide was very helpful and thoughtful.
Mrs & Mr Bonnett, Isle of Wight
Silk Road to Samarkand 27/06/2018
Definitely could have not picked a better trip to go on or company to book it through! The trip was truly spectacular friendly tour guide who was beyond helpful to all of us! Any advice or queries we had were answered straight away! Fantastic accommodation,absolutely stunning scenery! You couldn't ask for anything better than that really!
Miss Hannah Morgan, United Kingdom, Bracknell, Berkshire
Silk Road to Samarkand 25/06/2018
I have wanted to travel the Golden Road to Samarkand since I was very young and the trip did not disappoint. We were a small group (8 people) and got on very well together in the company of our excellent guide. The itinerary was very well planned and I appreciated the 'free days' with time to revisit the best places, explore further and spend time chatting to people.
V Houghton, Northamptonshire
Silk Road to Samarkand 29/05/2018
Excellent. Every day was well detailed and we had time to ourselves from time to time to go around on our own. Very varied itinerary. Good hotels and excellent food and restaurants.
Ms Marie Alexander, Rome
Silk Road to Samarkand - superb! 29/05/2018
This tour successfully gives an excellent overview of a large area of Uzbekistan, taking in Tashkent, Khiva, Bokhara and Samarkand. You'll go round the remains of fortresses in the desert from 5th century BC, visit the jaw dropping monuments in all of the the towns, hear tales of Genghis Khan, Tamerlane and many others, stroll through bazaars and haggle with the friendly stall holders for spices, dried fruits, silks, embroidered textiles, ceramics, and so much more! This is a country of extremes, well geared up for tourism with its comfortable hotels yet retaining its ancient charm and mystique in abundance. There are plenty of opportunities in the free time to explore further behind the scenes. And the food............so good! Just do the holiday and experience it all!!
Anne G., UK
---
Extend your holiday
A three day pre-tour extension for our Silk Road group holiday
Meet some of the famous craftsmen of the region and see them at work in their artisan workshops
Tour the magnificent Khudoyar-Khan Palace and the impressive Jami Mosque in Kokand
English-speaking guides, transfers and comfortable hotel accommodation included
More Details
The Fergana Valley is the most fertile area in Uzbekistan and is the agricultural heartland of the region. It was an important stopping point on the Silk Road between Kashgar and Samarkand and was celebrated for its fine, artisanal craftsmanship. On your visit to the Fergana Valley you will meet some of the local craftsmen engaged in their traditional crafts for which Fergana has remained justly famous - fine ceramics, the production of silk and the weaving of carpets. You will also tour the magnificent Khudoyar-Khan Palace and the impressive Jami Mosque in Kokand. You will be accompanied by an English-speaking guide and your accommodation will be in comfortable, well-located hotels.