Our grading system explained
Gentle
Gentle / Moderate
Moderate
Moderate / Vigorous
Vigorous
Vigorous / Strenuous
Strenuous
Expedition Grade
Finland tours

A country of vast evergreen forests, myriad ice-covered lakes, huge swathes of snow-covered wilderness and the mesemric Northern Lights, Finland remains the archetypal arctic land.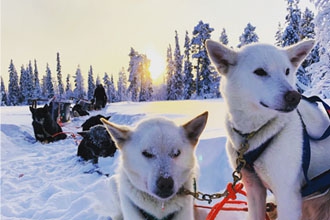 Explore the spectacular untouched scenery of Lapland
Drive your own dog-sled team, look after the huskies and let them steal your heart
Six possible chances to experience the Northern Lights, weather and activity permitting
Stay in cosy wilderness huts, lit only by candlelight and heated by woodburning stoves
Flight inclusive from £2475, Land only from £2055
---
Introduction
A country of vast forests, myriad lakes, endless winters and huge swathes of wilderness, Finland remains the archetypal arctic land. This is especially true of Lapland, in the far north of the country, where the midnight sun never sets in the summer and the winter days are cloaked in a twilight of darkness.
Lapland is also home to the indigenous Sami people who still live a semi-nomadic life herding reindeer which they use for meat, fur and transportation; their lifestyle, colourful costumes, cultural traditions and language are protected by Finnish law. Alongside the reindeer, Lapland has a surprising variety of wildlife including wolverine, ermine, bear, wolves and lynx – most of which remain elusive and out of sight of visitors.
With its pure air, remoteness and sense of 'other worldliness', Lapland makes an ideal centre for the lover of outdoor adventure. Here, the most authentic way to travel is by dog sled and our Husky Sledding Arctic Adventure, provides the opportunity for you to do just this. On this exhilarating arctic tour you will drive your own team of huskies through a magical 'Christmas card' wilderness of crisp snow, frozen lakes and dense forests. Stopping each night at wilderness huts, free from light pollution, you will also have the best opportunity for viewing the mesmeric Northern Lights.
---
Key Facts
Capital city: Helsinki
Population: 5,400,000 (2014)
Size of country: 338,145 sq km
Currency: Euro
Power supply: 230 volts AC are standard
Sockets: European two-pin plugs
Language: Finnish
Time difference: GMT + 3 hours
Visas: British nationals may enter Finland for up to 3 months as a visitor without a visa
Religion:Evangelical Lutheranism, Eastern Orthodoxy
Popular dishes: Fish
Popular drink: Koskenkorva (distilled grain alcohol)
Did you know :There are exactly 187,888 lakes (larger than 500 m²) and 179,584 islands in Finland. Both are world records.
FCDO advice: FCDO travel advice
---
Climate
When is the best time to visit Finland?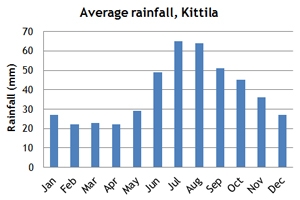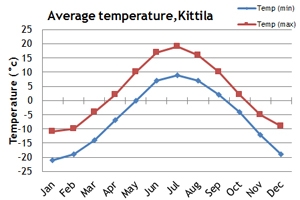 For a country so far north, Finland has a relatively mild climate when compared to other similarly northern regions. This is primarily due to the Gulf Stream that flows off Finland's west coast as well as the many lakes and gulf of Bothnia. As a result, southern Finland has temperatures between 13 and 17°C and a fairly standard winter lasting around 3 months.
In northern Finland, the winter is much more extreme and lasts nearer 7 months.The ground remains blanketed in snow from October through April and the lakes and gulf are frozen over - ideal for a Husky Sledding winter adventure. Temperatures in the north of the country in the winter can fall as low as -30°C with January and February being the coldest months.
There is also very little daylight during the winter period with virtually no sunrise for two months in the north. By contrast, the summer months see almost permanent daylight as northern Finland lies in the Land of the Midnight Sun.
The dark winter skies are perfect for viewing the Aurora Borealis, or Northern Lights - often at their most dazzling in northern Finland where light pollution is minimal.