Our grading system explained
Gentle
Gentle / Moderate
Moderate
Moderate / Vigorous
Vigorous
Vigorous / Strenuous
Strenuous
Expedition Grade
Armenia

The beautiful mountains and ancient monasteries of Armenia are understandably its biggest draw, but there's so much more to discover in one of Europe's newest and most enthralling countries.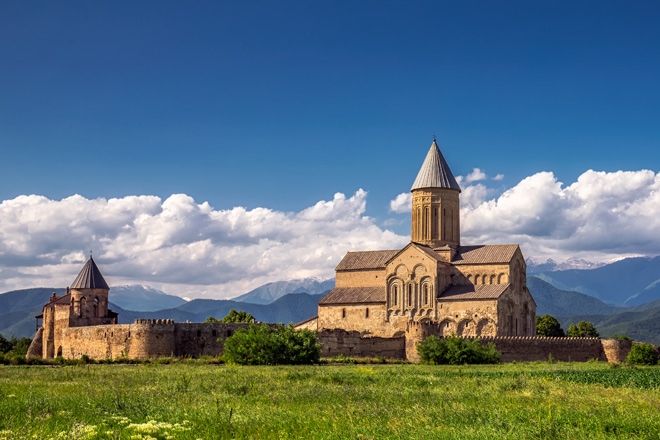 New
Explore five different scenically stunning UNESCO World Heritage sites
See the picturesque High Caucasus mountains and snow-capped Mount Ararat
Spend a night at a winery and sample Georgia's world-renowned wines
Uncover layers of history in Georgia with a tour of Tbilisi and the birthplace of Stalin
Try your hand Lavash bread making and visit an Armenian arts and craft market
Discover off-the-beaten-track monasteries and fascinating ancient temples
Flight inclusive from £3185, Land only from £2595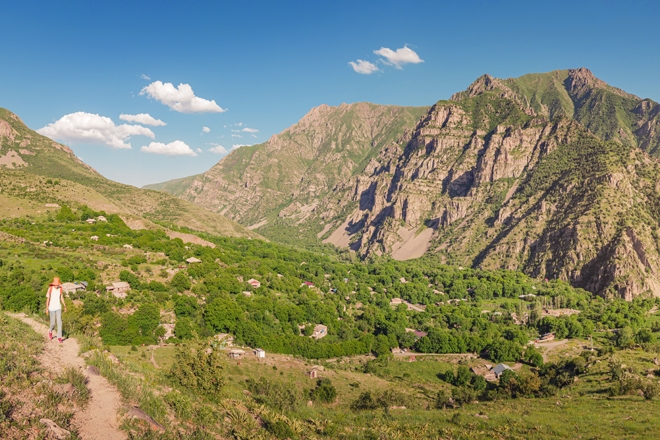 New
Explore the main historical sites including UNESCO World Heritage listed monasteries
Discover the vibrant capital Yerevan with its museums, markets and modern art
Enjoy well-paced walks on scenic mountain paths with breathtaking views
Walk a beautiful section of the Transcaucasian Trail to Goshavank Monastery
Stay in comfortable, en suite accommodation throughout
Flight inclusive from £2255, Land only from £1495
---
Introduction
One of the most eastern countries of Europe, where English isn't widely spoken, Armenia is a surprisingly easy country to visit. The people are immensely warm and welcoming, the food and drink is as good as any you'd taste elsewhere, entry visas are not required and it is extremely safe with very low levels of crime. In addition, the natural landscapes are spectacular and its historical and cultural treasures are second to none.
Armenia is in fact a very mountainous country dominated by the Lesser Caucusus which rise to their highest point, Mount Aragats, at 4,090m. High peaks, deep river gorges, forested hills, alpine meadows and fruit orchards characterise the landscape making it ideal for walkers keen to discover a place where much is still-off-the-beaten-path. Walking trails are gradually becoming established though - the Transcaucasian Trail that crosses the border with neighbouring Georgia – being its newest, long-distance walking trail.
The fertile valleys, terraces and meadows of Armenia are ideal terrain for growing a wide range of produce, particularly fruit and vines. Pomegranates, peaches, apricots and sweet cherries are just some of the fruits that are grown here in abundance whilst the grapes grown on warm hilly terraces make some of the best wines, and brandies, in all of Europe. Many villagers also keep their own livestock ensuring a tasty array of locally produced dairy products, especially cheeses, as well as well-grazed meat. Every meal you enjoy in Armenia will reflect the freshness and locality of these first-class ingredients.
Like much of eastern Europe, Armenia has a rich and complex history which can be witnessed through the architecture and monuments of both city and countryside. Its oldest surviving building is the impressive Hellenic Temple at Garni revealing Armenia's time as part of the Roman Empire; the ancient monasteries that feature strongly on any visitor's itinerary are evidence of Armenia's place as the first Christian nation in the world; the austere Soviet era buildings are a reminder of Armenia's more recent past; and the café's, hotels and contemporary buildings of Yerevan showcase a modern, European country that has been a proudly independent republic since 1991.
It's this compelling combination of stunning mountain scenery, fascinating history and delicious food and wine, together with the warm hospitality of its people that should put Armenia to the top of any discerning traveller's wishlist.
---
Key Facts
Capital city: Yerevan
Population: 3,000,756 (2022 est)
Size of country: 29,743 sq km
Currency: Dram
Power supply: 230 volts AC
Sockets: European two-pin plugs
Language: Armenian
Time difference: GMT + 4 hours
Visas: British nationals may enter Armenia for up to 180 days per year without a visa
Religion: Christianity – predominantly the Armenian Apostolic Church although there are some smaller Christian denominations. There are also small communities of Yazidis, Kurds and Jews practicing their own religions.
Popular dishes: Lavash (Armenian flatbread) is served with most meals. Armenia also has excellent cheeses and an abundance of locally grown fresh fruit.
Popular drink: Armenia produces top quality wines and brandy
FCDO advice: https://www.gov.uk/foreign-travel-advice/armenia
---
Climate
Armenia has a typical European climate with hot, dry summer months and cold winter months. Elevation, rather than regional differences, causes some of the biggest variations in climate with lowlands experiencing higher temperatures than the mountains and highlands. The high mountains see a lot of snow in the winter.

July and August can be stiflingly hot, especially in the cities, whilst December through to February is often extremely cold. Spring tends to be short and quite showery although by mid to late May and into June the days are noticeably warmer and drier than earlier in the spring. The very pleasant autumn months from September to early November see little rainfall and enjoy warm temperatures making this the best time of the year to visit Armenia.