Our grading system explained
Gentle
Gentle / Moderate
Moderate
Moderate / Vigorous
Vigorous
Vigorous / Strenuous
Strenuous
Expedition Grade
Kosovo

A land of stunning mountain landscapes and boundless hospitality that remains largely undiscovered by the outside world.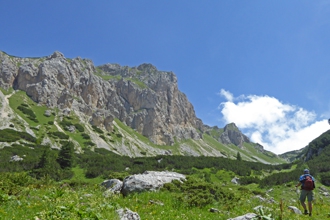 Trek on sections of the 'Peace Trail' circuit straddling the borders of Kosovo, Albania and Montenegro
Enjoy rugged walking and ascend three peaks including the highest in Kosovo
Experience the warmest of welcomes and the generous hospitality of the local shepherds and farmers
Stay in a traditional shepherd's hut and village houses for a glimpse of an ancient way of life
Departures:
Jan
Feb
Mar
Apr
May
Jun
Jul
Aug
Sep
Oct
Nov
Dec
---
Introduction
Despite being Europe's newest nation and having scenery that can hold its own with any of the great mountain regions of the world, Kosovo remains outside the purview of most travellers and trekkers. Sadly, many people only associate Kosovo with the Balkan war of the 1990s, not realising how much it has progressed since those dark days and how safe it is to travel there.
The recently founded Balkans Peace Park Project is a testament to Kosovo's new dawn and forward thinking. The sustainable tourism project aims to preserve the fabulous flora and fauna of the high mountains and to help the local inhabitants sustain their centuries old lifestyles. As part of the initiative, a long distance walking path has been established that criss-crosses the borders between Kosovo and its neighbouring countries of Albania and Montenegro where few trekkers have yet to set foot. The 120 mile trail winds through traditional villages, over peaks and ridges and across beautiful, flower-filled meadows that are still used by shepherd's in the summer months to graze their flocks of sheep. Accommodation en route is in authentic shepherd's huts, village homes or small guesthouses where the welcome is guaranteed to be warm and the food plentiful and hearty.
Virtually all of the Peace Trail can be walked on our two trekking holidays in the region: our Three Peaks of the Balkans trip begins and ends in Kosovo whilst our Accursed Mountains Trek focuses more on the Albanian sections of the trail through equally spectacular and unspoilt mountain scenery.
Away from the trails there is also much to enjoy and discover in Kosovo. The country's towns and cities reflect both its rich cultural heritage and vibrant future with Ottoman mosques and Orthodox churches sitting side-by-side on cobbled streets lined with lively cafes and busy shops. And, although remnants of the recent troubles are still in evidence, look beyond yesterday's headlines and you will be rewarded with remarkable hospitality, breathtaking landscapes and a land full of wonderful surprises.
Related news and articles
An interview with Seraphina: conquering the three peaks of the Balkans
---
Key Facts
Capital city: Pristina
Population: 1.86m (2014 estimate)
Size of country: 10,908 km2
Currency: Euro
Power supply: The standard voltage is 230 V and the standard frequency is 50 Hz
Sockets: 2 pin round socket
Language: Albanian and Serbian are the official languages. Other recognized regional languages are Bosnian, Turkish, Gorani and Romani.
Time difference: GMT +1 hour
Visas: British nationals only require a valid passport to enter Kosovo
Religion: Kosovo is officially a secular state. Approximately 95% of the population follow Islam whilst just under 4% are Christians.
Popular dishes: Pies are very popular in Kosovo, particularly Flija which is made from thin pancake layers with a yoghurt filling. Simple grilled meats are also a staple of the diet often served with a red pepper relish called Hajvar.
Popular drinks: Strong Turkish coffee is very popular in Kosovo, whilst homebrewed raki is commonly offered as a welcome drink to visitors.
Did you know: Kosovo declared independence in February 2008 making it the second youngest country in the world after South Sudan.
FCDO advice: FCDO Travel Advice for Kosovo<\a>
---
Climate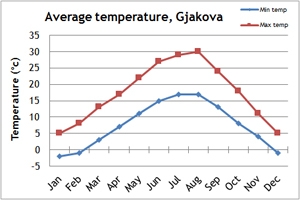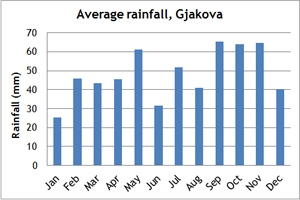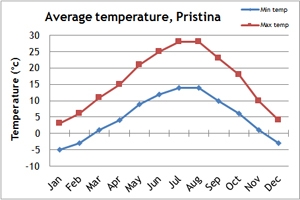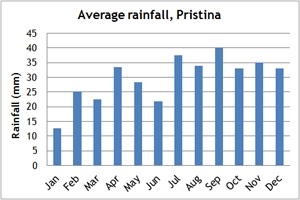 When is the best time to travel to Kosovo?
Kosovo experiences extremes of heat between high summer and winter, especially in the mountains. In the peak summer months temperatures can reach an unpleasant 40° C whilst in the winter they can fall below -30° C with heavy snows. This makes late spring and early autumn (June and September) the best time for trekking in Kosovo. These months are also relatively dry although, as with any mountainous region, rain and inclement weather can be experienced at these times of the year.
If you can't make the dates of our group departures, then take a private departure on dates to suit you, or we can create a Tailor Made holiday to Kosovo, especially for you and your family or friends.