Our grading system explained
Gentle
Gentle / Moderate
Moderate
Moderate / Vigorous
Vigorous
Vigorous / Strenuous
Strenuous
Expedition Grade
What makes Morocco so special?
The diverse landscapes also offer a feast fit for trekking. Morocco boasts high mountains, deep gorges, rugged coastline, fertile river valleys and the sweeping sands of the Sahara. Whether you choose a gentle exploration of this fascinating country or a classic route for mountain trekking, Morocco will give you a memorable adventure.
Sitting on the cusp of North Africa, Morocco is a fascinating cultural blend of North African, Arabic, French and Berber cultures. Vibrant cities such as Marrakesh, Fez and Essaouira are perfect places to visit, before or after a trekking holiday in Morocco, where you can haggle in souks, sip mint tea in the cafes, and enjoy the fine cuisine. Away from the cities, highlights include the famous Kasbah of Ait Benhaddou and the majestic Sahara desert – these cultural and scenic splendours will enrich any Morocco trekking holiday. For anyone interested in mountain trekking, Morocco's High Atlas Mountains will be the destination of choice. Jebel Toubkal (4,167m) is the usual objective for seasoned mountain trekking in Morocco, as it is the highest peak in North Africa, but those who want a more relaxed walking holiday can enjoy gentle hiking through the ancient kasbahs and fertile valleys of the country's interior.
Morocco Walking & Trekking

How can somewhere so close to home be so different? From the moment you awake to the sound of the call to prayer, the history, art, culture, landscapes and way of life in the Kingdom of Morocco beguiles you.
---
Introduction
At 4167m/13,672ft high, Jebel Toubkal is the main, but by no means the only objective on many trekking holidays in Morocco. Whilst some may be content just to try to bag North Africa's highest peak in two or three days, our itineraries offer carefully designed routes, avoiding the crowds whenever possible and giving the best acclimatisation – to ensure you can get the maximum enjoyment out of this fantastic trekking experience. For those looking for more off-the-beaten-track trekking, the Jebel Sahro range has wonderful scenery, a year-round climate and good trails, making it an excellent area for winter walking.
Of course, no trip to Morocco would be complete without a visit to the exotic walled city of Marrakesh where mediaeval-style alleyways and squares of the old medina immediately transport you to a different age. Wood carvers, metal workers and Berber merchants still ply their trade in the street, amidst the wonderful chaos of the various souks. All our holidays to Morocco begin and end in Marrakesh with accommodation in a lovely, centrally located riad.
But beyond the city, there are some wonderfully alluring sights and sounds to experience from the Tzi n'Tichka pass across the Atlas Mountains where agriculture dominates and everything is sown, grown and harvested by hand; the impressive Ksar of Ait Benhaddou set amongst palm trees and oases on the edge of the desert, and the Saadian city of Taroudant. The atmospheric port of Essaouira with its white-washed rather than red-earth walls, fresh sea air as opposed to the sultry desert heat, couldn't be more different to other Moroccan towns and is a wonderful place to relax. Discover Essaouira and more of Morocco's rugged coast on our Morocco Coastal Trek & Essaouira holiday. Or, lose yourself in the tranquillity of the desert on our Sahara Camel trek. For a more demanding trek in the High Atlas Mountains, our Happy Valley & M'Goun Gorges trek is an exhilarating adventure through two of Morocco's besk-kept secrets.
Ultimately Morocco is a wonderful destination whether you are looking to undertake a challenging ascent of Mount Toubkal combined with trekking through Berber villages or enjoy a warm Winter Walk in the Jebel Sahro.

Related news and articles
---
Key Facts
Capital city: Rabat
Population: 32,309,239 (2011)
Size of country: 446,550 sq km
Currency: Moroccan Dirham
Power supply: 220 volts
Sockets: Round, two-pin
Language: Arabic is the official language but Berber and French are also spoken.
Time difference: Same as GMT
Visas: British nationals do not require a visa.
Religion: Muslim 99% (official), Christian 1%, Jewish about 6,000
Popular dishes: Tajine, a stew cooked in a conical earthenware pot to keep the meat moist and tender.
Popular drinks: Mint tea
Did you know: In days of old, it was unlawful to sell a date tree, as it was a source of food for the family.
FCDO advice: FCDO travel advice
---
Climate
When is the best time to travel to Morocco?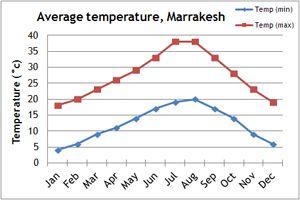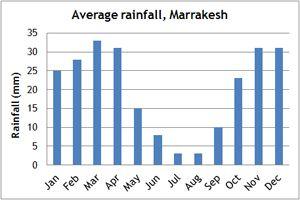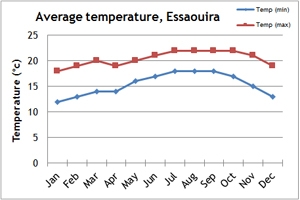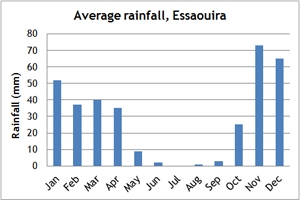 Our climate charts will give you an idea of the weather conditions in Morocco. The best time to visit Morocco is during the spring (April to May), as the landscape should be green and lush October is also a great time to experience some winter sunshine.

During the summer, temperatures can soar, making it uncomfortable to stay in the cities, but a great time to head to Mount Toubkal in the Atlas Mountains, or to the coast, though the coast can be very busy with local holidaymakers, as well as tourists.

September to November is another good time to visit Morocco, as the heat of the summer subsides. You can visit during the winter, but high altitude trekking will be more difficult due to rains, and the possibility of flash flooding in the mountains. Night time temperatures will be very cold, and snow will cover higher passes. We now operate a winter trek in the Jebel Sahro mountain range, being at lower altitude means that it is possible to trek there during the winter months.

If you can't make the dates of our group departures, then take a private departure on dates to suit you, or we can create a Tailor Made holiday to Morocco, especially for you and your family or friends.