Our grading system explained
Gentle
Gentle / Moderate
Moderate
Moderate / Vigorous
Vigorous
Vigorous / Strenuous
Strenuous
Expedition Grade
Antarctica

Travel to the ends of the earth and discover rarely seen sights and take in the unrivalled natural beauty of the frozen continent, Antarctica.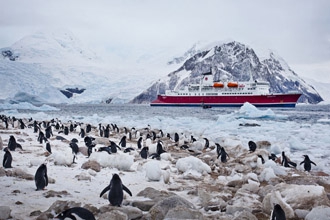 Great value
Time in Buenos Aires and in Ushuaia included
The Beagle Channel, Drake Passage, South Shetland Islands & the Antarctic Peninsula
Amazing wildlife and breathtaking scenery
Zodiac excursions, taking you closer to beautiful landscapes and wildlife
Expert guides, great food and en suite cabins on board the M/S Expedition cruise ship
Flight inclusive from £8885, Land only from £7715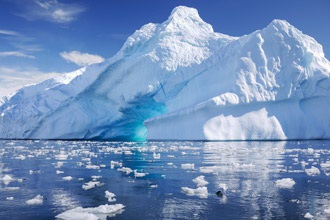 Great value
Time in Buenos Aires and in Ushuaia included
Explore the South Shetland Islands & Antarctic Peninsula
Regular Zodiac excursions take you close to the astonishing wildlife
Spacious cabins, great food and first rate facilities on the M/S Expedition cruise ship
Encounter enormous penguin colonies and keep lookout for whales, dolphins and seals
Flight inclusive from £10585, Land only from £9450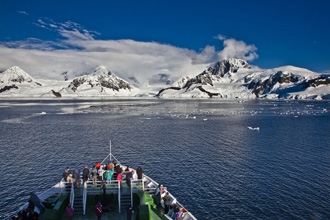 Great value
Time in Buenos Aires and in Ushuaia included
Fascinating wildlife and birdlife of the Falkland Islands
King Penguin & macaroni penguin rookeries of South Georgia
Explore South Shetland Islands & the Antarctic Peninsula
Zodiac excursions, taking you closer to beautiful landscapes and astonishing wildlife
Expert guides, great food and spacious cabins on the M/S Expedition cruise ship
Flight inclusive from £17845, Land only from £16650
---
Introduction
With its impressive wildlife, fascinating history and breathtaking ice-sculpted scenery, Antarctica is a place that forever inspires a genuine thrill of adventure and exploration.
Massive, magnificent and unforgiving Antarctica is a land of superlatives. It is the coldest, windiest and driest continent on the planet. The interior is the largest desert on earth and its land mass is over 14 million square kilometres with 98% of the continent covered by mile thick ice. This seemingly inhospitable world is home to a surprising abundance of wildlife. Vast colonies of King penguins, pods of Minke and Humpback whales and flocks of gulls and albatrosses are only a few of the many species that abound in the seas, land and skies of the 'great white continent'.
The lure of the South Pole and the wild landscapes of Antarctica have proved an irresistible draw to explorers over the centuries. Ernest Shackleton, Roald Amundsen and ill-fated Robert Scott are perhaps the most notable of those who have attempted to tame the brutal conditions. And, even today, Antarctica attracts modern-day adventurers hoping to leave their own indelible mark on its rich history.
If you too are drawn to this land of stark beauty then we are delighted to offer three superb Antarctic cruises. On our Spirit of Shackleton holiday we embark on a true voyage of discovery spending a remarkable three weeks exploring the many highlights of the region. We cruise south from Ushuaia through the Beagle Channel to visit the Falkland Islands, South Georgia and the Antarctic Peninsula before ending our trip with a memorable crossing of Drake's Passage.
Our Antarctica Classic holiday offers a shorter yet still unforgettable journey through the spectacular land and seascapes of the Antarctic Peninsula and South Shetland Islands. Whilst our Quest for the Antarctic Circle travels as far south as the Antarctic Circle itself giving you the opportunity to set foot on the Great White Continent.
On all these Antarctic tours you will have the opportunity to trek through immense penguin colonies, cruise past towering icebergs and observe the wonder of whales breaching in the pristine waters whilst enjoying excellent accommodation and facilities on-board the M/S Expedition ship. Truly, the trip of a lifetime.
---
Key Facts
Area: approximately 14 million square kilometres.
Wildlife: Common wildlife include penguins, orcas, blue whales and fur and leopard seals.
Record temperature: The coldest ever recorded temperature on Earth was in Antarctica, at -89.2 degrees in 1983. Antarctica is the coldest, driest and windiest continent on Earth.
Population: There is no permanent human population, only temporary scientific research teams. It is the largest remaining wilderness on Earth to remain relatively untouched by human impact.
Location: Home of the South Pole.
Ownership: Antarctica is not owned by any country or run by any government, but has been regulated by the Antarctic Treaty System since 1961, with 53 member countries as of 2015.
Visa requirements: No visa is required to visit Antarctica, however permission from the Antarctic Treaty's Protocol on Environment Protection is granted when booking through your tour operator.
Did you know: Antarctica makes up for approximately 90% of the Earth's entire ice.
---
Climate
When is the best time to visit Antarctica?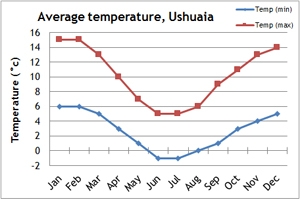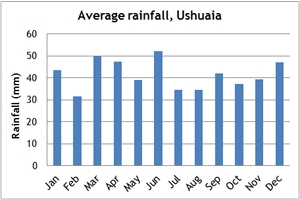 Antarctica's seasons are opposite to the seasons that we're familiar with in the UK. Antarctic summers happen at the same time as UK winters. This is because Antarctica is in the Southern Hemisphere, which faces the Sun during our winter time. The winter months in Antarctica bring extremely cold temperatures - the coldest on earth - very high winds, months of darkness and ice-locked seas.
The best time to visit the region is therefore during the summer months of November through to March when the days are longer, the temperatures warmer and the birds and wildlife at their most active. In fact, this is the only time of the year you can visit as this is when the ice channels open up allowing ships and boats to pass through and explore the region.
Each month during the summer though brings particular highlights: November to early December is when the pack ice starts to melt creating an ever changing landscape. Penguins and seabirds are displaying their courting rituals, seals are visible on the shorelines and ice floes and elephant and fur seals are establishing their breeding grounds. Mid-December to January brings the peak summer months when temperatures are at their highest and days at their longest - around 20 hours of daylight. Whale sightings become more numerous at this time, penguin chicks start to emerge and fur seals are breeding. Antarctica is at its lightest and most active during these months. The late summer months of February and March bring some of the best sunrises and sunsets to Antarctica - creating superb opportunities for the photographer. Whale sightings are at their peak and penguin chicks are beginning to fledge bringing much noise and activity to the vast penguin rookeries.
In fact, whatever time you choose to take a cruise to Antarctica during the summer months there will always be something amazing to see.