Our grading system explained
Gentle
Gentle / Moderate
Moderate
Moderate / Vigorous
Vigorous
Vigorous / Strenuous
Strenuous
Expedition Grade
Polar Cruising
M/S Expedition Polar Cruising

Embark on the adventure of a lifetime and cruise through the stunning Polar Regions on board the welcoming M/S Expedition ship. Having been refurbished in 2009, the M/S Expedition offers roomy cabins, all complete with en-suite facilities and ocean facing windows.You have the opportunity to experience mesmerising views from the sizeable common areas and observation decks, with the opportunity to get close to the remote polar landscapes decorated with glistening icebergs. Holding up to 140 passengers within its spacious interior, the M/S Expedition provides the perfect mix of space, expertise and comfort.
Arctic
Departing from remote Longyearbyen northern Norway, cruise through the mysterious Norwegian Fjord before reaching the shimmering waters of the Arctic.Throughout your journey you will be on the lookout for wandering wildlife, including walruses, vast colonies of seabirds and the majestic polar bear – a remarkable sight!
Antarctica
A cruise through Antarctic seas allows the frozen continent to been seen in all its glory. Discover magical icy white scenery, awe-inspiring ice-bergs, and experience incredible encounters with wildlife. Complete with exciting zodiac excursions, giving you the chance to explore the shore on foot, a trip to Antarctica really is an unforgettable adventure.
The M/S Expedition
The M/S Expedition boasts spacious, en suite, cabins. Our prices are based on Category 2 twin cabins which have a porthole window and ample storage for all your kit.

Upgrades are available to the following cabin types: Category 3 twin cabins which are slightly roomier and have a picture book window; Category 4 twin share which are larger still with a bigger window; and Category 5 cabins that offer a junior double suite with separate living area as well as larger bedroom and bathroom.

Safety Features
• Designed to Ice Class 1B specifications for service in sea ice.
• Four totally covered lifeboats provide capacity for all passengers and crew, while six life-rafts boast a capacity of 150 persons.
• Full immersion cold weather survival suits for all passengers and crew

Facilities & Amenities
The M/S Expedition offers stability at sea, comfortable cabins and ample communal areas. With a maximum of 140 guests you will be well catered for by expert guides, staff and crew.
• 360° top observation deck
• All cabins with private, en suite bathrooms and outside views
• Raised forward observation deck
• Large fleet of Zodiacs with four stroke engines
• Complimentary wellington boots for duration of your cruise
• Fine dining – international cuisine in one sitting
• Large aft deck with barbecue facilities
• Polar Bear Pub
• Gift shop
• Medical clinic
• Sauna
• Computer room with internet where available
• Gym
• Expert guides, 55 members of staff & crew

Travel to the ends of the earth on an unforgettable polar adventure aboard the M/S Expedition Cruise Ship.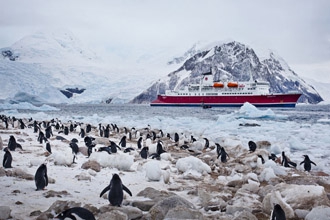 Great value
Time in Buenos Aires and in Ushuaia included
The Beagle Channel, Drake Passage, South Shetland Islands & the Antarctic Peninsula
Amazing wildlife and breathtaking scenery
Zodiac excursions, taking you closer to beautiful landscapes and wildlife
Expert guides, great food and en suite cabins on board the M/S Expedition cruise ship
Flight inclusive from £8795, Land only from £7715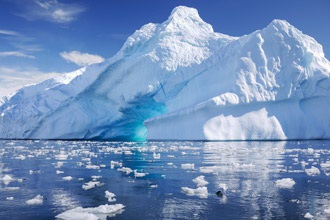 Great value
Time in Buenos Aires and in Ushuaia included
Explore the South Shetland Islands & Antarctic Peninsula
Regular Zodiac excursions take you close to the astonishing wildlife
Spacious cabins, great food and first rate facilities on the M/S Expedition cruise ship
Encounter enormous penguin colonies and keep lookout for whales, dolphins and seals
Flight inclusive from £10535, Land only from £9450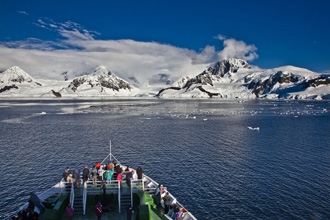 Great value
Time in Buenos Aires and in Ushuaia included
Fascinating wildlife and birdlife of the Falkland Islands
King Penguin & macaroni penguin rookeries of South Georgia
Explore South Shetland Islands & the Antarctic Peninsula
Zodiac excursions, taking you closer to beautiful landscapes and astonishing wildlife
Expert guides, great food and spacious cabins on the M/S Expedition cruise ship
Flight inclusive from £17845, Land only from £16650