Our grading system explained
Gentle
Gentle / Moderate
Moderate
Moderate / Vigorous
Vigorous
Vigorous / Strenuous
Strenuous
Expedition Grade
Pakistan

Northern Pakistan and the mighty Karakoram, home to the highest number of peaks over 8,000m to be found anywhere on the planet, including K2, the second highest mountain in the world at 8,611m/28,251ft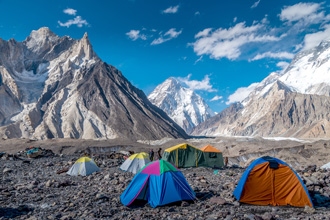 Experience one of the world's greatest treks with excellent acclimatisation
Enjoy spectacular scenery with views of the great peaks of the Karakorams
Camp at breathtaking Broad Peak Base Camp giving a much less demanding trek into K2 Base Camp and maximising your time there
Spend two nights in the magnificent mountain amphitheatre at Concordia
Take a scenic flight to and from Skardu
Land only from £2595
---
Introduction
Despite it's modern-day troubles, Pakistan is a country with a tremendously rich cultural and historical heritage. Home to many ancient cultures and kingdoms and ruled by numerous empires and dynasties over thousands of years, its impressive archaeology, flavoursome cuisine and ethnic diversity all reflect the many varied influences on its past.
It is undoubtedly a country that has much to offer visitors who are prepared to go beyond the negative headlines and discover a land of welcoming people, natural wonders and architectural splendours. In fact, Pakistan's absence from the tourist trail, has meant that its many attractions have remained outside of the influence and impact of mass tourism; unspoilt and now largely open to those willing to explore a little further.
There is no more rewarding area to visit, particularly for lovers of remote, epic treks, than the Karakoram mountains in northern Pakistan. An extension of the Greater Himalaya, the range is some 250 miles long and a glittering tangle of granite peaks and gigantic glaciers. In fact, the Karakoram contains the greatest concentration of ice outside the Polar Regions. It also contains four of the world's 8,000m peaks with K2, the highest of them all at 8,611m.
At the heart of the Karakoram is Concordia - the confluence of the mighty Baltoro Glacier and the Godwin-Austen Glacier - around which are clustered the awe-inspiring peaks of K2, Broad Peak and Gasherburn I And II. The trek to reach Concordia is justifiably considered one of the classic walks of the world that will take you to the foot of the world's second highest mountain. Our K2 Base Camp Trek is a true expedition – wild, remote, challenging and immensely rewarding.
Read a fascinating account of trekking to K2 Base Camp in our blog article - Looking back on an epic journey to K2.
---
Key Facts
Capital city: Islamabad
Population: 191,715,847 (2015 est.)
Size of country: 796,095 sq km
Currency: Pakistani rupee
Power supply: 220 volts AC, 50Hz
Sockets: Round three-pin and two-pin variety
Language: Urdu
Time difference: GMT +5 hours
Visas: British nationals require a visa to visit Pakistan which must be obtained in advance
Religion: Islam
Popular dishes: Biryani
Popular drinks: Chai
Did you know: The world's second largest mountain is in Pakistan, named K2 at 8,611m/28,250ft. The first ascent was made in 1953 by two Italians. The first British ascent was made in 1986 by Alan Rouse and Julie Tullis
FCDO advice: FCDO travel advice Pakistan
---
Climate
When is the best time to visit Pakistan?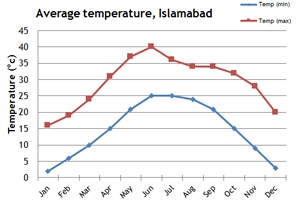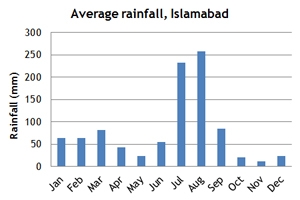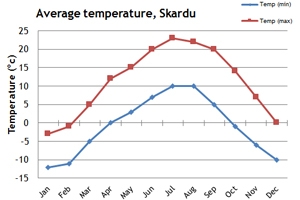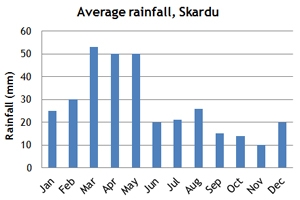 Our climate charts will give you an indication of the climate you may typically experience in different parts of Pakistan.
Much of Pakistan experiences four seasons - a cool, dry winter from December through February; a hot, dry spring from March through May; the summer rainy season, or southwest monsoon period, from June through September; and the retreating monsoon period of October and November. Temperatures in the summer months can rise to 40 degrees celsius and rainfall is unsurprisingly heavy during the monsoon rains.
However, being north of, and in the rain shadow of, the Himalaya, the Karakoram mountains receive little monsoonal rain and generally enjoy a warm, dry climate between June and August making them an ideal summer trekking destination. The cool mountain air keeps the temperatures at a far more pleasant level than other areas of the country, whilst the trails at lower altitudes will be full of colour following the spring rains in the region. As with all mountainous areas though, the weather can be unpredictable so it is always best to trek prepared for any eventuality!
Our treks to K2 Base Camp in the Karakoram mountains depart between June and August ensuring that you get the best possible weather conditions for your Pakistan trekking holiday.
If you would prefer to take a similarly challenging, high mountain trek in the spring or autumn then take a look at our trekking options in Wild Nepal and Bhutan.