Our grading system explained
Gentle
Gentle / Moderate
Moderate
Moderate / Vigorous
Vigorous
Vigorous / Strenuous
Strenuous
Expedition Grade
Albania

A fascinating culture unlike any other in Europe, Albania is sure to provide a memorable trekking and walking experience where you can meet the wonderful local people and enjoy spectacular scenery.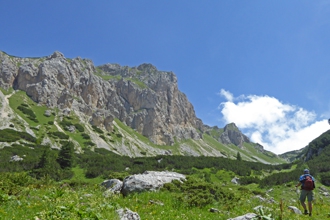 Trek on sections of the 'Peace Trail' circuit straddling the borders of Kosovo, Albania and Montenegro
Enjoy rugged walking and ascend three peaks including the highest in Kosovo
Experience the warmest of welcomes and the generous hospitality of the local shepherds and farmers
Stay in a traditional shepherd's hut and village houses for a glimpse of an ancient way of life
Departures:
Jan
Feb
Mar
Apr
May
Jun
Jul
Aug
Sep
Oct
Nov
Dec
---
Introduction
Northern Albania is a fascinating and little visited corner of Europe that was closed to the outside world for many years both by geography and politics. For many hundreds of years, life in the remote valleys was governed by 'Kanun' - ancient laws that ruled the fiercely independent tribes who inhabited the seemingly impenetrable mountains, this was followed by harsh years of communism and isolation from the outside world. The outcome of Albania's isolation though, is an unspoilt landscape and communities living simple lives - farming in the valleys, ready to welcome visitors with open arms.
Albania's untouched beauty is nowhere more evident than in the 'Accursed Mountains'. Named after a local legend about a 'fairy curse', the sheer scale and impenetrability of this Alpine range can make the name seem extremely apt. However, it belies the beauty of the mountains' limestone gorges, thickly forested slopes, flower-strewn meadows and craggy peaks. Perhaps the highlight of any walking holiday in this area is to trek through the picturesque Thethi Valley where you can share the hospitality of local farmers and enjoy a dip in scenic natural pools.
A land of lakes as well as mountains, any walking holiday in Albania should also find time to enjoy a boat trip. A cruise across Drin Lake provides an ideal opportunity to gain a different perspective of the ruggedly beautiful countryside. And, at the end of the boat ride you can visit impressive Rozafa castle and discover a wealth of history of this fascinating Balkan country.
For superb scenery, unspoilt landscapes, generous people and time-honoured traditions, our unique Accursed Mountains Trek is the best way to discover this beguiling destination. You can also trek in the Accursed Mountains of Albania and the highest peaks of Kosovo on our Three Peaks of the Balkans Trek.
Related news and articles
An interview with Seraphina: conquering the three peaks of the Balkans
---
Key Facts
Capital city: Tirana
Population: 3,000,000 (2013)
Size of country: 28,748 sq km
Currency: Lek
Power supply: 220 volts AC
Sockets: European two-pin plugs
Language: Albanian
Time difference: GMT + 2 hours
Visas: British nationals may enter Albania for up to 90 days as a visitor without a visa
Religion: 70% Muslim, 20% Orthodox, 10% Catholic
Popular dishes: Mediterranean fish and Koran
Popular drink: Raki
FCDO advice: FCDO travel advice
---
Climate
When is the best time to visit Albania?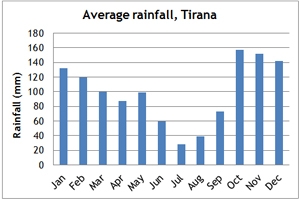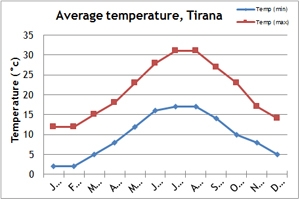 Albania has a typically Mediterranean climate, with hot, dry summers and mild winters particularly along the coast and in the lower lying areas.
In higher areas, such as the Albanian Alps, winters can be much more extreme - snow, ice and sub-zero temperatures are not uncommon during the winters here which start at the end of November and last till the beginning of March. Even Tirana can experience snow during this time.
By way of contrast, summer temperatures can reach 30 degrees plus in Albania - although, they are lower the higher you go. Conditions are excellent for summer trekking in the Alpine areas such as the Accursed Mountains - the best place to be in the heat of an Albanian summer. Days are mainly dry, clear and sunny but not too hot and evenings are cool but not too cold. At the highest altitudes it will feel colder and, as with most mountain regions storms may be encountered.
We have arranged our group departures to Albania for the peak summer months to make the most of the good weather conditions. If you'd prefer to travel outside of these dates then simply contact one of our travel experts to discuss a private itinerary organised just for you.