/
Travel Aware - FCDO Advice
Travel Aware - FCDO Advice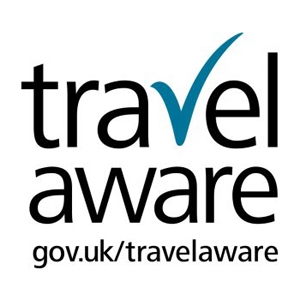 Mountain Kingdoms has spent over 33 years travelling the world, finding the best trekking trails, the most memorable cultural tours and so much more.This wealth of experience has not only helped us to create fantastic holidays, but also means our team have a become a fountain of travel knowledge, all at the end of the phone or an email, to give you the best travel advice ahead of your adventure.
Before your travels you will be sent a trip dossier which includes all of the information that you need to know about the destination you are visiting. Plus, on our website each travel destination features key facts, climate charts and advice on when to travel.
We are proud to have joined the UK Foreign, Commonwealth & Development Offices 'Travel aware' campaign. The aim of this campaign is to ensure that anyone travelling abroad is fully equipped and prepared before they travel.
We highly recommend reading the FCDO's advice on the destination you plan to visit. FCDO advice includes information on the essential details such as vaccinations and visas, plus guidance on common tourist issues and terrorism.
The Travel Aware campaign focuses mainly on the points listed below:
Encouraging travellers to seek FCDO advice before travelling abroad
Preventing travellers taking risks with finances and possessions whilst abroad
Helping travellers follow local laws
Ensuring people travelling abroad have satisfactory travel insurance
Supporting travellers with applying for, or renewing their passports
To keep up to date with the latest news and advice from the UK Foreign, Commonwealth & Development Office, visit their website or follow them on social media:
Website - www.gov.uk/travelaware
Twitter - @FCDOGovUK
Facebook - Facebook.com/ForeignCommonwealthAndDevelopmentOffice