Our grading system explained
Gentle
Gentle / Moderate
Moderate
Moderate / Vigorous
Vigorous
Vigorous / Strenuous
Strenuous
Expedition Grade
Walking holidays in France

The beautiful peaks and valleys of the French Alps are one of France's greatest draws for the keen walker.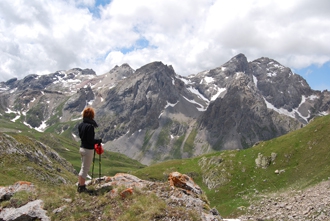 Explore stunning Alpine mountain scenery on satisfying, high level daily walks
Discover the diverse wildlife of this protected area of the Alps,
Immerse yourself in the peace and tranquility of the Clarée Valley with its ancient cultural heritage, distinctive local architecture and lack of modern-day development.
Stay in a traditional, family run hotel where you will enjoy a warm welcome, delicious regional dishes and comfortable rooms.
Flight inclusive from £1760, Land only from £1595
---
Introduction
France is western Europe's largest country and holds within its borders a wonderful array of different landscapes, strong regional cultures and evocative destinations. 'Paris,' 'Champagne,' 'Provence,' or 'Riviera' stimulate the senses and provide captivating images of beauty, colour, style and charm.
It's arguably the Alps that provide France's greatest playground for the keen walker and draw the biggest crowds but even here, you can still find small corners of the French Alps that are surprisingly little known outside of the country such as the stunning Claree Valley. Here you will find traditional alpine villages and a culture little changed by time. The valley is surrounded by high peaks and a network of trails that lead to mountain lakes and stunning viewpoints.
Make the short hop to France and you'll no doubt be captivated by the landscape, history and culture of our favourite neighbour.
---
Key Facts
Capital city: Paris
Population: 67,128,000 (2015)
Size of country: 551,695 km2
Currency: Euro
Power supply: 230v / 50 hz
Sockets: 2-pin round
Language: French
Time difference: GMT +1
Visas: British nationals do not require a visa to enter France.
Religion: There is no official state religion in France and 31% of the population have no declared religious affiliation. 54% of the population define themselves as Christians, 4% as Muslim, 1% as Jews and 1% Buddhists.
Popular dishes: Fondue Savoyard is classic dish in the French Alps.
Popular drinks: Wine is of course, France's most popular drink, wherever you are in the country.
Did you know: The French have the same informal word for hello and goodbye – 'Salut'.
FCDO advice: FCDO travel guide
---
Climate
When is the best time to visit France?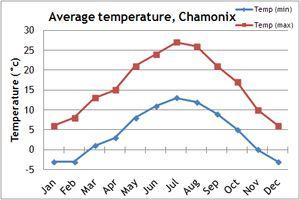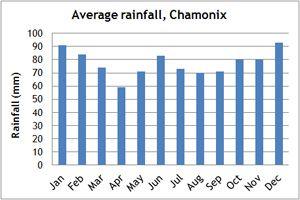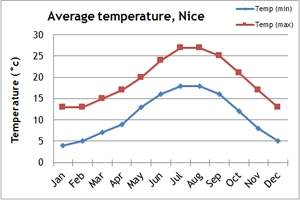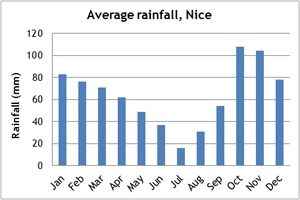 Being such a large country with a wide variety of landscapes and geographic zones, the weather across Frances varies considerably. Here we focus on the southeast and Alpine regions where we run our walking and trekking holidays.
The southeast corner of France is renowned for its hot temperatures and pleasant Mediterranean climate throughout the year and especially for its dry, sunny weather during the summer months. The region benefits from over 2,800 hours of sunshine a year and is the hottest place in France.
Spring arrives early with average temperatures around between 16 and 22°C and is ideal for walking or trekking. July and August are months of strong sun and intense heat. The average minimum temperatures, already high, vary between 13 and 15°C in the mornings. Over the course of the day, temperatures can rise to between 26°C and 28°C, but at night the air cools and has a wonderfully pleasant feel. Autumn is often blessed with a gentle Indian summer characterised by warm days with clear blue skies. In the beautiful September light, the maximum temperatures rise to between 21°C and 25°C. They remain very mild in October, with average maximums varying between 16 and 19°C.
A climactic peculiarity of this region is the Mistral wind - a fierce, cold, dry wind from the north or north-west which roars towards the coast. It can reach speeds of over 90 km / 56 miles an hour, can last for days and is usually, though not always, accompanied by bright blue skies and bright sunshine. But it is guaranteed to make temperatures plummet - and the wind chill factor makes it feel even colder. In winter it's extremely bitter and in summer (a rarer occurrence) it comes as a welcome relief from the heat. It's also the reason why houses in Provence are often built with all their windows facing south.
In the French Alps, the peak summer months of late June to early September are the premium time to go walking or trekking or to tackle a trekking peak. For this period of time, the snow has receded from the valleys and lower slopes making the walking trails fully accessible. Verdant Alpine meadows bloom with colourful wildflowers and the snowcapped peaks make a stunning backdrop. Higher temperatures, less rain and gentler winds also make this a more pleasant time to enjoy the mountain environment. However, as with any mountain region, weather is always more unpredictable and it is always best to come prepared for any eventuality.
Our group departures have all been scheduled to enjoy the best weather conditions. If you can't make the dates of our group departures, then let us create a Tailor Made holiday to France, especially for you and your family or friends.