Our grading system explained
Gentle
Gentle / Moderate
Moderate
Moderate / Vigorous
Vigorous
Vigorous / Strenuous
Strenuous
Expedition Grade
Uganda

One of the few places in the world where you can track and observe mountain gorillas in the wild, Uganda offers exceptional wildlife experiences.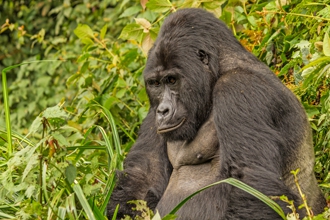 A real once-in-a-lifetime experience!
Track gorillas and chimpanzees in their natural habitat
Take a boat trip on the mighty River Nile
See the spectacular Murchison Falls
Experience incredible wildlife safaris in Uganda's best national parks
Tick off the "Big Five"
Flight inclusive from £5390, Land only from £4530
---
Introduction
With its incredibly varied landscape of high mountains, vast lakes, serpentine rivers, tropical rainforest, manicured plantations and swathes of bushland, Uganda seems to encapsulate the African continent in one country. And, with its new found peace and stability, the 'Pearl of Africa' is once again beginning to shine.
Shining most brightly are Uganda's national parks which protect the very best of the immense natural beauty and diverse wildlife of the country. Within these park boundaries you can walk amidst the highest mountain range in Africa, take a boat trip down the world's longest river and go on safari to spot Africa's Big Five game. However, Uganda's biggest draw are undoubtedly the great, mountain gorillas of which almost half the world's remaining population can be found in the wilds of Uganda. A day spent tracking these remarkable beasts in their natural habitat is a wildlife experience like no other.
Here are some of the highlights of Uganda's national parks, all of which can be enjoyed on our Gorilla & Wildlife Walking Safari.
Bwindi Impenetrable National Park One of Africa's most ancient habitats, Bwindi is home to an estimated 360 mountain gorillas. A day spent tracking and observing silverback gorillas through the dense rainforest of the park is a rare privilege indeed. In addition to gorillas, Bwindi is also home to 120 species of mammals including forest elephants and African golden cats, and a dazzling array of 360 different birds.
Murchison Falls National Park This is Uganda's largest National park and one of its most popular due both to its opportunities for wildlife viewing and the impressive Murchison Falls. The 40m high falls are created by the Nile River being squeezed through a small narrow cleft in the Rift Valley escarpment. A boat ride and walk to the top of the falls is one of the highlights of a visit to the park.
Kibale Forest The tropical rainforest at Kibale has the highest density of primates anywhere in Africa and is home to 13 different species including the rare red colobus and L'Hoest's monkeys. It is also one of the best places in the world to track chimpanzees in the wild. Kibale also offers wonderful walking opportunities, especially the trail to the 'top of the world' viewpoint from where you can enjoy stunning panoramic vistas.
Rwenzori Mountains National Park One of Uganda's two World Heritage Sites – designated for both its natural beauty and bio-diversity - Rwenzori should be high on any visitor's list to Uganda. The Rwenzori Mountain range is the highest in all Africa with three peaks over 5,000m providing a haven for numerous species of birds, wildlife and flora, including several that are found nowhere else. A walking safari here offers beautiful mountain scenery as well as many possibilities for sightings of rare plants and animals.
Queen Elizabeth National Park With a varied habitat of savannah, bush, wetlands and forest, this park in southwest Uganda has a wonderful variety of birds and mammals to discover including tree-climbing lions, waterbuck, hippos and leopards. Unsurprisingly, it makes an excellent destination for birdwatching and game drives and also offers boat trips on the beautiful Kazinga Channel.
---
Key Facts
Capital city: Kampala
Population: 34,634,650 (2014 census)
Size of country: 241,038 km2
Currency: Ugandan Shilling (UGX)
Power supply: The standard voltage is 240 V and the standard frequency is 50 Hz.
Sockets: Standard UK style 3-pin
Language: English and Swahili are the official languages
Time difference: GMT +3 hours
Visas: British nationals need a visa to visit Uganda, this is obtained using the online 'e-visa' system.
Religion: Around 85% of the population are Christians with almost half of these Roman Catholics. Muslims comprise approximately 12% of the population.
Popular dishes: Luwombo - a stew of either chicken, beef, mushrooms or fish steamed in banana leaves is a traditional Ugandan dish. Fried grasshoppers are also considered a delicacy.
Popular drinks: Tea is the drink of choice in Uganda including a version of Chai called African Tea which is made by brewing tea, ginger, sugar and milk together.
Did you know: Uganda is Africa's largest exporter of coffee.
FCDO advice: FCDO Travel Advice for Uganda
---
Climate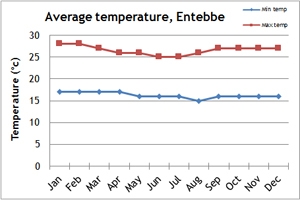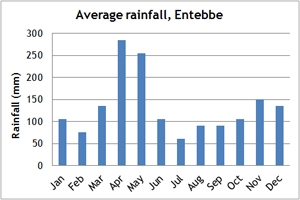 Our climate charts will give you an idea of the average rainfall and temperatures in Uganda.
The best time to visit Uganda is between June and August and also December through to mid-March. These are the driest months and therefore best time for gorilla trekking and tracking chimps in the forests.
During the dry months, water sources become more scarce and therefore wildlife concentrates around the remaining water holes making it easier to find and observe game in the national parks. The wettest months in Uganda are late March to May and it is best to avoid travelling to the country during this time.
If you can't make the dates of our group departures, then take a private departure on dates to suit you, or we can create a Tailor Made holiday to Uganda, especially for you and your family or friends.