Our grading system explained
Gentle
Gentle / Moderate
Moderate
Moderate / Vigorous
Vigorous
Vigorous / Strenuous
Strenuous
Expedition Grade
What makes Laos so special?
Our Laos walking holiday offers easy Laos trekking that explores the seldom-visited northern hill country, where the locals wear elaborately decorated tribal costumes decorated with silver. We also visit the area of Namtha, known for its exotic animal life and bio-diversity before ending the tour at the spectacular caves of Luang Prabang. This remarkable location is also on our cultural Laos tour, Indo China Experience, where guests travel down the Mekong River and explore the atmospheric capital of Vientiane before ending their Laos holiday in the Four Thousand Islands region, with its cascading waterfalls.

Laos Walking, Trekking & Tours

Once a well-kept secret, the former kingdom of Laos, with its jungle-clad mountains, ancient temples and history, is fast gaining a reputation as a fascinating travel destination.
Visit tribal villages and walk in the off-the-beaten-track areas of Northern Laos
Tour the important sights of charming Luang Prabang and elegant Vientiane
Enjoy a languid, scenic journey along the Mekong River
Stay at 4 star hotels and comfortable lodges
Flight inclusive from £3535, Land only from £2550
---
Introduction
Laos is a country infused with a sense of serenity, and the whole pace of life is so much slower than even other countries in Southeast Asia. Lazy, winding rivers thread their way through jungle-covered mountain scenery and a sometimes dreamy haze pervades the Lao atmosphere.
The former royal capital of Luang Prabang is often voted the 'best tourist destination in the world' for its combination of laid-back charms, relaxed air and unique architectural legacy. Built at the confluence of the Nam Khan and Mekong Rivers, in a delightful mountain-encircled setting, the city is UNESCO-designated as a World Heritage Site. The Royal Palace, numerous gilded temples and the beguiling night market are the main highlights. Cosmopolitan Vientiane, the modern-day capital of Laos, is larger than Luang Prabang but its elegant tree-lined avenues, brightly painted temples, fine French colonial architecture and river front promenade mean that it also possesses considerable charm.
Outside of the main towns and cities, Laos also boasts notable historical sites such as the mysterious Plain of Jars, the impressive Khmer temple of Wat Phu at Champasak, and the pilgrimage caves at Pak Ou boasting over 2,000 statues of the Buddha.
In addition to its outstanding historic sites, Laos's northern hill villages, centred on Muang Sing and Luang Namtha , reveal a surprising ethnic diversity with small villages home to tribal groups with rich cultural traditions and brightly-coloured dress. The surrounding landscape of rugged mountains, pristine forests and rich river plains shelter, not only the villages, but also an impressive variety of wildlife including rare clouded leopards, pangolins, Asian elephants, bears and wild boars.
Our Gentle Walking Laos holiday visits colonial cities, natural splendours and hill villages via easy-paced day walks.
---
Key Facts
Capital city: Vientiane
Population: 6,803,699 (est 2014)
Size of country: 236,800 sq km
Currency: Lao Kip
Power supply: 230 Volts
Sockets: two pin, either flat blade or round pin
Language: Lao
Time difference: GMT +7 hours
Visas: British nationals require a visa which must be obtained in advance
Religion: Buddhist 67%, Christian 1.5%, other and unspecified 31.5%
Popular dishes: Làp, a 'salad' of mined meat or fish, with garlic, chillies, shallots, herbs, fried rice and fish sauce.
Popular drinks: Lào lào, a rice alcohol
Did you know: One of the more popular sports in Laos is Kalaw. Similar to volleyball but played with the feet instead of the hands, a high degree of athleticism and skill is required to kick the bamboo ball over a high net.
FCDO advice: FCDO travel advice
---
Climate
When is the best time to travel to Laos?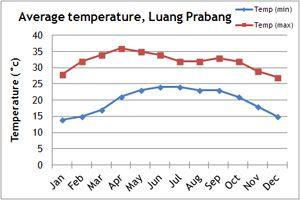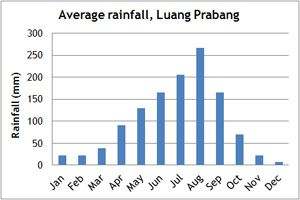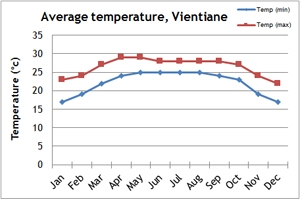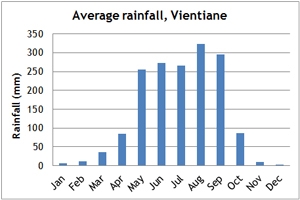 Laos' weather pattern is quite straight forward, with a dry season between October and April, and a wet season May to September. The best time to visit Laos is between November and February. The temperatures tend to climb from February, reaching a high in April. Our climate charts will give you a guide to the weather conditions in Laos.

The monsoon rains are heavy, though can be short lived. Road travel can be problematic during the rainy season. Rivers are best navigated in November after the flooding has subsided but water levels are still high.

If you can't make the dates of our group departures, then take a private departure on dates to suit you, or we can create a Tailor Made holiday to Laos, especially for you and your family or friends.