Our grading system explained
Gentle
Gentle / Moderate
Moderate
Moderate / Vigorous
Vigorous
Vigorous / Strenuous
Strenuous
Expedition Grade
South Africa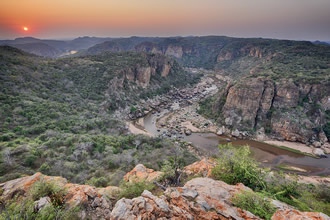 Spend five days exploring remote Pafuri in the far north of Kruger on foot - a unique safari experience.
Track the Big Five on guided jeep safaris and bush walks in a game-rich private reserve within southern Kruger National Park.
Explore Eswatini's wonderful natural landscape with day walks in the Mlilwane Wildlife Sanctuary and Malolotja Mountain Reserve.
Discover the colourful Swazi culture
Stay in characterful accommodation including a beautifully located eco lodge, a historic mountain lodge, a boutique hotel and authentic safari camps
Land only from £3500
---
Introduction
South Africa is a vast country full of an assortment of landscapes that provides the perfect back drop for a safari adventure. This exotic country can be found at the most southern part of Africa and is home to a huge and varied population of 54,956,900 people, speaking 11 languages. Filled with all-encompassing scenery, it's no surprise that South Africa has the 25th largest land area in the world, and has a magnificent, yet tranquil coastline stretching over 1,553 miles. The capital of South Africa is the culturally diverse and fascinating, Cape Town and the largest city is highly populated Johannesburg. Formerly known as the Republic of South Africa, it borders countries including Botswana, Swaziland and Namibia. The country's highest peak is the magnificent Mafadi, located in the Drakensberg, standing at an impressive 11,320ft.
Kruger National Park and Pafuri Camp
Covering an enormous area of 7,523 miles, within the provinces of Limpopo and Mpumalanga in the North East of South Africa, Kruger National Park is one of the largest game reserves in Africa. The park first had some of its land protected by the government of the South African Republic in 1898. Following this, it
Kruger National Park is home to a diverse collection of wildlife. Within the park, 517 species of birds can be found, 253 of which are residents, 117 of which are non-breeding migrants, and 147 are migrants. Out of these 517 species, 6 are large and therefore limited to Kruger and a selection of other conservation areas. The group is known as the "Big Six Birds" and includes the lappet-faced vulture, martial eagle, saddle-billed stork, kori bustard, ground hornbill and the secluded Pel's fishing owl. Kruger National Park is also home to the big five game animals and has webcams set up across the park to observe the wildlife. The park has 147 species of large mammals, which is more than any other African game reserve.
You can now discover the abundant wildlife of the Kruger on foot by walking the Pafuri Trails in the heart of the National Park. And at the end of you safari walk each day you can relax in style at Pafuri camp which is located in the Makuleke Concession of the park and has plenty of luxury tents, complete with en suite bathrooms. This unique perspective on life in the bush can be enjoyed on our Eswatini, Kruger & Wild Pafuri Walking Safari
---
Key Facts
Capital city: Cape Town
Population: 54.9 million (2015)
Size of country: 1,221,037 sq km
Currency: South African Rand
Power supply: 220 - 240 volts
Sockets: British style square pin plugs
Language: Afrikaans, English, Ndebele, Northern Sotho, Sotho, Swazi, Tswana, Tsonga, Venda, Xhosa, and Zulu.
Time difference: GMT +1 hour
Visas: British nationals do not require a visa for a stay of 90 days or less.
Religion: Around 80% are Christians, 1.5% are Muslim, 1.2% are Hindu, 0.3% follow traditional African religion, 0.2% follow Judaism and 15% have no religious affiliation.
Popular dishes: Potjiekos, is a popular meat-based stew prepared outdoors in a traditional round, cast iron, three-legged pot.
Popular drinks: Mageu is a traditional South African non-alcoholic drink made from fermented mealie pap.
Did you know: South Africa is now the only country in the world to have hosted the Soccer, Cricket and Rugby World Cup!
FCDO advice: FCDO travel advice
---
Climate
The best time to visit Kruger National Park
Kruger National Parks climate can be described as subtropical as the summer days are hot and humid. The months receiving the highest level of rainfall are October to March, therefore, the best time to visit this region of South Africa is the dry winter season. Furthermore, if you are visiting this area to view wildlife, then doing so during the dry winter season is more rewarding. The fauna is sparser resulting in the animals being drawn out to waterholes to have a drink.
The city of Johannesburg experiences a warm and sunny climate, particularly during their summer months from October to April, where hot days are often followed with afternoon rain showers, finishing with cool evenings. The winter months from May to September, are filled with dry and sunny days followed by much colder nights. Usually temperatures in Johannesburg remain quite mild, which is a result of the city's high elevation.