Our grading system explained
Gentle
Gentle / Moderate
Moderate
Moderate / Vigorous
Vigorous
Vigorous / Strenuous
Strenuous
Expedition Grade
What makes Mongolia so special?
Outer Mongolia is a vast and spectacular wilderness, stretching from the Gobi desert through grassy steppe and pasture to snow-capped mountains. We will explore this land once dominated by a great empire builder and warlord, on our Genghis Khan trek. Mongolia today is a peaceful country of incredible natural beauty where nomads, camels and wild horses still freely roam, and you can experience this varied landscape and lifestyle trekking Mongolia's mountains, lush green valleys and deserts. Witness a festival of the traditional Mongol skills of wrestling, archery and horse racing, and visit the capital, Ulaanbaatar, with its vibrant markets and temples.
Choose one of our adventurous holidays in Mongolia, walking or trekking in wild country that remains largely untouched by the modern world.
Mongolia Walking & Trekking Holidays

A vast wilderness of incredibly natural beauty, largely untouched by the modern world, where nomads, camels and wild horses still roam free.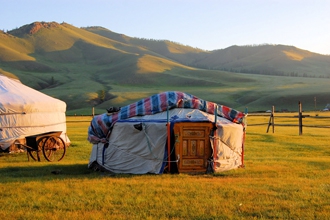 Easy day walks across the steppe to important historical sights
Have a go at camel riding and horse riding
Join the celebrations at the Nadaam Festival
Stay in cosy ger camps and comfortable hotels
Enjoy the legendary Mongolian hospitality by visiting a nomadic ger camp
Land only from £2095
---
Introduction
Mongolia is a place that conjures up images of the exotic: wild horses galloping across endless steppe, nomadic people living a timeless existence and camel trains crossing the Gobi desert. Its history is dominated by the warlord Genghis Khan whilst the fierce pride and athletic prowess of the Mongol people is celebrated in the annual Nadaam festival.
For visitors to this vast land there are numerous options for experiencing its rich cultural heritage and history. Kharkhorin (Karakorum) was the capital of Genghis Khan's ancient empire although only a few scattered ruins remain. The site is also the location of Erdene Zuu Monastery, the earliest Buddhist monastery in Mongolia and one of the country's most important cultural sites. No visit to Mongolia is complete though without a night spent at a ger camp to experience the way of life of the indefatigable nomadic people on the wide open steppe.
Mongolia's vast wilderness is an adventure playground for walkers and trekkers alike. The gentle hikes on our Genghis Khan Trails walking holiday lead from ger camps to hot springs and rolling hills, whilst the area around little Gobi offers easy walks amidst a golden desert landscape. This trip also includes time at the world renown Nadaam Festival - a flamboyant celebration of the great Mongolian sports of riding, wrestling and archery.

The summer months of July and August are the best times to visit as the weather is at its best (though still unpredictable!), wild flowers are abundant and everyone is in holiday mood. It's also the time of the Naadam festival – the main event in Mongolia's cultural calendar and a fabulous display of horse-racing, wrestling and archery; an experience, like the country, to truly savour.
---
Key Facts
Capital city: Ulaanbaatar
Population: 3,042,511 (2015 est)
Size of country: 1,564,116 sq km
Currency: Mongolian tögrög
Power supply: 220v
Sockets: European style 2-round pin plug
Language: Khalkha Mongol
Time difference: GMT +8hours
Visas: British nationals require a visa to visit Mongolia which must be obtained in advance.
Permits: A permit is required to enter the Uvs specially protected area. This is obtained and paid for by Mountain Kingdoms.
Religion: Buddhist Lamaist 50%, Shamanist and Christian 6%, Muslim 4%, none 40%.
Popular dishes: Buuz, large steamed dumplings made of dough, filled with meat, onion and garlic.
Popular drinks: Airag, fermented mare's milk
Did you know: Mongolia has the oldest National Park in the world. The Bogd Khan National Park dates its origin to 1778.
FCDO advice: FCDO advice Mongolia
---
Climate
When is the best time to travel to Mongolia?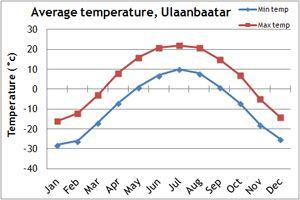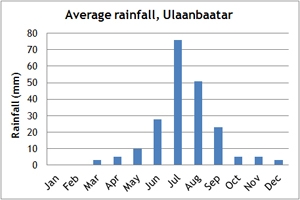 Our climate charts will give you an idea of the weather conditions in Mongolia. Mongolia is so far away from the coast, that its temperatures are not moderated by the sea, so temperatures vary greatly between summer and winter. The humidity is low, so the country is known for its clear blue skies.

The cold season runs from November to February, but the Ger camps and therefore tourist season, does not usually begin until mid May. June and July are the most popular times to visit Mongolia, as the weather is generally dry and bright and the National Naadam Festival takes place in July. Rains arrive in July/August, bringing fresh grass and rivers to the steppe landscape. September and October are still fine to travel, but there may be the occasional snow flurry.

If you can't make the dates of our group departures, then take a private departure on dates to suit you, or we can create a Tailor Made holiday to Mongolia, especially for you and your family or friends.