Our grading system explained
Gentle
Gentle / Moderate
Moderate
Moderate / Vigorous
Vigorous
Vigorous / Strenuous
Strenuous
Expedition Grade
What makes Cambodia so special?
On a holiday to Cambodia, you'll see many unforgettable images: the World Heritage site of Angkor Wat, saffron-robed monks going about their daily rituals; lost temples swallowed by the jungle; and remote villages with newly opened trekking trails. After extensive reconnaissance, Mountain Kingdoms have designed these treks and tours of Cambodia to get you 'under the skin' of this alluring country.
Despite being located close to the backpacking hotspot of Thailand, far fewer people go on holiday to Cambodia, making it perfect for travellers who want to get off-the-beaten-track in Southeast Asia. With its mixture of ancient temples, bustling cities, historical sites and timid wildlife it is an endlessly fascinating destination. A gentle trek in the picturesque Cardamom mountains, combined with a tour of Cambodia – including of course, Angkor Wat, is a great way to explore this beguiling country.
The ancient splendours of this remarkable land stand in stark contrast to the reminders of its more recent troubled past and a tour of Cambodia's killing fields (where many of the victims of the brutal Khymer Rouge regime are buried) is an immensely moving experience. However, at the centrepiece of most holidays to Cambodia will be an Angkor Wat tour. Angkor Wat is a massive, superbly preserved temple complex that dates from the 12th century, a dazzling example of ancient architecture and site of huge cultural significance. A tour of Angkor Wat is the perfect way to end a holiday in Cambodia.
Cambodia

With the incomparable Angkor Wat, forested trekking trails and pleasing cities – Cambodia has emerged as one of Southeast Asia's premier destinations for travel.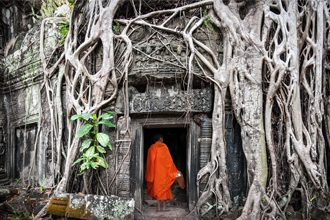 Visit the spectacular hilltop temple complex of Preah Vihear
Explore the architectural wonders of Angkor Wat and Angkor Thom
Search for endangered primates and rare birds in protected wildlife reserves
Walk with rescued elephants at the Elephant Valley Project
Take to the water to see the 'floating' stilt houses of Tonle Sap Lake
Tour the many cultural and historic sights of Phnom Penh and enjoy a sunset river cruise
Relax on the beach on pretty Koh Rong Island
Flight inclusive from £4375, Land only from £3395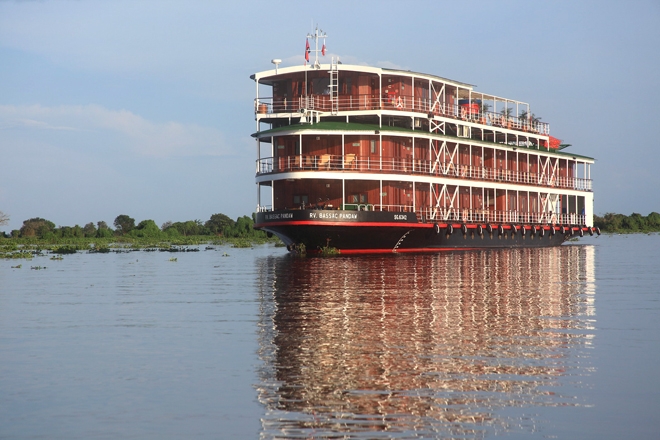 Enjoy seven nights onboard the luxurious RV Bassac Pandaw
Stay in 5* hotels in Saigon and Siem Reap
Tour the cultural highlights and historical sites of Saigon, Phnom Penh and Angkor Wat
Visit charming villages and enjoy the beautiful river landscapes
Explore by sampan, on foot and by tuk tuk and ox cart
Flight inclusive from £5270, Land only from £3795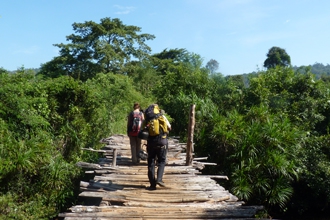 Improved
Explore the forested landscape of the Cardamom Mountains by foot and mountain bike
Discover the diverse flora and fauna of the Cardamoms
Enjoy sunrise from the top of Mrech Kongkep Mountain
Take a tour of Phnom Penh and discover idyllic Rabbit Island
Spend three full days amid the architectural splendours of Angkor Wat and Angkor Thom
Flight inclusive from £3490, Land only from £2595
---
Introduction
The Kingdom of Cambodia can be symbolised as a phoenix rising from the ashes of its tragic history. After decades of war and violence the country is now enjoying peace and political stability and is fast becoming the place to visit in Southeast Asia. Of course it is the land of wats or temples, but its dreamy Indo-China atmosphere offers so much more than just one of the world's most impressive human feats of engineering.
Any trip to Cambodia should include time at Phnom Penh, one of Asia's most laid-back capitals nestling on the banks of the Tonlé Sap River. Here, there is much to explore including crumbling French colonial architecture, the dazzling Royal Palace with its silver pagoda and the haunting Killing Fields – a stark reminder of Cambodia's recent troubled past.
For keen walkers, our Cardamom Mountains offers so much. These little-visited mountains cover about 12,000 square miles of southwest Cambodia and are formed from gentle peaks lined with trees and lush vegetation. It is a relatively recently opened area where the walking trails have been developed through the lush forested landscape, past waterfalls and alongside caves. The area is renowned for its bio-diversity and is home to silver langurs, long-tailed macaques, greater hornbills and other forest creatures.
The grand finale of any holiday to Cambodia will undoubtedly be a visit to the temples of the huge complex of Siem Reap including that of Angkor Wat – one of the largest religious structures in the world, hidden until recent years by the jungle and the political upheaval in Cambodia. It's a place that until you have witnessed it you cannot imagine how vast and impressive it is and truly one of the Wonders of the World. Close to Angkor Wat there are many other Khmer ruins well worth a visit including: the intricately carved pink sandstone structure of Banteay Srei ; Kbal Spean, the river of a thousand lingas; and the photogenic Ta Prohm temple, succumbing to the embrace of the jungle. Our new Definitive Cultural Tour of Cambodia visits all of these 'must-see' sights as well as taking you to some hidden gems in the wilder corners of the country.
Bordering Thailand and Laos, Cambodia is perfectly located to be enjoyed as part of a holiday encompassing the highlights of all three countries. Our Mekong river cruise from Saigong to Angkor Wat combines the very best of both Cambodia and Vietnam while staying on 'the most splendid ship on the Mekong!'
It's not just the landscapes and monuments in Cambodia that make it so memorable. The people are as colourful as the land itself. Whether conversing with saffron-robed monks going about their daily rituals, watching farmers tending their rice fields and mango groves or sharing a meal with the friendly villagers of Chi Phat, it's the overwhelming charm and hospitality of the Khmer people that make Cambodia a place that will stay in your heart.
---
Key Facts
Capital city: Phnom Penh
Population: 15,205,539 (2013 est)
Size of country: 181,035 sq km
Currency: Riel is the official currency, U.S. dollars are still the unofficial one
Power supply: 220-240 Volts
Sockets: round two-pin variety
Language: Khme
Time difference: GMT +7 hours
Visas: British nationals require a visa which must be obtained in advance
Religion: Buddhist (official) 96.4%, Muslim 2.1%, other 1.3%, unspecified 0.2% (1998 census)
Popular dishes: Amoc, baked fish wrapped in banana leaf with coconut, lemongrass and chilli, sometimes served like a soup in the shell of a coconut
Popular drinks: Sugar palm wine
Did you know: The Bonn Om Teuk or water festival is celebrated in November at the end of monsoon, when the Mekong River recedes.
FCDO advice: FCDO travel advice
---
Climate
When is the best time to travel to Cambodia?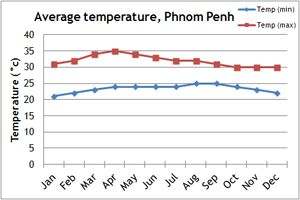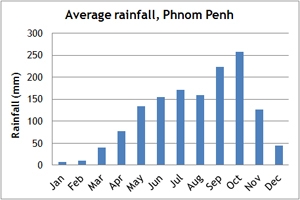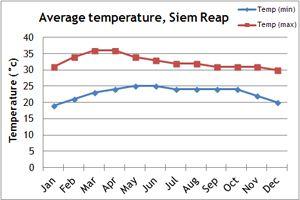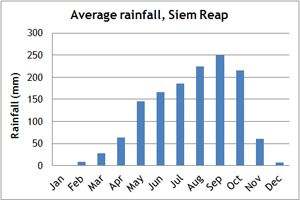 Our climate charts will give you a guide to the weather conditions in Cambodia.
Cambodia is a year-round holiday destination, with warm temperatures throughout. Between May and October is the monsoon season, but the rain tends to be in short sharp downpours, so it does not have to affect your holiday to Cambodia.

The ideal months to travel are November to January. The waterfalls and rivers are full, the countryside is full of colour. The climate tends to be dry and the humidity lower, but these months also see the most tourists. The temperatures then increase towards April, which usually sees the peak temperature.

If you can't make the dates of our group departures, then take a private departure on dates to suit you, or we can create a Tailor Made holiday to Cambodia, especially for you and your family or friends. It is also possible to add an Angkor Wat extension in Cambodia, on to one of our other holidays in southeast Asia.