Our grading system explained
Gentle
Gentle / Moderate
Moderate
Moderate / Vigorous
Vigorous
Vigorous / Strenuous
Strenuous
Expedition Grade
Zambia

With unbeatable wildlife viewing, Zambia is regarded by many as one of the last true wildernesses and is undoubtedly Africa's best kept secret.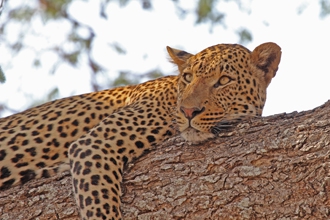 Experience the thrill of encountering wild animals on foot, like the first Luangwa pioneers
Relax between safaris in delightful intimate bush camps with superb 'armchair' game viewing
Learn about the small details of the African wilderness from the legendary award-winning guides
Enjoy evenings around the campfire, under a vast African night sky, listening to the distant call of lions
Land only from £5650
---
Introduction
Although landlocked, warm, tropical Zambia has a wealth of rivers and lakes which make it one of the most water rich countries in Africa. Most of the land is still covered by undisturbed naturally lush vegetation that supports a high density of game and birdlife. Over a third of the country is designated to protected areas and national parks, and as Zambia receives only a handful of the visitors seen in other parts of Africa, here you can enjoy incredible wildlife without the crowds.
The meandering Luangwa River with its wide flood-plains and spectacular ox-bow lagoons is the lifeblood of Luangwa National Park, and the abundant wildlife it supports makes this protected area the jewel in Zambia's crown. On a walking safari, accompanied by your guides, you can expect to encounter numerous animals including lion, impala, Cape buffalo, elephant and hippopotamus as well as some species which are unique to the region such as Cookson's wildebeest and Thornicroft's giraffe. South Luangwa is also famed for its large leopard population and for a vast variety of birdlife with around 400 different species of birds; carmine bee-eaters, lovebirds and kingfishers all add a dazzling splash of colour to the more subdued palette of the bush.
South Luangwa National Park is also home to simple but stylish remote bush camps, carefully constructed from natural materials and situated in remarkable settings. You can experience some of the best on our Classic Luangwa Walking Safari in Style. Most bush camps are owner operated making safaris relaxed and very personal, and the excellent safari guides are born and bred in the Zambian bush, so the wildlife is second nature to them. Aside from having to continuously pass stringent exams they genuinely love what they do and have a passion for wildlife and conservation.
In the evening, after an excellent meal, you can swap tales around the fire whilst watching a golden sunset before falling asleep to the sounds of the African bush and the distant roar of lions. This is a day on safari Zambian-style – remote, authentic and packed with real adventure.
And once you have had your fill of buffalo, leopard, elephant and giraffe, conclude your holiday with something completely different - an extension to mighty Victoria Falls, one of the natural wonders of the world.
Zambia is one of the friendliest nations in the world, and one of the most peaceful in Africa. This, combined with a wealth of natural wonders - vast lakes, spectacular waterfalls, vast open skies and fertile plains teeming with wildlife - make for an unforgettable holiday.
---
Key Facts
Capital city: Lusaka
Population: 15.1 million (2015)
Size of country: 752,614 sq km
Currency: Kwacha
Power supply: 220 - 240 volts
Sockets: British style square pin plugs
Language: English, Bemba, Nyanja, Lozi, Lunda, Tonga, Kaonde and Luvale are the official languages. Zambia also has over 70 local dialects.
Time difference: GMT +2 hours
Visas: British nationals require a visa, This can be obtained on arrival at Lusaka Airport. Your passport must be valid for six months beyond the end of your intended stay, with at least two blank pages.
Religion: Around 30% of the population is Christian (Protestant and Roman Catholic), a smaller number are Muslim and Hindu, and a small minority have traditional animist beliefs.
Popular dishes: The staple food in Zambia is a thick cornmeal porridge called Nshima, usually eaten with relish.
Popular drinks: Zambia's most popular beer is Mosi, the original name for Victoria Falls.
Did you know: The Global Peace Index rated Zambia the most peaceful country in Africa.
FCDO advice: FCDO travel advice
---
Climate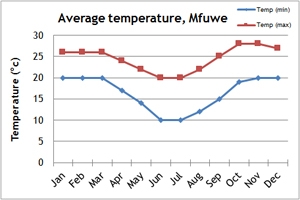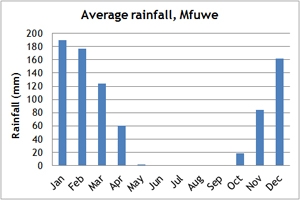 When is the best time to travel to Zambia?
Our climate charts will give you an idea of the weather conditions in Zambia.
Zambia lies in the tropics, but has a generally moderate climate.
Between December and April it is hot and wet – this period is known as the emerald season. Not all the camps are open but many rave about the incredible light, lush green vegetation and prolific birdlife at this time of year. Game viewing is usually by 4x4 due to the high vegetation.
From May to August it is dry, becoming increasingly cooler.
In September, and through to November it remains dry but with temperatures rising over these three months. The peak period for visitors is August to early October but South Luangwa never feels busy even then.
Walking safaris are best between June and September when foliage is low and skies are blue but not oppressively hot.
If you can't make the dates of our group departures, then take a private departure on dates to suit you, or we can create a Tailor Made holiday especially for you, your family and your friends.