What's included
Guiding by professional local guides
Two guided safaris each day, mostly walking but also some driving safaris. Includes the walking safaris between camps
Accommodation in four full-service bush camps
All national park and conservation fees
All meals, local wine, beer and soft drinks in camp
Laundry service
Safe drinking water throughout
Group medical kit
All road transport by private vehicles
Economy class return air fares from the UK – business class upgrade is available (flight inclusive only)
Single, timed, group airport transfers for international flights on arrival and departure
Carbon offsetting with the Ecoan Tree Planting Project (for clients taking our flight inclusive option)
A free Mountain Kingdoms Water-to-Go bottle
and much more...
Call our
friendly team
Gentle
Suitable for people who enjoy easy-paced walks or exploring the countryside on foot.
Find out more...
Grade: Gentle ? Gentle
Duration: 11 days from the UK
Walks on: Safari walks - 8 days
Flight inclusive from £5,900,
Land only from £4,850
Book now or call 01453 844400
Track big game on foot through pristine African wilderness on this wonderfully wild walking safari in Zambia.
Highlights
Experience the thrill of encountering wild animals on foot, like the first Luangwa pioneers
Relax between safaris in delightful intimate bush camps with superb 'armchair' game viewing
Learn about the small details of the African wilderness from the legendary award-winning guides
Enjoy evenings around the campfire, under a vast African night sky, listening to the distant call of lions
Peaceful Zambia is the home of the walking safari, and nowhere more so than South Luangwa National Park. This beautiful park in the northeast of the country has incredibly high game densities, few visitors and superb walking. Accompanied by legendary guides and scouts, you eschew the modern-day jeep safari, stepping back in time and into the natural landscape, walking from camp to camp to experience the pristine wilderness first-hand.
The Luangwa Valley (meaning 'fishing basket') is an ancient mineral-rich rift valley, and over the years the Luangwa River has wound its way through the bottom of the valley leaving a trail of scenic oxbow lakes and lagoons in its wake. The excellent soil and abundant water support lush and diverse vegetation which in turn attracts a wealth of wildlife.
You will follow two rivers during your time in the remote Luangwa. First, you will walk down the dry sand Luwi River, moving on to the next camp every other day, then after meeting the mighty Luangwa, heading north to your final camp set on a huge sweeping bend overlooking the river. You'll see a variety of habitats, wildlife and landscapes, the best Luangwa has to offer. The walking safaris between the camps will be complemented by day walks, game drives and night safaris; there is nothing like heading out on a torch-lit 4x4 adventure on a quest to spot an elusive leopard as it stalks its prey under the cover of darkness.
We have carefully selected the best camps for a walking safari, remote camps that actively specialise in exploring the bush on foot rather than merely offering walks as an alternative to game drives. All the camps have a friendly, relaxed atmosphere; comfortable and authentic rather than overtly luxurious. All meals, good South African wine, beer and soft drinks are included in the price of the holiday and there's even a complimentary laundry service. Built from local materials the camps are carefully designed to have minimal impact on the environment and are dismantled at the end of each season. Excellent facilities, service and attention to detail are a trademark of all the camps, and the fabulously friendly staff, from cooks to guides and scouts, will undoubtedly make your holiday.
Our partner in Zambia established the very first safari camp in Luangwa back in the 1950s, set up in partnership with the Luangwa community. This policy of involving local people in the management of wildlife was way ahead of its time, and the principles of conservation and community responsibility are still at the heart of everything they do.
---
At a glance
Grade: Gentle
Gentle
Duration: 11 days from the UK
Walks on: Safari walks - 8 days
Guaranteed to run for a minimum of 4 clients
Maximum group size: 8
Land only joining city: Mfuwe
Accommodation types: Stylish Bush Camps
Meal arrangements: Full board including standard (local) bar drinks.
Itinerary overview
| Day | Activity |
| --- | --- |
| 1-2 | Depart UK for flight to Lusaka. Fly to Mfuwe. Transfer to Luwi Camp in South Luangwa National Park |
| 3 | On safari from Luwi Camp |
| 4-5 | Walking safari to Nsolo Camp. On safari, walking and game drives, from Nsolo |
| 6-7 | Walking safari to Kakuli Camp. On safari, walking and game drives, from Kakuli |
| 8-9 | Walking safari to Mchenja Camp. On safari, walking and game drives, from Mchenja |
| 10 | Transfer to Mfuwe airport. Fly to Lusaka airport. Fly to the UK |
| 11 | Arrive UK |
Leader: Specialist Safari Guide, Zambia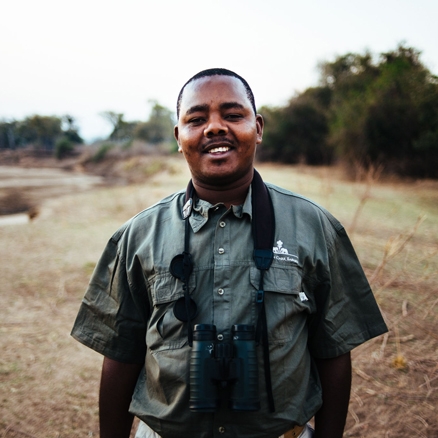 Our Luangwa Walking Safaris are led by the experienced, English-speaking guides based in each camp, without doubt some of the best in Africa. They are all South Luangwa National Park experts and most have grown up nearby in Mfuwe. All the guides have passed stringent exams and have excellent knowledge of the region's bird and mammal species and the various habitats found in the park.

The quality of the guides on this walking safari will ensure that you get the most out of your safari experience, whether you're a first timer or an old Africa hand. Our partner in Africa was winner of Best Walking Safari in Africa at the 2016 Safari Awards

Your guides may include John (pictured here) who has a keen eye for the small details in the bush, Julius an experienced walking guide based at Kakuli, and Lawrence, manager at Luwi Camp and an excellent bird mimic and superb raconteur..
---
Classic Luangwa Walking Safari in Style Itinerary
Day 1 - Fly London to Mfuwe Via Lusaka

Fly London to Mfuwe via Lusaka airport.

Overnight: In flight

Day 2 - Arrive Lusaka. Fly to Mfuwe - 1 hour. Group transfer to Luwi Camp.

Your international flight arrives into Lusaka late afternoon and you will be met and escorted to your domestic flight to Mfuwe airport, the gateway to South Luangwa National Park. Here you will be met on arrival and transferred to the first of your camps - Luwi - enjoying your first safari along the way. (If you are making your own way to Mfuwe please check with us that your flight will connect with our transfer to Luwi Camp). Depending upon what you see on the way, your drive to Luwi can take up to two hours, so have an extra layer and insect repellent to hand.

Luwi Camp, nestled in the shade of huge mahogany trees, is close to a permanent hippo and croc filled lagoon. It is situated deep in the heart of the National Park, on the seasonal Luwi River after which it is named. The Luwi is a sandy, dry river bed outside of the rainy season. The area is extremely remote with no other camps or people for many miles around. Luwi was one of South Luangwa's first wilderness safari camps.

Walks in the Luwi area may be complemented by game drives and explorations upriver to discover the source of the river or to find the elusive Roan antelope or reed buck, eland and hartebeest which are almost never seen in other parts of the park. The Luwi area is famous for its lions as well as an abundance of birdlife. This region of South Luangwa is also home to a family of wild dogs, with the best sightings of this endangered carnivore likely in June and July.

Your first evening will no doubt be spent around the campfire listening to tales of life in the Zambian bush as you begin to embrace life in the African wilderness.

Overnight: Luwi Camp

Day 3 - On safari from Luwi Camp.

This morning you have the thrill of waking up in Africa, and typically your day will start early around the camp fire when you will discuss the noises and animals heard through the night.

After a light breakfast with a choice of fruit, yoghurt, eggs and toast, you set off on foot to pick up the fresh tracks of a pride of lion or investigate the alarm calls of the local troop of baboon. This is no nature trail - this is the real thing - you are tracking wildlife through the African bush, on foot like the first Luangwa pioneers. Your morning walking safari is likely to take three to four hours returning you to camp in time for a hearty late morning brunch.

The afternoon is free for you to relax, viewing the wildlife passing by camp before a further safari later in the day. This may be on foot ending at the lagoon hide for sundowners, or possibly exploring further upriver by 4x4. You return to camp by vehicle looking out for the eyes of nocturnal animals reflected in the search light on a night drive.

Dinner is taken under the stars accompanied by the many sounds of the Zambian night.

Overnight: Luwi Camp

Day 4 - Walking safari to Nsolo Camp - 8km, 3-4 hours.

Today you are moving on to your next camp so you will need to have your bags packed first thing, ready for them to be transferred by vehicle. Leaving camp early on foot your guide will lead you downstream towards Nsolo Camp. The river widens in this section and the Luwi's white sands carve a dynamic route through the palm and trichelia groves, thicket and game rich "dambos" for which the Luangwa Valley is so well known. One of the great joys of a walking safari is discovering the fascinating small details of the bush; the defensive mechanisms of plants and animals, how termite colonies operate, the medicinal properties of different trees, how lion ants catch their prey and how everything in the bush is recycled! These are just some of the amazing things you will learn on your walks. You will also see numerous birds and learn how to track different wildlife by looking at their prints and listening to their calls.

After a few hours gentle walking and exploration you'll arrive into camp to find a warm welcome, a cool drink, brunch on the table and your bags in your room. Nsolo is the local name for the honeyguide and the camp was named after this extraordinary little bird. By amazing coincidence it was later learnt that this area used to be home to a famous local hunter - also called Nsolo!

The light, airy chalets at Nsolo each have a raised wooden decks with private verandahs looking out onto the surrounding bush and riverbed. It's a great spot for birdwatching. Have a rest and soak up the magical atmosphere of this, one of the oldest bush camps in the Luangwa Valley, before you head out again after your siesta and afternoon tea.


Overnight: Nsolo Camp

Day 5 - On safari from Nsolo Camp.

Today you explore the wilds of the Nsolo area. The Luwi river system is renowned for its lion population, and various pride territories overlap in this area. The cats use the dry river bed as a thoroughfare and a means, not only of locating their prey, which come to drink, but also of locating their rivals who must be warned to stay away. Wild dogs have denned between Luwi and Nsolo for the last six years and chances are high of seeing these elusive creatures from Nsolo. Leopards also abound in the area.

There are few African experiences more exciting than heading out on a walking safari early in the morning, having heard lions calling through the night, finding their fresh tracks and following them through the bush. With voices hushed and hearts beating you think that there is a lion over every rise!


Overnight: Nsolo Camp

Day 6 - Walking safari to Kakuli Camp - 12km, 5 hours.

This morning after an early start you will meander along with the Luwi on your walking safari, arriving with the river at its confluence with the main Luangwa River and Kakuli Camp. Giraffes, elephants, hippopotamous, warthogs, impala and piku are all routinely seen in or around the water here and your first views of the Luangwa can be a real 'wow' moment.

The walk to Kakuli is the longest walk between camps and you may move on by 4x4 game vehicle if you prefer.

Named after Norman Carr, who was affectionately named Kakuli - an old buffalo bull - this camp has sweeping and majestic views over the Luangwa. Spend the afternoon relaxing in camp and making the most of the spectacular views over the hippo filled Luangwa River. There are more game viewing tracks in this area so later you may head out in an open sided 4x4 vehicle to explore the area which is famous for its high population of leopards.

Night time at Kakuli can be noisy as hippo congregrate just below the tents on the river bed, and elephants wander through camp in search of their favourite winter thorn tree pods.

Overnight: Kakuli Camp

Day 7 - On safari from Kakuli Camp.

With the Luangwa river so close by, you are almost guaranteed superb animal sightings whether on foot or in vehicle at Kakuli. If you are travelling in September, the area around Kakuli is a great place to see large colonies of brilliantly colourful Carmine bee eaters which migrate here from the end of August. These beautiful birds make their homes en masse in small holes in the river banks and fly in numbers as they search for small insects in the sky. Kakuli is one of the best places to observe the bee eater colonies.

After your morning safari you may like to spend your time back in camp relaxing in the lovely thatched chitenje (lounge) at the heart of Kakuli. It is on a wooden deck overlooking the grazing area that leads down to the two rivers and is a perfect spot in which to watch the wildlife meander by. The views from here are quite spectacular.

This stretch of the Luangwa is bustling with predators and the best time to see them in action is late afternoon when you head out on your second safari and, later still, during those first few hours of darkness. The African night sky is simply magnificent and the Milky Way seems 100 times brighter here in the Luangwa Valley where there is no light pollution.


Overnight: Kakuli Camp

Day 8 - Walking safari to Mchenja Camp - 7km, 3 hours.

Today you walk to your last camp, heading northeast along the Luangwa river bank passing numerous hippos jostling for space in the ever-dwindling pools below. A taste of sophistication awaits you at Mchenja, the name meaning "ebony"; the final camp on your trail occupies a stunning setting beneath a magnificent grove of immense ebony trees on the banks of the Luangwa River. The five individually designed tents each have a bath inside as well as an open topped, en suite shower and toilet. The beautiful central chitenje is built around one of the old fallen ebony trees and you can cool off in the camp's plunge pool. Brunch is taken in the shady lounge but dinner is more often served on the riverbank under the stars.

You will be able to do both game walks and drives from Mchenja, and the wildlife viewing in this area is some of the best in the South Luangwa National Park.


Overnight: Mchenja Camp

Day 9 - On safari from Mchenja Camp.

As the sun rises over the river in front of camp a light breakfast will be served on the grassy river's edge. Choose from a good selection of cereals, porridge, and campfire toast accompanied by tea, coffee and fruit juice. On your safari this morning you may head north toward the Lion Plain area, or south toward Mfuwe Lagoon. The birdwatching from Mchenja is excellent; you may see yellow-billed storks, fish eagles and various kingfishers.

Later, after your midday siesta, you will gather for afternoon tea and delicious homemade cake before heading out again for your final evening safari.

The slightly more luxurious but unpretentious nature of Mchenja, makes it the perfect place to conclude your safari. Memories from your last evening around the campfire under the vast African night sky, listening to the distant call of lions, cicadas and a multitude of tree frogs under the crescent of an African moon will live with you forever.

Overnight: Mchenja Camp

Day 10 - Group transfer to Mfuwe. Fly to Lusaka. Fly to London.

A final safari this morning and then you say farewell to the bush after lunch, driving through the park on your way back to Mfuwe airport for your flight out of the Luangwa Valley.

In Lusaka you will be met and escorted to your international flight back to London.

If you're extending your safari experience with time at the magical Lower Zambezi National Park, you will also catch a domestic flight from Mfuwe in the morning.

Overnight: In flight

Day 11 - Arrive London.
Map
Map Key
Airport
Point of interest
Mountain Peak
Day walk in this area
Flights
Internal Transfers
Trek
---
2021
| Dates | Availability | Land Only | Flight Inclusive from |
| --- | --- | --- | --- |
| Sat 26 Jun - Tue 6 Jul 2021 | Available | £4850 Book | £5900 Book |
| Sat 25 Sep - Tue 5 Oct 2021 | Restricted | Contact us | Contact us |
Hold your place
Not quite ready to book? Why not call us on 0044 (0)1453 844400 to hold a no obligation place while you make up your mind?
Insurance
No Surcharge Guarantee
No surcharges will be applied to your holiday after you book. Prices on this website are updated regularly. The Flight Inclusive holiday price, or Land Only holiday price, will be confirmed to you at the time you make your booking. There will be no surcharges after your booking has been confirmed.
Flight inclusive holidays
The 'flight inclusive' holiday prices shown on this website are based upon our preferred airlines and the best priced economy class fares we are able to secure at the time of publication.
We will be able to advise on fares with alternative airlines, upgrades to Business Class, and the options for flights from regional UK airports, please contact us for more details.
Booking your holiday
For the majority of our holidays, a deposit payment of £100.00 per person is required to secure your place(s), however a small number of holidays require a higher deposit - please refer to the holiday itinerary for more details. If the holiday departs within 60 days, a minimum deposit of £750.00 per person is required.
Book now!
Book your small group holiday securely online – click the 'Book' button next to your chosen departure or visit our How to Book page
Complete and return a Booking Form available to download here.
Call us on 01453 844400 and one of our travel specialists will talk you through the booking process.
Loyalty discount
Find out more
What's included
Guiding by professional local guides
Two guided safaris each day, mostly walking but also some driving safaris. Includes the walking safaris between camps
Accommodation in four full-service bush camps
All national park and conservation fees
All meals, local wine, beer and soft drinks in camp
Laundry service
Safe drinking water throughout
Group medical kit
All road transport by private vehicles
Economy class return air fares from the UK – business class upgrade is available (flight inclusive only)
Single, timed, group airport transfers for international flights on arrival and departure
Carbon offsetting with the Ecoan Tree Planting Project (for clients taking our flight inclusive option)
A free Mountain Kingdoms Water-to-Go bottle
What's not included
Travel insurance
Visa fees
Immunisations
Tips to camp staff, safari guides and scouts (guidance will be given in your dossier)
Premium drinks are not included.
---
---
Review your holiday
Reviews
Read holiday reviews by Mountain Kingdoms travellers.
Overall score: 5.0 (Based on 7 reviews)
Classic Luangwa Walking Safari in Style
Title is perfect for the trip undertaken. 26/09/2019
This was a most memorable experience and I could not have imagined I would see so many wild animals and beautiful birds. I learnt so much about the flora and fauna which can only be done in such detail when walking with guides who have infinite knowledge on their surrounds. I fully recommend this to anyone who enjoys being up close to nature and this is certainly the best way to experience it.
Mrs Judith McLaren, Victoria, Australia
Classic Luangwa Walking Safari in Style
Classic Luangwa Walking Safari in Style 01/10/2018
What a superlative experience. Being in the South Park for eight days completely cut off from the outside world, internet etc was an unexpected bonus.
Dr A Howitt, East Sussex
Classic Luangwa Walking Safari in Style
Classic Luangwa Walking Safari 14/07/2017
This is an excellent trip. We have been on safari before but not with the same amount of walking. Being on foot, the guides could give much more information on how the ecosystem works from lion to ant lion.
Mrs M Rose, Leicestershire
Classic Luangwa Walking Safari in Style
Wonderful Zambia safari 02/03/2017
What an experience. In addition to countless other wildlife, I tracked seven lions on foot, watched three leopards with their kill in trees just above me, saw two giant porcupines taking an evening stroll and marvelled at hundreds of brilliant bee-eaters. And the best bit was that I didn't have to share them with anyone else; no noisy vehicles, no distractions. Just us, our superb guide and an armed scout out in the wild Zambian bush.
Jude Limburn Turner, Mountain Kingdoms
Classic Luangwa Walking Safari in Style
A safari away from the crowds 09/11/2016
The Africa I'd always dreamed of. A personal experience from start to finish with no intrusive crowds, outstanding guides and fabulously friendly camp hosts especially Clare at Kakuli. And eating out under the stars was truly magical.
Mrs L, Somerset
---
Extend your holiday
Extend your time in Zambia with a stay in Lower Zambezi National Park
Explore Chongwe River by boat or, for the adventurous, a canoe
Stay at the spectacularly located Chongwe River Camp
Watch incredible wildlife such as elephants and hippos from the comfort of your accommodation
More Details
Extend your time in Zambia with a visit to the beautiful Lower Zambezi National Park. Whilst you can see many of the same animals seen in South Luangwa, the landscape of the Lower Zambezi is spectacular, the mountain backdrop and lush riverside colours offer a real contrast to the dry season plains of Luangwa. There is also the added attraction of being able to explore on the water itself.
We recommend staying at the pleasantly located Chongwe River Camp. Set below the impressive mountains of the Zambezi escarpment, Chongwe River Camp lies on the confluence of the Chongwe and Zambezi Rivers. The camp has nine comfortable en suite safari tents which look out across the tranquil Chongwe River to the hills beyond, each offering superb armchair wildlife viewing. There is also a small swimming pool where you can take a refreshing swim. The picturesque setting, excellent hospitality and relaxed feel to this beautiful camp make Chongwe the perfect spot to conclude a holiday to Zambia.