Our grading system explained
Gentle
Gentle / Moderate
Moderate
Moderate / Vigorous
Vigorous
Vigorous / Strenuous
Strenuous
Expedition Grade
What makes Wild Nepal so special?
Mustang, Manaslu, Makalu, Kangchenjunga and Dolpo are just some of the evocative places that make up Wild Nepal; the regions beyond Everest and the Annapurnas that are less well-known but still offer fantastic opportunities for trekking in Nepal.
You don't have to travel far from Kathmandu to discover some little-trekked trails. The region of Ganesh Himal is only a few hours' drive from Kathmandu yet is a world away from the hustle and bustle of the city. With classic Himalayan scenery of high snow-peaks and deep verdant valleys, together with numerous small villages populated by small ethnic groups, trekking in Ganesh Himal provides all the wow factor of the Himalaya but without the crowds.
The Manaslu Circuit retains its allure as one of the great treks of the world and makes a superb alternative circuit trek in Nepal. Close to the Tibetan border, Manaslu is a region of spectacular scenery dominated by the towering peak of Manaslu and dotted with attractive Tibetan-style villages. Trekking the Manaslu Circuit takes you from river valley to high pass and offers sublime views of the Greater Himalaya.
A trek to Kangchenjunga is a remote and challenging adventure in Wild Nepal. It is a region of striking contrasts and culturally interesting ethnic villages. After only a day on the trail of a Kangchenjunga trek you will enjoy spectacular views of Kangchenjunga and her satellite peaks. By trekking to both the north and south base camps of Kangchenjunga it's possible to enjoy both awe-inspiring scenery and a real sense of achievement.
Mustang, in the rain shadow of the Himalaya, is one of the few places you can go trekking in Nepal during the summer months. It has a surreal desert landscape of multi-coloured rock strata, high barren cliffs peppered with caves, isolated villages and distant snow-capped peaks that provides a real contrast to the Himalayan scenery you see elsewhere in Nepal. No Mustang treks are complete without a visit to Lo Manthang , the ancient capital of the region and home to the fabulous Tiji Festival each spring.
Trek a little further than Mustang and you will reach neighbouring Dolpo. Equally wild and remote, trekking in Dolpo is a fantastic adventure where you can expect to have the beautiful trails and incredible Himalayan scenery all to yourself.
Wild Nepal Trekking Holidays

Remote trails, hidden villages and timeless Himalayan scenery, Wild Nepal offers a world of adventure for the keen trekker.
---
Introduction
Whilst the attractive tea house trails of Everest and Annapurna are rightly popular, step off-the-beaten-track and you will discover another world altogether; pristine mountain scenery, little-visited villages and a culture still relatively untouched by tourism. Limiting access through special permits has helped preserve some of these far flung regions whilst others are 'wild' by their very remoteness.
Due to its proximity to the Tibetan border, Mustang has a dramatic desert landscape like no other in Nepal. It also remains culturally distinct with a strong Tibetan Buddhist influence in its customs, dress and festivities. A thorough exploration of this region is possible on our Kingdom of Mustang Trek or Wild Mustang Trek. By way of contrast, venture a little further into the wilds and you will discover the beautiful turquoise lakes and soaring snow-capped mountains of Dolpo. Explore both these stunning regions on our Five High Passes - Dolpo to Mustang Trek.
Tibetan culture is also evident in the attractive villages dotted around the trails of Manaslu. You can explore this wild and distant region, and circuit the world's eighth highest mountain, on our classic Manaslu Circuit Trek. Another fine trek in the heart of Wild Nepal is that to the North and South Base Camps of Kangchenjunga. This spectacular and challenging trek transports you through wonderfully diverse landscapes into some of the most beautiful mountain scenery in the whole of Nepal. The base camp of Makalu also offers a sublime trekking objective where few others have ventured.
If you're looking for a true taste of adventure, amidst some of the most spectacular scenery on the planet, then Wild Nepal is the place to go.
Related news and articles
---
Key Facts
Currency: Nepalese Rupee
Time difference: GMT +5.75 hours
Popular dishe/s: Dal bhat
Popular drink/s: Chai tea
Power supply: 220v/240v
Sockets: Typically 2-pin round
Official language: Nepali
Did you Know: The mustang region was a recognised kingdom until 2008 when the Nepalese government ended the official status of the monarcy. The last official king was Jigme Dorje Palbar Bista who is still unofficially recognised by the people of the region.
Visa: British nationals require a visa to visit Nepal. This can be obtained in advance or on arrival
FCDO link: FCDO travel advice for Nepal
---
Climate
When is the best time to travel to Wild Nepal?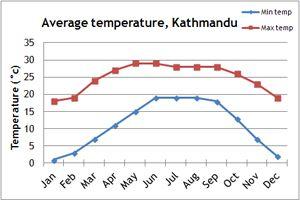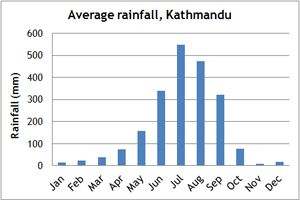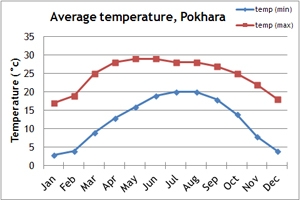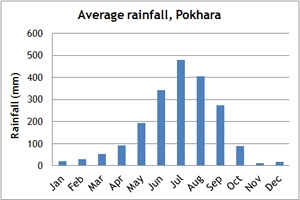 Our temperature and rainfall charts will give you a guide to the climate in Nepal.

Like the ever popular Annapurnas and Everest region, the spring and autumn months are considered the best time for trekking in many of the more remote areas of Nepal.
In spring, the start of the trekking season finds beautiful rhododendron and magnolia in full bloom along the trails. Whilst in autumn crisp, clear skies enhance the mountain views and the countryside is green and lush, following the summer monsoon. Ganesh Himal and Manaslu in northern central Nepal and Kangchenjunga in eastern Nepal are all excellent destinations for spring or autumn treks.
In summer, from June to August, much of Nepal experiences the monsoon rains. We consider that some destinations, such as Everest Base Camp and the Annapurnas are unsuitable for trekking during this time of the year; internal flight schedules can be affected and the mountain views are limited, even if the trails themselves are fine for trekking. However, Mustang and Dolpo lie in the rain shadow of the HImalaya making the summer months the perfect time for a trekking holiday in these spectacular and distinctive regions.

If you would like to discuss your group or Tailor Made holiday to Nepal with one of our destination experts, then please call us on 01453 844400.