What's included
Economy class return air fares from the UK & UK Departure Tax (flight inclusive only)
Single, timed group airport transfers on arrival and departure
Good standard hotel accommodation (4 star) in Kathmandu, twin share, bed and breakfast basis
Best available tea-house in Arughat
All road transport by private vehicles
All camping facilities and all meals on trek
Camp staff to carry out all camp work
Free use of a good quality down jacket and sleeping bag with liner on trek.
Costs of all porterage and porter insurance
Carbon offset for clients taking our flight-inclusive option
A free high-quality Mountain Kingdoms kit bag
Carbon offsetting with the Ecoan Tree Planting Project (for clients taking our flight inclusive option)
The opportunity to attend one of our pre trip meets in the Cotswolds
and much more...
Call our
friendly team
Ganesh Himal Trek
Walking & Trekking
Nepal, Wild Nepal | Walking & Trekking
Improved
Moderate / Vigorous
Moderate: Suitable for anyone who enjoys hill walking.
Vigorous: Suitable for enthusiastic hill/mountain walkers.
Find out more...
Grade: Moderate / Vigorous ? Moderate / Vigorous
Duration: 16 days from the UK
On trek: 11 days
Flight inclusive from £2,150,
Land only from £1,350
Book now or call 01453 844400
Breathtaking trekking through a little explored area of Nepal, stunning scenery and friendly villagers
Highlights
Climb airy stone staircases, and trek along exhilarating mountain ridges
Trek through verdant farmland and explore unspoilt forests
Marvel at the incredible mountain panoramas from the Pansang La and Sing La
Visit remote Gurung and Tamang villages
Relax after the trek in a four star hotel in Kathmandu
The Ganesh Himal, named for the elephant-headed Hindu god, is home to four peaks over 7,000m and many over 6,000m. The region has spectacular scenery - deep canyons and snow-topped, soaring mountains are criss-crossed by local village paths. The trek traverses this area from west to east, with the high point of the Sing La pass offering fabulous views of the entire Nepalese Himalaya.
This trekking holiday combines impressive scenery, excellent walking and an interesting cultural mix of Gurung and Tamang villages to visit. Added attractions are the relatively low altitude of the trek – the high point is 4,050m/13,288ft, and the accessibility of the region, both the start and end of the trek can easily be reached by road from Kathmandu.
Despite the relative accessibility of the area, once you start trekking you may well not encounter any other trekkers. From day one of the trek you will wake up to views of stunning snow peaks, and be walking through traditional villages surrounded by verdant terraces. A couple of days are spent trekking in indigenous forests, with beautiful old trees, lichens and ferns. The views from Sing La are really outstanding with spectacular mountain panoramas.

We are delighted to be able to offer a traditional trek, with plenty of excellent walking, that is of a moderate grade and yet is well off the beaten track.
---
At a glance
Grade: Moderate / Vigorous
Moderate / Vigorous
Duration: 16 days from the UK
On trek: 11 days
Max. Altitude: 4,050m/13,288ft, Sing La Pass, Day 12
Guaranteed to run for a minimum of 4 clients
Maximum group size: 12
Land only joining city: Kathmandu
Accommodation types: Hotels, Camping, Tea House
Meal arrangements: Bed and Breakfast in Kathmandu, full board elsewhere and on trek
Itinerary overview
| Day | Activity |
| --- | --- |
| 1-2 | Travel to Kathmandu |
| 3-4 | Drive to Arughat and trek to Manbu |
| 5-6 | Trek above Budhi Gandaki to Lamadhunga and continue to Nauban Kharka |
| 7-8 | Cross Myangal Bhangang and Magne Goth to Khading or Laba, continue to Rachyat and Tiragaon |
| 9 | Trek to Shertung |
| 10-12 | Trek to Sing La Phedi and cross Sing La Pass to Gongoo Danda |
| 13 | Trek to Kaule Village |
| 14 | End trek and drive to Kathmandu. |
| 15-16 | At leisure and overnight flight home |
Leader: Local Leader, Nepal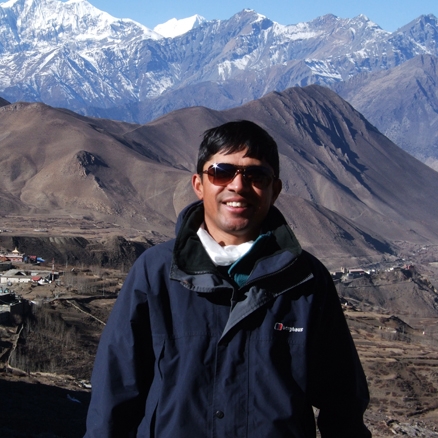 Whether it's a cultural tour, gentle walking holiday or strenuous trek, our holidays in Nepal are led by professionally-trained English speaking leaders. They have an intimate and expert knowledge of the history, culture and nature of Nepal and will make your trip a memorable experience.
---
Ganesh Himal Trek Itinerary
Day 1 - Fly London to Kathmandu

Depart London on your overnight flight to Kathmandu.

Overnight: In flight

Day 2 - Arrive Kathmandu. Group transfer to hotel.

You will be met at Kathmandu airport and taken to the Shangri La Hotel on the group transfer. The Shangri La is a pleasant and comfortable 4* hotel located near the British Embassy where you can relax in its lovely gardens or have a dip in the hotel pool.

Overnight: Shangri La Hotel, Kathmandu

Day 3 - Drive to Arughat - 4-5 hours.

You will be picked up from your hotel in the morning for the drive to Arughat. This is an interesting drive, initially on the main road that leads to Pokhara, before turning off north and crossing the Trisuli river to Dhading Bazaar. What has been a very good road deteriorates at this point and progress slows for the final hour or so.

The small town of Arughat is divided into two, old and new, and you should have time in the afternoon to cross the Budhi Gandaki river on the suspension bridge to explore the old town.

Overnight: Tea House

Day 4 - Trek along the Budhi Gandaki to Arakhet. Continue towards Manbu, 1,300m/4,265ft - 5-6 hours.

There is a rough track that leads from Arughat to Arkhet. The relatively flat walk is full of interesting sights and is a great opportunity to stretch your legs after all the travelling. There are beautiful wooded hills, paddy fields stretching to the river and numerous locals walking to school and work. It is about two hours to the small settlement of Arkhet where you leave the road and cross the Budhi Gandaki to start climbing up towards Manbu. The path is excellent, as it winds up between terraced fields and small settlements. You will camp just before the village of Manbu, a large spread out settlement surrounded by terraced fields.


Overnight: Camp

Day 5 - Trek to Lamodhunga via Dunchet, 2,200m/7,260ft - 5-6 hours.

Hopefully you will wake up to stunning views of the Budhi Gandaki valley with the eastern face of Himalchuli, 7,893m, soaring above, and the Tibetan peak of Serang Himal dominating the head of the valley. To start the day you contour northwards following high above the river valley before starting the climb to the large village of Dunchet. You will probably stop for lunch in Dunchet and there will be time to explore the picturesque village with its stone houses. In the afternoon, it is initially a climb on a well-constructed stone staircase to pass by upper Dunchet before emerging on the upper terraces and briefly entering the forest to ascend to the uppermost terraces. These top terraces are used both for growing barley and by cowherds who live here in small shelters. At the edge of the forest is a rock outcrop, and you will camp on the terraces near here.

Overnight: Camp

Day 6 - Forest walk to Nauban Kharka, 2,750m/9,075m - 5-6 hours. Sunset views of the Annapurnas.

Today is a complete contrast as you spend much of the day walking in the forest. This is a fabulous experience as you trek on small trails used by herdsmen and woodcutters through the virgin forest. There are exotic ferns and lichens and hanging rattans. It is likely that the only sounds you will hear are cicadas and monkeys. The trail is at times steep and involves a small amount of scrambling. There are clear, rushing streams to cross on stepping stones and small clearings used by cowherds. The path contours and climbs eventually reaching Nauban Kharka, a large clearing with temporary shelters for herders and amazing views of Machhapuchare, Annapurna South and Annapurna 2, Boudha Peak and Himalchuli.

Overnight: Camp

Day 7 - Trek across two passes - the Myangal Bhanjyang, 2975m/9821ft, and Magne Goth, 2,936m/9,680ft. Continue to the village of Khading - 6 hours.

After admiring the early morning mountain views, it is about a one hour climb to the first pass of the trek, the Myangal Bhanjyang at 2,975m/9,812ft. New views are opened up below the pass, as you contour along the grassy hillsides, dipping in and out of forest. It is a couple of hours walk to the second pass, the Magne Goth pass at 2,936m/9,680ft. (Depending on conditions, you may cross a slightly lower pass at 2,780m/9,174ft).There are fabulous views of the Ganesh peaks and Paldor. From here a newly renovated path descends past a couple of small kharkas, or clearings, to reach the beautiful and vibrant village of Khading. This is a substantial stone settlement, with a school. Depending on time, you will either stay the night here or continue for an hour to camp at Laba school.

Overnight: Camp

Day 8 - Trek to Lapchet and Rachyet Village. Follow high trail to camp at Timla school 1,760m/5,800ft (or continue to Tiragaon) – 6 hours.

This is a really superb day's trek, with a relatively easy morning as you contour high above the river valley with great views of the valley far below, and terraced hillsides stretching into the distance. The path is newly renovated and excellent. You pass through several tiny settlements perched on the hillside, growing wheat, millet and lentils. You may well see people weaving bamboo into baskets, mats and even house walls and muzzles for goats! A couple of bluffs are crossed before you make a short descent to the village of Lapchet where you may have lunch at the school. From here you can see the large school on the hillside opposite that is your objective for the day. You descend to the river before climbing to Rachyat. There are several beautiful old chortens along this part of the trail, and the villages, a mixture of Gurung and Tamang are well kept. Water permitting you will camp at the secondary school, set high above the valley floor in a small area of forest.


Overnight: Camp

Day 9 - Trek to Shertung, 1,920m/6,299ft – 6 hours.

It's a lovely gentle walk this morning, passing through several small villages en route and stopping for lunch after about 3 hours. After lunch you cross a bridge and start a gentle climb through beautiful tree dotted grassland to reach the village of Chalise. You will get good views of Ganesh Himal and other smaller peaks from here. You then continue climbing gently on stone steps through fields to reach the pretty village of Shertung.

There is a lovely spot for camping in the heart of the village.


Overnight: Camp

Day 10 - Morning in Shertung with exploration of village and excursion to monastery. Afternoon trek towards Sing La Phedi - 3 hours

This morning you have a welcome rest day in Shertung. The name Shertung means "place of gold" and the story is that two brothers in search of gold were led here by a dream and were inspired to found the settlement. The village is largely inhabited by Tamangs who follow a religion which mixes elements of Hinduism and Buddhism along with shamanistic beliefs. In the morning you will have time to explore round the village, including having a look at the school and hospital. You may also have time to visit Phyangchet Monastery, situated about an hour's ascent above the village below a beautiful forest and at the start of one of the major trekking routes to the Sing La pass. If the caretaker is around you should be able to go inside the monastery, but in any case there are fabulous views from here, so it is well worth the climb up.

You then begin walking towards Sing La Phedi on the trail which avoids the road. Originally this trail was part of a route used by locals from Shertung village to reach Trisuli Bazaar. Your walk today climbs, mostly through jungle, rhododendron, oak and bamboo, and passes through several clearings called kharkas, where local animal herders graze their sheep, cows and goats. Along the way you have occasional views of the mountains. You will camp in a suitable spot between Shertung and Sing La Phedi.

Overnight: Camp

Day 11 - Trek to Jungle Camp at Sing La Phedi, 3,546m/11,634ft - 3 hours.

Today you continue on the trail, finally reaching Sing La Phedi, its name meaning the foot or base of the pass, and you will camp here for the night.

Overnight: Camp

Day 12 - Cross Sing La Pass, 4,050m/13,288ft, and descend to Gongoo Danda, 2,900m/9514ft - 5-6 hours.

You start this morning with the climb to the Sing La Pass, from where the views are really outstanding. As you make the final uphill climb to the pass, Langtang looms overhead to the north and the peaks of Ganesh appear. Sing La is really less a pass than the side of a peak, the top of which is only another 20 meters up a very gentle slope. From the pass the world seems to fall away in three directions. To the west is the Manaslu massif, with Manaslu, 8,163m/26,780ft) poking up from behind the Ganesh Himal and the peaks of the Annapurna Himal beyond. To the northwest is the Ganesh Himal where Ganesh, 7,406m, 24,296ft, and its satellites create a stunning panorama of peaks, glaciers, rock, snow and ice.

From the pass you will descend all the way to the large grazing meadows at Rupchet for lunch. This is a lovely spot with great views but due to lack of water here you we will need to continue for a further half an hour to reach Gongoo Danda for your overnight camp.


Overnight: Camp

Day 13 - Trek to Kaule Village, 1,800m/5,905ft – 5-6 hours.

After breakfast, you begin with a shortish uphill walk and then make a long gradual, downhill descent - in the far distance you will see the small town of Dunche with Gosainkunda Danda beyond. You walk through rhododendron and pine forest to the open grazing area near the Gompa at Kaule and then though a picturesque landscape of mixed forest, farm land and scattered villages. You will have lunch in camp and will be able to relax for the afternoon before celebrating your last night on trek with your trekking crew.

Overnight: Camp

Day 14 - Trek to Roadhead - 1 hour. Drive back to Kathmandu - 5-6 hours.

You walk for about half an hour to reach the road head at Kaule village where you will meet your transport for the drive back to Kathmandu, passing through the village of Betrawati and the town of Trisuli Bazaar.

Overnight: Shangri La Hotel, Kathmandu

Day 15 - At leisure in Kathmandu. Transfer to airport and depart for London.

You will have time at leisure in Kathmandu today when you may do some sightseeing and shopping or simply relax by the pool at your hotel. Later there will be a group transfer to the airport for your overnight flight back to the UK.

Overnight: In flight

Day 16 - Arrive London.
Map
Map Key
Airport
Point of interest
Mountain Peak
Day walk in this area
Flights
Internal Transfers
Trek
---
2021
2022
2023
---
---
Review your holiday
Reviews
Read holiday reviews by Mountain Kingdoms travellers.
Overall score: 5.0 (Based on 4 reviews)
Ganesh Himal Trek 04/06/2019
Our group got on very well. Having a small number is, I think, a considerable advantage in terms of smooth running etc.It also made it easy to talk to local people. The trek was very much as described and expected The route was beautiful; we saw monkeys and mongoose and many different birds.
Mr D Hill, Shropshire
Ganesh Himal Trek 10/03/2017
Lovely trek in remote area. Great to see people at work and play. Great views.
Mrs L, Surrey
Excellent camping facilities 16/10/2015
Wonderful trek in this 'little known' region. Overall, well organised. The trek had stunning scenery/interaction with local villagers/getting to know our porters and how they live. Excellent camping facilities.
Ms H, Hertfordshire
Very warm welcome 11/10/2013
I loved the combination of lots of views of big, snowy mountains with trekking through interesting and remote villages. The people are genuinely delighted (and amazed) that you have made the effort to visit their villages, and give you a very warm welcome.
Seraphina Berry, Mountain Kingdoms
---