Our grading system explained
Gentle
Gentle / Moderate
Moderate
Moderate / Vigorous
Vigorous
Vigorous / Strenuous
Strenuous
Expedition Grade
Costa Rica

From the coast to mountain, rainforest to river and cloudforest to volcano, Costa Rica's incredible diversity of landscapes supports an abundance of amazing wildlife and makes it one of the world's premium eco-tourism destinations.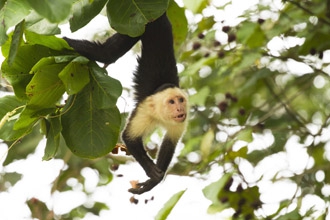 Visit six of Costa Rica's premier national parks and wildlife reserves
Enjoy a varied programme of walks that showcase Costa Rica's incredibly diverse landscapes.
Spend time in Tortuguero renowned for its fabulous wildlife and laid-back Caribbean vibe.
Look for rare and exotic birds in the cloudforest of Monteverde and a take a boat tour along the wildlife-rich waters of Caño Negro Reserve.
Go hiking amidst the surreal and beautiful volcanic scenery of Rincon de la Vieja in the fiery northwest.
Relax at the end of your holiday on beautiful Hermosa Beach with the option to extend.
Flight inclusive from £4545, Land only from £3550
---
Introduction
Just over twice the size of Wales yet home to approximately 5% of the world's bio-diversity, Costa Rica packs a powerful eco-punch for a country of its relatively diminutive size, and it makes a superb destination for a wildlife-based walking holiday: Gentle Walking & Wildlife Costa Rica.
Situated between Nicaragua to the north and Panama to the south, and sandwiched between the Pacific and Caribbean oceans, Costa Rica has a vast array of eco-systems. Tropical dry forests, tropical rainforests, mangrove swamps, coastal wetlands, high plateau, mountain ranges, geo-thermal features and cloud forests support a remarkably varied range of flora and fauna. Sloths, toucan, jaguars, resplendent quetzals and giant turtles are the exotic headline attractions but there are myriad mammals, birds, monkeys, butterflies, reptiles and insects to keep even the most hardened wildlife expert interested. In fact, 250 species of mammal, 400 different reptiles and amphibian, 900 species of birds, a quarter of the world's butterfly population and an incredible 250,000 species of insect, call Costa Rica home. This means that wherever you go in Costa Rica you are never far from an amazing wildlife experience.
Costa Rica has four mountain ranges with the highest peak, Chirripό, standing at 3,820m/12,533ft. Two of the mountain ranges are volcanic in origin - the Central Mountains and Cordillera de Guanacaste - part of the Central American Volcanic Arc which stretches for over 900 miles from Guatemala to Panama and has the highest density of volcanoes in the world. Arenal and Rincon de la Vieja are two of the most accessible volcanoes (depending on volcanic activity) and both offer fantastic walking opportunities as well as thermal pools and other exciting outdoor adventures.
The contrasting coastal regions of Costa Rica are also big draws for visitors. The eastern, Caribbean coast is straight, flat and only 132 miles long whilst the Pacific coast on the west of the country runs for 632 miles has two major peninsulas and numerous islands and inlets. On both sides you can find superb white-sand beaches and warm tropical waters. Tortuguero, on the Caribbean coast is an exception in that it's not the beaches that attract visitors but turtles as this is one of the most renowned sites for nesting turtles anywhere in the world. Although, even when the turtles aren't nesting there's an abundance of other wildlife to discover in this watery haven.
The people of Costa Rica, known as 'Ticos', are proud stewards of this rich natural heritage with over a quarter of the country legally protected, including 26 National parks and numerous forest and wildlife reserves. Eco tourism has become an important contributor to economic success in Costa Rica helped by the country's peaceful outlook, political stability and a strong democratic tradition that sets it apart from its neighbours. Along with its welcoming culture, good quality accommodation and a wide range of exciting outdoor activities to enjoy, Costa Rica is rightly considered one of the world's prime eco-tourism destinations.
Whether you want to hike on trails through ancient forest, zip through the canopy of a cloudforest, peer into a volcano, discover endless exotic wildlife, soak in hot springs or relax on a pristine beach, our Gentle Walking & Wildlife holiday in Costa Rica is the perfect choice for you.
Related news and articles
The birds and animals of Costa Rica - our top 10 wildlife sightings
---
Key Facts
Capital city: San Jose
Arrival airport: Juan Santamaria (SJO)
Area of country: 51,060 km2 / 19,714 sq miles
Currency: Colόn (US dollars also widely accepted)
Time difference: GMT -6 hours (daylight saving not observed)
Popular dishes: Gallo pinto - rice and beans - is the national breakfast, with Casados the traditional lunch – this is rice and beans with the addition of meat, cabblage, fried plantains etc.
Popular drinks: Frescos – fresh fruit juices
Power supply: 110v
Sockets: 2 pin round (same as the US)
Language: Spanish
Religion: 70% Roman Catholic, 14% Protestant, 11% no religion, 4% other
Visa: British nationals do not require a visa to visit Costa Rica if staying for less than 90 days
FCDO advice: FCDO travel advice
---
Climate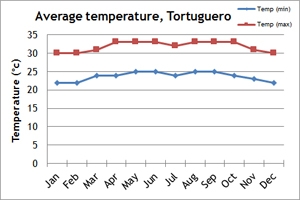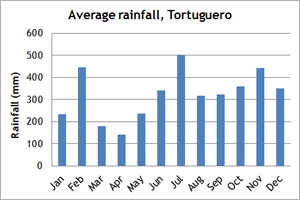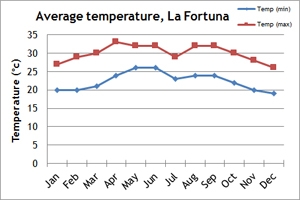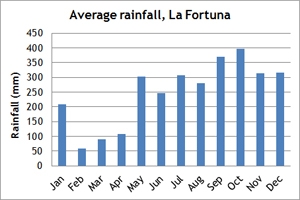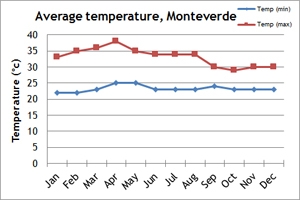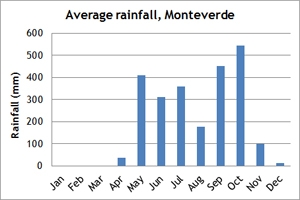 Costa Rica's climate is dominated by its two seasons: the wet season (winter or the green season) which runs from May to November and the dry season (summer) which is mid-November to April. However, local micro-climates do introduce some unpredictability.

During the dry season most places see little rain and enjoy sunny days and warm temperatures whilst in the wet season you can expect considerable amounts of rainfall and a humid climate. During September and October the rains are at their heaviest and can prevent travel in some areas.

Regional variations are particularly notable on the coasts with the south Pacific coast having a longer rainy season (December to February). The tropical Caribbean Coast with its extensive rainforest experiences the most rainfall of anywhere in the country with February and March relatively drier months, however you may experience a shower at any time of the year here. The cloudforest region around Monteverde can also attract rain at any time of the year.

As Costa Rica lies just north of the equator, temperatures are fairly consistent all year round. The main difference in temperatures occurs between the lowlands - the North, Guanacaste, the Pacific and the Caribbean, and the highlands including the Central Valley. Temperatures are on average 15 degrees cooler in the highlands.

The best time to travel to Costa Rica is therefore considered to be during the dry season with December through March the peak months consequently prices are higher and accommodation more limited during these months.