/
/
Article
/
The birds and animals of Costa Rica – our top 10 wildlife sightings
The birds and animals of Costa Rica – our top 10 wildlife sightings
I was lucky enough to travel to Costa Rica for Mountain Kingdoms to research our walking and wildlife holiday. It was a country I'd long wanted to visit knowing that it was renowned as a wildlife wonderland.
I was lucky enough to travel to Costa Rica for Mountain Kingdoms to research a brand new walking and wildlife holiday. It was a country I'd long wanted to visit knowing that it was renowned as a wildlife wonderland.
Travelling with my husband Adam, a keen amateur wildlife photographer, we were eager to see some of the birds and animals that Costa Rica is particularly famed for - unsurprisingly, sloths and toucans were right at the top of our list. Having ticked both of these off on the very first day we knew we were in a special place. I guess that with 5% of all the world's birds and animals making their home in Costa Rica it's not surprising that we saw so many wonderful creatures during our two weeks in this nature lover's paradise. Here are just ten of our favourites, although it could have been so many more.
Sloth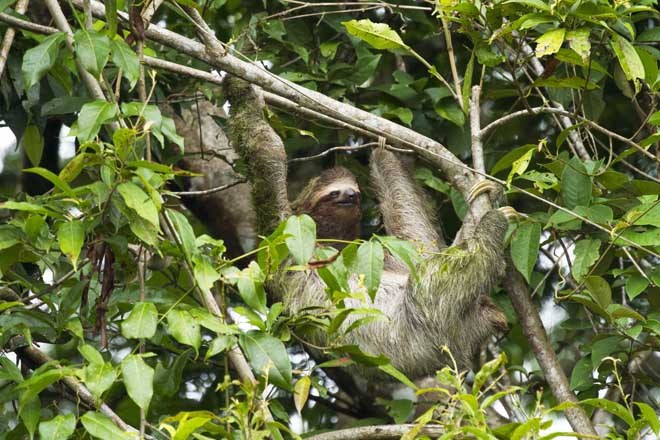 Setting off on an early morning boat tour along the tranquil waterways of Tortuguero National Park, we were fortunate enough to see this Three-toed sloth, lazing around in the trees beside the water. Not only did we watch it enjoying its breakfast, and having a slow stretch, but it also turned and smiled for us. What a welcome.
Toucan
There are six different types of toucans that you can find in Costa Rica, but it is the Keel-billed toucan that is the most eye-catching and the one that we are most familiar with, mainly from seeing them in Guinness adverts over the years. In Costa Rica we saw Keel-billed toucans on several occasions, in national parks as well as perched on trees beside the road – their ridiculously colourful beaks and bright yellow breasts making them quite unmissable. The one pictured here was dancing in the trees above us in Curi-Cancha Reserve.
Red-eyed tree frog
The Red-eyed tree frog is another of Costa Rica's famous animals – often seen on images promoting the country alongside sloths and toucans. Another nocturnal creature, it is best spotted on a nightwalk in the rainforest, although you can find them hiding under broad palm leaves during the daytime. We had our best, close-up sightings of these very cute creatures at our Lodge in Tortuguero which has a special frog habitat making it easy to both see and hear them; they make a surprisingly loud noise for such a little creature.
Hummingbirds
These tiny, beautiful birds with their iridescent colours, slender beaks and madly beating wings are a treat for the eye as they flit between trees and flowers. Costa Rica has over 50 species of hummingbirds and we saw several during our stay in the cloudforest region of Monteverde. The Violet sabrewing, the largest species of hummingbird in Costa Rica, was a regular visitor to the sugar feeders on the terrace of our cloudforest lodge whilst the Mexican violetear (pictured here) posed beautifully for photos in the Curi-Cancha Reserve – a birdwatcher's paradise.
Monkeys
Cruising along the Rio Frio River in the Cano Negro Wildlife Reserve we encountered rather a lot of monkey business. There were Howler monkeys lazing in the high canopy of the surrounding forest, Spider monkeys leaping acrobatically between trees and White-throated capuchins playing in the branches or angrily warding us off when our boat got too close to their territory. Their entertaining antics made the boat trip a definite highlight of our trip.
Green basilisk lizard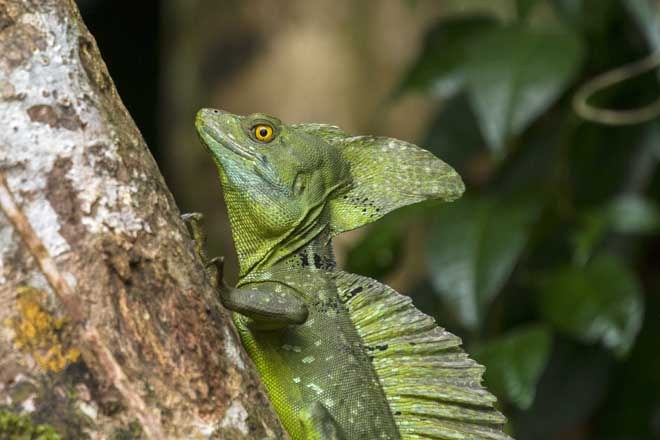 Reptiles such as lizards, iguana, snakes and caimen, are a common sight amongst the animals of Costa Rica, frequenting the country's parks and rivers. One of the most colourful and interesting of all is the Green basilisk lizard, also known as the Jesus Christ lizard due to its amazing ability to run on water when startled by a predator. We did see one speed across the water after being startled by a capuchin monkey in Cano Negro, but it ran far too quickly to get a photo. More usually, we came across them basking photogenically on trees and logs.
Motmots
Our expectations were very high that we would see many unusual and exotic birds during our time in Costa Rica, and we certainly weren't disappointed. We may not have seen the famed Resplendant quetzal, but instead we saw Ringed and Green kingfishers, Orange-bellied trogon, Purple gallinule, Montezuma Orpendolas, Great kiskadees and Blue-gray tanagers to name but a few. But perhaps the one we enjoyed the most was the Turquoise-browed motmot - a really colourful little bird, with striking tail feathers that perched on telegraph wires and roadside fences, especially in the hot-dry Guanacaste region, keeping us company on our travels.
Coati
Along with agutis, coati were regular visitors in the national parks and wildlife reserves we visited. A member of the racoon family they're about the size of a large house cat with a long, ringed-tail. As with your first sighting of any animal we thought we'd come across a strange and unusual creature, soon to realise that they're pretty commonplace although a little camera shy. Whilst on a walk through forest trails in the grounds of our lodge in Montezuma, just before dark, we startled this baby coati which dashed up a tree and peered briefly at us before scampering away. It was certainly the cutest animal we saw in Costa Rica if not the rarest.
Golden orb weaver spider
My biggest fear ahead of travelling to Costa Rica was that I'd have a close-up encounter with a tarantula – I'm definitely not a fan of huge, hairy spiders – but fortunately I managed to avoid them altogether. Instead, whilst walking the Rio Celeste Trail in Tenorio Volcano National Park we saw these rather magnificent Golden orb weaver spiders which, even though large, were surprisingly beautiful. The female spider with her striking coloration and long legs, weaves a vast, golden-coloured web which glints in the sunlight attracting insects to her enticing lair. Who'd have thought a big spider could be more seductive than scary! A particularly good place to see these spiders is alongside the path on the Rio Celeste Trail in Volcan Tenorio National Park.
Great Curassow (also known as Lupe)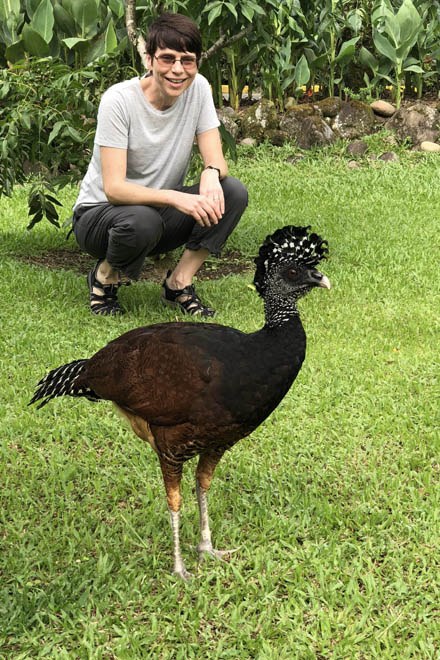 No sooner had we checked in to our hotel in La Fortuna then we had our first encounter with a Great Curassow. This large, impressive bird is in fact endangered, but this particular female, along with her mate, had taken up residence in the grounds of the hotel and was on a constant lookout for new sources of food. Whenever we opened the door of our cabin, there was Lupe looking longingly at us. Whenever we went to the pool for a swim, along came Lupe, pecking at our discarded clothes and possessions whilst we were in the water. And, whenever we sat outside our room, there was Lupe, jumping on the table and trying to eat pens, books, Kindles – in fact anything! We said our fond farewells to her when we left, but she was already eyeing up the next guest.
So there you have it, a terrific top ten of all the birds and animals we saw on our flying visit to Costa Rica. If you're inspired to go and see Costa Rica's wonderful wildlife for yourself then take a look at our Gentle Walking & Wildlife Costa Rica holiday. If you have any questions about the trip contact Kirsty on 01453 844400, she'll be more than happy to talk about her exciting wildlife adventure with you.