/
/
Article
/
Our Top Ten Travel Tips for Nepal
Our Top Ten Travel Tips for Nepal
Nepal is one of our very favourite destinations. Almost everyone who works at Mountain Kingdoms has been to Nepal at least once. Our Operations Manager Niki, holds the record with over 15 trips and our MD, Steve Berry, is our most recent Nepal traveller having visited just last November.

So we decided to pool our expertise and come up with our top 10 travel tips for Nepal, whether you're a first time visitor or a repeat offender like Niki!
1. Pack with purpose
If you are taking an internal flight during your holiday in Nepal you're going to have limited luggage capacity so you need to pack with purpose. To get an idea of what to take with you take a look at our Kit List for a Trek to Everest Base Camp, we also provide all our clients with a comprehensive trip dossier that has loads of really useful information about the gear you need to take.. To help with the packing, we also give everyone trekking with us in Nepal a free Mountain Kingdoms kitbag. Once it's full you know you've got enough gear!
Our top packing tips from around the office are: take a universal power adaptor as sockets do differ; have a portable, lightweight power bank with you as power supplies can be very erratic; pack a 'Buff' scarf which will have multiple uses in protecting you from the elements; and carry a lip balm with good sun resistance.
Probably our most valuable piece of packing advice though is not to pack your walking boots but to wear them on your flights. They may not be the most comfortable footwear on a plane but they are the one thing that you cannot afford to be without on trek!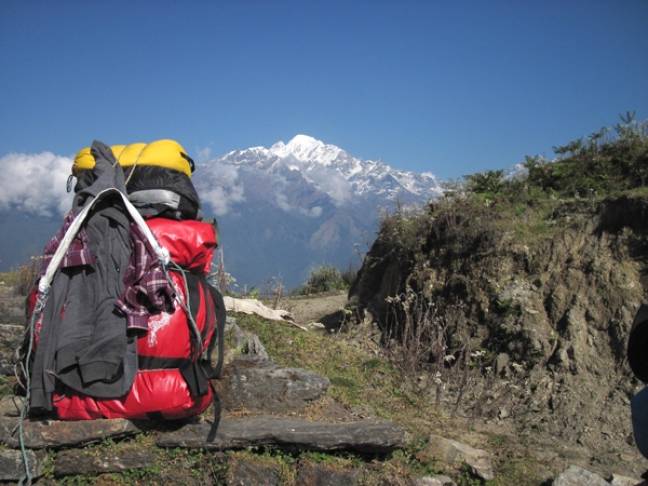 2. Get your visa in advance
You will need a tourist visa to enter Nepal. These can either be obtained in advance from the Nepalese Embassy in London or purchased on arrival at Kathmandu airport. We always advise our clients to get their visa in advance whenever possible as this prevents any delays at the airport which can be very chaotic.
Aside from a visa you also need to have completed a Passenger Locator Form (this is a Covid related requirement). The good news is that, if you are fully vaccinated against Covid, you are no longer required to show a negative PCR test to enter Nepal just your proof of vaccination. If you're travelling with us, we'll provide you with all the latest entry requirements in good time.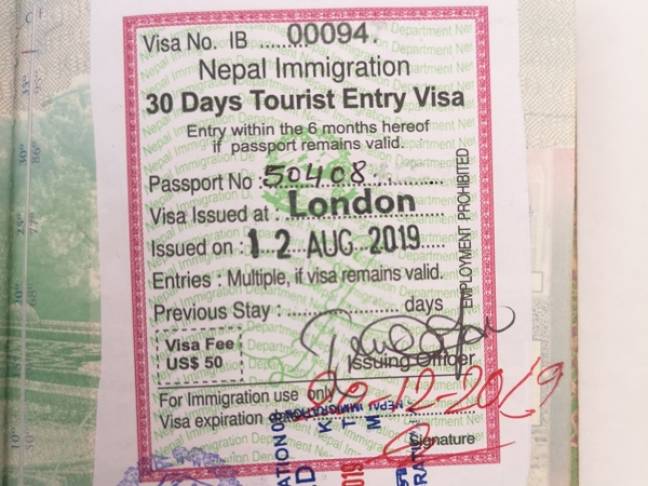 Avoid the monsoon months (unless you're going to Mustang)
The summer months of June to September bring heavy, persistent monsoon rains to Nepal so best not to travel there then. By contrast the spring and autumn months are the best time to visit Nepal. Warm sunny days and clear skies for mountain views, especially in the autumn, make it the perfect time for trekking and sightseeing.
One exception to this rule is in the Mustang region which borders Tibet. Lying in the rain shadow of the Himalaya it hardly receives any monsoon rains (particularly in Upper Mustang) which means you can comfortably trek there in June and September.

3. Make time to explore the sights of Kathmandu
Most travellers to Nepal start and end their holiday in Kathmandu but often spend very little time there. It's certainly a frenetic city pulsating with noise and energy that can assault the senses, but it's also full of historic sites, cultural attractions and a great tourist centre. At the very least you should explore the remarkable buildings of Durbar Square (the well-preserved ancient capital of Nepal) and Swayambanuth Temple, also known as the Monkey Temple for good reason. But travel out into the Kathmandu Valley and you'll find two other ancient cities – Bhaktapur and Patan – as well as beautiful Boudhanath Stupa, a colourful Buddhist pilgrimage site that attracts thousands of visitors every day. Nearby is Nepal's most important Hindu Temple, Pashputinath, where you can observe the moving sight of cremations taking place on the banks of the river.
After a hard day on the tourist trail, head to the central district of Thamel to unwind in one of its many cafes, bars and restaurants. It's also the best place to pick up a souvenir or two, as well as those last minute outdoor gear purchases if you've forgotten anything for your trek.

4. Eat like a local
Nobody should leave Nepal without trying their national dishes of dahl baht and momos. Dahl Bhat is a simple and healthy combination of lentils and spices served with steamed rice. Most Nepali people eat it at least once a day and it's a great meal to have whilst you're on trek and in need of carbs and proteins to help you power up the trail. You'll notice that your guide and trek crew eat it for pretty much every meal and they often spice it up with homemade chilli chutnies. Momos are another staple of the Nepali diet which you'll find everywhere. They are delicious steamed dumplings filled with vegetables or minced meat and every family has their own special recipe. Wash your momos or dahl down with a spicy Chai tea or even a bottle of Everest beer.
For a more refined eating experience in Kathmandu, treat yourself to a meal at the renowned Krishnapana Restaurant at Dwarika's Hotel. A real gastronomic experience, they offer menus of up to 22 exquisite courses produced from the finest local ingredients.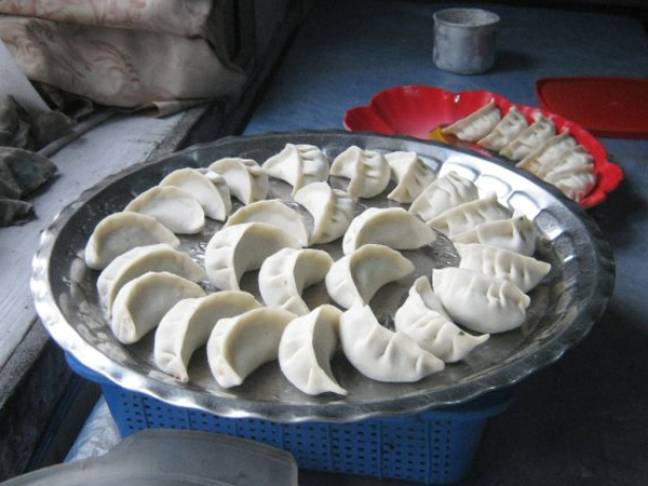 5. Trek with a guide
It's certainly possible to trek the most popular trails of Nepal without a guide or other support; the paths are well-established, there are a lot of tea houses and lodges offering accommodation and there will be many other trekkers to spend your evenings with. However, despite this, we still recommend using a professional guide and/or porter whether you are trekking to Everest Base Camp or in remote Manaslu. Ideally, by booking with an experienced tour operator such as ourselves!
The advantages of having a guide and support crew are that they will know the route, they will secure the best accommodation – very important in the height of the spring and autumn seasons when tea houses fill up very quickly – they will carry your main baggage leaving you with just a day sack, they will enhance your trek with a wealth of local knowledge and keep you entertained with stories, jokes and games - you may find that they are a demon at cards! But most importantly, an experienced guide will keep you safe and well. They can identify the symptoms of altitude sickness and take the necessary prevention measures in good time. In fact all that the best guides will leave you to do is to enjoy the spectacular scenery and amazing experience.
All of our trekking holidays in Nepal include a guide and trek support crew. All your accommodation will be pre-booked, your transport taken care of and your bags fully portered. If anything unexpected should happen your guide will take care of it and take care of you.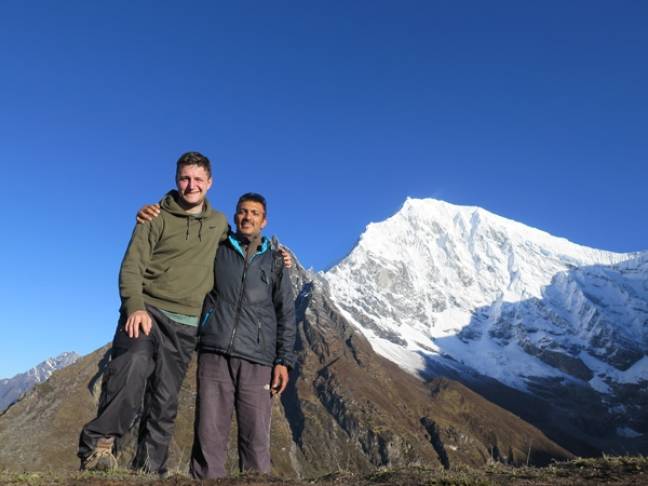 6. Respect local customs
Respecting local customs is integral to being a responsible tourist. Here are the most important things to remember when out and about in Nepal to avoid causing offence: You should dress with modesty wearing longer trousers rather than shorts, and avoiding tight, clingy clothing; always remove your shoes if going into a home or place of worship; never sit with your feet pointing towards a person; use your right hand to pass food or money; and walk clockwise around Buddhist stupas or chortens. When taking photos of the locals always ask permission first and be aware that photography may be restricted in sacred buildings or at religious services. When in doubt, ask first.
Finally, learn a little lingo. Just being able to say hello, how are you, please and thank you will go a long way and earn you a warm smile in return. For a traditional greeting (and farewell) say Namaste whilst smiling and putting the palms of your hands together.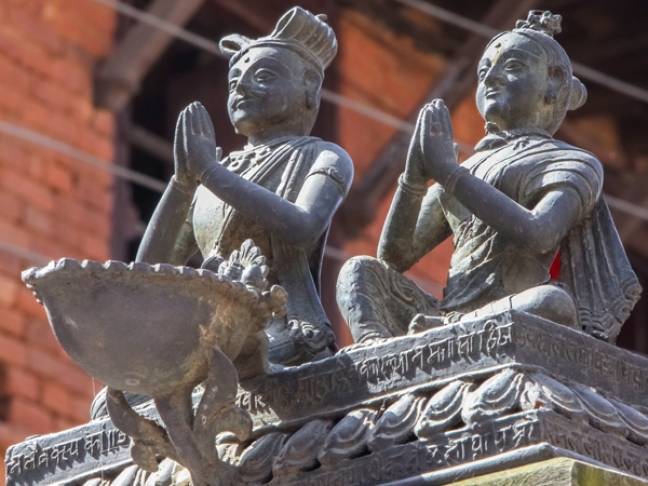 7. Go wild!
Kathmandu, Everest and the Annapurnas, are the most popular places to walk and trek in Nepal as this is where the highest mountains are and the classic trekking trails. But there are many other areas, equally as beautiful and dramatic, that lie away from the well-worn paths and offer a wilder, more remote experience. Manaslu, Mustang, Dolpo, Langtang, and the Ganesh Himal offer timeless Himalayan scenery, cultural interest and tea house accommodation but without the crowds. You can also follow in the footsteps of explorers and climbers to reach the base camps of Makalu, Kangchenjunga and Dhaulagiri. Take a look at all our Wild Nepal holidays here.
Going wild in Nepal can also mean a visit to one of the country's national parks. Chitwan is the premier park with almost guaranteed sightings of elephants and rhinos. Bardia National Park also offers great wildlife spotting opportunities as does Koshi Tappu which is famous for its many exotic bird species.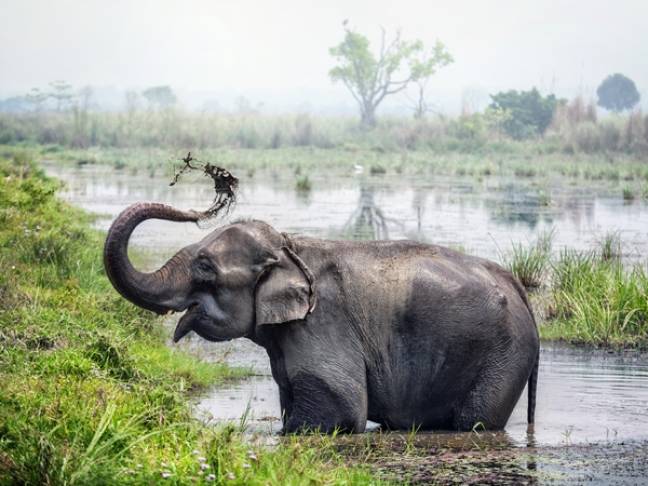 8. Don't drink the water!
Fresh water in Nepal should be avoided as it can lead to tummy upsets and other serious gastro illnesses. Not only shouldn't you drink water straight from the tap but you should also avoid adding ice to drinks, keep your mouth closed when washing or showering, and not eat fruit or vegetables that have been washed in tap water (unless they are peeled afterwards). You can easily buy bottled water in the towns but this adds to plastic pollution so we suggest taking a bottle with a filter that can be re-filled from any source. In fact, we have our very own Water-to-Go bottle which filters out over 99.9% of contaminants. On trek, your water will be boiled to the correct temperature so that you can fill up your own water bottles, pouches etc every day. You could also take a supply of water purification tablets.
You'll also have a seemingly never-ending supply of tea whilst you're on trek. Each tea house and lodge has huge kettles and flasks to boil up and serve the tea. The first cup of the day is brought to your door by the trek crew - it's known as bed tea and makes the best start to the day.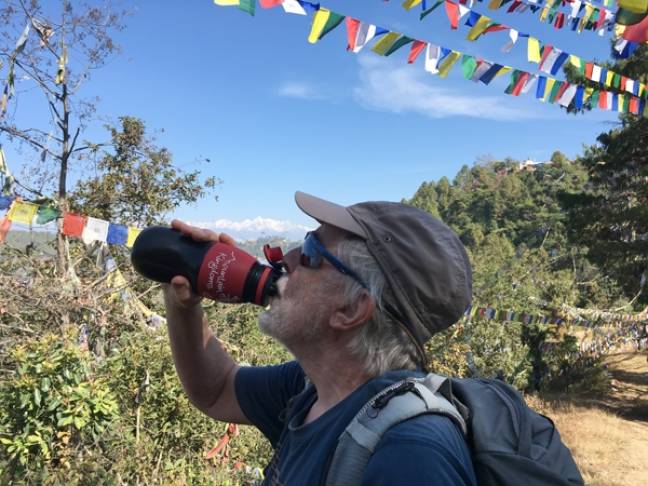 9. Take a little cash
You won't need tons of money in Nepal as it's a very good value destination, but you will need some for a few tempting treats.
We advise our clients to take cash to Nepal as well as a credit card which can be used in hotels and larger shops in Kathmandu and is a useful back up for getting cash out of ATMs if need be. Cash can be in £, $ or €. You should only exchange cash in licensed money changing establishments such as banks, hotels and airports. Your guide will advise.
If you've booked your holiday with Mountain Kingdoms, all your food and drink is included whilst you're on trek so you won't need too much cash outside of Kathmandu or Pokhara. Many tea houses sell a few snacks and sodas which you may find hard to resist, and there's also the chance to pick up a souvenir or a slice of famous apple cake when you're in one of the larger centres on the trail such as Namche Bazaar, the Sherpa capital of the Everest region.
In Kathmandu there are plenty of shops, cafes and bars to spend your money in, and prices are generally much cheaper than at home for equivalent items. Our top souvenir tip is to buy pashmina scarves. These cashmere scarves are a fraction of the price of back home and the ones produced from a combination of cashmere and wool or silk are more durable and still great value. Other locally produced items that won't take up too much room in your bags are paper, soaps, organic coffee and loose leaf tea.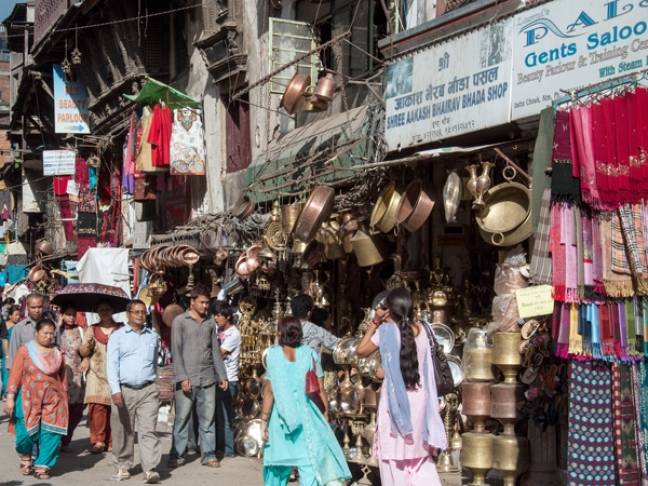 10. Enjoy, enjoy, enjoy
Finally, savour every moment of your time in this beautiful, vibrant and welcoming country just in case it turns out to be a once-in-a-lifetime trip - although we very much doubt it will be.

If you need any other information or advice about Nepal, or want to discuss your holiday plans to the Himalaya, then email us at info@mountainkingdoms.com or call our friendly team on 01453 844400.
You can see all our group Nepal treks and tours here or get some inspiration for a specially created Tailor Made holiday in Nepal – just for you.