/
Holiday
/
Manaslu Circuit
Dolpo, Nepal, Wild Nepal, Kathmandu | Walking & Trekking
Grade:

?

Strenuous

Suitable for fit individuals who have regular experience of mountain walking.

Find out more...

Strenuous

Duration: 18 days from the UK
On trek: 12 days
Flight inclusive from £2855, Land only from £1955
Enjoy soaring peaks, fantastic trekking and Tibetan-style villages on this classic Manaslu Circuit trek.
Highlights
A distinctive and improved version of the classic Manaslu Circuit with spectacular scenery from start to finish
Excellent acclimatisation with rest days before ad after crossing the Larkya La
Explore picturesque Tibetan villages full of cultural interest
Staying in tea houses on trek and a four star hotel in Kathmandu
Reviews
Great trekking experience with fantastic mountain views in the company of a great guide and porter.
Mrs J F, Cleveland
Next
Your trips are always very well organised and the staff in Kathmandu are always very attentive and helpful. As with this kind of travel, all concerned while on trek need to show flexibility, and the guides and porters were only too willing to make the trek a wonderful experience.
Mr D W, Cwmbran
Next
Your company...has immeasurably enhanced my travels and my life. Thank you so much for all you do.
Mr C L, Minnesota, USA
Next
A well-organised trip with excellent attention to our health/welfare (e.g. diet and acclimatisation). Everything worked! The guides/sherpas were clearly well equipped for emergencies (not needed fortunately).
Mr D, Somerset
Next
I was very impressed with the trek, it was all (and more) that I had hoped it would be. A serious, longish trek into remote mountains. Loved it! Big thank you to all concerned. Well organised trip. If anything had gone wrong (which it didn't) I would have been in safe hands. Wonderful mountain walking in remote areas. Hardly saw other trek groups until we re-joined the Annapurna Circuit in last...
Mr O, Gloucestershire.
Next
This was the first trek I have done and it was brilliant. A superb route, great and varied views and scenery, from valleys up to high mountain passes. It was well organised and run with a great leader and team of sherpas.
Mr Ian Hunt
Next
Excellent
Mr Niels Christiansen
Next
A great circuit which starts with a trek up a spectacular gorge, then opens out into terrific high mountain terrain. Crossing the Larkya La was hard going but the gradient is never too great. This was our first Nepal adventure, so cannot compare with other more well known circuits like EBC or Annapurna. Teahouses were variable in quality (as you would expect) but the food was always plentiful and...
Mr Mark Kerr
Next
An excellent tough trip with stunning scenery.
Mr Andrew Woosnam
Next
Great trekking experience with fantastic mountain views in the company of a great guide and porter.
Ms J Frank
Next
View All
This trek in the shadow of the eigth highest mountain in the world is the perfect alternative to the neighbouring Annapurna Circuit. It has equally spectacular Himalayan scenery, an abundance of wildlife and tea house accommodation, but sees far fewer trekkers and has not become blighted with roads.
Your trek starts at steamy Machhi Khola as you walk northward up the Buri Gandaki Valley, sometimes following the river along the valley, but more often climbing high as the trail snakes along the increasingly steep, forested gorge. From Ghap you start to climb steeply to reach your highest point, the impressive Larkya La, 5,106m/16,752ft. The route to the pass offers excellent acclimatisation as well as strong cultural interest with time to explore the attractive Tibetan villages of Sama Gaon and Samdo.
As you cross the Larkya La, you can enjoy both a great sense of achievement and the breathtaking views of the giant peaks of the greater Himalaya on all sides. Finally you descend to Dharapani where you say a fond farewell to your Sherpa guide and trek crew, before returning to Kathmandu.
This is truly a special cultural adventure with unbeatable big mountain scenery from first step to last.
---
At a glance
Duration: 18 days from the UK
On trek: 12 days
Max. Altitude: 5,106m/16,752ft, Larkya La, Day 13
Guaranteed to run for a minimum of 5 clients
Maximum group size: 12
Land only joining city: Kathmandu
Accommodation types: Hotels, Tea Houses, Camping
Meal arrangements: Bed and Breakfast in Kathmandu, all meals on trek.
Itinerary overview
| Day | Activity |
| --- | --- |
| 1-3 | Fly to Kathmandu and drive to Machhi Khola – the trailhead for the trek. |
| 4-5 | Trek to Deng via Jagat. |
| 6-7 | Trek to Shyala. |
| 8-9 | Trek to Sama. Acclimatisation walk from Sama Gompa. |
| 10-11 | Trek to Samdo. Acclimatisation day. |
| 12-13 | Trek to Dharmashala cross the Larkya La, 5,106m/16,752ft. Continue to Bimthang. |
| 14-15 | Trek to Dharapani. End trek. |
| 16-18 | Drive to Kathmandu. Fly to London. |
| | |
| | |
| | |
Leader: Sherpa Leader, Nepal
This trek will be led by a professionally trained, English speaking Sherpa. They have an intimate and expert knowledge of the history, culture and nature of Nepal and will make your trip a memorable experience.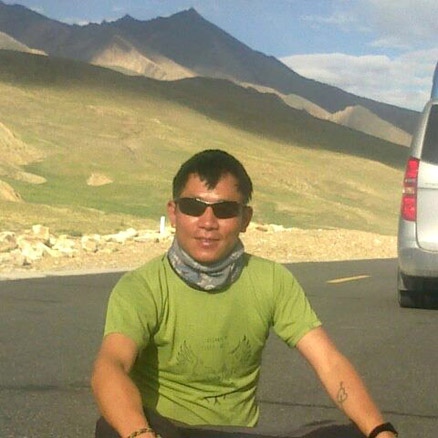 ---
Holiday Itinerary
Day 1 - Fly London to Kathmandu
Depart London on your overnight flight to Kathmandu.
Overnight: In flight
Day 2 - Arrive Kathmandu. Group transfer to hotel.
On arrival at Kathmandu airport you will be met and transferred to your hotel.
Overnight: Kathmandu Guest House Or Similar, Kathmandu
Day 3 - Drive to Machhi Khola, 900m/2,952ft - 8-9 hours.
Today you have a full day driving west from Kathmandu passing through many villages and bazaars to reach the settlement of Machhi Khola.
Overnight: Tea House
Day 4 - Trek to Jagat, 1,350m/4,428ft – 6-7 hours.
You cross the Machhi Khola River and follow it upward to the small village of Khorlabesi. Continuing northward you pass the hot springs at Tatopani and head into a forested area before entering Doban. As you walk beyond Doban there are huge rapids down below on the Buri Gandaki. You cross the river again by suspension bridge at Lauri and continue up the valley to Jagat.
Overnight: Tea House
Day 5 - Trek to Deng, 1,895m/6,217ft, 6-7 hours.
Leaving Jagat you descend to the river and follow its course, on an undulating trail amongst fields typically sown with grain such as maize or millet. Passing through the settlement of Sulleri you'll catch your first, distant glimpse of Phillim which you'll reach in a further 1½-2 hours trekking. There's a custom post in the village here, checking and levying taxes on goods imported from Tibet. Even though your permits may have been checked earlier in the day they are likely to be checked again here.
Leaving Phillim you continue on the main track passing some superb waterfalls on both banks, as you trek up the narrow western gorge of the Buri Gandaki heading towards Manaslu. There is some impressive scenery as you walk up the gorge, sometimes high above the river, while at other times you descend to cross and re-cross it on an incredible variety of bridges. After around 4 hours of trekking you reach a stone "arch" or Kani, through which you pass to arrive in Deng shortly thereafter.
Overnight: Tea House
Day 6 - Trek to Namrung, 2,650m/8,694ft - 5-6 hours.
Whilst your trek today follows a similar pattern to previous days, descending to, crossing, and then climbing up from the river waters there is a noticeable change in the scenery. The narrowest and most impressive gorges are now behind you and the valleys open out. Upon reaching the entrance to the village of Ghap, after 3-4 hours trekking, look out for beautifully decorated kani and close by an intricately carved mani wall. The final leg of today's trekking takes you through forest of pines, rhododendrons and bamboo - a marvellous playground for the resident monkeys. You exit the forest on the edge of Namrung, your overnight stop.
Overnight: Tea House
Day 7 - Trek to Syala, 3,500m/11,483ft – 6-7 hours.
From Namrung you will climb to Li Gaon 2,905m/9,531ft, set in a delightful spot at the foot of a side valley. The village has numerous chortens and intricately decorated mani walls. You're likely to enjoy your first clear views of Manaslu today along with those of some neighbouring Himalayan giants. You trek to Sho, and this is the first viewpoint for Manaslu.
A little further on, across another bridge, is Lho, 3,100m/10,230ft, which has a small temple containing two complete sets of the Tibetan canon in the Narthang and Lhasa prints, a fine gilded terracotta image of Sakyamuni and painted panels of the Five Buddhas and of "Lotus-Born" with different ritual cycles of divinities and lamas.
Continuing on you pass through a stone gate and along a mani wall of the village, to head straight towards Peak 29 which is ahead of you. Your overnight stop is at Syala.
Overnight: Tea House
Day 8 - Trek to Sama Gaon, 3,499m/11,480ft – 4-5 hours.
Following the lateral moraine of Pungen Glacier towards Sama, you reach the village and it takes a further 20 minutes to reach the monastery. There are excellent views of Manaslu from here.
In the afternoon, there are a number of possible walks to aid your acclimatisation including the walk to Phug-yen Monastery, which was rebuilt after an avalanche destroyed it in the 1950s. The monastery is located on a ridge south of Sama Gaon.
Overnight: Tea House
Day 9 - Acclimatisation walk from Sama Gompa.
Today the guide will suggest a suitable walk to help you acclimatise.
Overnight: Tea House
Day 10 - Trek to Samdo, 3,850m/12,631ft - 4-5 hours.
You cross a high plateau now and skirt around the ridge of lateral moraine heading towards Karmo Kharka and Kermo Mamam. You climb a terraced hillside on the opposite bank of Budhi Gandaki and from here you reach one of the most remote permanent settlements in Nepal, Samdo. It is quite a sizeable village of some 40 houses containing 200 villagers who live year round in this harsh and at times hostile environment.
Overnight: Tea House
Day 11 - Acclimatisation day.
A day to rest and acclimatise in preparation for crossing the high pass the day after tomorrow.
Overnight: Tea House
Day 12 - Trek to Duwang (Dharmashala), 4,460m/14,629ft – 4-5 hours.
Today you descend the wild mountain path from Samdo until you cross the Gyala Khola. You then ascend again to the ridge overlooking the remains of the once thriving Lyarke Bazaar and cross two small streams before Larke Glacier. From here you ascend to collection of huts, locally known as Dharmashala.
Overnight: Tea House
Day 13 - Cross the Larkya La, 5,106m/16,752ft - Trek on to Bimtang, 12,202ft/3,760m - 9-11 hours.
You make an early morning start to cross the highest pass on the route. First you climb slowly towards Cho Canda and then slowly head on from here steeply uphill towards the pass. From the top there are magnificent views of the greater Himalaya in every direction and peaks including Himlung Himal, 23,379ft/7,126m, Cheo Himal, Gyaij Kang, Kang Guru, 22,998ft/7,010m, and Annapurna II. It is a steep descent again on the other side of the pass. The length of the day is very much dependent upon conditions but it will certainly be challenging and you will arrive tired into camp at the foot of the pass at a place called Bimtang, 12,202ft/3,760m.
Overnight: Tea House
Day 14 - Trek to Tilje, 2,335m/7,661ft - 6-7 hours.
A shorter day today. Leaving the meadows of Bimtang you continue your descent initially with glorious mountain views then into pine and rhododendron forest. You then climb the lateral moraine for a while until this ends in a river bed at the hamlet of Karcha. You then climb gently through the terraced fields towards a small pass - the Karcha La. From the pass the track descends through numerous fields and pine forest to Tilje.
Overnight: Tea House
Day 15 - Trek to Dharapani, 1,900m/6,234ft - 3 hours. Drive to Besisahar - 2 hours drive.
You cross the Dudh Khola and trek alongside the river to reach the Thonje checkpost. From here you will join the popular Annapurna Circuit. You now follow the trail downstream, to the village of Dharapani. You will pass plenty of trekkers starting their Annapurna Circuit, and numerous tea houses offering tempting apple pie and beer. It's a bumpy, dusty, dirt road from Dharapani to Besisahar (approximately 2 hours) so the going will be slow here.
Overnight: Tea House
Day 16 - Drive to Kathmandu - approximately 8 hours.
Today you drive from Beshisahar back to your hotel in Kathmandu. Now there is time to relax and reflect on the many memories from your trek.
Overnight: Kathmandu Guest House Or Similar, Kathmandu
Day 17 - At leisure. Afternoon transfer to airport. Depart Kathmandu.
You will have time at leisure in Kathmandu today when you may do some sightseeing or shopping, or simply relax at your hotel. Later there will be a group transfer to the airport for your overnight flight back to the UK.
Overnight: In flight
Day 18 - Arrive London.
Map
Map Key
Airport
Point of interest
Mountain Peak
Day walk in this area
Flights
Internal Transfers
Trek
---
2022
| Dates | Availability | Land Only | Flight Inclusive from |
| --- | --- | --- | --- |
| Sat 2 Apr - Tue 19 Apr 2022 | Available | £1955 Book | £3040 Book |
| Sat 8 Oct - Tue 25 Oct 2022 | Available | £1955 Book | £2855 Book |
| Sat 29 Oct - Tue 15 Nov 2022 | Available | £1955 Book | £2880 Book |
2023
Hold your place
Not quite ready to book? Why not call us on +44 (0) 1453 844400 to hold a no obligation place while you make up your mind?
---
Optional supplements
Single room Kathmandu
From £110
Insurance
No Surcharge Guarantee
No surcharges will be applied to your holiday after you book. Prices on this website are updated regularly. The Flight Inclusive holiday price, or Land Only holiday price, will be confirmed to you at the time you make your booking. There will be no surcharges after your booking has been confirmed.
Flight inclusive holidays
The 'flight inclusive' holiday prices shown on this website are based upon our preferred airlines and the best priced economy class fares we are able to secure at the time of publication.
We will be able to advise on fares with alternative airlines, upgrades to Business Class, and the options for flights from regional UK airports, please contact us for more details.
Booking your holiday
For the majority of our holidays, a deposit payment of £100.00 per person is required to secure your place(s), however a small number of holidays require a higher deposit - please refer to the holiday itinerary for more details. If the holiday departs within 60 days, a minimum deposit of £750.00 per person is required.
Book now!
Book your small group holiday securely online – click the 'Book' button next to your chosen departure or visit our How to Book page
Complete and return a Booking Form available to download here.
Call us on +44 (0)1453 844400 and one of our travel specialists will talk you through the booking process.
What's included
Special area trekking permits
A local professional English-speaking Sherpa guide
Free use of a good quality down jacket and sleeping bag with liner on trek
A free high quality Mountain Kingdoms kit bag
Good standard hotel accommodation (four star) in Kathmandu, bed and breakfast basis
All road transport by private vehicles
13 nights tea house accommodation
All meals on trek
Full porterage on trek and costs of all porterage and porter insurance
Economy class return air fares from the UK & UK Departure Tax (flight inclusive only)
Carbon offsetting with the Ecoan Tree Planting Project (for clients taking our flight inclusive option)
The opportunity to attend a pre trip meet in the Cotswolds
What's not included
Travel insurance
Visa fees
Lunch and evening meals in Kathmandu
Tips
---
---
Read holiday reviews by Mountain Kingdoms travellers.
Overall score: 4.8888888888889 (Based on 9 reviews)
Manaslu Circuit
5
This was the first trek I have done and it was brilliant. A superb route, great and varied views and scenery, from valleys up to high mountain passes. It was well organised and run with a great leader and team of sherpas.
Manaslu Circuit
5
Excellent
Manaslu Circuit
5
A great circuit which starts with a trek up a spectacular gorge, then opens out into terrific high mountain terrain. Crossing the Larkya La was hard going but the gradient is never too great. This was our first Nepal adventure, so cannot compare with other more well known circuits like EBC or Annapurna. Teahouses were variable in quality (as you would expect) but the food was always plentiful and generally tasty. The final road transfer by jeep was as exciting as any other part of the trek! Great support from our two guides and terrific team of porters.
Manaslu Circuit
5
An excellent tough trip with stunning scenery.
Manaslu Circuit
5
Great trekking experience with fantastic mountain views in the company of a great guide and porter.
---
Extend your holiday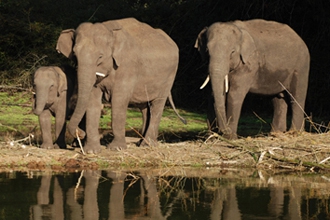 Jungle activities including an elephant experience, bird watching, rafting and nature walks
See wild elephant, rhinoceros, leopard, deer, wild boar and if you are lucky, the famous Royal Bengal Tiger
Stay at the delightful Tiger Tops Karnali Lodge situated on the edge of the park
After your adventurous time in the Himalaya why not add a relaxing Jungle Safari to your trip? The Royal Bardia National Park is situated in the west of Nepal. We use Tiger Tops Karnali Lodge, which is acknowledged to be the best lodge in the area. Bardia's remote geographic location and the fact that the lodge has only 12 rooms, lends a degree of exclusivity to the experience, in comparison to other more popular parks. From the lodge you will be able to participate in safaris and have the chance of seeing some of the country's wonderful wildlife, for instance, wild elephant, rhinoceros, leopard, deer, wild boar and if you are lucky, the famous Royal Bengal Tiger. There is also the possibility of visiting the villages of the Tharu tribal people that surround the lodge. With its abundant wildlife, relaxing lodge and first class service, our Bardia extension is an experience you will savour!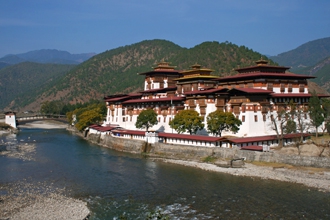 5-day cultural tour or 8-day gentle walking options available
See the main sights in Paro, Thimphu and Punakha
Bhutan is just a short flight from Kathmandu
Though only a short flight from Kathmandu, Bhutan offers a very different Himalayan experience to Nepal. Characterised by lush valleys, terraced hillsides and soaring peaks the landscape is endlessly picturesque, whilst the imposing dzongs (monastery/fortresses) and Swiss chalet style houses give each town or village a look that is distinctly Bhutanese. Here are just two options – if you would prefer something different please discuss with this office.
A taste of Bhutan - five-day cultural tour This five-day tour visits Bhutan's key sights and cultural centres including magnificent Taksang Monastery (Tiger's Nest), the beautiful riverside dzong at Punakha and the fascinating treasures housed in the National Museum at Paro. The tour will be led by a knowledgeable Bhutanese guide and accommodation is in comfortable hotels with all meals included.
A short walk in Bhutan - eight-day gentle walking and cultural tour This eight-day gentle walking trip offers the perfect introduction to some of the cultural highlights and scenic delights of Bhutan. You begin with sightseeing om Thimphu and a walk to Cheri Monastery, one of Bhutan's most historic temples before travelling over the Dochu La Pass to Punakha, the former winter capital. In Punakha you take a lovely valley walk and visit the beautiful riverside dzong. Driving back to Paro you take a pretty walk from the Dochu La through beautiful forest. You then drive up to the Chele La Pass and take the lovely walk to Kila Nunnery, before ending your trip with the walk up to Tiger's Nest Monastery, Bhutan's greatest cultural treasure and a fitting conclusion to a superb extension. You will stay in good quality, comfortable hotels throughout and all meals are included.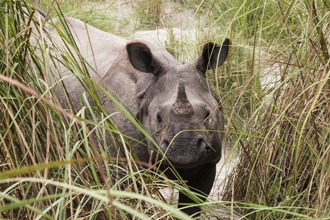 Activities include; bird watching, elephant washing, canoe ride, elephant experience, landrover safari and jungle walks
Choice of accommodation from budget to luxury
Suitable to add to any holiday flying in/out of Kathmandu
Why not extend your adventure in Nepal by visiting Nepal's jungle region for a complete contrast to the high mountains and the Kathmandu Valley. Chitwan is home to a rich and varied wildlife. Here are found wild elephant, rhinos, leopard, sambar, chital (spotted) deer, wild boar and arguably the most magnificent of cats, the Royal Bengal Tiger. You may even see sloth bear, gaur (wild cattle) and crocodiles. Chitwan is also wonderful for birdlife especially in the spring, when the jungle rings day and night to the calls of several kinds of Asian cuckoo.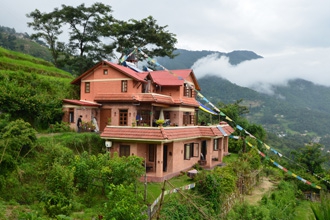 Escape the crowds and hustle and bustle of Kathmandu
Walks available from the cottage - explore the nearby countryside
Single and double rooms available, or exclusive hire of the entire cottage
Breakfast and dinner included, plus unlimited tea and coffee
While in Kathmandu, why not experience an exclusive, private, home away from home? Shivapuri Heights Cottage is a "home-stay-style" property that offers a great escape from the hustle and bustle of the City. It is located in 2 acres of land at an altitude of 6,000ft /1,830m on the edge of the protected Shivapuri Reserve, with beautiful views looking down into the Kathmandu Valley.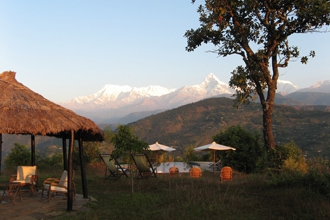 Fly from Kathmandu to Pokhara in the Annapurna range of Nepal
The lodge is an ideal base for you to relax in a rural mountain setting
Beautiful outdoor swimming pool reflecting view of the Annapurna range
Delicious Nepali dishes & continental specialities made from local fresh ingredients, home-grown herbs & garden salads
Why not extend your adventure in Nepal by visiting the beautiful Tiger Mountain Pokhara Lodge. Tiger Mountain Pokhara lodge is a lovely place, situated on a ridge half an hour outside Pokhara and enjoying the most stunning mountain views over the Annapurna range of mountains.
The lodge is an ideal base for you to relax in a rural mountain setting, away from the bustle of town. With a central lodge, bar and dining room, the comfortable rooms are arranged in clusters of cottages resembling a Nepali village. All have attached bathrooms, private verandas and Himalayan views. Daily menus feature a range of Nepali dishes as well as continental specialities made from local fresh ingredients and home-grown herbs and garden salads. You may enjoy lovely walks through the forests and villages of the lovely countryside surrounding the lodge, escorted by trained local guides. The beautiful swimming pool reflects the distant white peaks of the Annapurna range. The lodge also offers a range of Ayurvedic and shiatsu therapy and yoga and meditation sessions are also available (at additional cost). You may also venture further afield to visit Pokhara, Nepal's second city located on a lovely lake and also enjoying spectacular views.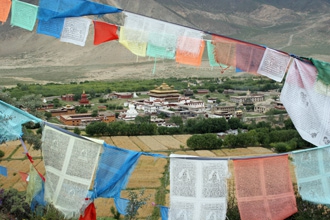 Visit some of Tibet's most important historical and cultural sites and monasteries of Tibetan Buddhism.
Offers a scenery completely different to that of Bhutan and Nepal.
Suitable to add to any holiday flying in/out of Kathmandu.
​A visit to Tibet offers an exciting extension to a visit to Nepal or Bhutan. Regular flights to Lhasa from Kathmandu make it possible to visit most of the major sights in and around Lhasa on an 8 day itinerary and a visit to Tibet will provide an exhilarating contrast to your trek or tour in Nepal or Bhutan. Tibet's high plateau offers totally different and starker scenery to that of the other Himalayan countries. Here you will see some of the most important historical and cultural sites and monasteries of Tibetan Buddhism – the Potala Palace and Samye, Ganden and Drepung Monasteries.
If taking this extension you will need to spend an extra day beforehand in Kathmandu while our agents there process your Tibet visa. They will need your passport for the day for this purpose. You need to let us know in good time if you wish to take this extension as we need to put this process in hand and send your details to the Chinese Embassy in Kathmandu well before your departure date.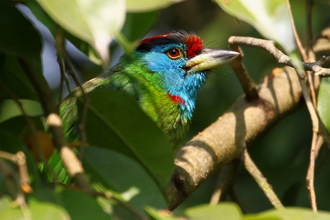 Koshi Tappu is home to over 500 species of birds
Look out for exciting wildlife like jungle cats, crocodiles and rare water buffalo
Explore the park by foot, raft and jeep
Stay in the pleasantly located Koshi Camp
Koshi Tappu Wildlife Reserve is one of the finest birdwatching and wildlife areas in all Asia. Located in south-east Nepal, the reserve covers 175 square kilometres with large expanses of open water created by the Koshi barrage, with marshes, lagoons, sandbanks and mudflats offering an outstanding wetland habitat. The reserve is home to over 500 species of birds, with the resident inhabitants being joined by large numbers of migratory species from Siberia and Tibet, which take up residence from November to February. The Koshi Tappu Wildlife Reserve provides one of the best places in Nepal to view migratory water fowl, waders and shore birds with many species seen here which are not recorded elsewhere in the region.
There is also much wildlife to be seen in Koshi Tappu including blue bull, golden jackal, Bengal fox, fishing cat, jungle cat, mongoose, civet cat, porcupine, Indian flying foxes and rare Gangetic dolphins as well as rare Marsh Mugger crocodiles. In addition, Koshi Tappu is the last habitat of the endangered Arna, a type of wild water buffalo.
During your visit you will explore the park with bird and animal spotting from a raft trip on the Koshi River, birdwatching walks, jungle walks and jeep trips. You will also have the opportunity to visit a family in one of the very interesting nearby local villages for a taste of rural Nepalese life. The Koshi Camp offers simple but comfortable accommodation and an expert staff of naturalists and birdwatchers to give you a comprehensive introduction to this wonderful area.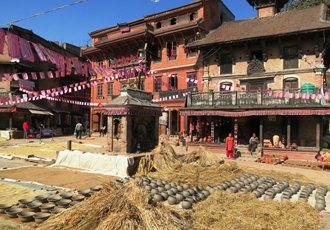 Observe traditional crafts such as pottery, woodcarving and thangka painting
Choose from a selection of full and half day guided tours
Travel in a private car with a driver and an English-speaking guide
The Kathmandu Valley has a long and rich history and a vibrant culture and there is much that is worthwhile to see there - crowded bazaars, ancient temples, Buddhist stupas, crumbling shrines and picturesque palaces. The Malla kings who ruled in the valley created three major cities in the valley, Kathmandu, Bhaktapur and Patan and each of these cities has buildings that are showpieces for the art and architecture of local Newari craftsmen. We offer a selection of half day trips and full day trips to these sites the valley.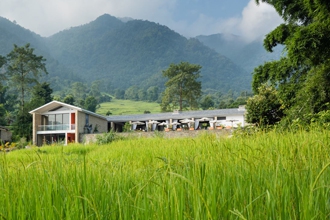 Spend two or more tranquil nights in rural Pokhara
Sample the organic and locally sourced Nepali cuisine
Idyllic setting with mountain views
The resorts offers a swimming pool, spa and gym
Eco-friendly
We are delighted to offer this new luxury stay in a rural location just outside Pokhara. We are sure this is set to become a favourite with our clients.
The Pavilions Himalayas is a luxury resort set in beautiful farmland amid paddy fields in a tranquil rural location approximately 5km outside Pokhara. There are dramatic mountain views from the resort as well as Pokhara's famous Peace Pagoda seen on top of a nearby ridge.
The beautiful rooms are set in individual villas and are large and comfortable, all having whirlpool baths, separate rain shower cubicles, enormous beds and offering wonderful hand made soaps and shampoos made with herbs from their garden.
All facilities at the resort are top of the range and include a lovely swimming pool and spa. From the resort it is just a short drive to explore Pokhara or there are pleasant walks from the hotel or you can just chill at the resort, have a massage and enjoy the facilities.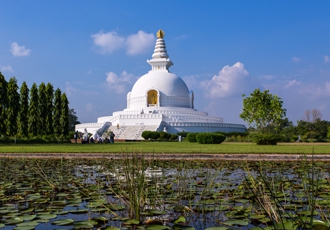 Visit one of Nepal's most sacred Buddhist pilgrimage sites
Stay in a comfortable hotel next to Lumbini
Spend a full day touring the site with an expert local guide
Flights and transfers to/from Kathmandu included
Enjoy a three day extension to the birthplace of Buddha, one of the most important Buddhist pilgrimage sites in the world. Take the short flight from Kathmandu, and spend two nights in a comfortable 3* hotel, just steps from the Lumbini temple complex, with a full day to explore the fascinating UNESCO World Heritage Site in the company of an expert local guide.