What's included
A Sherpa leader
Economy class return air fares from the UK & UK Departure Tax (flight inclusive only)
All hotel/airport transfers
Good standard hotel in Kathmandu, twin share, bed and breakfast basis
All road transport by private vehicles
All meals on trek including tea and coffee
Morning bed-tea on trek and an evening fill up of your water bottle with drinking water
Sherpas/porters properly insured and equipped
Free hire of a down jacket, 4 season sleeping bag and fleece liner (supplied in country)
A free high-quality Mountain Kingdoms kit bag
Park fees
The opportunity to attend a pre-trip meet in the Cotswolds
and much more...
Call our
friendly team
Langtang & the Laurebina La
Walking & Trekking
Nepal, Wild Nepal | Walking & Trekking
New for 2018
Vigorous / Strenuous
Vigorous: Suitable for enthusiastic hill/mountain walkers.
Strenuous: Suitable for fit individuals who have regular experience of mountain walking.
Find out more...
Grade: Vigorous / Strenuous ? Vigorous / Strenuous
Duration: 19 days from the UK
On trek: 15 days
Flight inclusive from £2,370,
Land only from £1,565
Book now or call 01453 844400
A beautiful tea house trek with incredible panoramic mountain views only a few hours' drive from Kathmandu.
Highlights
Towering Himalayan peaks, sacred lakes and deep hidden valleys - all within a day's drive from Kathmandu
A culturally rich trek into the home of the Tamang and the Yolmo Sherpa people
Traditional tea houses and a warm welcome on the trail
4* hotel in Kathmandu at the start and end of the trek
The Langtang region is a collection of lush valleys a day's drive north of Kathmandu, close to the Tibetan border. Despite its beauty and accessibility, Langtang remains a relatively less trekked area.
From Syabru Besi, it takes several days of great trekking to enter the upper reaches of the valley, where we have allowed time both to rest and enjoy one of the most scenic day walks in the area to Lanshisa Karkha. We exit by passing the holy lake of Gosainkund and crossing the Laurebina La, 4,610m/15,124ft. Here we should have excellent views into Tibet and meet Hindu pilgrims, before gradually dropping down into the beautiful Helambu region. This area is renowned for its rhododendrons in the spring, panoramic vistas and excellent ridge walking.
---
At a glance
Grade: Vigorous / Strenuous
Vigorous / Strenuous
Duration: 19 days from the UK
On trek: 15 days
Max. Altitude: 4,984m /16,352ft, Tsergo Ri, Day 9
Guaranteed to run for a minimum of 4 clients
Maximum group size: 12
Land only joining city: Kathmandu
Accommodation types: Hotel, Tea Houses
Meal arrangements: Bed and breakfast in Kathmandu, all meals on trek.
Itinerary overview
| Day | Activity |
| --- | --- |
| 1-2 | Fly to Kathmandu. Transfer to hotel. |
| 3 | Drive to Syabru Besi. |
| 4-7 | Trek up the Langtang Valley to Kyanjin Gompa. |
| 8-9 | Day walks to explore the area around Kyanjin Gompa. |
| 10-12 | Trek to Sing Gompa via Thulo Syabru. |
| 13 | Trek to Gosainkund Lake. |
| 14 | Cross the Laurebina La, 4,600m/15,092ft. Trek to Ghopte Cave. |
| 15-17 | Trek to Kakani via Melamchi Gaon, Tarke Gyang and Sermathang. |
| 18 | Trek to Gyalthum Village. End trek and drive to Kathmandu. |
| 19 | Fly back to London. |
Leader: Local Leader, Nepal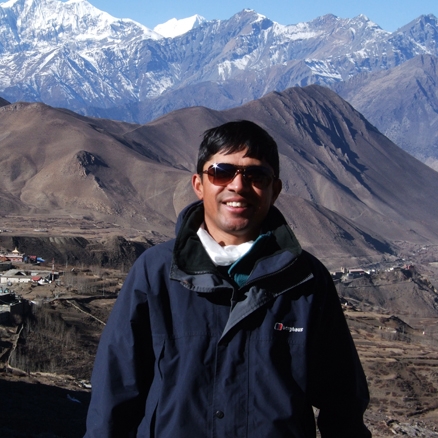 Whether it's a cultural tour, gentle walking holiday or strenuous trek, our holidays in Nepal are led by professionally-trained English speaking leaders. They have an intimate and expert knowledge of the history, culture and nature of Nepal.
They will be sure to provide you an unforgettable experience in their wonderful country of Nepal.
---
Langtang & the Laurebina La Itinerary
Day 1 - Depart London.

Fly overnight from London to Kathmandu.

Overnight: In flight

Day 2 - Arrive Kathmandu.

On arrival in Kathmandu you will be transferred to the Shangri La Hotel. This is a very comfortable hotel situated to the north of Thamel, the tourist district of Kathmandu. It has a lovely garden with a swimming pool and several excellent restaurants. The bustle of Thamel with all its restaurants, shops and bars is a 20 minute walk or 10 minute taxi ride away.

Overnight: Shangri La Hotel, Kathmandu or Similar

Day 3 - Drive to Syabru Besi, 1,420m/4,659ft - 6-7 hours.

In the morning, after an early breakfast, you will be picked up for the drive from Kathmandu to Syabru Besi, a small village on the banks of the Bhoye Khosi. This is quite a long drive taking around 6-7 hours. You drive first out of Kathmandu valley, over the valley rim and descend to the bustlng town of Trisuli Bazaar. From Trisuli Bazaar you start the drive north up the valley of the Trisuli River. The road ascends from Trisuli Bazaar, 546m/1,791ft, to Dunche,1,950m/6,397ft, often making the climb by zig-zags in the road. Just before Dunche you reach the gates of the Langtang National Park where you have to sign in. Dunche is the district administration headquarters and nowadays quite a bustling town. From here you descend all the way to the Trisuli River at the village of Syabru Besi, 1,420m/4,659ft.

Overnight: Tea House

Day 4 - Trek to Lama Hotel, 2,450m/8,038ft - 5-6 hours.

From Syabru Besi you start your trek to Lama Hotel. The trail crosses the Bhote Khola using a suspension bridge and continues east. You encounter the Langtang Khola which will be your companion all the way to Kyanjin Gompa. The trail starts as a moderate climb and zigzags up the broad valley. Continuing up, you will see the village of Thulu Syabru clinging to the high valley side. Shortly after this, you will join the trail which leads to and from Thulu Syabru. You will then enter a deep gorge which marks the start of the Langtang valley. From here you will start a steady descent through a bamboo forest to the valley floor. Red pandas and Langur monkeys inhabit this forest. Upon reaching the Langtang Khola you will follow it up stream. Passing through the hamlet of Pairo you will reach the village of Bamboo. This village is situated on the riverside and the trail here is constantly being rebuilt due to the river flooding and washing the trail away. After an hour or so you will cross a bridge to the northern side of the river and pass through the village of Rimche. Shortly after this you will climb out of the forest to reach the village of Lama Hotel.

Overnight: Tea House

Day 5 - Trek to Thyangsyap above Ghora Tabela, 3,104m/10,184ft - 5 hours.

Today is important for acclimatisation. Leaving the tea house at Lama Hotel, you continue your climb up the Langtang valley. The area here is forested and if you are very lucky red panda can sometimes be seen along this stretch. After a short while, the mighty peak of Langtang Lirung comes into view from the north. Passing a waterfall, you continue up the west bank of the Langtang Khola and pass through the hamlet of Gumnchok. After a further couple of hours the valley begins to widen and the trail flattens. You arrive at Ghora Tabela which means 'stable of the horse'. From here it is a further gradual climb of around half an hour to reach Thyangsyap where you will spend the night.

Overnight: Tea House

Day 6 - Trek to Mundu via Langtang, 3,450m/11,319ft - 2-3 hours.

There will be no rush to leave today as it is a short walk to your next overnight lodge. However it is important for your acclimatisation to the ever increasing altitude not to ascend too high too fast. Leaving Thyangsyap you will continue through the forest until you climb above the tree line at around 3,150m/10,335ft. You are now approaching the area where the village of Langtang used to be. It is now a huge landslide which you will cross on one of the many paths which have been constructed to allow passage up the valley. There is a memorial to all those who lost their life where you can pause and pay your respect. Continuing on up the valley you soon arrive in Mundu where you will spend the rest of the day resting and acclimatising.

Overnight: Tea House

Day 7 - Trek to Kyanjin Gompa, 3,870m/12,699ft - 4-5 hours.

From Mundu you continue up the ever-widening valley to Kyanjin Gompa. To the east you will gain great views of the peak, Dorji Lakpa, with Urkinmang peak to its left. Also to the south, the peaks of Naya Kanga and Pongen Dopku will come into view. After a steep, undulating trail you will cross a rise and Kyanjin Gompa will appear. Kyanjin Gompa lies in an elongated amphitheatre surrounded by high, snow-capped peaks. After lunch, your guide might suggest a hike up the small hill to the north of the village at the height of about 4,300m/14,108ft. This offers great views of Langtang Lirung, the Langtang glacier, Kimshing peak with its glacier and, to the south, a long ridge on top of which is the Ganja La, a high pass to Helambu.

Overnight: Tea House

Day 8 - Day hike to Langshisa Kharka, 4,060m/13,320ft - 5-6 hours.

Today is a great alpine experience. After breakfast, you leave the village of Kyanjin and walk east towards Langtang Khola. You cross a small stream and walk close to the abandoned airport. You can see yaks grazing in the valley and several yak herders' shelters (Goths). Once you reach Langshisa Kharka, you can see views of Langshisa Ri, 6,310m/20,702ft, Morimoto Peak, 6,750m/22,146m, and nearby glaciers. You then return to Kyanjin Gompa.

The people of Langtang & Helambu:

There are two major groups in this region. They are the Tamangs of the Langtang valley and the Sherpas of the Helambu valley.

The Tamangs are an ancient tribe who originally came from Tibet hundreds of years ago. They not only occupy the Langtang valley, but also areas to the east and west of Kathmandu and the countryside you passed through on the drive from Kathmandu to Syabru Besi. The name is said to derive from the Tibetan 'ta-mang' which means 'horse trader'. Their religion is Tibetan Buddhism, but it also combines more ancient beliefs in earth spirits and evil spirits. There are no monasteries in the region with celibate monks as the lamas belong to the Nyingmapa sect of Tibetan Buddhism. As such they are also family men and farmers who inherited their religious role from their fathers.

The Sherpas of the Helambu valley also known as 'Yolmo Sherpas' are a group distinct from their cousins in the Everest region. Their language is different as is their culture and traditional dress. They originally migrated from Tibet around 500 years ago. The name 'Sherpa' derives from the Tibetan- 'Shar Pa' which means 'easterner'. Their primary occupation is farming, but their income is supplemented by tourism. They are followers of Tibetan Buddhism and celebrate Tibetan festivals. This Buddhism also has more ancient beliefs interweaved within it.


Overnight: Tea House

Day 9 - Day hike to Tsergo Ri, 4,984m/16,352ft - 5-7 hours.

Today you have a challenging hill walk up Tsergo Ri - a local peak just short of 5,000m/16,404ft. It is quite a tough little climb, but you will be amply rewarded at the top, with breath-taking views of the surrounding snow-capped summits. You descend the same way back to Kyanjin Gompa.

Overnight: Tea House

Day 10 - Trek to Lama Hotel, 2,450m/8,038ft - 6 hours.

After your time spent in Kyanjin Gompa, you now return down the valley. As the next two days are mostly downhill you are able to cover a lot of distance. You will gain great views returning down the valley, especially with the sun filtering through the leaves once you have re-entered the forest.

Overnight: Tea House

Day 11 - Trek to Thulo Syabru, 2,230m/7,316ft - 5- 6 hours.

From Lama Hotel you continue down the valley crossing the Langtang Khola just before the village of Bamboo. You will contour round the head of the valley and Thulo Syabru will come into view perched atop of a ridge. You drop down to cross a bridge and then climb up through terraced fields and farm houses to reach this pretty village.

Overnight: Tea House

Day 12 - Trek to Sing Gompa, 3,300m/10,827ft - 5 hours.

From Thulo Syabru you head south to Sing Gompa. The trail zigzags uphill and after 45 minutes you will reach a stupa. There are spectacular views of the valley below with 'Ganesh Himal' reaching up to the west and to the north a range of unnamed peaks just over the border in Tibet. There are a few teashops on the way and after about 3½ hours of climbing you reach the top of the ridge where you will be pleased to have refreshments and lunch at Phoprang Hill. From here you head south contouring around the western side of the ridge. The trail leads you through a forest, over another ridge before climbing a ladder to cross a wall and into Sing Gompa itself, which is a small village with a few lodges, a gompa (from which the village derives its name) and its own cheese factory. 'Sing' is the Tibetan name for the trees in the area.

Overnight: Tea House

Day 13 - Trek to Gosainkund Lake, 4,400m/14,436ft - 7-8 hours.

Leaving Sing Gompa you head northeast. There is a 30 minute climb before reaching a more level stretch. You then cross to the other side of the forested ridge you are following. After another short climb you pass through the hamlet of Chalang Pati. From here you continue climbing and rise above the tree-line just over 3,500m/11,483ft. After another few hundred metres climb, you will gain stunning panoramic views of the mountains around. Ganesh Himal rises up to the north and Langtang Lirung is to your east. To the left of Ganesh Himal you will be able to see Manaslu and even the Annapurnas including Machhapuchare (the 'fish tail' peak) and Annapurna II. You pass through Laurebina Yak, which means 'yak without a stick' and after a moderate climb you will reach a stupa, again with stunning views all around. The land becomes more rugged as you follow the trail, passing a lake on your right called "Saraswate Kund". After crossing the shoulder of a ridge, you descend a little and another lake comes into view, this one is called Bhairav Kund. In Nepali there are several words meaning lake, the most common is "tal", however "kund" is used when a lake has a sacred property. After another short climb you crest a ridge and the sacred lake Gosainkund opens out before you.

Gosainkund
Each summer thousands of Hindu pilgrims from all over Nepal and India make the trek up to Gosainkund Lake during the Janai Purnima festival to nullify their sins. Hindu legend states that the lakes at Gosainkund were formed when Shiva pierced a glacier with his trident. There is also another legend that states that the water from Gosainkund emerges at a spring at the Kumbeshwar temple in Patan. The lake has a black rock in the middle, which is said to be the head of Shiva.


Overnight: Tea House

Day 14 - Trek to Ghopte Cave, 3,440m/11,286ft, via the Laurebina La, 4,600m/15,092ft - 6-7 hours.

You follow the trail around the edge of Gosainkund and start to climb past assorted prayer flags and even a trident, apparently left by Shiva. You will pass smaller lakes to your left and then a coal-black lake to your right. The Laurebina La, 4,600m/15,092ft, just past this lake, is decorated with hundreds of prayer flags which flutter in the icy breeze and you will have excellent views of the Helambu valley below. From here it is a long descent to the river which you will cross. You then follow a boulder-strewn trail which climbs in and out of ravines for a few hours before arriving at Ghopte Cave.

Overnight: Tea House

Day 15 - Trek to Malamchi Gaon, 2,560m/8,399ft, via Thare Pati, 3,510m/11,516ft - 5-6 hours.

From Ghopte Cave you climb up for a couple of hours to the village of Thare pati which sits on a ridge. After this the trail makes a rapid descent through fir forest, then through oak, rhododendron and juniper. At one point you will have a good view of the peak Dorji Lakpa. The descent will take you at least a couple of hours, after which you cross a suspension bridge with a waterfall to your left before climbing to the village of Malamchi Gaon. The gompa here is particularly impressive with brightly painted walls and statues of Guru Rinpoche and his consorts. Locals believe that Guru Rinpoche meditated in a cave above the village wearing robes made by female angels or 'dakinis'.

Overnight: Tea House

Day 16 - Trek to Tarke Gyang, 2,560m/8,399ft - 5-6 hours.

After passing through the tended fields of Melamchi Gaon you continue to descend through jungle before crossing the Melamchi Khola on a suspension bridge. You climb through the terraced fields of Paraghang - this village is spread out over the valley side and surrounds an ornate Gompa. You have to climb to reach the village of Tarke Gyang, which is one of the largest in the Helambu region, where you will spend the night. The gompa here has a large brass prayer wheel you can go and spin to gain merit.

Overnight: Tea House

Day 17 - Trek to the village of Kakani, 2,590m/8,497ft, via Sermathang – 7-8 hours.

Today is quite a long day but mostly quite gentle. From Tarke Gyang the trail is gentle and gives great views of the Helambu valley below. Keep an eye out for the Langur monkeys which inhabit the valley. After a short while you will see the terraced fields of Gangjwal stretching down the hillside. After passing through Gangjwal you will continue round the valley side passing a 'peace' stupa, to arrive in time for lunch in Sermathang, the last large village of the Yolmo community. The trail to Kakani is then wide and obvious and you pass a huge statue of Guru Rinpoche which is situated on top of a little hillock. The views are superb - you can see Dorje Lakpa and Gangchhenpo and other peaks in the range. You now walk downhill through the Tamang and Yolmo villages towards Kakani which is the last Sherpa village on this trek.

Overnight: Tea House

Day 18 - Trek to Gyalthum, 848m/2,782ft – 3 hours. Drive to Kathmandu – 3 hours.

After breakfast, you walk down to the village of Gyalthum passing several villages en route. A road has recently been constructed into this area and while your route today avoids this, as far as possible, you will need to cross it on occasions. You will have lunch along the way and then meeting your vehicle you will drive back to Kathmandu for a well-earned hot shower and beer.

Overnight: Shangri La Hotel, Kathmandu

Day 19 - Fly to London.

After breakfast you will transfer to the airport for your flight back to the UK.
Map
Map Key
Airport
Point of interest
Mountain Peak
Day walk in this area
Flights
Internal Transfers
Trek
---
2018
2019
2020
---
---
Review your holiday
Reviews
Read holiday reviews by Mountain Kingdoms travellers.
Overall score: 5.0 (Based on 6 reviews)
Langtang & the Laurebina La
Langtang & the Laurebina La Trek 12/04/2018
Good route - lots of variety - scenic, ethnic and walking
Mr A H, Cardiff
Langtang & the Laurebina La
Langtang & the Laurebina La 12/04/2018
We felt we always had excellent care throughout the trip.
Mrs R, Kent
Langtang & the Laurebina La
This was an excellent trekking experience 12/04/2018
The combination of high mountain experience in Langtang and Laurebina La, with the slower paced but just as strenuous trek in Helambu, was ideal.
Dr F, Oxfordshire
Langtang & the Laurebina La
It was a wonderful trek 12/04/2018
I wouldn't hesitate to recommend this trek to anybody. I'm already planning my return to Nepal with HK (now MK).
Mr C S, Exeter
Langtang & the Laurebina La
Langtang Trek 12/04/2018
I've trekked many times in Nepal and elsewhere - this was by far the most well organised.
Mr M, Yorkshire
---