/
Holiday
/
Definitive Cultural Tour of Nepal
Kathmandu, Nepal, Pokhara, Annapurnas | Tours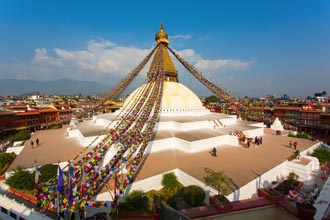 Duration: 15 days from the UK
Flight inclusive from £4125, Land only from £2895
Uncover the timeless allure of this ancient Himalayan nation.
Highlights
Tour the ancient cities of Bhaktapur, Kathmandu, Patan and visit Lumbini - the birthplace of Buddha
Enjoy village walks with stunning Himalayan views of the Annapurnas and Everest
Go wild at Chitwan National Park with two full days of wildlife watching activities
Stay in top quality hotels and lodges including Dwarika's fabulous Heritage Hotel
Reviews
This trip is perfect for the opportunity to see some of the sensational landscapes and cultural treasures of Nepal without the need for discomfort. Historic towns, picturesque villages, traditional rural life and exotic wildlife were just some of the attractions of this lovely trip and it was all enjoyed from the comfort of some wonderfully comfortable hotels. The warmth and friendliness of the...
Ann Sainsbury, Mountain Kingdoms
Next
This trip is perfect for the opportunity to see some of the sensational landscapes and cultural treasures of Nepal without the need for discomfort. Historic towns, picturesque villages, traditional rural life and exotic wildlife were just some of the attractions of this lovely trip and it was all enjoyed from the comfort of some wonderfully comfortable hotels. The warmth and friendliness of the...
Ann Sainsbury, Former Operations Manager, Mountain Kingdoms
Next
View All
Nepal has long been famed for its spectacular high mountain scenery but equally entrancing are the rolling Himalayan foothills and the open lowland Terai. These more accessible regions are where most of Nepal's historic towns and UNESCO World Heritage sites are to be found, set amongst the countryside where local people still go about traditional rural life.
On this trip you will be introduced to the architectural and artistic achievements of Newari craftsmen in the cities of the Kathmandu Valley, sample local cuisine, visit Pokhara with its stunning lakeside scenery, people watch in Newari Bandipur, one of the prettiest villages in Nepal, and search for wildlife on safari in the jungles of Chitwan. You will also take in far-reaching mountain views from the rim of the Kathmandu Valley and visit Lumbini, the birthplace of Buddha, UNESCO World Heritage listed, and one of the most important Buddhist sites in the world.
Your busy, but carefully paced tour begins in the ancient city of Bhaktapur where you will learn about the Newari people, the indigenous people of the Kathmandu Valley with their remarkable architectural achievements and long tradition of amazing woodcarving, stone sculpture and fine thankha painting. After exploring an array of fine palaces and temples, you will join a cookery class where local women in traditional wear will introduce you to some of Kathmandu's gastronomic delights.
Next you travel to the Annapurna region, exploring lakeside Pokhara with its lovely mountain scenery. After taking in some of the must-see sights you head up into the foothills. Here you visit the Gurung village of Chandrakot, witnessing the daily life of a traditional Nepalese village and learning how people from villages such as this travelled far and wide and became renowned as Gurkha soldiers.
Then it's on to Bandipur, one of the prettiest villages in Nepal and a veritable living museum of Newari architecture which offers an authentic taste of everyday life. Next comes the town of Gorkha which features a distinctive palace/fort located on the ridge top. Nepal was once made up of many small warring kingdoms. Back in the 18th century the army of King Prithvi Narayan Shah marched from Gorkha to conquer the peoples of the Kathmandu valley and beyond, unifying the kingdom to create the country we now know as Nepal.
Leaving this ridge-top eyrie you will drive south for a total contrast, with a visit to the jungles of Chitwan. Chitwan is home to a fantastic diversity of wildlife, including elephants, rhinos and even the fabled Royal Bengal Tiger. It is also a wonderful place for birdwatching. You will have two full days to relax here and explore, with activities included throughout your stay. From Chitwan you drive further south still towards the Indian border, to the town of Lumbini, famed as the birthplace of the Lord Buddha.
Returning to Kathmandu by air, you now stay above the capital city in nearby Nagarkot famous for its fine mountain views, and visit the city of Patan for an introduction to the magnificent craftsmanship of the town. You end your holiday with some sightseeing in Kathmandu city itself and a superb six-course farewell dinner in Dwarika's traditional Krishnarpan restaurant.
---
At a glance
Duration: 15 days from the UK
Max. Altitude: Nagarkot 2,194m/7,200ft, Day 11
Guaranteed to run for a minimum of 4 clients
Maximum group size: 12
Land only joining city: Kathmandu
Accommodation types: Hotels, Eco Resort
Meal arrangements: 12 x breakafasts, 8 x lunches, 8 x dinners
Itinerary overview
| Day | Activity |
| --- | --- |
| 1-2 | Fly to Kathmandu. Transfer to Bhaktapur. |
| 3 | Sightseeing tour of Bhaktapur. Newari cookery demonstration with local women. |
| 4 | Fly to Pokhara. Boat ride on Phewa Tal Lake. Visits to Devis Falls and the Peace Pagoda. |
| 5 | Village walks and lunch with a local family. |
| 6-7 | Drive to Bandipur. Village walks with mountain views of the Annapurnas. Visit Gorkha Fort and drive to Chitwan. |
| 8-9 | Wildlife viewing activities at Chitwan National Park. |
| 10-11 | Drive to Lumbini and visit Buddha's Birthplace. Fly to Kathmandu and transfer to Nargakot. |
| 12 | Ridge walk for Everest views. Drive to Patan. Visit traditional Newari craftsmen. |
| 13-15 | Guided tour of Kathmandu. Farewell dinner. Overnight flight to London. |
Leader: Local Leader, Nepal
Whether it's a cultural tour, gentle walking holiday or strenuous trek, our holidays in Nepal are led by professionally-trained English speaking leaders. They have an intimate and expert knowledge of the history, culture and nature of Nepal and will make your trip a memorable experience.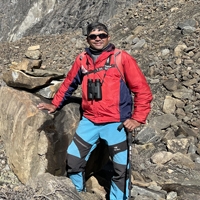 ---
Holiday Itinerary
Day 1 - Fly London to Kathmandu
Depart London on your overnight flight to Kathmandu.
Overnight: In flight
Day 2 - Arrive Kathmandu. Group transfer to Bhaktapur, 1,329m/4,360ft.
On arrival in Kathmandu you will drive the short distance to the city of Bhaktapur to your first hotel. If there is time you might like to take stroll to explore some of the fascinating streets of the old city.
Bhaktapur is one of three major cities built in the Kathmandu valley by the old Malla kings who ruled the Kathmandu valley hundreds of years ago. These cities, Kathmandu, Patan and Bhaktapur are repositories of traditional Nepalese architecture and local Newari craftsmanship where you will find ancient Hindu temples, Buddhist stupas, crumbling shrines, picturesque Rana palaces and crowded bazaars. Many of the buildings in Bhaktapur have their origins in the 15th Century and the side streets, being mostly brick paved, still have a really medieval feel to them. There is still plenty of evidence of the damage caused by the devastating 2015 earthquake, but although restoration has been slow this hasn't spoiled the Bhaktapur's ancient charm. This is still very much a lived in city, and, with much of it closed to traffic, walking around is a pleasure and you will get a feeling for how things must have been in medieval times. Bhaktapur is quieter than Kathmandu city and still has quite a rural feel to it. The local people are predominantly farmers and the town is famous for its home-made yoghurt, as well as for its pottery made from the local red clay - you can see this production going on in the so-called 'pottery square' and other side streets.
Overnight: Heritage Hotel, Bhaktapur
Day 3 - In Bhaktapur – sightseeing and Newari cookery class.
Today you will have a tour of Bhaktapur. This city, located just nine kilometres from Kathmandu, is a real cultural gem. Built in the 15th century by the Malla kings who reigned up until the 18th century Bhaktapur has many outstanding examples of the exceptional architecture and craftsmanship of the local Newari ethnic group. You will see fine palaces and temples with gilded roofs, open courtyards and elaborate windows carved in wood. The main focus for the town is the central Durbar Square where many of the finest buildings are found, including the famous Palace of 55 Windows which shows some of the best examples of elaborately carved windows and doors. Bhaktapur is a centre for craftsmanship and teaching, and later you will have a cookery class where women in traditional dress will demonstrate how to cook some local specialities including the preparation of homemade yoghurt.
Overnight: Heritage Hotel, Bhaktapur
Day 4 - Fly to Pokhara,1,400m/4,593ft, and transfer to your hotel. Sightseeing in and around Pokhara.
After breakfast you will transfer to the airport for the short domestic flight to Pokhara, Nepal's second city. Pokhara has a wonderful location, being set on the banks of picturesque Phewa Tal (lake) and enjoying magnificent views of the Annapurna range of mountains.
On arrival in Pokhara you will be taken to your hotel before heading out to enjoy some sightseeing. First stop is the lakeside area where you will take a boat ride out across the lake. Soak up the wonderful views of the not-so-distant mountains and the terraced hillsides around the lake, and watch the daily life of local people along the shores of the lake; boats loaded with produce crossing from shore to shore, water buffalo wallowing up to their noses in the water and children splashing about in the shallows. You will also visit the two-storied pagoda style temple of Tal Barahi which is located on a small island in the lake. After this you head into the centre of town to see the Mountaineering Museum which has interesting displays on expeditions in the Annapurna Range and on the mountain peoples living in the region. You may then drive to Devis Falls Tibetan Centre to see some carpet weaving, visit the little school to meet the charming Tibetan children there and to see the Devis Falls with its weird rock formation, waterfall and precipitous gorge - there may not be any water flowing over the falls at all times of the year but this is always an interesting visit. Finally you will drive up to the top of a ridge to the Peace Pagoda to enjoy wonderful views over Phewa Tal Lake and the mountains. If you would like a bit of a leg stretch it is possible to walk back to the lakeside from here, descending for an hour or so through a forest of chestnut trees, otherwise you will drive back to relax at your hotel.
Overnight: Barahi Hotel or Similar, Pokhara
Day 5 - Visit Chandrakot village, 1,580 m/ 5,182 ft.
On a clear day, there are astounding views of the Annapurna range of mountains from your hotel, including famous Machhapuchare, the 'Fishtail' Mountain. It is well worth while getting up early to see sunrise on the mountains, as the moment when the peaks first flush pink is truly stunning; you might ask the hotel reception to arrange an early morning call for you so that you do not miss it.
After breakfast you will drive for about an hour across the paddy fields of the valley of the Seti Khola River and then up zig zags to a ridge top to reach the little village of Lumle. From Lumle you will have a pleasant easy walk, taking about an hour, to reach Chandrakot, a village of the Gurung ethnic group, famous for their exploits as soldiers in the Gurkhas. Chandrakot is attractive village set in a stunning location on a ridge and enjoying fabulous all round views, looking down into the beautiful valley of the Modi Khola River and north towards the spectacular peaks of the Annapurna range of mountains. You will have time to enjoy the views and walk around the village to learn a little about village life and local farming methods, and perhaps meet locals who may have served in the Gurkhas. You will have lunch with a local family. Later you will walk back to your vehicle and drive back to your hotel in Pokhara.
Overnight: Barahi Hotel or Similar, Pokhara
Day 6 - Drive to Bandipur, 1,030m/3,379ft, explore on foot.
Today you will leave Pokhara and drive eastwards to the village of Bandipur. Once a thriving Newari town on the trade route to India, Bandipur was left stranded when the main Pokhara to Kathmandu road was built far below in the valley. Nowadays Bandipur has found a new lease of life and is proud of its environmental credentials. The houses of the village have been carefully restored but at the same time a traditional lifestyle still continues. It's very pleasant to stroll around Bandipur as it is mainly pedestrianised and cafes, lodges and small hotels coexist with traditional temples and houses. The village commands panoramic views of the Himalaya and on a clear day, you can see the whole Annapurna range, as well as peaks in Langtang to the east and Dhaulagiri in the west. It is a real pleasure to just sit at a cafe and watch daily village life going on around you.
If you would like a leg stretch your guide will be happy to suggest a local walk. There are several pretty village walks starting from your hotel in Bandipur bazaar. You could visit Siddha Cave (30 minutes) or walk to Ramkot village (two hours), take a nature walk in the mixed Sal forest at Raniban east of the bazaar, or walk to Purano Kot, originally a fort, 20 minutes/500m west of the bazaar, where there is a small temple containing some old statues, and next to it a temple, where local people believe that praying to the god Mahadev during a drought will bring rain.
Overnight: Gaun Ghar Hotel, Bandipur
Day 7 - Drive to Gorkha, 1,000m/3,281ft - 53km, 1½ hours. Visit Gorkha Fort. Drive to Chitwan, 100m/330ft - 63km, 2½ hours.
After breakfast you will drive down from Bandipur to join the main Pokhara/Kathmandu road and then drive east, eventually taking a small road up to the town of Gorkha. Gorkha is famous as the birthplace of King Prithvi Narayan Shah, who unified the rival kingdoms of Nepal in 1769, founding the Shah dynasty that endured until the birth of the Republic of Nepal in 2008. Gorkha Durbar, the former palace of the Shahs, is perched on a high ridge top overlooking the town. It is a bit of a haul up steps to the palace but the views from there of the Annapurna range and over the valley of the Trisuli River are magnificent. Gorkha Durbar was built in the 16th century and is a fort, palace and temple all in one and it is regarded as a crowning achievement of Newari architecture. The annual festival of Dassain officially begins here with a procession to Kathmandu, and the town remains an important pilgrimage destination for Newar people.
After your visit to the fort you will return to the main road and drive through Mugling, and head south alongside the river to reach the town of Narayanghat before continuing to your Chitwan lodge.
Overnight: Barahi Jungle Lodge, Chitwan
Day 8 - Activities in Chitwan National Park.
Chitwan is located in the lowlands Terai region of Nepal. The Chitwan National Park is home to a rich diversity of wildlife with elephant, rhinos, leopard, sambar, spotted deer, wild boar and Royal Bengal Tiger all being found in the park, along with sloth bear, gaur (wild cattle) and crocodiles. Chitwan is also a wonderful place for birdwatching especially in the spring when the park rings to the calls of several different kinds of cuckoo.
During your stay you will have the opportunity to go on nature walks to look for animals and birds, and will learn about the plants and trees of area. You may explore in open topped 4-wheel drive vehicles, take a canoe trip on the river, and although we no longer advocate riding elephants, it may be possible to spend some time with these wonderful creatures. The local indigenous group are the Tharu people and their villages are interesting to visit. In the middle of the day when most animals and birds will be sheltering from the heat, follow their example and relax in the shade with a book or cold drink.
Your lodge may also organise entertainment in the evening such as a slide show or a talk on the wildlife of the park, or they may invite local Tharu villagers to come to dance for you.
Overnight: Barahi Jungle Lodge, Chitwan
Day 9 - In Chitwan.
You have a second full day to relax in Chitwan, and for further jungle related activities.
Overnight: Barahi Jungle Lodge, Chitwan
Day 10 - Drive to Lumbini, 150m/492ft - 130km, 3-4½ hours. Visit Buddha's birthplace.
Today you leave the jungle behind and drive further south to Lumbini, close to the Indian border. It is said that Siddhartha Gautama, the historical Buddha, was born here in 623 BC. Lumbini is now a major pilgrimage centre for Buddhists from all over the world - indeed by the time of the Indian Emperor Ashoka, an early convert to Buddhism, it was already a place of pilgrimage and his visit in 249 BC is commemorated by an inscribed pillar. The actual spot where Buddha was born in is marked by the Mayadevi Temple, named for his mother Queen Mahamayadevi. In addition to the many archaeological sites in Lumbini, Buddhists from all over the world have built temples and monuments here, and come to study and meditate.
Overnight: Buddha Maya Garden Or Lumbini Hokke Hotel Or Similar, Lumbini
Day 11 - Drive to Bhairahawa - 22km. Fly to Kathmandu. Transfer to Nagarkot, 2,194m/7,200ft. Visit Changu Narayan. Afternoon at leisure.
After breakfast you will drive to Bhairahawa airport for the short 35 minute flight to Kathmandu. Here you will be met and driven out of the city to the small resort town of Nagarkot, built on the rim of the valley and famous for its fine mountain views. On the way you will visit the ancient temple of Changu Narayan located on a hilltop above the town of Bhaktapur. This temple is thought to be one of the oldest in Nepal and is built in traditional Nepali Hindu temple style and features many fine traditional sculptures and carvings. Although damaged in the 2015 earthquake the temple has been restored. The Changu Narayan Temple is one of seven structures cited by UNESCO as demonstrating the historic and artistic achievements that make the Kathmandu Valley a World Heritage Site.
Overnight: Hotel Country Villa, Nagarkot or Similar
Day 12 - Morning in Nargakot then visit Patan. Drive to Kathmandu city.
You will want to be up early this morning for the fabulous mountain views, including, if you are lucky, a distant view of Everest. You might also take an interesting early morning walk through the village of Telkot.
After breakfast you will drive to Patan, the third of the ancient Malla cities of the Kathmandu Valley. Patan, also called Lalitpur, "the city of fine arts", is another showpiece of Newari architecture with its own spectacular Durbar square, palaces and temples. It also has a good museum housed in an old Malla palace where there are excellent displays of the traditional crafts for which the craftsmen of Patan are famous, including cast bronzes and gilt copper repousse work. Before visiting the museum where you will see some traditional masterpieces of Newari craftsmanship showcased you will visit one or two workshops where you will see some modern day craftsmen working in wood carving, stone sculpture and the making of bronzes. You will then visit Durbar Square and will have lunch at the Patan museum.
Later you will drive into Kathmandu where you will stay at the lovely Dwarikas Hotel.
Overnight: Dwarika's Hotel, Kathmandu
Day 13 - Morning at leisure. Afternoon sightseeing with visits to Kathmandu Durbar Square and Swayambhunath Temple. Farewell dinner at Dwarika's.
After a morning at leisure you will enjoy some sightseeing in Kathmandu City in the afternoon. Your tour will visit Kathmandu's historic Durbar Square with its many superb ancient temples and palaces where you will see Hanuman Dhoka (the old Royal Palace) and the palace of the Kumari, the so called 'Living Goddess', where you may catch sight of the goddess looking down at you from one of the carved windows of the palace. You will also see many other wonderful masterpieces of Newari architecture and wood carving. You then stroll through the ancient bazaar and the labyrinthine back streets of the old city and travel the short distance to Swayambhunath, the so called "Monkey Temple," an ancient shrine situated on top of a hill to the west of the city and commanding a superb view of the valley. The four sides of this ancient structure are painted with the eyes of Buddha with between the eyes a mystical third eye symbolizing true wisdom. The nose, appearing as an incomplete question mark, is the Nepalese number of one, a symbol of unity.
In the evening you will have a six-course farewell dinner in Dwarika's superb traditional Krishnarpan restaurant.
Overnight: Dwarika's Hotel, Kathmandu
Day 14 - Sightseeing in Kathmandu – Pashupatinath and Boudhanath. Transfer to the airport for evening flight.
You will have some more sightseeing in Kathmandu today. Firstly you drive the short distance from your hotel to the important Hindu temple complex of Pashupatinath. Here there is a large temple to the god Shiva and nearby, on the banks of the sacred Bagmati River, are burning ghats where Hindus bring their dead to be cremated.
You will drive on to Boudhanath where you will visit its important and ancient Buddhist stupa. Pilgrims from all over the Indian subcontinent come to visit Boudhanath where they circle the stupa in a clockwise direction, turning prayer wheels as they pass, or visit one of the many Buddhist temples which have been built around the stupa. If you are in Boudhanath just before sunset a pleasant way to end the day, and your trip to Nepal, is watching the sun go down over the stupa from the rooftop terrace of a café, while sipping a cold beer.
In the late afternoon or early evening there will be a group transfer to the airport for your overnight flight to the UK.
Overnight: In flight
Day 15 - Arrive London.
Map
Map Key
Airport
Point of interest
Mountain Peak
Day walk in this area
Flights
Internal Transfers
Trek
---
2023
| Dates | Availability | Land Only | Flight Inclusive from |
| --- | --- | --- | --- |
| Sat 14 Oct - Sat 28 Oct 2023 | Available | £2895 Book | £4125 Book |
| Sat 4 Nov - Sat 18 Nov 2023 | Available | £2895 Book | £4325 Book |
2024
| Dates | Availability | Land Only | Flight Inclusive from |
| --- | --- | --- | --- |
| Sat 16 Mar - Sat 30 Mar 2024 | Available | £3195 Book | £4385 Book |
| Sat 30 Mar - Sat 13 Apr 2024 | Available | £3195 Book | £4790 Book |
| Sat 12 Oct - Sat 26 Oct 2024 | Available | £3195 Book | Contact Us |
| Sat 2 Nov - Sat 16 Nov 2024 | Available | £3195 Book | Contact Us |
Hold your place
Not quite ready to book? Why not call us on +44 (0) 1453 844400 to hold a no obligation place while you make up your mind?
---
Optional supplements
Single Room Supplement
£650
No Surcharge Guarantee
No surcharges will be applied to your holiday after you book. Prices on this website are updated regularly. The Flight Inclusive holiday price, or Land Only holiday price, will be confirmed to you at the time you make your booking. There will be no surcharges after your booking has been confirmed.
Flight inclusive holidays
The 'flight inclusive' holiday prices shown on this website are based upon our preferred airlines and the best priced economy class fares we are able to secure at the time of publication.
We will be able to advise on fares with alternative airlines, upgrades to Business Class, and the options for flights from regional UK airports, please contact us for more details.
Booking your holiday
For the majority of our holidays, a deposit payment of £400.00 per person is required to secure your place(s), however a small number of holidays require a higher deposit - please refer to the holiday itinerary for more details. If the holiday departs within 60 days, a deposit of £1,000.00 per person is required.
Book now!
Book your small group holiday securely online – click the 'Book' button next to your chosen departure or visit our How to Book page
Complete and return a Booking Form available to download here.
Call us on +44 (0)1453 844400 and one of our travel specialists will talk you through the booking process.
What's included
Local English-speaking guide/s
High quality accommodation in Bhaktapur, Pokhara, Bandipur, Chitwan, Lumbini, Nagarkot and Kathmandu, on twin share basis
All sightseeing as per itinerary
All activities in Chitwan
Cooking class
All internal flights and hotel/airport transfers
Meals as indicated in itinerary
All road transport by private vehicle
Economy class return air fares from the UK and UK departure tax (flight inclusive only)
Single, timed, group airport transfer for international flights on arrival and departure
Carbon offsetting with the Ecoan Tree Planting Project (for clients taking our flight inclusive option)
Free Mountain Kingdoms Water-to-Go Bottle
What's not included
Some meals (as indicated in the itinerary)
Travel insurance
Visa fees
Tips
---
---
Read holiday reviews by Mountain Kingdoms travellers.
Overall score: 5 (Based on 1 reviews)
Definitive Cultural Tour of Nepal
This trip is perfect for the opportunity to see some of the sensational landscapes and cultural treasures of Nepal without the need for discomfort. Historic towns, picturesque villages, traditional rural life and exotic wildlife were just some of the attractions of this lovely trip and it was all enjoyed from the comfort of some wonderfully comfortable hotels. The warmth and friendliness of the local people was just the cherry on the cake. It was an inspiring journey at the same time as being a very relaxing experience.
---
Extend your holiday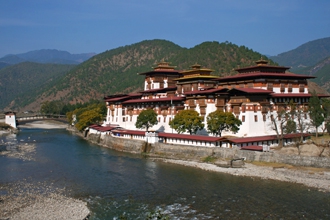 5-day cultural tour or 8-day gentle walking options available
See the main sights in Paro, Thimphu and Punakha
Bhutan is just a short flight from Kathmandu
Though only a short flight from Kathmandu, Bhutan offers a very different Himalayan experience to Nepal. Characterised by lush valleys, terraced hillsides and soaring peaks the landscape is endlessly picturesque, whilst the imposing dzongs (monastery/fortresses) and Swiss chalet style houses give each town or village a look that is distinctly Bhutanese. Here are just two options – if you would prefer something different please discuss with this office.
A taste of Bhutan - five-day cultural tour This five-day tour visits Bhutan's key sights and cultural centres including magnificent Taksang Monastery (Tiger's Nest), the beautiful riverside dzong at Punakha and the fascinating treasures housed in the National Museum at Paro. The tour will be led by a knowledgeable Bhutanese guide and accommodation is in comfortable hotels with all meals included.
A short walk in Bhutan - eight-day gentle walking and cultural tour This eight-day gentle walking trip offers the perfect introduction to some of the cultural highlights and scenic delights of Bhutan. You begin with sightseeing om Thimphu and a walk to Cheri Monastery, one of Bhutan's most historic temples before travelling over the Dochu La Pass to Punakha, the former winter capital. In Punakha you take a lovely valley walk and visit the beautiful riverside dzong. Driving back to Paro you take a pretty walk from the Dochu La through beautiful forest. You then drive up to the Chele La Pass and take the lovely walk to Kila Nunnery, before ending your trip with the walk up to Tiger's Nest Monastery, Bhutan's greatest cultural treasure and a fitting conclusion to a superb extension. You will stay in good quality, comfortable hotels throughout and all meals are included.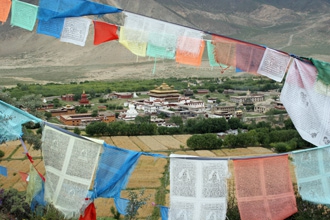 Visit some of Tibet's most important historical and cultural sites and monasteries of Tibetan Buddhism.
Offers a scenery completely different to that of Bhutan and Nepal.
Suitable to add to any holiday flying in/out of Kathmandu.
​A visit to Tibet offers an exciting extension to a visit to Nepal or Bhutan. Regular flights to Lhasa from Kathmandu make it possible to visit most of the major sights in and around Lhasa on an 8 day itinerary and a visit to Tibet will provide an exhilarating contrast to your trek or tour in Nepal or Bhutan. Tibet's high plateau offers totally different and starker scenery to that of the other Himalayan countries. Here you will see some of the most important historical and cultural sites and monasteries of Tibetan Buddhism – the Potala Palace and Samye, Ganden and Drepung Monasteries.
If taking this extension you will need to spend an extra day beforehand in Kathmandu while our agents there process your Tibet visa. They will need your passport for the day for this purpose. You need to let us know in good time if you wish to take this extension as we need to put this process in hand and send your details to the Chinese Embassy in Kathmandu well before your departure date.