A Kit List for the Everest Base Camp Trek
One of the questions we most commonly get asked from clients who are planning a trek to Everest Base Camp is what do I need to pack? In reply, here's a comprehensive clothing and equipment kit list for the trek, together with some helpful information and advice.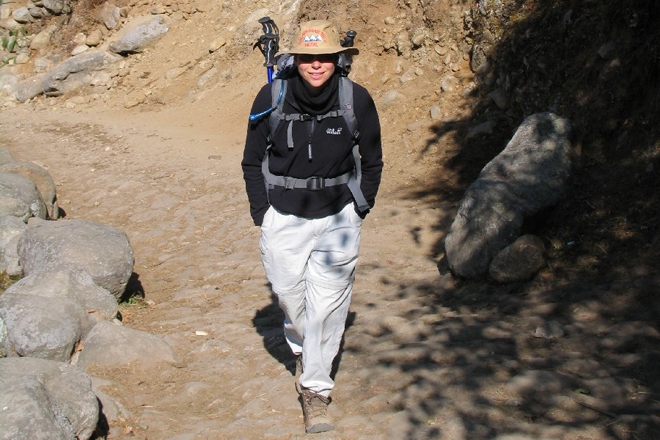 One of the questions we most commonly get asked from clients who are planning a trek to Everest Base Camp is what do I need to pack? In reply, here's a comprehensive clothing and equipment kit list for the trek, together with some helpful information and advice.
Clothing
The key to being comfortable on trek is to adopt a system of several layers rather than one item of bulky warm clothing. Temperatures can drop very quickly in the evening at altitude and you will need to put on a number of layers once the walking has finished for the day. There are few warmer combinations than a pair of thermal leggings and roomy trekking trousers, with your trunk insulated with a base layer, micro fleece, thermal fleece jacket and a duvet jacket. A disproportionately large amount of body heat is lost through your head (about a third), so just as important as warm body clothing is a warm hat, together with the hood of your waterproof jacket. Don't forget that your waterproof jacket (which should always be in your day pack when you're not wearing it!) makes a very effective outer warm, windproof layer and is likely to be as often used for this as for its waterproof qualities. A sun hat is also an essential item, with a wide brim and something to protect your neck.
Tight fitting, figure-hugging clothing, such as those made with Lycra can often be offensive to locals, especially on women. If you find these items comfortable as a base layer then pack something to wear over the top of them. Similarly, wearing shorts is culturally insensitive in Nepal so leave them at home. Calf-length cut-off trousers are fine to take instead.
Your boots are your most important item of clothing. Generally speaking we would recommend you use the boots you already use for hill walking. If you do not have any suitable footwear, or the pair you have are on their last legs (or feet!) make sure you buy a new pair several weeks before your trek to enable you to fully break them in. In general price is a good indicator of quality – good quality boots will normally cost between £80-£120. Normally an all leather boot is harder wearing and more waterproof but nowadays there are many reputable makes which utilise a mix of leather/nubuck and fabric. It is useful to have Gore-Tex lined boots for breathability and extra waterproofing. Take time in choosing a boot that fits you well (remember to take your favourite pair of walking socks with you when trying boots on). Tell the assistant exactly what you are going to use the boot for and choose a boot with a good degree of ankle support and a good quality sole such as a Vibram sole.
Your luggage allowance - a word of advice:
In March 2013 CAAN (Civil Aviation Authority of Nepal) instituted new rules on luggage limits for flights to STOL airports - which Lukla is. The new weight limit is 15kg, to include hand luggage. This means that they will now weigh both your kitbag and your day pack at the airport which should be within this limit. So you will need to be careful when packing for trek. Our advice is to make sure to wear your down jacket and walking boots for the flight to Lukla and also not to carry too much water on that day - you will be able to fill up with water and repack any extra clothing you're wearing into your kitbag when you arrive in Lukla.
Here's our full clothing list:
Walking boots - with spare laces
Trainers or all terrain sandals - for travel and changing into in the evening
Waterproof jacket and over-trousers - preferable made from breathable material
Duvet / down jacket - essential for colder evenings especially at altitude. Mountain Kingdoms provides this free of charge for all our Nepal treks.
Trekking trousers
Thermal underwear
T-shirts / short sleeved shirts
Long-sleeved shirts - to cover arms against the sun or insect bites
Micro fleece
Warm fleece
Socks - walking socks and liners/thin socks
Warm hat and gloves - take two pairs in case you lose one
Sunhat - ideally one that provides cover for your neck as well
Scarf or Buff - for warmth and also for protection against wind or dust
Casual non-trekking clothes to wear in Kathmandu including a swimsuit for your hotel pool
Equipment and accessories
Try and keep your equipment lightweight whenever possible. This is our suggested list:
Day sack - 30-40 litres
Sleeping bag - you need a good quality 4-season sleeping bag and liner. Mountain Kingdoms provides these for you free of charge, together with a sheet and pillow cover
Trekking poles - useful on steep ascents, descents and on rough ground, but, if you're not a regular user of trekking poles, try them out beforehand
Small lockable suitcase or bag - to leave your spare clothes in at your hotel in Kathmandu whilst you're on trek
Assorted waterproof stuff bags - to keep your clothes and kit dry on trek. Plastic bags are a cheaper option
Water bottle - 1-2 litres at least
Water purification tablets or a water bottle with a good filter system i.e. a Mountain Kingdoms Water-to-Go bottle
Penknife - Swiss army type with tweezers and bottle opener is useful. Pack in hold baggage
Sunglasses / Glasses - Sunglasses are easy to lose or break, so bring a cheap spare pair. If you wear glasses, bring a spare pair. Contact lenses can cause problems due to dust.
Personal first aid kit - see list below
Head torch
Camera - with spare battery and memory cards
Binoculars - although not essential, a lightweight pair will add to your experience
Wash kit - shampoo, soap, flannel, toothpaste, toothbrush, deodorant and moisturiser
Travel wash - 100% biodegradable
Trekking towel
Antibacterial gel and/or wetwipes
Hand warmers - useful for very cold days
Toilet paper / travel tissues
Repair kit - needle, thread, safety pins, small pair of scissors
Inflatable pillow
Earplugs - especially if you're a light sleeper
Personal time gear - playing cards, travel games, writing material etc.
Spare batteries for electrical items where necessary and a power charger
Electrical adaptor suitable for Nepal - Standard voltage in Nepal is 220-240 volts. In the Kathmandu hotel there are normally a two-pin razor socket in the bathroom and in rooms generally sockets are round-three pin but can also be European or British variety sockets. Best advice is to use a universal travel adaptor. Tea houses on trek usually have recharging facilities (they will make a charge) but if it's busy there may be a queue for recharging.
Mobile phone - coverage in Kathmandu and Pokhara but limited elsewhere
Personal first aid kit
Any personal medicines or antibiotics (tell your trek leader if you have any conditions and are taking medication)
Analgesic tablets - paracetamol, aspirin or whatever you normally take as a standard painkiller
Antiseptic cream
Antihistamine - tablets and/or cream
Sunscreen - Factor 20 at a very minimum
Lipsalve - must have a high sunscreen factor. Apply liberally and often at altitude. Zinc blocks are also excellent for burnt lips
Insect repellent
Anti-blister plasters
Assorted plasters and tape
Throat sweets
Dioralyte rehydration powders - make sure you have enough to cover an emergency
Diamox - be sure to speak to your doctor if considering to take Diamox
So there you have it, everything you need (and a little more besides) to help get you to Everest Base Camp. If you've got any questions, or need any advice, then just contact one of our specialist staff who will be very happy to help.