/
Holiday
/
Snow Leopard Trek Upper Dolpo
Dolpo, Nepal, Wild Nepal, Kathmandu | Walking & Trekking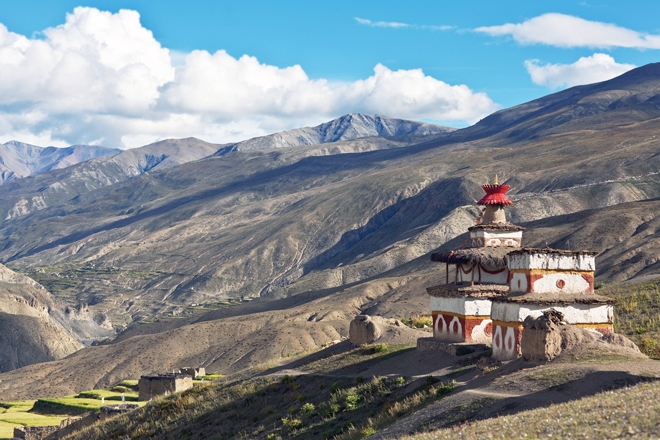 Grade:

?

Strenuous

Suitable for fit individuals who have regular experience of mountain walking.

Find out more...

Strenuous

Duration: 27 days from the UK
On trek: 21 days
Private Departures Available
Land only from £3750
A trek for true adventurers through wild and ruggedly beautiful high-mountain scenery, far removed from the outside world.
Highlights
Genuinely remote and culturally distinct, an area of Nepal where few westerners visit
Phuksundo Lake, Shey Gompa and Crystal Mountain are just some of the spectacular scenic highlights
Spend time with the people of Dolpo who have retained their ancient traditions and beliefs
Excellent acclimatisation following Peter Matthiessen's journey in search of the elusive snow leopard
Enjoy first rate camping facilities on trek and a four star hotel in Kathmandu
Reviews
Be the first to review this trip.
This is a new trip, reviews coming soon
Next
Isolated by towering, snow-clad peaks and home to the rarest of all mountain creatures - the snow leopard - the wildly remote region of Dolpo retains an air of mystery alongside its stupendous Himalayan scenery.
Your adventure begins with a flight to the airstrip at Juphal from where you trek north following the route made famous by Peter Matthiessen in his powerfully evocative book 'The Snow Leopard'. Entering Phoksundo National Park you too will be moved by the breathtaking beauty of the luminous jade-blue waters of its central lake surrounded by jutting, jagged peaks.
Continuing, the trek crosses the mighty Kang La, 5,279m/17,320ft, and passes the sacred Crystal Mountain to reach the remote eleventh century monastery of Shey Gompa. From here you cross the Saldang La and descend to the trek's northernmost point of Saldang, close to the Tibetan border, before heading south through barley fields and yak-grazed meadows with views of the mighty peak of Dhaulagiri. Descending further you enter the broad Tarap Valley dotted with monasteries, small village settlements and herds of blue sheep. Here the locals still wear their traditional Tibetan-style clothes and jewellery and practice ancient pre-Buddhist Bon Po religions. Winding gently beside the picturesque Behri River and through terraced fields your trail returns you to Juphal and the end of one Nepal's most outstanding and memorable journeys.
The sheer isolation of the region means that this Upper Dolpo trek is ideal for the experienced walker who would like a wild, yet culturally distinct, Himalayan experience.
Private Departures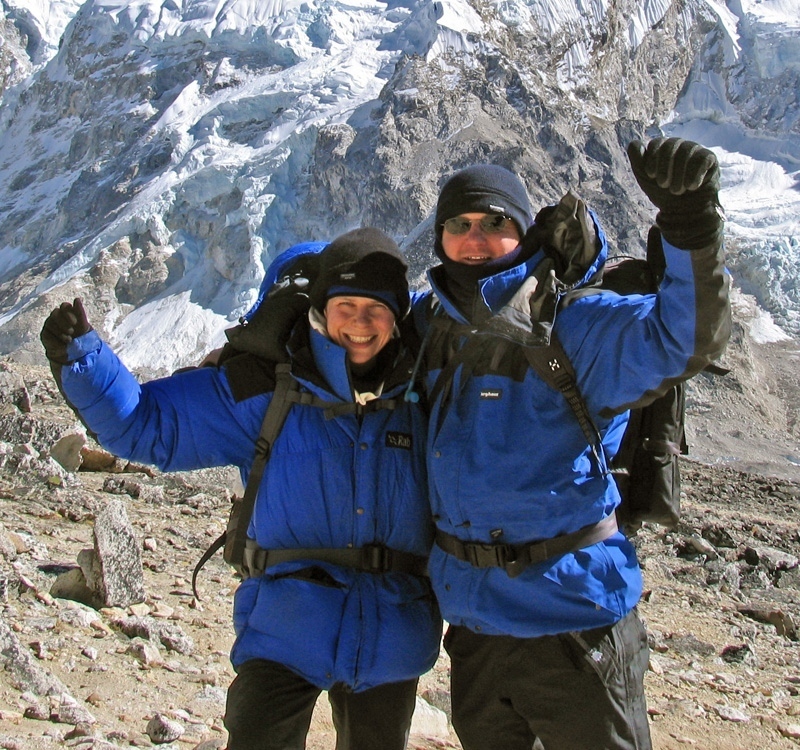 Snow Leopard Trek, Upper Dolpo - Private Departures
If you would prefer to travel just with your partner, friends or family, we can arrange a private departure of this holiday. You follow the same itinerary, but travel on dates that suit you. Alternatively we can include elements of this holiday in a bespoke Tailor Made itinerary. Contact our friendly team for details and prices, and to make a booking.
---
At a glance
Duration: 27 days from the UK
On trek: 21 days
Max. Altitude: 5,300m/17,388ft, Kang La, Day 11
Private Departures Available
Guaranteed to run for a minimum of 5 clients
Maximum group size: 12
Land only joining city: Kathmandu
Accommodation types: Hotels, Camping
Meal arrangements: Bed and breakfast in Kathmandu, all meals on trek and in Nepalganj.
Itinerary overview
| Day | Activity |
| --- | --- |
| 1-3 | Fly to Kathmandu and onto Nepalganj. |
| 4-8 | Fly to Juphal and trek to Phoksundo Lake. Rest day by the lake. |
| 9-12 | Trek to Shey Gompa via the Kang La, 5,300m/17,388ft. Rest day at Shey Gompa. |
| 13-15 | Cross the Saldang La, 5,100m/16,732ft, visit the Namjung monastery and trek to Saldang. |
| 16-23 | Cross the Jang La, 5,170/16,962ft, visit Chaiba gompa and trek through the Tarap Valley. |
| 24-25 | End trek at Juphal. Fly to Kathmandu via Nepalganj. |
| 26-27 | Day at leisure in Kathmandu before flying to London. |
Leader: Sherpa Leader, Nepal
This trek will be led by a professionally trained, English speaking Sherpa. They have an intimate and expert knowledge of the history, culture and nature of Nepal and will make your trip a memorable experience.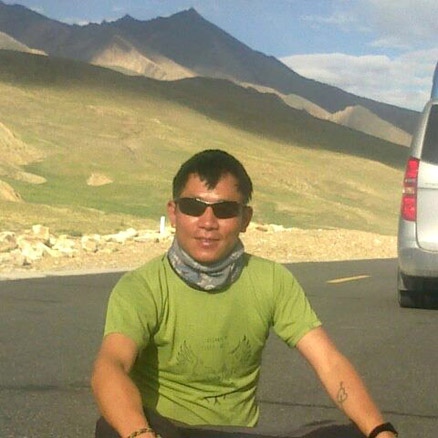 ---
Holiday Itinerary
Day 1 - Depart London.
Fly overnight from London to Kathmandu.
Overnight: In Flight
Day 2 - Arrive in Kathmandu, 1,300m/4,265ft. Transfer to hotel.
On arrival in Kathmandu you will be met at the airport and transferred to your hotel. Here you can relax and maybe go out for a meal in the evening.
Overnight: Kathmandu Guest House Or Similar, Kathmandu
Day 3 - Fly to Nepalganj, 150m/500ft.
This morning, you may have time for some sightseeing or shopping in Thamel. In the afternoon you will take a 1 hour flight to Nepalganj. The flight will give good views of the Himalaya to the north. Transfer to your hotel. The town is situated 3km from the southern Nepalese border with India. Here it is quite hot and tropical.
Overnight: Kitchen Hut Hotel or Similar, Nepalgunj
Day 4 - Fly to Juphal, 2,475m/8,120ft. Trek to Rupagad, 2,120m/6,955ft - 3 hours.
A wonderful early morning, 35-minute flight, over the Himalayan foothills, with the major peaks including Annapurna and Dhaulagiri to the north east. After an exciting landing at the mountain airstrip at Juphal you meet your trek crew and Sherpa sirdar. It takes about an hour to descend through the village below the airstrip. Your path takes you through terraced fields to the Bheri River and you then walk for about an hour through the narrow gorge leading to Dunai until just before the big bridge over the river to Sulighat. Overnight camp in the garden of a lodge at Rupagad.
Overnight: Camp
Day 5 - Trek to Chhepka, 2,670m/8,759ft - 6 hours.
At the confluence of the Thuri Bheri and Suli Gad rivers you turn to the north and follow the Suli Gad. The trail is fairly undulating, but mostly up and the going is firm underfoot. You are never far from the river and can always hear its roar. You pass through an area which is overgrown with marijuana plants and there are also crops for the villagers and their animals including millet, pumpkin, potatoes, sweet corn and chillies. Many of the villages in this area are involved in the production of a lotus-like plant called 'chuk' that is used to make vinegar and medicines. It is dried and flown from Dolpo to Nepalganj and exported to India. You continue to track the river and eventually reach the settlement of Hanke, which is also the entrance to the Phoksundo National Park. The three villages you pass through have a strange name connection; Parela, meaning 'eyelash', Rahagaon meaning 'eyebrow' and Ankhe meaning 'eye'. You continue northwards, following the river to Chhepka.
Overnight: Camp
Day 6 - Trek to Somdua, 3,000m/9,845ft - 6-7 hours.
A good deal of improvement has been done on this trail with new river crossings. The trail keeps closer to the river, crossing it several times; even so, there are still some steep undulations and at times the path hugs the cliff face. Frequent stops to admire the scenery, or to take a breather become a necessity. You continue to track the river until you reach your night's stop at Somdua.
Overnight: Camp
Day 7 - Trek to Phoksundo Lake, 3,600m/11,811ft - 6-7 hours.
From Sumdo the trail goes very steeply uphill. Here you leave the river and follow the path high above the water. You ascend to a ridge, about 3875m/12,713ft, from where you will have the most staggering views of a 300m/1,000ft waterfall, the highest in Nepal and your first view of Phoksundo Lake, a study in turquoise. You then descend through birch forests to the upper reaches of the Phoksundo Khola and on to the picturesque settlement of Ringmo with its mud-plastered chortens and mani walls. The village now has solar panels helping to improve the quality of life of the villagers. From the settlement it is a short walk to the shores of Phoksundo Lake where you set up camp.
Overnight: Camp
Day 8 - Rest day.
The nearby Bon Monastery is well worth a visit, as is the village of Ringmo. A walk part way round the lake is also very relaxing. There will be time to catch up with domestic chores as well, if need be.
Overnight: Camp
Day 9 - Trek to Upper Phoksundo Khola, 3,680m/12,074 - 6-7 hours.
From the lakeside you follow the trail that skirts the edge of the lake itself. This airy trail, featured in the movie Himalaya, is in places suspended on a gangway of wood supported on pegs driven into crevices in the rocks and signals the remoteness of the area you are about to enter. You go very steeply up, to approximately 4,100m/13,450ft and then plunge down again to the valley bottom to enter the flood plain of the Phoksundo Khola and trek to your night stop alongside the river, but within the confines of the forest to avoid the worst of the wind which is prevalent in the valley bottom.
Overnight: Camp
Day 10 - Trek to Camp, 4,640m/15,224ft, below Kang La - 7-8 hours.
There are quite a few stream crossings today, so you should take sandals, or footwear suitable for knee-deep crossings. This morning you continue along the level path through a glacial valley that now heads northwards. As this becomes narrower and narrower there are impressive vertical cliffs and contorted rock formations. At approximately 3,750m a stream issues from a narrow canyon on the east side. This is the Tuk Kyaksa Khola and the way followed by Matthiessen towards the Kang La. However, this is no longer the recommended route. In 2011 the MK group forded this side stream and continued north in the main valley on a good path until it climbs out of the main canyon. Here our route climbs north, veering away from the main track which swings west. Crossing a shoulder and continuing northwards we descend easily to the valley of the Ghyampo Kapuwa Khola and a lunch spot known as 'Dharamsala' with a herders' shelter. Later you will cross a bridge to the east side of the river and ascend scree before contouring round the hillside to re-enter the GKK valley at a higher level, fording the river to a superb campsite.
Overnight: Camp
Day 11 - Cross the Kang La, 5,300m/17,388ft, then trek to Shey Gompa, 4,340m/14,239ft - 6-7 hours.
A day of grand scenery. Heading eastwards, we re-cross the river and over a low brow to a good path that ascends steadily towards the Kang La. The final stretch to the col is steeper and shaley. Ascent to Kang La from camp takes approximately 3 hours.
Note: There are two Kang Las. Both are near the head of the Hubaing Khola valley that is followed north to Shey. The pass crossed by Mattheissen appears to be the east Kang La. The MK sirdar in 2011 (Chet Gurung) was very much against using this route - arduous for trekkers, porters and mules alike based on his experience. The route recommended here, crossing the west Kang La, proved excellent with the campsite (referred to above) on the approach to the pass in just the right place.
The views from the Kang La are magnificent and well worth all the hard work. On descending to the valley floor, not more than 45 minutes to a good lunch spot by the Hubaing Khola, you make a long meandering trek along the banks of the river. A red chorten heralds your arrival at Shey Gompa where a cantilevered wooden bridge leads up to the Shey compound. Just before the bridge is a group of prayer mills turned by water wheels.
Overnight: Camp
Day 12 - Rest day at Shey Gompa.
As Shey means crystal, this monastery is also known as the Crystal Monastery. The lama of Shey resides at a red hermitage known as Tsakang gompa which is west of Shey. It is not really a monastery, but a retreat. Tsakang had been a meditation centre of many famous lamas from Tibet. Shey Gompa belongs to the Chaiba community, followers of the Padma Sambhava and Kagyu sects. It was the first Kagyupa monastery and its founder was the lama Ten-szin-Ra-Pa. The monastery was founded during the 11th century. Shey is famous for its ancient Buddhist culture. In Dolpo the ancient Tibetan way of life combines animism with the teachings of Buddha. Drutup Yeshe introduced Buddhism in the Dolpo valley. Many years ago he came to Dolpo and came across a wild people whose supreme God was a 'fierce mountain spirit'. Crystal Mountain is to the west of Shey monastery. It is a very strange mountain indeed. Its contorted cliffs are laced with quartz and embedded with a rich variety of marine fossils.
Overnight: Camp
Day 13 - Cross the Saldang La, 5,100m/16,732ft, then trek to Namjung Gaon, 4,430m/14,239ft - 7 hours.
You start by following a pleasant track amidst juniper high above the Sephu Kola. Eventually, the path enters the bare-sided stream bed with a good early lunch spot (last reliable water before pass) where two stream beds meet (c4,900m). A short distance up the left hand streambed, a path breaks east to zigzag up steep ground of shale, to a large rectangular cairn on the Saldang La. Here you can enjoy great views towards the arid landscapes of Mustang and the distant snow peaks of Tibet. The subsequent descent towards the north is long and tiring, but you finally come upon the welcome sight of pastures of grazing yaks and sheep and nomadic tents made from yak hair. This signals your approach to Namjung Goan which lies hidden in a gorge. Like Shey, the Namjung Monastery is of the Karma-pa sect. The monastery, a red stone structure, is built against the backdrop of a cliff on the north wall of a gorge. The red and white colours of the gompa and its stupas are the only colour in this stark landscape. The village itself consists of only six stone houses and has terraced fields on both sides of the tributary, which flow down to the Nam Khong valley. The economy of the region is based on agriculture, animal husbandry and trading. In Dolpo only one crop a year can be grown and this is mainly barley. In some villages, buckwheat, oil-seed, potato and radish are also cultivated. Recently the main cliff temple collapsed and the villagers have now built a beautiful new monastery in the village itself. Look out for the idol of the first ruler of Bhutan, the Shabdrung. He has a black pointed beard and red hat.
Overnight: Camp
Day 14 - Trek to Saldang, 4,150m/13,615ft - 3 hours.
In the morning after packing up the loads, you leave the Namjung Monastery and start climbing a scree slope. Further on, it begins a long thrilling traverse along some dusty barren mountains. Looking down into the valley bottom it is very evident that the people have made best use of the fertile valley as one sees the neat terraced fields showing bright patches of green and ripening crops. You ascend to c4600m/15,092ft before going down steep slopes to the picturesque village of Saldang, situated on a plateau high above the Nam Khong nala and the biggest village of the inner Dolpo area. Though the village lies at about the same altitude as Ringmo it is totally different. Ringmo, a Himalayan village is situated below the tree line while Saldang belongs to the arid zone of the trans-Himalayan Tibetan plateau. The village stretches for 2km on an open slope and consists of five villages having eighty well-built houses with nearly six hundred villagers. It is prosperous, not only agriculturally, but also for its strategic location on a trade route to Tibet. After the Chinese occupation of Tibet in 1959, trade with Tibet was virtually stopped. It has been restored to some extent through the barter system by which Tibetan salt reaches mid-Nepal. The Drokpa people from the western plains of Tibet collect salt from the dried lakes north of Tsangpo.
Overnight: Camp
Day 15 - Rest day.
Today is free for relaxation and mixing with the villagers in Saldang. You can visit the new gompa some of which was painted by Tinley, the gentleman who played one of the leads in the film Himalaya. Travelling artists sometimes work here on murals of the life of the Buddha.
Overnight: Camp
Day 16 - Trek to Sibu, 4,230m/13,878ft - 6 hours.
You bid farewell to Saldang and on the way down to the river bed you pass through terraced fields, stupas, chortens, heaps of mani stones and a Chaiba monastery. Namdo, the next village is also prosperous with sixty houses having nearly four hundred inhabitants. It stretches for more than 5km on the high slopes to the left of Nam Khong Khola. The Namdo monastery is located near the river bed. There is also another monastery on top of a high cliff. You camp near the small settlement of Sibu, right on the river bank.
Overnight: Camp
Day 17 - Trek to foot of the Jang La, 4,820/15,814ft - 5-6 hours.
Following the line of the river valley the trail is fairly easy-going. After about two hours it is necessary to wade through the stream for a second time before turning south-east into a side valley. A reasonable path follows this and a further side valley generally southwards, finally ascending more steeply to a fine moorland campsite with views of snow-dusted mountains.
Overnight: Camp
Day 18 - Cross the Jang La, 5,170/16,962ft, trek to Tokyu Gaon, 4,350m/14,271ft - 6-7 hours.
It is only a 2 hour climb to reach the top of the Jang La. The trail is generally well-compacted making the going underfoot easy, much easier than loose shale, but it is steep. From the top of the pass there are good views of the Dhaulagiri massif, glittering in the morning light. A rough track descends towards the Tarap valley. By the afternoon you find a green valley which leads you by a pleasant track down towards the Tarap Chu. Tarap is a dream valley with vast plains in high mountains extending 20kms along the river Tarap Chu. It has ten villages with cultivated fields, many gompas and chortens of both sects. You halt for the night above Tokyu Monastery. This monastery also belongs to the Chaiba sect.
Overnight: Camp
Day 19 - Trek to Dho Tarap, 4,040m/13,255ft - 2 hours.
You walk east along the downward course of the Tarap Chu in a plain valley with patches of lush verdant grass on both sides of the river - completely different from other parts of inner Dolpo. Before leaving Tokyu a short visit can be made to the Chaiba Gompa. The trail is broad and well-travelled, making the going easy and there is much evidence of work in the fields where the women will be bringing in the harvest - the men are away bringing down the herds of animals for the forthcoming winter. There are many mani walls, but some of the chortens are in a bad state of repair. The 'French School' is just outside the village of Dho Tarap where you have your night stop. Dho is surrounded by an irregular stone wall and consists of thirty-four houses, divided into three clusters and built in a haphazard way.
Overnight: Camp
Day 20 - Morning at leisure. Afternoon trek to Langa, 3,870m/12,697ft - 3 hours.
You will have a full morning to rest your legs and there may also be the chance to make friends with the people from Dolpo. Tarap is inhabited mostly by Magars who have lived here for generations, but also by a few Tibetans. They wear home-spun clothing that is sometimes dyed maroon and they favour Tibetan style somba (boots with upturned toes) for footgear. Men and women often wear both religious amulets and strings of coral and turquoise. The inhabitants of this village are both Bon Po and Buddhist (Nyingmapa).
You head out for a leisurely afternoon of trekking on a gradually descending trail that follows the banks of the Tarap Khola river. Where the Tarap Khola meets the Klang Khola river at Langa, you will camp for the night.
This morning you will have a chance to make friends with the people from Dolpo. Tarap is inhabited mostly by Magars who have lived here for generations, but also by a few Tibetans. They wear home-spun clothing that is sometimes dyed maroon and they favour Tibetan style somba (boots with upturned toes) for footgear. Men and women often wear both religious amulets and strings of coral and turquoise. The inhabitants of this village are both Bon Po and Buddhist (Nyingmapa).
Overnight: Camp
Day 21 - Trek to Chhyugar, 3,440m/11,286ft - 6 hours.
Your trek continues today, once again following the Tarap gorge. The path goes mostly down hill although there is a small ascent to bring you to a small Stupa. From here continue walking downhill to Nawarpani and on to Chhyugar. This small settlement has a seasonal tea shop so you may be able to find a welcome treat or two!
Overnight: Camp
Day 22 - Trek to Khanigaon, 2,700m/8,858ft.
Today its gradual walk to the hill top and then a continual descent to Laini Odar and on to Khanigaon.
Overnight: Camp
Day 23 - Trek to beyond Tarakot, 2,150m/7,054ft - 7 hours.
You leave Khanigoan by the new suspension bridge and then walk alongside the river, sometimes going very high before reaching down to the water again. Some of the going is quite demanding and one bridge, said to have been unusable for six years, necessitates crossing on wet stepping-stones. Coming into the broad fertile valley of the Barbung Chu, you walk amongst the various crops of millet, sweet corn, barley, buckwheat, green beans, chillies and marijuana. Your lunch and night stop is high above the river, but there is a standpipe for water. Tarakot is an old fortress town known by the local people as Dzong, meaning 'fort'. Before the Gorkha dynasty Tarakot was the capital and had a dzong. The famous Sandul gompa, which lies 8km east of Tarakot and at the junction of Barbung Khola and Tarap Chu, stands on a knoll to the south of Bheri River and at one time supervised collections of tolls for the trading caravans traversing an area called Tichu Rong. As an alternative to camping at Tarakot, you may camp down by the river as there are good cooking facilities there and a clean, locked toilet for trekkers' use.
Overnight: Camp
Day 24 - Trek to Juphal, 2,475m/8,120ft - 6 hours.
To reach Dunai, the trail is mostly down and fairly firm underfoot. Walking beside the Bheri River you use the ingenious path built twenty feet above the river. Dunai is a much larger village, or small township and is the administrative headquarters of the Dolpo region. You now retrace your steps to Juphal, which takes around three hours from Dunai. Initially the way is flat, but the final hour up to your destination seems steeper than you remember on Day One. A celebration party is in order for successful completion of the circuit!
Overnight: Camp
Day 25 - Fly to Kathmandu via Nepalganj. Transfer to hotel.
Early morning flight to Nepalganj. This is a wonderful 35 minute flight over the Himalayan foothills, with fine views of the main peaks including Annapurna and Dhaulagiri to the north. Depending on the flight time from Juphal, you may have time to grab lunch at the Kitchen Hut Hotel before your connecting flight to Kathmandu. Transfer back to your hotel.
Overnight: Kathmandu Guest House Or Similar, Kathmandu
Day 26 - At leisure in Kathmandu.
There will be time for sightseeing, souvenir shopping and to celebrate a long and exciting journey.
Overnight: Kathmandu Guest House Or Similar, Kathmandu
Day 27 - Fly to London.
After breakfast you will transfer to the airport for your flight home.
---
2024
| Dates | Availability | Land Only | Flight Inclusive from |
| --- | --- | --- | --- |
| Sat 21 Sep - Thu 17 Oct 2024 | Available | £3750 Book | Contact Us |
Hold your place
Not quite ready to book? Why not call us on +44 (0) 1453 844400 to hold a no obligation place while you make up your mind?
---
Optional supplements
Single room supplement
£125
Single Tent
£195
No Surcharge Guarantee
No surcharges will be applied to your holiday after you book. Prices on this website are updated regularly. The Flight Inclusive holiday price, or Land Only holiday price, will be confirmed to you at the time you make your booking. There will be no surcharges after your booking has been confirmed.
Flight inclusive holidays
The 'flight inclusive' holiday prices shown on this website are based upon our preferred airlines and the best priced economy class fares we are able to secure at the time of publication.
We will be able to advise on fares with alternative airlines, upgrades to Business Class, and the options for flights from regional UK airports, please contact us for more details.
Booking your holiday
For the majority of our holidays, a deposit payment of £400.00 per person is required to secure your place(s), however a small number of holidays require a higher deposit - please refer to the holiday itinerary for more details. If the holiday departs within 60 days, a deposit of £1,000.00 per person is required.
Book now!
Book your small group holiday securely online – click the 'Book' button next to your chosen departure or visit our How to Book page
Complete and return a Booking Form available to download here.
Call us on +44 (0)1453 844400 and one of our travel specialists will talk you through the booking process.
What's included
An experienced, English-speaking Nepali guide
Economy class return air fares from the UK & UK Departure Tax (flight inclusive only)
All internal flights and hotel/airport transfers
Good standard hotel accommodation (4 star) in Kathmandu, twin share, bed and breakfast basis
Best available hotels in Nepalganj on twin share, full board basis
Restricted area permits
All road transport by private vehicles
All camping facilities and all meals on trek
Free use of a good quality down jacket and sleeping bag with liner on trek
Camp staff to carry out all camp work
A satellite phone is carried by your guide in case of an emergency
Costs of all porterage and their insurance
Carbon offsetting with the Ecoan tree-planting project for clients taking our flight-inclusive option
A free high-quality Mountain Kingdoms kit bag
What's not included
Travel insurance
Visa fees
Lunch and evening meals in Kathmandu
Tips
---
---
---
Extend your holiday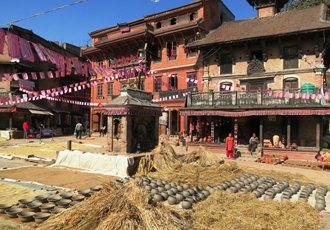 Observe traditional crafts such as pottery, woodcarving and thangka painting
Choose from a selection of full and half day guided tours
Travel in a private car with a driver and an English-speaking guide
The Kathmandu Valley has a long and rich history and a vibrant culture and there is much that is worthwhile to see there - crowded bazaars, ancient temples, Buddhist stupas, crumbling shrines and picturesque palaces. The Malla kings who ruled in the valley created three major cities in the valley, Kathmandu, Bhaktapur and Patan and each of these cities has buildings that are showpieces for the art and architecture of local Newari craftsmen. We offer a selection of half day trips and full day trips to these sites the valley.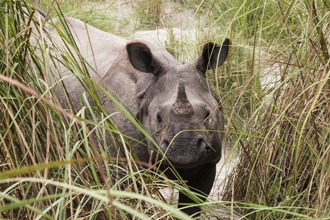 Activities include; bird watching, elephant washing, canoe ride, elephant experience, landrover safari and jungle walks
Choice of accommodation from budget to luxury
Suitable to add to any holiday flying in/out of Kathmandu
Why not extend your adventure in Nepal by visiting Nepal's jungle region for a complete contrast to the high mountains and the Kathmandu Valley. Chitwan is home to a rich and varied wildlife. Here are found wild elephant, rhinos, leopard, sambar, chital (spotted) deer, wild boar and arguably the most magnificent of cats, the Royal Bengal Tiger. You may even see sloth bear, gaur (wild cattle) and crocodiles. Chitwan is also wonderful for birdlife especially in the spring, when the jungle rings day and night to the calls of several kinds of Asian cuckoo.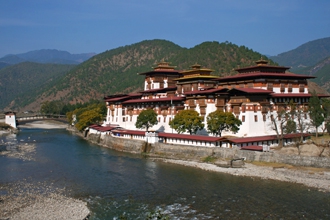 5-day cultural tour or 8-day gentle walking options available
See the main sights in Paro, Thimphu and Punakha
Bhutan is just a short flight from Kathmandu
Though only a short flight from Kathmandu, Bhutan offers a very different Himalayan experience to Nepal. Characterised by lush valleys, terraced hillsides and soaring peaks the landscape is endlessly picturesque, whilst the imposing dzongs (monastery/fortresses) and Swiss chalet style houses give each town or village a look that is distinctly Bhutanese. Here are just two options – if you would prefer something different please discuss with this office.
A taste of Bhutan - five-day cultural tour This five-day tour visits Bhutan's key sights and cultural centres including magnificent Taksang Monastery (Tiger's Nest), the beautiful riverside dzong at Punakha and the fascinating treasures housed in the National Museum at Paro. The tour will be led by a knowledgeable Bhutanese guide and accommodation is in comfortable hotels with all meals included.
A short walk in Bhutan - eight-day gentle walking and cultural tour This eight-day gentle walking trip offers the perfect introduction to some of the cultural highlights and scenic delights of Bhutan. You begin with sightseeing om Thimphu and a walk to Cheri Monastery, one of Bhutan's most historic temples before travelling over the Dochu La Pass to Punakha, the former winter capital. In Punakha you take a lovely valley walk and visit the beautiful riverside dzong. Driving back to Paro you take a pretty walk from the Dochu La through beautiful forest. You then drive up to the Chele La Pass and take the lovely walk to Kila Nunnery, before ending your trip with the walk up to Tiger's Nest Monastery, Bhutan's greatest cultural treasure and a fitting conclusion to a superb extension. You will stay in good quality, comfortable hotels throughout and all meals are included.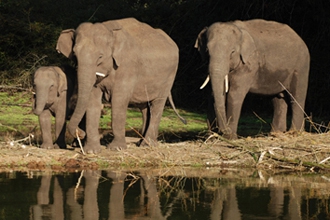 Jungle activities including an elephant experience, bird watching, rafting and nature walks
See wild elephant, rhinoceros, leopard, deer, wild boar and if you are lucky, the famous Royal Bengal Tiger
Stay at the delightful Tiger Tops Karnali Lodge situated on the edge of the park
After your adventurous time in the Himalaya why not add a relaxing Jungle Safari to your trip? The Royal Bardia National Park is situated in the west of Nepal. We use Tiger Tops Karnali Lodge, which is acknowledged to be the best lodge in the area. Bardia's remote geographic location and the fact that the lodge has only 12 rooms, lends a degree of exclusivity to the experience, in comparison to other more popular parks. From the lodge you will be able to participate in safaris and have the chance of seeing some of the country's wonderful wildlife, for instance, wild elephant, rhinoceros, leopard, deer, wild boar and if you are lucky, the famous Royal Bengal Tiger. There is also the possibility of visiting the villages of the Tharu tribal people that surround the lodge. With its abundant wildlife, relaxing lodge and first class service, our Bardia extension is an experience you will savour!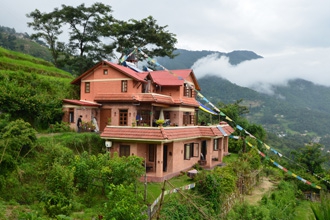 Escape the crowds and hustle and bustle of Kathmandu
Walks available from the cottage - explore the nearby countryside
Single and double rooms available, or exclusive hire of the entire cottage
Breakfast and dinner included, plus unlimited tea and coffee
While in Kathmandu, why not experience an exclusive, private, home away from home? Shivapuri Heights Cottage is a "home-stay-style" property that offers a great escape from the hustle and bustle of the City. It is located in 2 acres of land at an altitude of 6,000ft /1,830m on the edge of the protected Shivapuri Reserve, with beautiful views looking down into the Kathmandu Valley.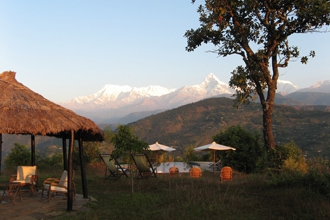 Fly from Kathmandu to Pokhara in the Annapurna range of Nepal
The lodge is an ideal base for you to relax in a rural mountain setting
Beautiful outdoor swimming pool reflecting view of the Annapurna range
Delicious Nepali dishes & continental specialities made from local fresh ingredients, home-grown herbs & garden salads
Why not extend your adventure in Nepal by visiting the beautiful Tiger Mountain Pokhara Lodge. Tiger Mountain Pokhara lodge is a lovely place, situated on a ridge half an hour outside Pokhara and enjoying the most stunning mountain views over the Annapurna range of mountains.
The lodge is an ideal base for you to relax in a rural mountain setting, away from the bustle of town. With a central lodge, bar and dining room, the comfortable rooms are arranged in clusters of cottages resembling a Nepali village. All have attached bathrooms, private verandas and Himalayan views. Daily menus feature a range of Nepali dishes as well as continental specialities made from local fresh ingredients and home-grown herbs and garden salads. You may enjoy lovely walks through the forests and villages of the lovely countryside surrounding the lodge, escorted by trained local guides. The beautiful swimming pool reflects the distant white peaks of the Annapurna range. The lodge also offers a range of Ayurvedic and shiatsu therapy and yoga and meditation sessions are also available (at additional cost). You may also venture further afield to visit Pokhara, Nepal's second city located on a lovely lake and also enjoying spectacular views.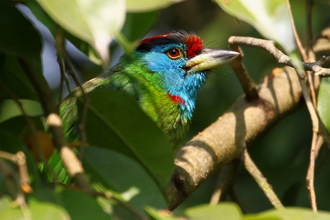 Koshi Tappu is home to over 500 species of birds
Look out for exciting wildlife like jungle cats, crocodiles and rare water buffalo
Explore the park by foot, raft and jeep
Stay in the pleasantly located Koshi Camp
Koshi Tappu Wildlife Reserve is one of the finest birdwatching and wildlife areas in all Asia. Located in south-east Nepal, the reserve covers 175 square kilometres with large expanses of open water created by the Koshi barrage, with marshes, lagoons, sandbanks and mudflats offering an outstanding wetland habitat. The reserve is home to over 500 species of birds, with the resident inhabitants being joined by large numbers of migratory species from Siberia and Tibet, which take up residence from November to February. The Koshi Tappu Wildlife Reserve provides one of the best places in Nepal to view migratory water fowl, waders and shore birds with many species seen here which are not recorded elsewhere in the region.
There is also much wildlife to be seen in Koshi Tappu including blue bull, golden jackal, Bengal fox, fishing cat, jungle cat, mongoose, civet cat, porcupine, Indian flying foxes and rare Gangetic dolphins as well as rare Marsh Mugger crocodiles. In addition, Koshi Tappu is the last habitat of the endangered Arna, a type of wild water buffalo.
During your visit you will explore the park with bird and animal spotting from a raft trip on the Koshi River, birdwatching walks, jungle walks and jeep trips. You will also have the opportunity to visit a family in one of the very interesting nearby local villages for a taste of rural Nepalese life. The Koshi Camp offers simple but comfortable accommodation and an expert staff of naturalists and birdwatchers to give you a comprehensive introduction to this wonderful area.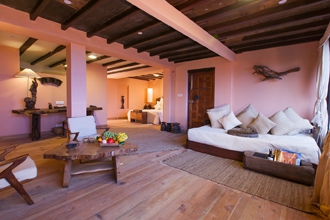 Relax in luxuriously furnished accommodation with stunning Himalayan views
Relax and rejuvenate in the top of the range spa
Take a dip in the refreshing infinity pool
Enjoy locally sourced organic food at the resort's restaurant
Dwarika's Resort is a charming hotel located just an hour's drive from Kathmandu city and set on a ridge above the town of Dhulikhel. At an altitude of 1,700m/5,600ft and enjoying panoramic views of the mountains, Dwarika's Resort is the perfect way to relax and feel revitalised and rejuvenated. The resort promises 'a Himalayan approach to well-being in rustic luxury.'
Built in Dwarika's own inimitable style the resort offers a relaxing atmosphere of complete harmony in the tradition of ancient Buddhist and Hindu beliefs. The rooms are spacious and luxurious and are set in lovely gardens with inspiring mountain views. Facilities include an infinity pool overlooking beautiful countryside, top of the range spa facilities, a fitness centre, a Chakra sound therapy centre and a Himalayan salt room and meditation room all inspired by a blend of Vedic Philosophy and Buddhist Medicine.
The resort offers an impressive range of ayurvedic treatments as well as yoga and meditation and classes. Its wonderful restaurants offer delicious food, sourced locally and from Dwarika's own organic farm, with delicious menus carefully created to complement Dwarika's philosophy and treatments. Other activities include lovely walks to visit their farm or to explore the surrounding area and visit traditional villages such as the legendary Namobuddha Monastery or the Newari village of Panauti, to experience the simple joys of Nepalese rural life.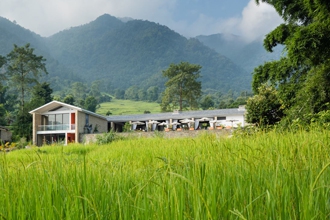 Spend two or more tranquil nights in rural Pokhara
Sample the organic and locally sourced Nepali cuisine
Idyllic setting with mountain views
The resorts offers a swimming pool, spa and gym
Eco-friendly
We are delighted to offer this new luxury stay in a rural location just outside Pokhara. We are sure this is set to become a favourite with our clients.
The Pavilions Himalayas is a luxury resort set in beautiful farmland amid paddy fields in a tranquil rural location approximately 5km outside Pokhara. There are dramatic mountain views from the resort as well as Pokhara's famous Peace Pagoda seen on top of a nearby ridge.
The beautiful rooms are set in individual villas and are large and comfortable, all having whirlpool baths, separate rain shower cubicles, enormous beds and offering wonderful hand made soaps and shampoos made with herbs from their garden.
All facilities at the resort are top of the range and include a lovely swimming pool and spa. From the resort it is just a short drive to explore Pokhara or there are pleasant walks from the hotel or you can just chill at the resort, have a massage and enjoy the facilities.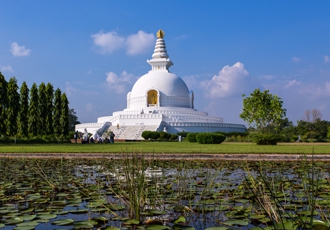 Visit one of Nepal's most sacred Buddhist pilgrimage sites
Stay in a comfortable hotel next to Lumbini
Spend a full day touring the site with an expert local guide
Flights and transfers to/from Kathmandu included
Enjoy a three day extension to the birthplace of Buddha, one of the most important Buddhist pilgrimage sites in the world. Take the short flight from Kathmandu, and spend two nights in a comfortable 3* hotel, just steps from the Lumbini temple complex, with a full day to explore the fascinating UNESCO World Heritage Site in the company of an expert local guide.