What's included
A Mountain Kingdoms appointed Western Leader
All internal flights and domestic airport transfers
Good standard hotel accommodation (4 star) in Kathmandu, twin share, bed and breakfast basis
Best available hotel in Nepalgunj on twin share, full board basis
Mustang and Dolpo special permits and ACAP permit
All transfers by private vehicle
All camping facilities and all meals on trek
Camp staff to carry out all camp work
Free use of a good quality down jacket and sleeping bag with liner on trek
A free high quality Mountain Kingdoms kit bag
Costs of all porterage and porter insurance
Economy class return air fares from the UK & UK Departure Tax (flight inclusive only)
Single, timed group airport transfers for international flights on arrival and departure
Carbon offsetting with the Ecoan Tree Planting Project (for clients taking our flight inclusive option)
The opportunity to attend a pre-trip meet in the Cotswolds
and much more...
Call our
friendly team
Nepal, Wild Nepal | Walking & Trekking
New
Strenuous
Suitable for fit individuals who have regular experience of mountain walking.
Find out more...
Grade: Strenuous ? Strenuous
Duration: 23 days from the UK
On trek: 16 days
Flight inclusive from £4,675,
Land only from £4,025
Book now or call 01453 844400
An epic Himalayan trek crossing a region little changed by time; towering peaks, ancient villages and five of Nepal's finest 5,000m passes.
Highlights
Trek for 16 days through impressive high mountain scenery and isolated villages
Camp by the turquoise waters of Phuksundo Lake
Experience the ancient Tibetan culture of the region - little changed over time
Enjoy first rate camping and a four star hotel in Kathmandu before and after the trek
Reviews
This is a fabulous adventure. It is a long trek visiting remote Upper Dolpo and Mustang. It crosses five 5,000 m passes so a real sense of achievement on completing it...The Sherpa and crew were professional and food excellent. The itinerary gives plenty of time to acclimatise with a rest day by the side of the beautiful Lake Phoksundo. For me the highlight of the trip was the crossing of the...
Mr O, Gloucestershire
This hidden part of Nepal is still a treasure for the trekker and remains unspoilt - but visit soon before the new road projects alter the remote peace and isolation of this ancient kingdom. Unforgettable scenery and strong Tibetan influence surviving in the harsh climate add to its uniqueness and our Nepalese trekking crew described it as like being on the moon!
Dr W, Yorkshire
I loved the remoteness of this trip; it felt like a true wilderness experience, and following in a snow leopard's snowy footsteps up to the Ghami La pass was exceptionally memorable.
Niki Morgan, Mountain Kingdoms
View All
With five passes over 5,000 metres, and 16 days of challenging trekking, this is a tough trek for the very fit and adventurous walker. The rewards are rich though, with scenery where the superlatives run out every day, and sustained cultural interest, where Tibetan Buddhism thrives.
The delights of Lower Dolpo include the fabled turquoise waters of Phoksundo Lake and the charming, picturesque settlement of Chharka, both featured in Eric Valli's film, Himalaya. Time has seemingly stood still here and the local people still live, cultivate the land and trade the way they have done for centuries. The area is also a spiritual sanctuary that still sees an early form of pre-Buddhist religion called Bon-Po practiced.
Beyond is the true wilderness of Upper Dolpo, isolated by towering mountains and the highest of passes which are snowbound for many months of the year. There are extremely few people that pass this way, so you have a sense of being one of the privileged few to savour this almost uninhabited place, and admire the grandeur of this remote, high mountain country. Blue sheep, wolves, vultures, lammergeyers and your crew are likely to be your only companions. If incredibly lucky you may get a glimpse of an elusive snow leopard or, more likely their tracks - previously, one of our Operations Managers, Niki, followed a snow leopard's tracks towards the Ghami La for twenty minutes. It was a thrilling moment.
Due to the elevation of the trek, with several days spent near or above 5,000m, you may encounter snow - particularly on the approach to your final, and highest pass, the Ghami La at 5,700m. The snow will make progress more challenging, but also add extra magic to its crossing. Reaching the end of your trek in mustang, you will no doubt experience mixed emotions: a touch of bewilderment as you return to civilisation, but also an immense sense of pride and achievement at having completed such an epic, demanding and awe-inspiring trek.
---
At a glance
Grade: Strenuous
Strenuous
Duration: 23 days from the UK
On trek: 16 days
Max. Altitude: 5,700m/18,700ft, Ghami La, Day 17
Guaranteed to run for a minimum of 5 clients
Maximum group size: 12
Land only joining city: Kathmandu
Accommodation types: Hotels, Camping
Meal arrangements: B&B in Kathmandu, all meals on trek - 20 x Breakfasts, 17 x Lunches, 18 x Dinners
Itinerary overview
| Day | Activity |
| --- | --- |
| 1-2 | Fly to Kathmandu. |
| 3-4 | Fly to Nepalgunj and on to Juphal. Trek to Rupagad. |
| 5-8 | Trek to Phoksundo Lake. Rest/acclimatisation day. |
| 9-14 | Trek over the Baga La, Numa La, Jhyarkoi La and Mo La to Chharka. |
| 15-19 | Trek over the Ghami La, 5,700m/18,700ft, to Ghami. End trek. |
| 20 | Drive to Jomsom. |
| 21-23 | Fly to Kathmandu via Pokhara. Time at leisure. Overnight flight to London. |
Leader: John Turner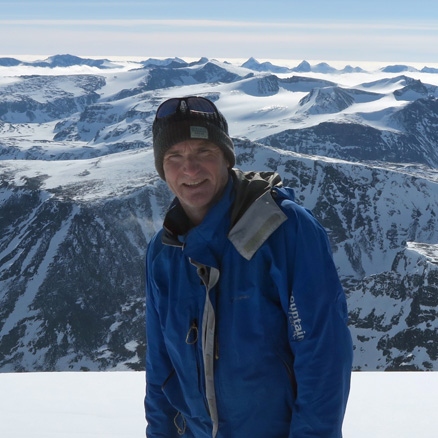 An experienced Trek Leader, John has led numerous treks in Morocco and the Alps. However, his real passion is for the Himalaya where recent climbing expeditions have seen him scaling more virgin peaks in Kazakhstan and taking in a close up view of Everest from the top of Ama Dablam (6,950m) in Nepal.

---
Five High Passes - Dolpo to Mustang Trek Itinerary
Day 1 - Fly London to Kathmandu

Depart London on your overnight flight to Kathmandu.

Overnight: In flight

Day 2 - Arrive Kathmandu. Group transfer to hotel.

After arriving at Kathmandu airport you will transferred to the Shangri La Hotel, a stylish four star property located near the British Embassy, where you can relax in the lovely garden or have a dip in the hotel pool. Here you can relax and maybe go out for a meal in the evening.

Overnight: Shangri La Hotel, Kathmandu

Day 3 - Fly to Nepalgunj - 1 hour flight.

This morning, you may have time for some sightseeing, or shopping in Thamel. In the afternoon you will take the flight to Nepalgunj. The flight will give good views of the Himalaya to the north.

On arrival you are transferred to your hotel. The town is situated 3km from the southern Nepalese border with India. Here it is quite hot and tropical.

Overnight: Kitchen Hut Hotel or Similar, Nepalgunj

Day 4 - Fly to Juphal, 2,475m/8,120ft. Trek to Rupagad, 2,120m/6,955ft - 3 hours.

This morning you will enjoy a wonderful early morning, 35 minute flight, over the Himalayan foothills, with views of the major peaks including Annapurna and Dhaulagiri to the north east. After an exciting landing at the mountain airstrip at Juphal you meet your trek crew and Sherpa sirdar. It takes about an hour to descend through the village below the airstrip. Your path takes you through terraced fields to the Bheri River and you then walk for about an hour through the narrow gorge leading to Dunai until just before the big bridge over the river to Sulighat. Overnight camp in the garden of a lodge at Rupagad.

Overnight: Camp

Day 5 - Trek to Chhepka, 2,670m/8,759ft - 6 hours.

At the confluence of the Thuri Bheri and Suli Gad rivers you turn to the north and follow the Suli Gad. The trail is fairly undulating, but mostly up and the going is firm underfoot. You are never far from the river and can always hear its roar. You pass through an area which is overgrown with marijuana plants and there are also crops for the villagers and their animals including millet, pumpkin, potatoes, sweet corn and chillies. Many of the villages in this area are involved in the production of a lotus-like plant called 'chuk' that is used to make vinegar and medicines. It is dried and flown from Dolpo to Nepalgunj and exported to India. You continue to track the river and eventually reach the settlement of Hanke, which is also the entrance to the Phoksundo National Park. The three villages you pass through have a strange name connection; Parela, meaning 'eyelash', Rahagaon meaning 'eyebrow' and Ankhe meaning 'eye'. You continue northwards, following the river to Chhepka.

Overnight: Camp

Day 6 - Trek to Jharna, 3,000m/9,845ft - 6-7 hours.

A good deal of improvement has been done on this trail with new river crossings. The trail keeps closer to the river, crossing it several times; even so, there are still some steep undulations and at times the path hugs the cliff face. Frequent stops to admire the scenery, or to take a breather become a necessity. You continue to track the river until you reach your night's stop at Jharna.

Overnight: Camp

Day 7 - Trek to Phoksundo Lake, 3,600m/11,811ft - 3-4 hours.

From Sumdo the trail goes very steeply uphill. Here you leave the river and follow the path high above the water. You ascend to a ridge, about 3,875m/12,713ft, from where you will have the most staggering views of a 300m/1,000ft waterfall, the highest in Nepal, and your first view of Phoksundo Lake, a study in turquoise. You then descend through birch forests to the upper reaches of the Phoksundo Khola and on to the picturesque settlement of Ringmo with its mud-plastered chortens and mani walls. The village now has solar panels helping to improve the quality of life of the villagers. From the settlement it is a short walk to the shores of Phoksundo Lake where you set up camp.

Overnight: Camp

Day 8 - Rest day.

Today is for rest and recuperation although if you're feeling energetic, the nearby Bon Monastery is well worth a visit, as is the village of Ringmo. A walk part way round the lake is also very relaxing. There will also be time to catch up with domestic chores if need be.

Overnight: Camp

Day 9 - Trek to Baga La Phedi, 4,200m/13,780ft - 5 hours.

After leaving the lake, you enter a beautiful pine forest on a lovely ascending trail, listening to the laughing thrushes. Eventually you emerge at a clearing where you have excellent views of your route into Phoksundo including the bandstand and snowy peak behind. You continue on a rising trail. You can see the small villages of Rikke and Maduwa below. The scenic high traverse continues rising gradually with good views of Norbung Kang's impressive snow dome 6,985m, until you reach Yak Kharka at 3,982m. It's 4½ miles and approximately three hours walking from Phoksundo Lake to Yak Kharka. Yak Kharka has a collection of tents, stone shelters, prayer flags and grazing yaks. You will probably have lunch here before an hour and a half's ascent to your campsite in a meadow with a big white prayer flag fluttering in the breeze. You are likely to spot choughs and lammergeyers here. You can see the start of your route upwards towards the Baga La the next day, and a trail towards Chhoital Tal (lake). For the energetic, you can walk up towards the lake in the late afternoon. It's good acclimatisation, and a pleasant excursion but it's quite a tough climb and will take between 1½ - 2 hours to walk to the high point where you can view the lake (lots of false summits!) - energy which you may find better conserved to cross the pass the following day!

Overnight: Camp

Day 10 - Trek over the Baga La, 5,214m/17,107ft, to beyond Danigar, 4,800m/15,748ft - 8-9 hours.

Soon after you leave the campsite it's a steep pull upwards along a trail which follows the Ghuchun Khola, in a canyon. There are good views of Norbung Kang behind. The path twists and turns and heads seemingly forever upwards, until after 4 hours you are greeted to the extremely welcome sight of prayer flags adorning a huge cairn, marking the Baga La at 5,214m. There are superb views from the top of the pass of the Tibetan-like mountain desert landscape before you. After the obligatory pass photos, the trail weaves downhill, gradually at first, but becoming steeper and a little rockier until you reach the meadow of Daniger at 4,631m. You will probably have a light lunch here. It takes approximately 6-7 hours to reach Danigar from your campsite. You will trek for another couple of hours to reach your campsite, which lessens the pull up to the Numa La the following day. It's fairly flat walking on a high traverse for a while, and you can see the path to Saldang. A short descent to the river, then you follow it, ascending for half an hour or so to your campsite at approximately 4,800m.

Overnight: Camp

Day 11 - Trek over the Numa La, 5,238m/17,185ft to Tokyu, 4,200m/13,780ft - 8 hours.

You begin ascending to the pass quite steeply at first and then more gradually. You can see Kanjiroba mountain behind you. The trail weaves around and it seems a frustratingly long time before the pass reveals itself and you see those welcome cairns and prayer flags at 5,238m. You may see snow finches and mountain finches en route. You descend quite steeply at first before contouring around the hillside for a while. You then continue descending on a stony path on a spur until you reach the river. You cross this, then walk over boulders, and eventually you end up on a flat, easy path into Tokyu 4,200m. Tokyu is an attractive, rustic village with the Thakchiu Khola running through it, several houses, greenhouses, chortens, mani walls and gompas. You are likely to spot several choughs here and the very attractive Guldenstadt's redstart was spotted here. You will probably be here at barley harvesting time. You have a superb view of towering Dhaulagiri from the pass. Champa Monastery is well worth a visit for its statues of Sakyamuni, the future Buddha, and Guru Rimpoche.

Overnight: Camp

Day 12 - Trek to Do Tarap and on to Moran, 4,200m/13,780ft - 3½-4 hours.

It's approximately two hours of easy walking, on a fairly flat trail to Do Tarap 3,945m. En route you will see Crystal Mountain School and the Tarap Health Post. About 200 pupils receive free education every year up to 7 years of age. The health post and school are run by Action Dolpo France. Their goals are to have a higher secondary school and to run a modern primary health care centre and free medical care. It is recommended that you visit Ribo Bumpa Monastery which sits above Do Tarap. It is 1,000 years old and has a 3m high Guru Rimpoche statue. The Amchi, Dr Namgyal Rimpoche, helped with the publication of 'Dolpo: The Hidden Land' which you may find on sale in the monastery. From Do Tarap it's about 1½ hours walking to your campsite at Moran 4,200m, passing the villages of Shipchock and Dhoro. The Dhoro Monastery, with its red tin roof, is worth a look. Images in front of the altar are Guru Rimpoche, Green Tara and Vajrasattra. It's a very gradually rising trail from here to camp, in a grassy meadow. This is blue sheep country.

Overnight: Camp

Day 13 - Trek over the Jhyarkoi La, 5,360m/17,586ft, to reach camp at 4,600m/15,092ft - 8 hours.

You begin ascending very gradually, heading into a very impressive canyon, with interesting rock strata on a grand scale. The path weaves around following the water course. There are some very narrow sections with a steep drop to one side, but these will present no problems for the confident and sure-footed. The trail steepens as you approach the pass, and the last 1½ hours, is quite a hard slog on a zig-zag trail. The pass is marked by a huge cairn and the obligatory prayer flags. It takes approximately 4½ - 5 hours to reach the top of the pass. You are rewarded for your considerable efforts with stunning views of the Dhaulagiri massif and surrounding peaks. The descent is fairly gentle and forgiving, if a little long. It takes approx. 2 - 2 ½ hours to reach your campsite from the pass. Where you camp will depend on the availability of water at the time. You may be exceptionally lucky and see bharal (blue sheep) en route. Redstarts and mountain finches are some of the few birds that inhabit this inhospitable but beautiful terrain. It's quite a long, tiring day so be sure to eat and drink plenty.

Overnight: Camp

Day 14 - Trek over the Mo La, 5,035m/16,519ft, to Chharka (Charkabhot), 4,100m/13,421ft - 6 hours.

You continue trekking in the Upper Panzang valley. The trail ascends up and around the hillside. It's not a difficult pass, and you should reach it in around 1½ - 2 hours. The gradient is easy. You may see lammergeyers, golden eagles, Himalayan griffin vultures, accentors, horned larks, marmots and yaks, and if you are very lucky, blue sheep. Prayer flags adorn the large cairn. You have wonderful views of surrounding ochre coloured hills. The descent is a pleasant, easy gradient, but is a long way! There is a grassy path about ½ hour from the top of the pass which is a good lunch spot. From here it's a dusty, winding descent. After an hour or so you hit a ravine which is short but sharp. It takes a long time for the town of Chharka to reveal itself. There is a large entrance kani to the village, and when you emerge from the kani, the very attractive town lies before you.

Chharka is a delightful, quite sizeable place, and has a monastery, a school, many typical flat-roofed houses, lodges, a suspension bridge, barley fields, and even a 'shopping centre' where they sell beer, soft drinks and will (for a small fee) recharge your camera batteries. Make the most of this civilisation, as it will be your last until you reach Mustang! Chharka was featured in Eric Valli's film Himalaya, and because of its picturesque charm and remote location, it's easy to see why.

Overnight: Camp

Day 15 - Trek to camp at Nakhkham Khola, 4,600m/15,092ft - 7-8 hours.

Leaving Chharka at 4,100m and your last habitation until you reach Ghami, you head eastwards along the north bank of the Chharka Khola. After about 40 minutes the main path crosses a bridge and heads to Jomsom. Most trekkers take this route. Only a few trekkers and locals take the north bank and the path is often indistinct. The path rises and falls up and down canyons but always keeping to the north bank of the river. River crossings may be needed here as the path has been wiped away by landslides, so keep your sandals in your day sack today! After 2½ hours of undulating rough ground you will probably have lunch by the Chharka Khola. Crag martins and a low flying Himalayan griffin vulture were spotted here. After lunch you cross the river as the path now follows the south side of the river. In the past herds of blue sheep have been seen here, as were snow leopard tracks! 2½ hours after lunch you reach a high open valley by the Nakhkham Khola where it's likely you will camp at 4,600m. The day looks short on the map, but indistinct trails and broken ground make this day longer than it appears, with a lot more climbing.

Overnight: Camp

Day 16 - Trek to High Camp, 4,900m/16,076ft - 5-6 hours.

A short day to gain height before the pass the following day. You follow the river until the valley opens out at the top. Paths are indistinct here. Tibetan snowcock were spotted on the hillside above the camp. This high camp acts as a base for crossing the Ghami La the next day. Exactly where you camp will depend on the weather conditions and availability of water. If you have a free afternoon, you can go for an acclimatisation walk along the valley.

Overnight: Camp

Day 17 - Cross the Ghami La, 5,700m/18,701ft, and descend to camp near lake at 4,800m/15,748ft - 8-9 hours.

This is a long, tough day, but very spectacular. The first hour from the campsite is gentle uphill walking. On a previous trip, a group saw snow leopard tracks here which they followed for a good twenty minutes. At the head of the Nakhkham Khola there are wonderful views into Tibet as the path veers south eastwards and rises sharply towards the Ghami La. At first the going is relatively easy and an upper cwm at about 5,200m is reached quickly. From here the going gets tougher as a number of boulder fields have to be crossed and route finding is difficult. The pass is long, though not particularly steep. You reach the top of a wide saddle after about 5½ hours. There is an indistinct trail with a few cairns but no obvious prayer flags. The trail then descends gently through boulder fields and on to a grassy hillside. You descend for a further two hours or so to a campsite by a lake. This is a tough day as paths are non-existent in places and the pass is rarely crossed, making this a real achievement.

Overnight: Camp

Day 18 - Trek towards Ghami, 3,490m/11,450ft - 7-8 hours.

Please note that a large landslide affected this route in 2018 so there may well be some diversions from the written itinerary for the walk between here and Ghami.

You leave the campsite and head eastwards, keeping the river on your right. It's a very gradual descent for a couple of hours and easy going trekking. Eventually, you head down to the Ghami Khola and you'll need to don your sandals to wade across the river. At its widest, it's shallow so you're unlikely to get your knees wet! After this you climb up the bank and continue walking eastwards. It's likely you'll enjoy your lunch half an hour or so after your river crossing. You then ascend for a while on a good path (narrow in places) and traverse across the hillside. Eventually you reach the highest point, adorned with prayer flags and a large cairn. From here you have wonderful, inspiring views of Mustang and the snow-capped peaks beyond.

From here it's all downhill to your campsite, gradual at first, and then very steep. You will also need to negotiate a small boulder field before regaining a good path that meanders around the hillside. The scenery becomes ever more dramatic with steep sided gorges, cascading waterfalls, giant rock pinnacles, and an ever present view of Mustang to tantalise you.

Overnight: Camp

Day 19 - Descend to Ghami, 3,520m/11,549ft - approximately 6-7 hours.

You continue traversing the hillside, passing a hermitage along the way. The scenery is constantly spectacular and dramatic with its towering rock peaks, rushing river, and Mustang's distinctive mountain desert landscape ahead. More snowy peaks reveal themselves as you snake around the hillside. There is a good trail to Ghami, although narrow in places. You keep the Ghami Khola to your left as you walk. As you descend to Ghami, there is a puja place adorned by many prayer flags, set high on the hillside. A zig-zag trail leads up to it. The time taken to reach Ghami will vary depending on your exact campsite location the previous night. Watch out for well camouflaged lizards darting around on the dusty trail. It's a stunningly beautiful vision as you approach Ghami - and the end of your trek. Fields of red (buckwheat) and yellow (barley) appear like an oasis in this desert landscape. You will see the caves hidden in the cliff-face beyond the fields and marvel at the incredible, 'organ pipe' rock sculptures. After so long in the wilderness, with no habitation, it is quite a shock to see local people tending to the fields, domesticated animals, houses and lodges.




Overnight: Camp

Day 20 - Drive to Jomsom.

Today you will take jeeps to drive south to Jomsom. Now is the time to celebrate your achievement with a party for your trusty Sherpas, as tomorrow you fly back to 'civilisation'.

Overnight: Camp

Day 21 - Fly to Kathmandu via Pokhara.

Today you fly from Jomsom, through the Himalayan Mountains, down the Kali Gandaki Gorge, feeling like an insect in such grand surroundings, to land in Pokhara. From Pokhara you will fly to Kathmandu where you will be met and transferred to your hotel. No doubt you will be shell shocked on returning to 'civilisation'!

Overnight: Shangri La Hotel, Kathmandu

Day 22 - At leisure in Kathmandu. Transfer to airport. Depart Nepal.

Kathmandu, Asia's former hippie capital, has a wonderful mixture of crowded bazaars, Hindu and Buddhist temples, shrines and stupas, colonial and ancient architecture as well as more modern buildings. You could explore the bazaars and temple complexes of Durbar Square to best absorb the myriad impressions assailing your culture-shocked senses.

Late afternoon, there will be a group transfer to the airport for your flight back to London.
Map
Map Key
Airport
Point of interest
Mountain Peak
Day walk in this area
Flights
Internal Transfers
Trek
---
2021
| Dates | Availability | Land Only | Flight Inclusive from |
| --- | --- | --- | --- |
| Sat 18 Sep - Sun 10 Oct 2021 | Available | £4025 Book | £4675 Book |
2022
| Dates | Availability | Land Only | Flight Inclusive from |
| --- | --- | --- | --- |
| Sat 30 Apr - Sun 22 May 2022 | Available | Contact us | Contact us |
Hold your place
Not quite ready to book? Why not call us on 0044 (0)1453 844400 to hold a no obligation place while you make up your mind?
Optional supplements
Single Room Supplement
From £110
Single Supplement
From £170
Insurance
No Surcharge Guarantee
No surcharges will be applied to your holiday after you book. Prices on this website are updated regularly. The Flight Inclusive holiday price, or Land Only holiday price, will be confirmed to you at the time you make your booking. There will be no surcharges after your booking has been confirmed.
Flight inclusive holidays
The 'flight inclusive' holiday prices shown on this website are based upon our preferred airlines and the best priced economy class fares we are able to secure at the time of publication.
We will be able to advise on fares with alternative airlines, upgrades to Business Class, and the options for flights from regional UK airports, please contact us for more details.
Booking your holiday
For the majority of our holidays, a deposit payment of £100.00 per person is required to secure your place(s), however a small number of holidays require a higher deposit - please refer to the holiday itinerary for more details. If the holiday departs within 60 days, a minimum deposit of £750.00 per person is required.
Book now!
Book your small group holiday securely online – click the 'Book' button next to your chosen departure or visit our How to Book page
Complete and return a Booking Form available to download here.
Call us on 01453 844400 and one of our travel specialists will talk you through the booking process.
Loyalty discount
Find out more
What's included
A Mountain Kingdoms appointed Western Leader
All internal flights and domestic airport transfers
Good standard hotel accommodation (4 star) in Kathmandu, twin share, bed and breakfast basis
Best available hotel in Nepalgunj on twin share, full board basis
Mustang and Dolpo special permits and ACAP permit
All transfers by private vehicle
All camping facilities and all meals on trek
Camp staff to carry out all camp work
Free use of a good quality down jacket and sleeping bag with liner on trek
A free high quality Mountain Kingdoms kit bag
Costs of all porterage and porter insurance
Economy class return air fares from the UK & UK Departure Tax (flight inclusive only)
Single, timed group airport transfers for international flights on arrival and departure
Carbon offsetting with the Ecoan Tree Planting Project (for clients taking our flight inclusive option)
The opportunity to attend a pre-trip meet in the Cotswolds
What's not included
Travel insurance
Visa fees
Lunch and evening meals in Kathmandu
Optional trips
Tips
---
---