/
Holiday
/
Grand Annapurna Traverse
Kathmandu, Nepal, Pokhara, Annapurnas | Walking & Trekking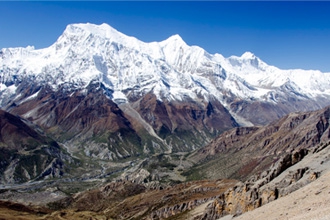 Grade:

?

Strenuous

Suitable for fit individuals who have regular experience of mountain walking.

Find out more...

Strenuous

Duration: 27 days from the UK
On trek: 21 days
Flight inclusive from £5700, Land only from £4385
Magnificent Annapurna trekking without the crowds, from the eastern foothills over three remote high passes to Jomsom.
Highlights
Experience a genuine wilderness trek in the heart of the Annapurna mountains
Cross three challenging passes: the Kang La, 5,300m, the Mesokanto La, 5,120m and the Namun La, 4,850m
Enjoy incredible close-up views of the Annapurnas, Machhapuchare, Manaslu and Dhaulagiri
Camp at 5,000m at stunning Tilicho lake - a unique experience
Explore the delightful mountain villages of Naar and Phu
Reviews
It's incredible that a trek so close to the Annapurna Circuit feels so incredibly remote. After you leave the village of Siklis on day 1 of the trek, you really are in wilderness terrain. The trail has fantastic scenery throughout, with many snow-capped Himalayan peaks, dramatic high passes, a holy lake that pilgrims visit in the summer, traditional villages where you will get a very warm...
Niki Morgan, Operations Manager, Mountain Kingdoms
Next
This really was a trip of a lifetime. I loved every part of this trek, from the satisfaction of crossing the challenging mountain passes, through to the remoteness of the beautiful high mountain villages and camping at the stunning Tilicho lake. I can't wait to go back!
Mr D, Gloucestershire (Naar Phu Trek)
Next
Destined to become a Himalayan classic, this spectacular new trek traverses the Annapurna massif, climbing from the idyllic eastern foothills and crossing three high passes before descending to Jomsom in the west. The traverse offers sublime scenery throughout, with unparalleled close-up views of the Annapurna, Dhaulagiri, Lanjung and Manaslu massifs, in addition to plenty of cultural interest along the way.
Your grand adventure starts northeast of Pokhara in the picturesque Gurung village of Siklis. From here you follow an ancient trade route weaving your way through rhododendron and bamboo forests. Eventually you reach open meadows with superb views of the Himalayan giants of the Lamjung Himal and Annapurna Massif, including the iconic fishtail peak of Machhapuchare. After a week of trekking through wonderfully wild uninhabited terrain you reach the first of your three high passes, the Namun La at 4,850m. The ascent is tough, and the descent steep but the superb views from the pass offer ample reward. This pass rarely sees trekkers, indeed perhaps snow leopards are more common than trekkers here, their prints having been found below the pass in recent years.
From the Namun La you descend and briefly join the busy Annapurna Circuit at Timang before once again heading off into the wilderness, this time north towards the Tibetan border, and the isolated fortified hill village of Phu. The dramatic landscape is more Tibetan here, lying as it does in the rain shadow of the Himalaya and there are astonishing 360 degree views of the surrounding peaks from the monastery above Phu village.
Continuing the traverse westward you come next to the friendly village of Naar. Trekkers are rarely seen here and you will likely be given a warm welcome, sometimes with traditional butter tea. Suitably fortified you go on to tackle the highest and most demanding of your three high passes, the Kang La, 5,300m. After enjoying another night back in 'civilisation' on the Annapurna Circuit, the final epic section of the trek takes you upwards and eastwards skirting the shores of Tilicho Lake, one of the highest in the world, and over the Mesokanto La, 5,300m. From here it is all downhill to Jomsom where reluctantly you leave the wilderness behind and return to the hustle and bustle of Kathmandu.
This superb challenging Annapurna traverse is a worthy successor to the busy Annapurna Circuit which has sadly now been spoilt by roads at both ends.
---
At a glance
Duration: 27 days from the UK
On trek: 21 days
Max. Altitude: 5,300m/17,460ft, Kang La Pass, Day 19
Guaranteed to run for a minimum of 4 clients
Maximum group size: 12
Accommodation types: Hotel, Tea House, Camping
Meal arrangements: All meals on trek. Bed and breakfast in Kathmandu.
Itinerary overview
| Day | Activity |
| --- | --- |
| 1-3 | Fly to Kathmandu. Fly to Pokhara. Drive to Siklis. |
| 4 | Start trek. Trek to Tasa. |
| 5-8 | Trek to Thurju via Kori. |
| 9 | Day walk to Dudh Pokhari. |
| 10 | Trek across the Namun pass, 4,850m/15,192ft, to Dafne Kharka. |
| 11-12 | Trek to Timang and on to Koto. |
| 13-17 | Trek to Phugaon via Meta. Acclimatisation day. Trek back to Meta. |
| 18-20 | Trek to Naar and to Ngawal across the Kang La, 5.300m. Continue to Manang. |
| 21-23 | Trek to Tilicho Phedi Base Camp and High Camp via the Mesokanto La, 5,120m. |
| 24 | End trek at Jomsom. Fly to Pokhara. |
| 25-27 | Fly to Jomsom. Fly to Kathmandu. Overnight flight to London. |
Leader: Local Leader, Nepal
Whether it's a cultural tour, gentle walking holiday or strenuous trek, our holidays in Nepal are led by professionally-trained English speaking leaders. They have an intimate and expert knowledge of the history, culture and nature of Nepal and will make your trip a memorable experience.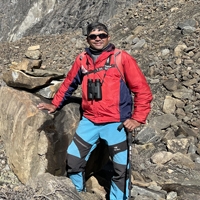 ---
Holiday Itinerary
Day 1 - Fly London to Kathmandu
Depart London on your overnight flight to Kathmandu.
Overnight: In flight
Day 2 - Arrive Kathmandu. Group transfer to hotel.
On arrival in Kathmandu you will be transferred to your hotel. Kathmandu is a wonderful mixture of the ancient alongside the modern. Crowded bazaars still throng with local ethnic people today as they have for centuries, while roads are jammed with rickshaws, cars, roaring motorbikes and buses. Ancient temples and crumbling shrines sit alongside modern offices, picturesque palaces slowly sag into dereliction while Buddhist stupas gaze over the bustling scene with their all seeing eyes. Although this is a crowded, noisy and polluted city it is also friendly, fascinating and vibrant. Tonight you may choose to eat at the hotel, or you could head off into Thamel to one of the famous restaurants there, such as the Rum Doodle Restaurant, a place frequented by trekkers and climbers alike, with pride of place given to a board with the signatures of many Everest summiteers.
Overnight: Hotel Shanker Or Similar, Kathmandu
Day 3 - Fly to Pokhara, 826m/2,713ft. Drive to Siklis, 1,800m/6,510ft - approximately 5 hours.
You will be met at your hotel and taken to the airport for your flight to Pokhara. This is a spectacular and exciting flight in its own right passing over the Himalayan foothills with views of the main range. From Pokhara it takes about five hours to reach Siklis, although this dirt road is a challenging drive so the driving time totally depends on the road condition. The drive is highly scenic with great views of the Lamjung Himal and Machhapuchare, the Fishtail Peak. The dirt road is rough and stony so be prepared for a long, slow, bumpy ride, but the fantastic scenery is ample compensation as the road twists and turns, mainly upwards, to Siklis. Siklis is a thriving, lively village populated by around 2,500 people. It's in a very picturesque setting. You will stay in a tea house here overnight.
Overnight: Tea House
Day 4 - Trek from Siklis to Tasa, 2,350m/7,710ft - 5 hours.
Leaving Siklis you begin your epic trek descending initially on a good trail with stone steps. From the very start there are fantastic views of the Lamjung Himal and Annapurna II as you head out of the village. After about 1½ hours you reach a suspension bridge that leads to a stony uphill trail. You may see or hear woodpeckers on the attractive wooded hillside here. It will take you approximately 2½ - 3 hours to reach your lunch spot, usually taken where there is a stone water tap for the crew to use. After lunch you weave your way up steep stone steps through forested hillside for a further 1½ - 2 hours until you reach a clearing - your campsite for the night is at 2,350m/7,710ft at Tasa. There is a stone shelter here built by ACAP. There are spectacular views at the edge of the campsite of the Lamjung Himal and the Annapurna range. The distant rumbling of avalanches on Annapurna II and IV can often be heard.
Overnight: Camp
Day 5 - Trek from Tasa to overnight camp at 3,500m/11,483ft - 6 hours.
You can enjoy the early morning views at your campsite before heading off on a trail which rises gently through the forest for 1-1½ hours to a clearing with a view of Fishtail Peak and a small shrine with prayer flags. You continue your gradual ascent through oak forest, passing the odd area of grazing land. This uninhabited region is home to much wildlife including Himalayan black bear, danfe, musk deer and Himalayan thar. After around three hours walking, you will have lunch in the forest near a water tank. The trail continues upwards through rhododendron and bamboo forest, passing sheep grazing clearings. You eventually reach a clearing at around 3,500m/11,483ft which will be your campsite for the night. There can be problems here though with a lack of water which may mean continuing to Kori at 3,850m/12,631ft.
Overnight: Camp
Day 6 - Trek to Kori, 3,850m/12,631ft - 3 hours.
Today's walk involves approximately 3 hours of ascending through forest to reach Kori, which has a stone shelter, a goat hut and an ACAP sign. It's a wild, remote place with stunning views of the surrounding hillside and snow-capped peaks.
Overnight: Camp
Day 7 - Trek to Thulo Lekh, 4,100m/13,451ft - 3 hours.
There are fantastic views of Fishtail Peak and surrounding snow-capped summits to be had on the ridge above the campsite. You follow a good undulating dirt trail contouring along the hillside through scrubland. The path is a little narrow and stony at times. After 1½ hours walking, the trail opens out into a large meadow. Another hour or so brings you to an ACAP signpost to Dudh Pokhari and you continue following the red and white ACAP poles to Thulo Lekh. Alternatively your guide may suggest a 15 minute descent to the river and overnight camp. If you stay down by the river at 3,900m/12,795ft, you can take a pleasant afternoon acclimatisation hike to the lake and back.
Overnight: Camp
Day 8 - Trek to Thurju, 4,080m/13,385ft - 6 hours.
Today's route is a spectacular one crossing two passes over 4,000m/13,123ft. You begin by walking up the valley following the river on a trail which becomes a boulder field as you approach the high point of the day - Rambrong Ridge pass at 4,500m/14,764ft, adorned with prayer flags. It takes around 2 hours to reach the pass. From here there are superb views of the Manaslu range of peaks, Lamjung Himal, and Annapurnas towards the west. You then descend slightly on a good path, following the odd red arrow here and there, and contour around the hillside. After 1-1½ hours from the first (highest) pass you reach the second pass at 4,380m/14,371ft - Furju Deurali, which is marked by some cairns and an ACAP sign. There are stunning views of Manaslu from here. Leaving the pass it's approximately 1-1½ hour's descent to your campsite at 4,080m/13,385ft. If there's any snow on the steeper sections of the descent path, you'll need to take care with your footing.
Overnight: Camp
Day 9 - Day walk to Dudh Pokhari.
For added acclimatisation, you can walk up to the holy lake of Dudh Pokhari where pilgrims visit in August.
Overnight: Camp
Day 10 - Trek over Namun Pass, 4,850m/15,912ft - 4½ hours. Descend to Dafne Kharka , 4,250m/13,946ft - 2 hours.
Today you begin by walking on the flat, before descending to the river, crossing it and beginning your long ascent to the pass. The trail is fairly steep to begin with - route-finding is made easy though even if snow has obliterated the path due to ACAP's helpful poles at regular intervals. A zig zag path goes up to your right underneath a huge rock wall. At the top of this (2 hours) there are a few prayer flags and it flattens out. You then head round to the left, gazing down at last night's campsite and a beautiful lake. There are fantastic views of snowy peaks all around. The path is never too steep and is well marked with poles. You will feel the altitude though as you make your final climb to the pass at 4,850m15,912ft, marked with prayer flags and an ACAP sign. There wonderful views of Manaslu here. The descent to Dafne Kharka, 4,250m/13,946ft, gives further glorious vistas and has some steep sections which require care if snow-covered. Snow leopard footprints have previously been seen here so keep your eyes peeled!
Overnight: Camp
Day 11 - Trek to Timang 2,750m/9,022ft - 4 hours.
After an initial 10 minute climb up to the ACAP sign at 4,280m/14,042ft, you descend on a good trail in open hillside to begin with, which then winds through the forest all the way to Timang. It's definitely a day for trekking poles to save the knees. At Timang you are very much returning to civilisation with tea houses and the jeep road through the Annapurna Circuit that goes to Manang. You'll spend the night at a tea house and can enjoy such luxuries as a hot shower and/or a beer!
Overnight: Tea House
Day 12 - Trek to Koto, 2,600m/8,530ft - 2 hours.
Today is a short and relatively easy day on the trail, and you will probably see plenty of Annapurna Circuit trekkers along the way. You begin by walking on fairly flat terrain through a dense forest of pine, oak, maple and rhododendron, then pass through the village of Thanchowk and cross a suspension bridge. Beyond the river you will come to another village called Thanchok, and further up the trail here you may get a sight of Annapurna II soaring into the sky. The path then merges with the main Annapurna Circuit, scattered here with huge boulders that over time have fallen through the surrounding trees. Descending through woodland you arrive in the village of Koto which sits in the shadow of Annapurna II, and on your right you will see the Naw Khola joining the Marshyangdi from a northern valley. In Koto there is a small gompa adorned with brightly coloured paints.
You will have plenty of time to relax in Koto this afternoon and make the most of the comforts of the Annapurna Circuit before you head back off-the-beaten-track tomorrow.
Overnight: Tea House
Day 13 - Trek to Chhaucha Oder, 3,010m/9875ft - 4-5 hours.
This morning you will need your permits ready, as you will be passing through the checkpoint that separates Naar and Phu from the Annapurna Circuit. From here on in you are unlikely to see another group and if you do, it's likely to be a group of mountaineers on their way to summit attempts of the 7,000m plus peaks that loom at the end of this valley. Firstly you cross the Marshyangdi River to start the ascent up the Naar Phu valley. You will notice, once you leave the main trail, that the path changes into a narrower track which requires more attention when trekking. Initially the trail has been created by blasting into the rock in places. You ascend through beautiful pine forest, crossing the Phu Khola three times on suspension bridges. The walk is mostly in the shade of a deep gorge with views of the Annapurna wall behind you. There are few tea houses along the way today, just the occasional basic tea shop or cave so it is important to be topped up with water before you leave. Today you will stop for the night in the middle of dense, mixed forest at a place called Chaucha Oder (oder meaning cave). This is not a village but was traditionally a place used as shelter by sheep herders and the people of Naar Phu travelling up the gorge. Now there are a few tea shops here, one of which offers accommodation. You will arrive in time for lunch and have an afternoon to relax.
Overnight: Tea House
Day 14 - Trek to Meta, 3,560m/11,679ft – 4-5 hours.
Today you trek through mixed forest of pine and juniper and mixed scrub. You cross several suspension bridges and pass some hot springs, to reach Dharmasala. From Dharmasala you ascend through juniper scrub to reach the Meta stream which you cross and then ascend to your first pass on loose moraine and glacier debris. From the pass you will be greeted by the welcome sight of tonight's stop, the remote mountain town of Meta. The village provides a great vantage point to take in all the views, which stretch back to where you have been and in front to where you are going - the Kang la. You will have the afternoon to rest and relax.
Overnight: Tea House
Day 15 - Trek to Phu, 4,200m/13,799ft - 7-8 hours.
The walk today is quite long with lots of ups and downs, but with stunning views all along the route to take your mind off your exertions. You start today with views to the other side of the valley where you will be trekking past in a few days' time (Mahendra Pul). As you follow the valley up to Phu, you will be shaded from the morning sun for the first couple of hours of the day. As you start to climb past gompas and seasonal shepherds' huts, you may notice the high altitude flower Edelweiss growing in beautiful bunches.
With dramatic vistas up to the Kangaru glacier on your right, you make your way up to Kyang, a settlement used by the shepherds in winter when Phu is too cold for the livestock. From here it's down to the valley floor to follow the Phu Khola River upstream. Keep an eye out on the other side of the valley for blue sheep clambering over the rock face. The price you pay for reaching Phu is a short sharp climb up to the gates marking the start of the village territory. From here it is a gentle walk into this beautiful village and your tea house for the next two nights.
Overnight: Tea House
Day 16 - Acclimatisation walk to Tashi Choling Gompa, 4,746m/15,571ft, and return to Phu – 2-3 hours.
Today you have time to rest and acclimatise with gentle walks around the village and up to the Tibetan influenced hilltop monastery, a sign of the close links Phu has with Tibet. The border with Tibet is not much further north of Phu and in the past the local villagers would regularly trade with their Tibetan neighbours. As such the village is a fascinating mixture of cultures. The village itself resembles a hill fort and is a rabbit warren of little paths and tracks leading to people's homes and barley stores. The main crop here is barley which is harvested in early October, a time when the whole village is alive with activity.
The walk up to Tashi Choling Monastery is well worthwhile both for the cultural interest of the gompa itself and the views of the summit of Pokharkan, 6,346m/20,820ft. It's also valuable for acclimatisation. It's fascinating to walk around the gompa and take in all the little details from the slate carvings to the numerous gompas and prayer flags. You return back to the campsite at Phu.
Overnight: Tea House
Day 17 - Trek to Meta, 3,560m/11,679ft - 6-7 hours.
Today you will follow the trail back down the valley you climbed up a couple of days ago. The walk should be a bit quicker today as you are losing more altitude than gaining and your legs will be stronger from the rest day. As you retrace your steps it's surprising how different the scenery looks heading the other way. You will arrive back in Meta to see the familiar faces from a few days ago greeting you.
Overnight: Tea House
Day 18 - Trek to Naar, 4,200m/13,780ft - 3-4 hours.
It's a half day walk to Naar, but the morning still involves a fair amount of climbing so take it steady and enjoy the views. As you approach Mahendra Pul you will see the wire bridge that crosses the valley, with a long drop and a river underneath. You may want to pay a visit to the monastery on the other side to give your thanks for a successful crossing. There are in fact two monasteries on this side and it is worth visiting both of them, noting the contrasting styles of traditional and contemporary. Later in the morning you reach a large stone wall that marks the outer limits of Naar village. The main livestock here is the woolly yak; they are big creatures and should be treated with respect, so don't get too close!
As you pass the gompa situated inside the wall you will get your first glimpse of Naar. It's very different from Phu and a lot more open, with more farming land. The houses themselves are all linked by small wooden ladders and narrow paths and it is fascinating to go for a walk about and to meet the incredibly friendly local people. The village has four beautiful monasteries in the north, south, east and west.
Overnight: Tea House
Day 19 - Trek to Ngawal, 3,660m/12,008ft, via the Kang La, 5,300m/17,388ft - 8-9 hours.
Today you will be crossing your first pass over 5,000m/16,404ft, so an early start is a good idea, Be sure to take plenty of water as there are limited options once you set off. The local villagers will already be up and working away. You walk through the village gates and start climbing and the next 4 plus hours will be spent heading up to the pass, so it is best not to set off too fast. As you start climbing you will notice the water channels created for irrigation and the local hydro-electric power station.
The best views of the Annapurna range are to be found on the other side of this pass. As you reach the jagged ridge line at the top of the Kang La you will have time to sit down and enjoy the spectacular view and take all the pictures you want. From here it will be downhill all the way to Ngawal. The trail is quite steep to start with, but it levels out as you make your way down. As you look back up to the pass it's hard to grasp the scale as there are no trees to help you judge distances. After about 3 hours you will reach Ngawal and your stop for tonight.
Overnight: Tea House
Day 20 - Trek to Manang, 3,540m/11,614ft - 3-4 hours.
It is only a half day walk today to Manang through the pine forests with views back up to the Kang La reminding you just how high you were yesterday. As you make your way back towards the main Annapurna circuit trail, there will be a few indications that you are reaching 'civilisation' again, with German bakeries and fresh coffee on offer on your walk towards Manang. As you approach the town you will notice various other side walks heading off from the main trail, but none of these are quite as stunning as Tilicho Lake, where you are heading in a few days.
The village of Manang is the largest on your trek and offers such luxuries as hot showers, the internet and a cinema (DVD player and a projector). Lots of trekkers take a rest day here, before making their way up to the Thorung la Pass. As you marvel at just how much oxygen there is down here at 3,500m/11,482ft, for most people here it will be the highest point of their walk so far and they may well be wheezing their way up through the village.
You should arrive in time for lunch leaving all afternoon to explore the town and visit the various cafes offering fresh coffee, apple pies and muffins.
Overnight: Tea House
Day 21 - Trek to Tilicho 'Phedi' Base Camp, 4,150m/13,616ft – 6-7 hours.
Leaving Manang for the next section of your epic journey you trek to Khangsar village, which is around a three hour walk away. As you leave Manang be sure to give the mani wheels a spin for good karma on your onward journey. Trekking along a wide trail, don't forget to look behind you as there are lovely views back down the valley towards Manang. Just before you reach Kangsar, the ancient gompa of Tasab is well worth a visit.
The trail is alive with the smell of fresh mint and large birds of prey soar majestically overhead. Once past Khangsar the trail is prone to landsides as the path contours round the side of the mountain. The views are expansive and epic, but it's best not to hang around too long for pictures!
Overnight: Tea House
Day 22 - Trek to Tilicho High Camp, 4,985m/16,355ft - 5-6 hours.
After breakfast at your tea house you will set off for high camp. This morning there are a couple of stream crossings; be careful first thing as the path can be icy and makes the crossings difficult. The trail zigzags upwards, continually climbing, but at a steady gradient. Every time you stop to catch your breath the beauty of the area amazes you. As you approach the top of the pass the tall upturned stones used to mark the path in winter make you think of how different this pass would be in heavy snow.
As you reach the top and make your way round to the viewpoint the first thing to strike you is how impossibly turquoise this glacial lake is, then the sheer scale surprises you. The left hand side of the lake is a mixture of glacier and the rock face of the Tilicho range. After some time relaxing with a cup of hot tea and taking pictures it will be time to head to your campsite for the night, which is about an hour's walk around the lake.
Tonight will be your first night of camping. The tents will be set up for you and dinner will be a delicious feast prepared by your camp chef. The campsite for tonight is next to a beautiful glacial stream and the sound of the babbling water will lull you to sleep.
Overnight: Camp
Day 23 - Trek to Yak Kharka, 4,100m/13,451ft, via the Mesokanto La, 5,120m/16,798ft - 6-7 hours.
After a lovely camp breakfast and some hot cups of tea it is time to start walking again, as you make your way to the last high pass of the trip, the Mesokanto La. There is a fair amount of up and down on today's walk and you actually reach a high point fairly early on in the day's walk at nearly 5,300m/17,388ft. From here it's downhill to a mixture of boulder and slate fields.
The path then starts climbing again and heads up to a ridge line with great views back to the lake, from exactly the other side of the lake that you were on only yesterday. From here it's onwards to the Mesokanto La and the rhino horn shaped rock that marks the pass. As you reach the pass you will be greeted by another stunning 360 degree panorama. The mountains in front of you are the Dhaulagiri range with the highest peak at 8,167m/26,794ft. From here it's a steep downhill path to tonight's campsite at Yak Kharka.
Overnight: Camp
Day 24 - Trek to Jomsom, 2,800m/9,186ft - 4-5 hours.
This is the last day of walking on the trek and it will be all downhill. After another delicious camp meal last night and breakfast this morning, it is time to make your way to Jomsom. The landscape changes from shrub-like bushes to sparse trees to desert-like features the further you head down the valley. Far off in the distance you will notice the runway at Jomson. You will get a sense of the scale of this area when you notice how tiny the planes look as they take off. There is still a fair amount of walking to do.
As you gradually make your way down and reach Jomsom, you will notice that compared to your remote nights of camping, this little town seems more like a bustling metropolis. For the first time in a good few days you will see vehicles with 4 wheels and you may get a swift reminder that you are no longer 'king of the road' with the honk of a lorry's horn. After a hot shower and a cold drink it's time for dinner and the opportunity to celebrate with your trekking crew, and to thank them for all their hard work.
Overnight: Tea House
Day 25 - Fly from Jomson to Pokhara. Afternoon flight to Kathmandu.
Today you will leave the Annapurnas behind and fly back to Kathmandu via Pokhara. On arrival in Kathmandu you will be met at the airport and transferred back to your hotel. The rest of the day is yours to relax and enjoy your last evening in Nepal before returning home.
Overnight: Hotel Shanker Or Similar, Kathmandu
Day 26 - Time at leisure. Late afternoon transfer to airport for overnight flight to London.
You have most of the day free to enjoy some final souvenir shopping or sightseeing, or simply to relax and enjoy the facilities at your hotel. Later in the afternoon there will be a group transfer to the airport for your overnight flight back to to London.
Overnight: In flight
Day 27 - Arrive London.
Map
Map Key
Airport
Point of interest
Mountain Peak
Day walk in this area
Flights
Internal Transfers
Trek
---
2024
| Dates | Availability | Land Only | Flight Inclusive from |
| --- | --- | --- | --- |
| Sat 21 Sep - Thu 17 Oct 2024 | Available | £4385 Book | £5700 Book |
Hold your place
Not quite ready to book? Why not call us on +44 (0) 1453 844400 to hold a no obligation place while you make up your mind?
---
Optional supplements
Single Room Supplement Hotels
£75
Single Tent Supplement
£175
No Surcharge Guarantee
No surcharges will be applied to your holiday after you book. Prices on this website are updated regularly. The Flight Inclusive holiday price, or Land Only holiday price, will be confirmed to you at the time you make your booking. There will be no surcharges after your booking has been confirmed.
Flight inclusive holidays
The 'flight inclusive' holiday prices shown on this website are based upon our preferred airlines and the best priced economy class fares we are able to secure at the time of publication.
We will be able to advise on fares with alternative airlines, upgrades to Business Class, and the options for flights from regional UK airports, please contact us for more details.
Booking your holiday
For the majority of our holidays, a deposit payment of £400.00 per person is required to secure your place(s), however a small number of holidays require a higher deposit - please refer to the holiday itinerary for more details. If the holiday departs within 60 days, a deposit of £1,000.00 per person is required.
Book now!
Book your small group holiday securely online – click the 'Book' button next to your chosen departure or visit our How to Book page
Complete and return a Booking Form available to download here.
Call us on +44 (0)1453 844400 and one of our travel specialists will talk you through the booking process.
What's included
English-speaking Sherpa leader
Economy class return air fares from the UK & UK departure tax (flight inclusive only)
Single, timed, group airport transfers for international flights on arrival and departure
All internal flights and hotel transfers
Good standard hotel accommodation in Kathmandu on twin share, bed and breakfast basis
All road transport by private vehicles
A good quality down jacket, 4 season sleeping bag and fleece liner (supplied in-country)
Tea house accommodation or full service camping arrangements on trek
Full porterage of baggage
Oxygen (to be administered by the trek guide in the rare case of a medical emergency)
A satellite phone will be carried by the guide in case of an emergency
All meals on trek including tea and coffee, and boiled drinking water
A free high-quality Mountain Kingdoms kit bag
Sherpa/porters properly insured and equipped
Park fees
Carbon offsetting with the Ecoan Tree Planting Project (for clients taking our flight inclusive option)
What's not included
Travel insurance
Visa fees
Lunch and evening meals in Kathmandu
Tips
---
---
---
Extend your holiday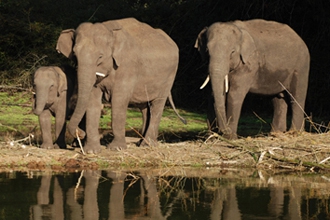 Jungle activities including an elephant experience, bird watching, rafting and nature walks
See wild elephant, rhinoceros, leopard, deer, wild boar and if you are lucky, the famous Royal Bengal Tiger
Stay at the delightful Tiger Tops Karnali Lodge situated on the edge of the park
After your adventurous time in the Himalaya why not add a relaxing Jungle Safari to your trip? The Royal Bardia National Park is situated in the west of Nepal. We use Tiger Tops Karnali Lodge, which is acknowledged to be the best lodge in the area. Bardia's remote geographic location and the fact that the lodge has only 12 rooms, lends a degree of exclusivity to the experience, in comparison to other more popular parks. From the lodge you will be able to participate in safaris and have the chance of seeing some of the country's wonderful wildlife, for instance, wild elephant, rhinoceros, leopard, deer, wild boar and if you are lucky, the famous Royal Bengal Tiger. There is also the possibility of visiting the villages of the Tharu tribal people that surround the lodge. With its abundant wildlife, relaxing lodge and first class service, our Bardia extension is an experience you will savour!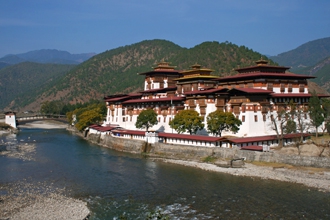 5-day cultural tour or 8-day gentle walking options available
See the main sights in Paro, Thimphu and Punakha
Bhutan is just a short flight from Kathmandu
Though only a short flight from Kathmandu, Bhutan offers a very different Himalayan experience to Nepal. Characterised by lush valleys, terraced hillsides and soaring peaks the landscape is endlessly picturesque, whilst the imposing dzongs (monastery/fortresses) and Swiss chalet style houses give each town or village a look that is distinctly Bhutanese. Here are just two options – if you would prefer something different please discuss with this office.
A taste of Bhutan - five-day cultural tour This five-day tour visits Bhutan's key sights and cultural centres including magnificent Taksang Monastery (Tiger's Nest), the beautiful riverside dzong at Punakha and the fascinating treasures housed in the National Museum at Paro. The tour will be led by a knowledgeable Bhutanese guide and accommodation is in comfortable hotels with all meals included.
A short walk in Bhutan - eight-day gentle walking and cultural tour This eight-day gentle walking trip offers the perfect introduction to some of the cultural highlights and scenic delights of Bhutan. You begin with sightseeing om Thimphu and a walk to Cheri Monastery, one of Bhutan's most historic temples before travelling over the Dochu La Pass to Punakha, the former winter capital. In Punakha you take a lovely valley walk and visit the beautiful riverside dzong. Driving back to Paro you take a pretty walk from the Dochu La through beautiful forest. You then drive up to the Chele La Pass and take the lovely walk to Kila Nunnery, before ending your trip with the walk up to Tiger's Nest Monastery, Bhutan's greatest cultural treasure and a fitting conclusion to a superb extension. You will stay in good quality, comfortable hotels throughout and all meals are included.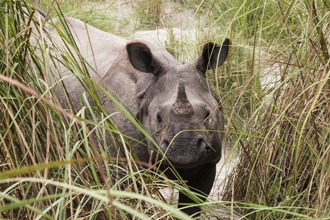 Activities include; bird watching, elephant washing, canoe ride, elephant experience, landrover safari and jungle walks
Choice of accommodation from budget to luxury
Suitable to add to any holiday flying in/out of Kathmandu
Why not extend your adventure in Nepal by visiting Nepal's jungle region for a complete contrast to the high mountains and the Kathmandu Valley. Chitwan is home to a rich and varied wildlife. Here are found wild elephant, rhinos, leopard, sambar, chital (spotted) deer, wild boar and arguably the most magnificent of cats, the Royal Bengal Tiger. You may even see sloth bear, gaur (wild cattle) and crocodiles. Chitwan is also wonderful for birdlife especially in the spring, when the jungle rings day and night to the calls of several kinds of Asian cuckoo.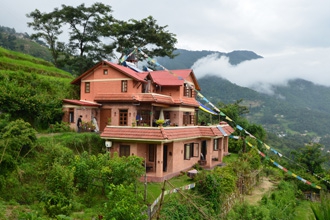 Escape the crowds and hustle and bustle of Kathmandu
Walks available from the cottage - explore the nearby countryside
Single and double rooms available, or exclusive hire of the entire cottage
Breakfast and dinner included, plus unlimited tea and coffee
While in Kathmandu, why not experience an exclusive, private, home away from home? Shivapuri Heights Cottage is a "home-stay-style" property that offers a great escape from the hustle and bustle of the City. It is located in 2 acres of land at an altitude of 6,000ft /1,830m on the edge of the protected Shivapuri Reserve, with beautiful views looking down into the Kathmandu Valley.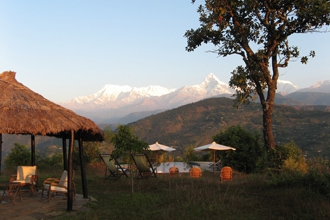 Fly from Kathmandu to Pokhara in the Annapurna range of Nepal
The lodge is an ideal base for you to relax in a rural mountain setting
Beautiful outdoor swimming pool reflecting view of the Annapurna range
Delicious Nepali dishes & continental specialities made from local fresh ingredients, home-grown herbs & garden salads
Why not extend your adventure in Nepal by visiting the beautiful Tiger Mountain Pokhara Lodge. Tiger Mountain Pokhara lodge is a lovely place, situated on a ridge half an hour outside Pokhara and enjoying the most stunning mountain views over the Annapurna range of mountains.
The lodge is an ideal base for you to relax in a rural mountain setting, away from the bustle of town. With a central lodge, bar and dining room, the comfortable rooms are arranged in clusters of cottages resembling a Nepali village. All have attached bathrooms, private verandas and Himalayan views. Daily menus feature a range of Nepali dishes as well as continental specialities made from local fresh ingredients and home-grown herbs and garden salads. You may enjoy lovely walks through the forests and villages of the lovely countryside surrounding the lodge, escorted by trained local guides. The beautiful swimming pool reflects the distant white peaks of the Annapurna range. The lodge also offers a range of Ayurvedic and shiatsu therapy and yoga and meditation sessions are also available (at additional cost). You may also venture further afield to visit Pokhara, Nepal's second city located on a lovely lake and also enjoying spectacular views.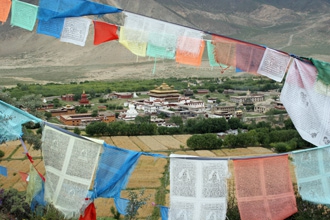 Visit some of Tibet's most important historical and cultural sites and monasteries of Tibetan Buddhism.
Offers a scenery completely different to that of Bhutan and Nepal.
Suitable to add to any holiday flying in/out of Kathmandu.
​A visit to Tibet offers an exciting extension to a visit to Nepal or Bhutan. Regular flights to Lhasa from Kathmandu make it possible to visit most of the major sights in and around Lhasa on an 8 day itinerary and a visit to Tibet will provide an exhilarating contrast to your trek or tour in Nepal or Bhutan. Tibet's high plateau offers totally different and starker scenery to that of the other Himalayan countries. Here you will see some of the most important historical and cultural sites and monasteries of Tibetan Buddhism – the Potala Palace and Samye, Ganden and Drepung Monasteries.
If taking this extension you will need to spend an extra day beforehand in Kathmandu while our agents there process your Tibet visa. They will need your passport for the day for this purpose. You need to let us know in good time if you wish to take this extension as we need to put this process in hand and send your details to the Chinese Embassy in Kathmandu well before your departure date.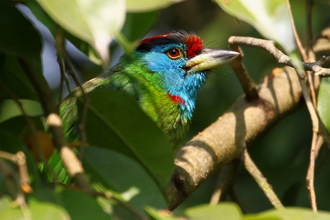 Koshi Tappu is home to over 500 species of birds
Look out for exciting wildlife like jungle cats, crocodiles and rare water buffalo
Explore the park by foot, raft and jeep
Stay in the pleasantly located Koshi Camp
Koshi Tappu Wildlife Reserve is one of the finest birdwatching and wildlife areas in all Asia. Located in south-east Nepal, the reserve covers 175 square kilometres with large expanses of open water created by the Koshi barrage, with marshes, lagoons, sandbanks and mudflats offering an outstanding wetland habitat. The reserve is home to over 500 species of birds, with the resident inhabitants being joined by large numbers of migratory species from Siberia and Tibet, which take up residence from November to February. The Koshi Tappu Wildlife Reserve provides one of the best places in Nepal to view migratory water fowl, waders and shore birds with many species seen here which are not recorded elsewhere in the region.
There is also much wildlife to be seen in Koshi Tappu including blue bull, golden jackal, Bengal fox, fishing cat, jungle cat, mongoose, civet cat, porcupine, Indian flying foxes and rare Gangetic dolphins as well as rare Marsh Mugger crocodiles. In addition, Koshi Tappu is the last habitat of the endangered Arna, a type of wild water buffalo.
During your visit you will explore the park with bird and animal spotting from a raft trip on the Koshi River, birdwatching walks, jungle walks and jeep trips. You will also have the opportunity to visit a family in one of the very interesting nearby local villages for a taste of rural Nepalese life. The Koshi Camp offers simple but comfortable accommodation and an expert staff of naturalists and birdwatchers to give you a comprehensive introduction to this wonderful area.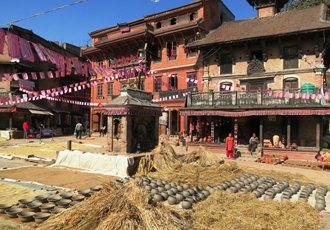 Observe traditional crafts such as pottery, woodcarving and thangka painting
Choose from a selection of full and half day guided tours
Travel in a private car with a driver and an English-speaking guide
The Kathmandu Valley has a long and rich history and a vibrant culture and there is much that is worthwhile to see there - crowded bazaars, ancient temples, Buddhist stupas, crumbling shrines and picturesque palaces. The Malla kings who ruled in the valley created three major cities in the valley, Kathmandu, Bhaktapur and Patan and each of these cities has buildings that are showpieces for the art and architecture of local Newari craftsmen. We offer a selection of half day trips and full day trips to these sites the valley.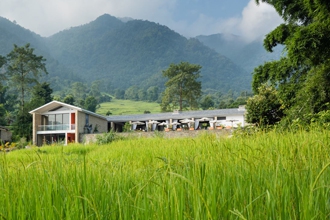 Spend two or more tranquil nights in rural Pokhara
Sample the organic and locally sourced Nepali cuisine
Idyllic setting with mountain views
The resorts offers a swimming pool, spa and gym
Eco-friendly
We are delighted to offer this new luxury stay in a rural location just outside Pokhara. We are sure this is set to become a favourite with our clients.
The Pavilions Himalayas is a luxury resort set in beautiful farmland amid paddy fields in a tranquil rural location approximately 5km outside Pokhara. There are dramatic mountain views from the resort as well as Pokhara's famous Peace Pagoda seen on top of a nearby ridge.
The beautiful rooms are set in individual villas and are large and comfortable, all having whirlpool baths, separate rain shower cubicles, enormous beds and offering wonderful hand made soaps and shampoos made with herbs from their garden.
All facilities at the resort are top of the range and include a lovely swimming pool and spa. From the resort it is just a short drive to explore Pokhara or there are pleasant walks from the hotel or you can just chill at the resort, have a massage and enjoy the facilities.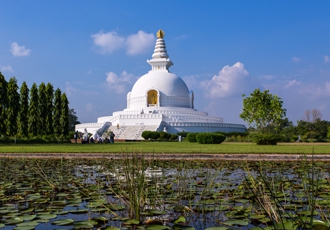 Visit one of Nepal's most sacred Buddhist pilgrimage sites
Stay in a comfortable hotel next to Lumbini
Spend a full day touring the site with an expert local guide
Flights and transfers to/from Kathmandu included
Enjoy a three day extension to the birthplace of Buddha, one of the most important Buddhist pilgrimage sites in the world. Take the short flight from Kathmandu, and spend two nights in a comfortable 3* hotel, just steps from the Lumbini temple complex, with a full day to explore the fascinating UNESCO World Heritage Site in the company of an expert local guide.