What's included
A qualified English-speaking local guide
Experienced ranger guide in Kibale, Rwenzori Mountains, Bwindi and Lake Mburo
14 nights in good standard accommodation on a twin share basis
All tracking permits, excursions and entry fees as described in the itinerary
12 dinners, 13 lunches and 14 breakfasts.
Safe drinking water
All road transport as described in the itinerary
Carbon offset flights (flight inclusive only)
Economy class return air fares from the UK (flight inclusive option)
Single, timed, group airport transfers for international flights on arrival and departure
The chance to attend one of our pre-trip meets in the Cotswolds
A free Mountain Kingdoms Water-to-Go bottle
and much more...
Call our
friendly team
Gentle
Suitable for people who enjoy easy-paced walks or exploring the countryside on foot.
Find out more...
Grade: Gentle ? Gentle
Duration: 17 days from the UK
Walks on: Safari walks - 8 days
Flight inclusive from £4,895,
Land only from £4,045
Book now or call 01453 844400
A wildlife adventure like no other - tracking great apes in their natural environment.
Highlights
A real once-in-a-lifetime experience!
Track gorillas and chimpanzees in their natural habitat
Take a boat trip on the mighty River Nile
See the spectacular Murchison Falls
Experience incredible wildlife safaris in Uganda's best national parks
Tick off the "Big Five"
From the moment you step into the dense growth of the Bwindi Impenetrable Forest, you are aware of the wild and unfamiliar sights and sounds that assault your senses. As you venture deeper into the primeval forest you suddenly hear loud thumping, screeching and branches snapping in the trees ahead… you're getting close! Peering nervously through the undergrowth you finally get your first incredible glimpse of a great silverback gorilla and its family, right there before you. A nervous, yet excited, "wow" comes from under one's breath. You are utterly transfixed by this rare and privileged sight; one that you'll treasure forever.
With its varied landscape of vast lakes, tropical rainforest, high mountains, manicured plantations and swathes of bushland, Uganda seems to encapsulate the African continent in one country. And, with its new found peace and stability, the "Pearl of Africa" is once again beginning to shine. Shining most brightly are Uganda's national parks protecting the very best of the natural beauty and diverse wildlife, making Uganda the perfect destination for a walking safari.
With so few remaining in the world, tracking mountain gorillas as well as chimpanzees in their natural habitat is a once-in-a-lifetime experience like no other. Our Gorilla & Wildlife Walking Safari has been designed to offer you an exploration of Uganda's best national parks including Murchison Falls and Queen Elizabeth, with wildlife-rich experiences where you can tick off the ultimate "Big Five" game – lions, elephants, rhinoceros, buffalo and leopard – as they roam the African plains. You also take walks in the Bwindi and Kibale rainforests and a scenic walk in Rwenzori Mountains National Park – the highest mountain range in Africa. But it is undoubtedly your two days spent tracking and observing the mountain gorillas and chimpanzees that will be the highlight of your trip.
During your time in Uganda you stay in good standard accommodation offering comfort, friendly service, and beautiful settings where you can feel at one with the natural surroundings of this captivating African land.
---
At a glance
Grade: Gentle
Gentle
Duration: 17 days from the UK
Walks on: Safari walks - 8 days
Guaranteed to run for a minimum of 4 clients
Maximum group size: 12
Land only joining city: Entebbe
Accommodation types: Hotels, Lodges, Forest Camp
Meal arrangements: All meals included except dinner on day 2 in Entebbe. This equates to 12 dinners, 13 lunches and 14 breakfasts.
Itinerary overview
| Day | Activity |
| --- | --- |
| 1-2 | (Please note that accommodation may vary by departure). Fly to Entebbe, Uganda. |
| 3 | Visit Ziwa Rhino Sanctuary. Drive to Murchison Falls NP. |
| 4 | Game drive in Murchison Falls NP. Afternoon boat trip on the River Nile to Murchison Falls. |
| 5-6 | Drive to Kibale NP. Chimpanzee tracking in Kibale Forest. Walk in Bigodi Wetland Sanctuary. |
| 7-8 | Walking in the Kibale Forest and Rwenzori Mountains NP. Drive to Queen Elizabeth NP. |
| 9 | Safari drive in Queen Elizabeth NP, followed by a boat trip on the Kazinga Channel. |
| 10-11 | Game drive to see tree climbing lions in the Ishasha Sector. Continue to Bwindi NP. Walk Ivy River Trail. |
| 12 | Gorilla tracking in Bwindi Impenetrable Forest. |
| 13 | Walk to Kisoro town. Drive to Lake Bunyonyi. |
| 14 | Drive to Lake Mburo National Park. Guided cyle ride. |
| 15-16 | Safari walk in Lake Mburo NP. Drive to Entebbe. Transfer to airport for flight home. |
| 17 | Arrive London. |
Leader: Local leader, Uganda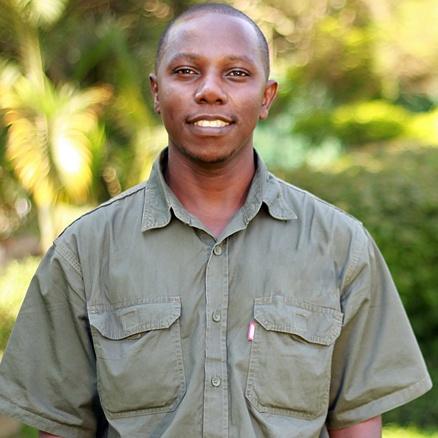 In Uganda you will be led by a local English-speaking guide with guiding qualifications and valuable experience. They will share with you their passion and knowledge to ensure you have an enjoyable holiday in Uganda. These guides have extensive knowledge of the wildlife and are excellent are spotting these!
---
Gorilla & Wildlife Walking Safari, Uganda Itinerary
Day 1 - Fly London to Entebbe

Depart London on your overnight flight to Entebbe.

Overnight: In flight

Day 2 - Arrive in Entebbe. Group transfer to hotel.

On arrival at Entebbe International Airport in Uganda you will be greeted by your local guide and transferred to your hotel just a short 10 minute drive from the airport.

Overnight: The Boma Hotel Or Best Western Premier Garden Hotel, Entebbe

Day 3 - Visit Ziwa Rhino Sanctuary. Drive to Murchison Falls National Park (6-7 hours).

This morning you will begin your journey to Murchison Falls National Park taking you past the hustle and bustle of Kampala, Uganda's capital city. On route you'll make a visit to Ziwa Rhino Sanctuary for your first wildlife experience of the holiday. At the sanctuary you'll have a short walking safari to see up-close the endangered Southern white rhinos that are being re-introduced to Uganda. To date, the project has proudly provided a safe haven for 15 Southern white rhinos and continues to grow its numbers as the rhinos reproduce.

Afterwards you continue on to Murchison Falls National Park. At 1,480 square miles this is Uganda's largest national park and is abundant in wildlife and diverse landscapes. You will arrive at your accommodation for the night, located on the banks of the River Nile where you are likely to spot pods of hippos.

Overnight: Kabalega Wilderness Lodge, Murchison Falls

Day 4 - Game drive in Murchison Falls National Park and River Nile boat trip with walk to the top of the Murchison Falls.

After an early breakfast you will take a game drive in the park. The drive takes you across the savannah, through the Borassus palm forest and across grassland down to Lake Albert where the Albert Nile heads north. You'll be in search of wildlife roaming the African savannah including lions, leopards, hyenas, elephants and buffalo. Be sure to also look overhead, for Murchison Falls National Park has an impressive diversity of birdlife, including the Black-chested snake eagle, Secretary bird, colourful Swallow tailed bee-eater and the prehistoric-looking Shoebill stork.

You will spend the afternoon on the Nile where the crocodiles and hippos reside, taking a boat trip along the river to see the powerful Murchison Falls. The waterfall is between Lake Kyoga and Lake Albert and is where the mighty River Nile forces itself through a narrow seven meter gorge and tumbles down over 40 meters with immense power. At the waterfall you will have the option to walk to the top to get the best view of the falls from above. The walk to the top takes about 45 minutes to an hour, but is worth it for the close-up view which you can't quite get from the boat.

Overnight: Murchison River Lodge Or Kabalega Wilderness Lodge

Day 5 - Drive to Kibale National Park. Lunch en route at Fort Portal.

This morning you will leave Murchison Falls National Park for the long drive to Kibale National Park ready for your chimpanzee experience tomorrow. The drive will take about 8 hours and en route you'll drive past many scenic tea plantations and have a break in Fort Portal for lunch. You should arrive at your lodge in the afternoon where you can refresh yourself and perhaps relax on the private veranda and try spotting the wildlife in the surrounding forest.

The 296 square mile tropical rainforest at Kibale boasts the highest concentration of primates anywhere in Africa and is home to 13 different species including the rare red colobus and L'Hoest's monkeys. It is also one of the best places in the world to track chimpanzees in the wild.

Overnight: Kibale Forest Camp Or Isunga Lodge, Kibale National Park

Day 6 - Chimpanzee trekking in Kibale Forest National Park. Bigodi Swamp walk. Optional visit to local village and school.

Today you will visit Kibale Forest and spend time tracking and observing chimpanzees, its most famous inhabitants. Kibale has one of the highest diversities and densities of primates in all of Africa totaling 13 species including the black and white colobus, blue monkey, grey-cheeked mangabey, red tailed monkey, bush babies and pottos. As you are walking through the forest, your guide will identify any primates you see as well as other birds and wildlife that inhabit the forest.

Once your guides have located a family of chimpanzees you will be able to observe their behavior as they swing through the trees, play on the ground, feed and interact with each other. It's a truly fascinating experience that is over all too quickly.

In the afternoon you have the opportunity to go on a guided walk through the swamps, of Bigodi Wetland Sanctuary which is adjacent to Kibale National Park. The wetland provides a home for many different primates and other mammals and is considered a birdwatcher's paradise.

After the walk you can go on a community walk in nearby village or visit a school in where you can talk to the students and teachers and participate in the lessons. Alternatively you can return to your lodge and simply relax.


Overnight: Kibale Forest Camp Or Isunga Lodge, Kibale National Park

Day 7 - Walking in Kibale Forest - 3-4 hours.

Today you'll enjoy a walk in the Kibale Forest National Park. You follow a pleasant trail that takes you past crater lakes, rural villages and manicured tea plantations. Tea has become one of Uganda's most important crops and the country is now the third biggest producer of tea in Africa. Uganda's climate provides plentiful sunshine and rainfall, along with rich soil conditions and a relatively high altitude; in fact everything required to grow large quantities of good quality tea. As you walk and travel through the countryside you will no doubt see much evidence of this thriving industry.

Your picturesque path takes you uphill to reach an observation point aptly called 'the top of the world'. From here your exertions are rewarded with fantastic, far-reaching views over rainforest and crater lakes, as far as the distant peaks of the Rwenzori Mountains.

Overnight: Kluge's Guest Farm, Fort Portal

Day 8 - Walking in Rwenzori Mountains National Park - 5-6 hours. Drive to Queen Elizabeth National Park.

Today you will be walking in Rwenzori Mountains National Park, a UNESCO World Heritage Site designated for both its bio-diversity and natural beauty. Located in southwestern Uganda, the Rwenzori Mountain range straddles the equator on the Uganda-Congo border and is the highest in all Africa with three peaks over 5,000m. It is home to Africa's third highest peak after Kilimanjaro and Mount Kenya and provides a haven for numerous species of birds, wildlife and flora, including several that are unique to this region.

The trail takes you to a maximum altitude of 2,300m and partly follows the River Mubuku from which you'll get lovely views of Baker and Portal and, on a clear day, the snow-capped Margherita Peak, 5,109 metres, a truly spectacular sight of the Rwenzori Range's highest summit. Along the trail you may come across lots of wildlife, in particular chameleons, vervet monkeys and a variety of birds.

After your walk in Rwenzori Mountains National Park you will drive south to Queen Elizabeth National Park.

Overnight: Kasenyi Safari Camp, Queen Elizabeth National Park

Day 9 - Full day at Queen Elizabeth National Park.

Queen Elizabeth National Park is home to over 100 mammal species, making it an incredible destination for a safari. Lions, hippos, hyena, elephants and leopards are just some of the mammals you are likely to spot, alongside primates such as chimpanzees and Colobus monkeys. The park boasts one of the highest biodiversity ratings of any game park from the open savannah to rainforest, dense papyrus swamps and crater lakes to the vastness of Lake Edward.

You start the day with an early morning game drive through the park, followed by a cultural visit to one of the fishing villages around the park to get an understanding of the local way of life.

In the afternoon you will take a leisurely boat trip on the Kazinga Channel. The natural channel links Lake Edward and Lake George in Queen Elizabeth National Park, and attracts plenty of birdlife, crocodiles, elephants and pods of hippopotamus - all of which you will be able to admire as you journey up the channel.

Overnight: Kasenyi Safari Camp, Queen Elizabeth National Park

Day 10 - Game drive in Ishasha. Continue to Bwindi Impenetrable Forest National Park.

After breakfast you will depart for Bwindi Impenetrable National Park. On the way you will have a game drive in the Ishasha sector of Queen Elizabeth National Park which is renowned for its resident tree climbing lions. This is one of only two places in the world you can see these lions and you will notice that the males of the pride are easily identified by their black manes. Along with the lions you may also see large herds of buffalo, antelope and hippo.

From Ishasha you continue to Bwindi the home of the Mountain Gorillas. Of Uganda's forested parks, Bwindi Impenetrable National Park is of course best known for gorilla tracking, but it also provides refuge to elephants, chimpanzees, monkeys and various small antelopes, as well as 23 bird species restricted to the Albertine.


Overnight: Engagi Lodge Or Similar, Buhoma

Day 11 - Walking in the Bwindi Impenetrable Forest - 5-6 hours.

Today you will walk through Bwindi Impenetrable Forest to Nkuringo via the Ivy River Trail. Bwindi is a primeval forest covering approximately 128 square miles. The forest is within a mountainous region so the trail will involve some steep inclines with altitudes from 1,460m to 2,160m, but during this wonderful rainforest experience you will be able to spot a large variety of wildlife. Colobus monkeys, Bush duikers, 220 species of colourful butterflies and 350 bird species are all abundant in this ancient, 25,000 year old forest.

At the end of the day you will transfer to your accommodation for the night in Bwindi.

Overnight: Lake Mutanda Resort, Bwindi

Day 12 - Gorilla tracking in Bwindi Impenetrable Forest.

It's an early start this morning as you venture into the Bwindi Impenetrable Forest in search of the mighty Mountain Gorilla. Sadly the mountain gorilla is considered critically endangered and only exist in small numbers, so this really is a once-in-a-lifetime opportunity. Getting up close to a family of gorillas and observing their daily life is an experience like no other and one that will not be forgotten. Mountain gorillas depend on strong social bonds and usually live in groups of up to 20. Bwindi forest has many groups, only some of which have been habituated - a process that takes up to 5 years to get the groups used to human presence.

You will be assisted by an experienced ranger who will guide you through the forest and share their knowledge about the forest's flora, fauna and the habits of the gorillas. Your day is entirely dependent on the location and movements of the gorillas, usually tracking them can take anything from one and seven hours. As the gorillas will be leading the way you will not be following marked paths and some of the terrain could be challenging, but this exclusive wildlife experience will make all your exertions worthwhile.

Overnight: Lake Mutanda Resort, Bwindi

Day 13 - Walk to Kisoro - 3 hours. Drive to Lake Bunyonyi.

In the morning you'll walk from your lodge in Bwindi to the town of Kisoro. From here, you'll make your way to one of Uganda's most beautiful lakes - Lake Bunyonyi. The drive is approximately two to three hours, but the stunning views en route of the terraced mountains make this a pleasant journey through what is known as the "Switzerland of Uganda". On arrival you'll be able to take in the natural beauty of this area from the comfort of your hotel - the lake, the hills, and the prolific birdlife.

Overnight: Birdnest @ Bunyonyi Resort, Bunyonyi

Day 14 - Drive to Lake Mburo National Park. Guided cycle ride.

Today you drive to Lake Mburo National Park. The park forms a mosaic-like habitat with rocks, dry slopes, open and wooded savannas, forests, and swamp. This diversity of habitats is reflected in the diversity of bird life with 313 bird species recorded in the park, including flame head Barbet, Long-tailed Zitting Cisticola (Tabora), African Bins Rail, Collared Barbet and binding Bush singer among others.

Once you have settled in to your accommodation, you will head out for a guided cycle ride in the park.

Overnight: Rwakobo Rock Lodge, Lake Mburo National Park

Day 15 - Nature walk and game drive in Lake Mburo National Park. Drive to Entebbe.

Before driving to Entebbe you will have a final chance to experience the superb wildlife and scenery of Uganda as you take an early morning nature walk and game drive.

After your time at Lake Mburo you will make your way to Entebbe - a journey of 5-6 hours. On route your driver will take a rest stop at an intersection in Kampala - the earth's equator! And, after some lunch and a chance to stand with each foot on different sides of the world, you will continue to your hotel in Entebbe.


Overnight: The Boma Hotel Or Best Western Premier Garden Hotel, Entebbe

Day 16 - Group transfer to the airport.

After breakfast you will transfer to the airport for your overnight flight back to London.

Overnight: Departure Day

Day 17 - Fly Entebbe to London

Today you will arrive in the UK.
Map
Map Key
Airport
Point of interest
Mountain Peak
Day walk in this area
Flights
Internal Transfers
Trek
---
2021
| Dates | Availability | Land Only | Flight Inclusive from |
| --- | --- | --- | --- |
| Sat 30 Jan - Mon 15 Feb 2021 | Restricted | Contact us | Contact us |
| Sat 31 Jul - Mon 16 Aug 2021 | Available | £4045 Book | £4895 Book |
2022
| Dates | Availability | Land Only | Flight Inclusive from |
| --- | --- | --- | --- |
| Sat 29 Jan - Mon 14 Feb 2022 | Available | Contact us | Contact us |
Hold your place
Not quite ready to book? Why not call us on 0044 (0)1453 844400 to hold a no obligation place while you make up your mind?
Optional supplements
Single Room Supplement
From £530
Insurance
No Surcharge Guarantee
No surcharges will be applied to your holiday after you book. Prices on this website are updated regularly. The Flight Inclusive holiday price, or Land Only holiday price, will be confirmed to you at the time you make your booking. There will be no surcharges after your booking has been confirmed.
Flight inclusive holidays
The 'flight inclusive' holiday prices shown on this website are based upon our preferred airlines and the best priced economy class fares we are able to secure at the time of publication.
We will be able to advise on fares with alternative airlines, upgrades to Business Class, and the options for flights from regional UK airports, please contact us for more details.
Booking your holiday
For the majority of our holidays, a deposit payment of £100.00 per person is required to secure your place(s), however a small number of holidays require a higher deposit - please refer to the holiday itinerary for more details. If the holiday departs within 60 days, a minimum deposit of £750.00 per person is required.
Book now!
Book your small group holiday securely online – click the 'Book' button next to your chosen departure or visit our How to Book page
Complete and return a Booking Form available to download here.
Call us on 01453 844400 and one of our travel specialists will talk you through the booking process.
Loyalty discount
Find out more
What's included
A qualified English-speaking local guide
Experienced ranger guide in Kibale, Rwenzori Mountains, Bwindi and Lake Mburo
14 nights in good standard accommodation on a twin share basis
All tracking permits, excursions and entry fees as described in the itinerary
12 dinners, 13 lunches and 14 breakfasts.
Safe drinking water
All road transport as described in the itinerary
Carbon offset flights (flight inclusive only)
Economy class return air fares from the UK (flight inclusive option)
Single, timed, group airport transfers for international flights on arrival and departure
The chance to attend one of our pre-trip meets in the Cotswolds
A free Mountain Kingdoms Water-to-Go bottle
What's not included
Travel insurance
Visa fees
Tips
Optional sightseeing/activities
Locally paid bar bills and laundry
Evening meals in Entebbe
---
---
Review your holiday
Reviews
Read holiday reviews by Mountain Kingdoms travellers.
Overall score: 5.0 (Based on 5 reviews)
Gorilla & Wildlife Walking Safari, Uganda
Wildlife sightings of a life time 18/02/2020
Uganda was so much more than expected. A beautiful country with a greater than expected range of environments, from mountains to lakes and from tea plantations to pineapple farms. This trip combines the classic African savannah and its wildlife with mountain and water wildlife experiences culminating in an amazing day in the jungle with the mountain gorillas. If you love Africa you will not be disappointed by the opportunities to meet the local people, experience their lives and look in wonder on the Big 5, the great apes and outstanding birdlife
Simon and Diane Yates, Cheshire
Gorilla & Wildlife Walking Safari, Uganda
We had a great time! 28/02/2018
The trip overall was most enjoyable and Uganda is a destination that pleased beyond expectation.
Mr D Day, Greater Manchester
Gorilla & Wildlife Walking Safari, Uganda
An excellent holiday, the best I've had for a long while! 28/02/2018
The itinerary was excellent. We saw and did so much in the 2 weeks - birds, animals, varied and amazing scenery, plus the highlight was sitting about 2 metres from a gorilla. Most days was packed with activity, which I really enjoyed as I want to see/do as much as possible when I travel.
Mr P Sycamore, Essex
Gorilla & Wildlife Walking Safari, Uganda
Gorillas, game, grand scenery, it doesn't get better than this. 20/02/2018
A wonderful holiday which showcased the diversity of wildlife, birds, landscape and flora that Uganda has to offer. Savannah, rainforest, mountain, lake, all in a country the size of the UK. Almost every day had a highlight, Murchison Falls, the crater lakes, 4 out of the big 5, spectacular scenery and then there were gorillas. My personal favourites were seeing a leopard close up, Murchison Falls, L Mutanda with the Virunga volcanoes as a back drop and being up close and personal with a Silverback gorilla. If anything, this holiday was several holidays in one.
Lena, Cumbria
Gorilla & Wildlife Walking Safari, Uganda
Uganda is the trip of a lifetime! 22/12/2016
Wow, what a trip! Seeing the chimps and gorillas in their natural environment really was a once-in-a-lifetime experience. With so few gorillas in the wild it was a very special experience, one I'll treasure for a long time. Uganda itself is a very beautiful country and has lots of wildlife to be seen, including the big five and countless colourful birds.
Mr P, Gloucestershire
---
Extend your holiday
There are many ways you can extend your holiday with Mountain Kingdoms: book extra hotel nights, relax at a beautiful beach resort, take a warm-up trek, arrange a personal sightseeing tour or enjoy specialist activities such as rafting, birdwatching or a safari.
We're happy to suggest ideas, provide quotes and make all the arrangements. We can also assist with flight and hotel upgrades. Just call us on +44 (0)1453 844400 or email info@mountainkingdoms.com and we will be pleased to help.