What's included
An English-speaking Moroccan leader
Single, timed group airport transfer on arrival and departure
Comfortable riad/hotel accommodation in Marrakesh (B&B) and Ouarzazate (full board) on twin share basis
All camping facilities and all meals on trek
Camp staff to carry out all camp work
All road transport by private vehicles
Costs of all porterage
Sightseeing where specified
A free high-quality Mountain Kingdoms kit bag
Carbon offsetting with the Ecoan Tree Planting Project (for clients taking our flight inclusive option)
The option of joining one of our four pre-trip meets in the Cotswolds.
and much more...
Call our
friendly team
Winter Walk in the Jebel Sahro
Walking & Trekking
Grade: Moderate ? Moderate
Duration: 9 days from the UK
On trek: 4 days
Flight inclusive from £940,
Land only from £745
Book now or call 01453 844400
What better way to enjoy some winter sun than amid stunning mountain scenery.
Highlights
A traverse of the Jebel Sahro in the company of an experienced Berber guide
The best route giving excellent acclimatisation and spectacular scenery
First rate camping with all meals on trek included
Comfortable riad accommodation before and after trek
Visit the historic kasbah of Aït Benhaddou and explore exotic Marrakesh
The Jebel Sahro range in Morocco lies between the High Atlas Mountains and the Sahara. This location, combined with wonderful scenery and good trails, makes the area excellent for winter walking. Barely 3½ hours from the UK and here is a landscape more reminiscent of the Wild West than North Africa. This trek traverses the Jebel Sahro from south to north and over five days you will trek through spectacular gorges, under towering cliffs and beneath huge buttresses of red rock, variously called such names as 'the camel' and 'the elephant'. You will see temporary nomad encampments with their bleating sheep and visit small villages, where you encounter friendly villagers and drink mint tea.
To begin with you fly into exotic Marrakesh to overnight. Then, the next day, you travel east and south crossing the Tizi n' Tichka Pass through the Atlas Mountains and drop, almost to the fringes of the Sahara, to begin your trek. You'll trek with a local Berber guide, a cook and a crew of muleteers, with mules to carry the camp equipment and your kit bags. Your route takes you through several small Berber villages and settlements, so there are opportunities to meet the local people and gain some insight into the way of life and the culture of this most friendly and welcoming of North African countries. Typically, you can expect to be trekking for 5-6 hours each day but there will also be time to rest and relax. Trails are usually rough and stony underfoot and there are occasional steep ascents and descents, but nothing too taxing for someone who is moderately fit.
After your trek you will return to Marrakesh via Ouarzazate with time on the way to visit the renowned Kasbah of historic Aït Benhaddou. You will also have a day at the end to enjoy some sightseeing and relaxation in lively Marrakesh before flying home.
Following a research trip made by our MD, Steve Berry, we have reversed the route, trekking now from Hanedour to Tgassar for maximum acclimatisation and the best possible experience.
---
At a glance
Grade: Moderate
Moderate
Duration: 9 days from the UK
On trek: 4 days
Max. Altitude: 2,525m/8,284ft, Tasgdlt Pass, Day 5
Guaranteed to run for a minimum of 4 clients
Maximum group size: 12
Land only joining city: Marrakesh
Accommodation types: Hotels (riads), Camping
Meal arrangements: Bed and Breakfast in Marrakesh. All meals elsewhere.
Itinerary overview
| Day | Activity |
| --- | --- |
| 1 | Arrive Marrakesh, transfer to hotel. |
| 2 | Drive over the Atlas Mountains to Ouarzazate and on to Hanedour. |
| 3 | Trek via Tiza Taggourt to Bab n Ali. |
| 4 | Trek through the Aforar Gorges. |
| 5 | Cross the Tasgdlt Pass to Imi n Ourag. |
| 6 | End trek at Taghssa. Drive to Ouarzazate along the Route des Kasbahs. |
| 7 | Visit Kasbah at Aït Benhaddou and drive to Marrakesh. |
| 8-9 | Sightseeing and time at leisure in Marrakesh. Fly to London. |
Leader: Local leader, Morocco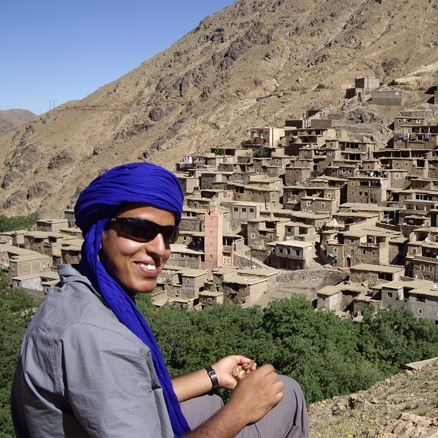 The trip will be led by a qualified Berber guide who is ideally placed to give you an insight into and information about their country, especially as much of this tour runs through the Berber, or Tachelhit speaking parts of Morocco. The Moroccan government closely controls the appointment of both mountain and town guides. Your guide will have completed a year of training at the Centre for Mountain Guides in Tabant in the Central High Atlas. During their training, guides complete courses in First aid, Geography, History and the Natural science of Morocco as well as testing their fitness.
Our Moroccan leaders are selected on the basis of their experience, levels of spoken English and helpfulness. Like the Berber culture from which they come they are all very welcoming and have a love of showing you their country.
---
Winter Walk in the Jebel Sahro Itinerary
Day 1 - Fly London to Marrakesh.

Marrakesh airport is only 7km from the old city centre and it's therefore just a short transfer to your overnight hotel.

Overnight: Riad Palais De Princesses Or Riad Challa Or Similar, Marrakesh

Day 2 - Drive over the Atlas mountains to Ouarazazate. Drive through the valley of the Draa to Nkob and on to Hanedour - 9 hours. Camp at 1,136m/3727ft.

After breakfast at your hotel you will board your vehicle and head east out of town across the plain of Marrakesh with its many olive trees, and then turn south and start the climb up into the Atlas Mountains. The road begins a steep and twisting ascent to reach the Tizi n' Tichka pass at 2,260m/7,415ft, approximately 2 hour's drive from Marrakesh.

The mountains on the northern side are surprisingly green and you will notice a difference as soon as you cross the pass to start the descent towards the Sahara Desert. A further couple of hours drive brings you to the town of Ouarzazate, centre of the burgeoning Moroccan film industry. Films such as Lawrence of Arabia, The Man Who Would Be King, Cleopatra, Asterix & Obelix, Kundun and Gladiator were all shot here and you pass several studios on your way through town. If you need any last minute snacks to take on trek with you ask your leader to stop off at the supermarket in the centre of town. After Ouarzazate the route will continue down the Valley of the Draa to Nkob and onwards, on a dirt track, to Hanedour. Here you will meet your trekking team and camp nearby.

Overnight: Camp

Day 3 - Trek via the plateau of Tizi Taggourt, and Tadout n Tablah to Bab n Ali, 1,631m/5,350ft - 6-8 hours.

After a great breakfast of cake, porridge, bread, coffee and mint tea, start out for a great day's trekking! From camp, contour off to the right past a school and the path leads you past low cliffs and occasional houses and farms with almond blossom. There are lots of palm trees, swifts and small flycatchers along with the occasional moped. As you proceed the cliffs get bigger and the houses more remote. You follow a dry river bed for miles and miles past dry bamboo, small fields and some donkeys. You come to a small village of a few houses called Saf Saf and beyond here there is a rather magnificent Kashbah. Beyond here is a huge bend in the river which turns abruptly to the left. This brings you out into more open country with hamlets and surrounded by messas and fine cliffs. You will probably have a picnic lunch here before the climb of the day.

To this point there has hardly been any height gain but now you turn right and follow a path upwards at a slightly steeper angle. You have now climbed out of the lower lands where there were farmsteads, palms and almond trees and up into high, unforgiving country whose heights are crowned with strange vertical towers and eroded pinnacles. Some of these are like 'plugs' - vertical-sided islands of rock whose summits look completely inaccessible. They are incredible, impressive formations. You now head up to a very large one that sits astride the horizon. The closer you get, the more impressive it becomes. Rounding the corner of this Leviathan rock, the structure becomes even more awesome. Giant rounded towers lean on its flanks, weird colossal cones of rock sprout at its base, chimneys and cracks beckon the climber to try his luck. You now walk dumbstruck to find more cliffs of even greater proportions ahead of you. You cross a shoulder which brings you to a circque of these cliffs. Over millions of years they have eroded into incredible pinnacles, cylindrical towers, and tottering turrets. There are a few houses below but this is a good place to camp and if you are lucky to have a clear night, the stars give a show worthy of this place.


Overnight: Camp

Day 4 - Trek through the Aforar Gorges to Igli Village, 1,676m/5,499ft - 7-8 hours.

Another fantastic day! You descend a little from your wild camp past a couple of rough shelters and after half an hour cross a 'pass'. Great views back to last night's campsite. You now head on and turning right, cross over a shoulder and having done so look back to see five pointed towers like a set of rotten teeth to your left. You now drop down and orbit two lonely towers of stone sitting on messas. These are like Monument Valley miniatures. Passing the second, larger monolith you walk round and past it to come to a water tank set into the ground next to four or five palm trees, and just above a rough road, some three hours from camp. Just down this track are a couple of houses and beyond this you turn left to enter a magnificent gorge. This has a rushing stream and some enticing pools and requires some easy scrambling to get through the gorge. It is narrow with vertical cliffs on both sides and takes about an hour to pass through. At the end of the gorge, it widens out and another rough track connects scattered houses above the floor of a cultivated valley. There is a patchwork of simple fields, occasional trees and scrub, and a palm tree or two.

The path now breaks away from the main valley and climbs approximately 1,000ft, some of it on zigzags, back in towards the mountains. There are great expansive views to the east of mountains and arid country. Then ahead there are big mountainsides and the last 'pass'. Beyond the top of the zigzags you look down to a house below with a walled courtyard and a few fields to the left. Beyond this there are two gigantic castles of rock guarding the horizon.


Overnight: Camp

Day 5 - Trek to the Imi n Ourag, 2,015m/6,611ft - 6 hours.

From this camp it takes an hour steeply on zigzags to just below the castle rock that towers above camp. As you climb up you can see to the left a lone tower of rock that resembles an elephant. You also pass some enormous boulders and strange formations like conglomerate crystal balls. The path now rises at an easier angle following the magnificent flanks of this castle rock. You will not be able to resist stopping every few minutes to admire the cliffs. Again you climb to a false pass but after that it is easier beyond to the Tasgdlt Pass 2,525m/8,284ft. This is approximately four hours from camp, a climb of 785m/2,575ft. You will probably have a picnic lunch just beyond this point, and the pass is the highest point of the trek.

There now follows a long descent of some 468m/1,500ft on switchbacks to relative civilization and a small hamlet.


Overnight: Camp

Day 6 - End trek at Taghssa - 2 hours. Drive the Route des Kasbahs and the Valley of the Roses at Boulemane du Dades. Continue to Ouarzazate.

Your trek ends with a pleasant two hour walk along an attractive valley to Taghssa where you will say goodby to the muleteer and trekking team. Back in your vehicle you drive along the Route des Kasbahs and the Valley of the Roses at Bouleman du Dades. Your journey ends today at Ouarzazate, the movie capital of Morocco.

Overnight: Riad Dar Chama Or Dar Amoudou Or Similar, Ouarzazate

Day 7 - Visit the kasbah at Aït Benhaddou - ½ hour's drive. Drive to Marrakesh - 3½ hour's drive.

After breakfast you drive the short distance to Aït Benhaddou, a striking example of the architecture of southern Morocco, with mudbrick houses crowded together within defensive walls. You can climb to the top of the hill for breathtaking all-round views. This atmospheric and picturesque place was an important staging post on the trade route south and is one of the best preserved kasbahs in Morocco. Many movies have been shot here including 'Gladiator', and it was declared a World Heritage Site by UNESCO in 1987.

After your visit to Aït Benhaddou, you travel back to Marrakesh, climbing once again to cross the Tizi n' Tichka pass and then descending back to Marrakesh.

Overnight: Riad Palais De Princesses Or Riad Challa Or Similar, Marrakesh

Day 8 - Sightseeing in Marrakesh and time at leisure.

After breakfast, you will have a guided walking tour (2-3hrs) of Morocco's bustling main square, the exhilarating Djemma el Fna, and the surrounding maze-like souk. You'll see the dyers' souk and the metalworkers' souk as you explore the narrow alleyways and backstreets of one of North Africa's most fascinating cities. A visit to an apothecary, although essentially an opportunity for the proprietors to sell you their wares, offers an interesting insight into the many herbs, spices and oils that Morocco produces. The offer to buy usually follows a short presentation on the properties of the various concoctions, but is markedly less 'hard-sell' than that of the carpet shops - you have been warned! Although the souk is a great place for souvenir and gift shopping you may wish to use this morning simply to get your bearings, see the sights and learn a little about the essential art of haggling.

In the afternoon, you will be free to explore at leisure. Marrakesh has many interesting sights to see including Les Jardins Majorelle - Yves St Lauren's celebrated gardens; the Saadian Tombs, and the Bahia Palace. As the evening draws in, you might enjoy a traditional steam bath in one of the many hammams, hidden down narrow side alleys, or take a caleche (horse drawn carriage) ride around the city walls and enjoy a freshly squeezed orange juice in the main square, the Djemma el Fna. As the sun sets this enormous open area at the edge of the souks begins to fill with open air food stalls, story tellers, snake charmers and dancers. This nightly ritual of exotic sounds and smells draws locals and tourists alike. You may take a wander through the crowds or enjoy people watching from one of the cafes overlooking the scene.

Overnight: Riad Palais De Princesses Or Riad Challa Or Similar, Marrakesh

Day 9 - Fly to London.

After breakfast today you will be transferred to the airport for your flight back to London.
Map
Map Key
Airport
Point of interest
Mountain Peak
Day walk in this area
Flights
Internal Transfers
Trek
---
2020
2021
2022
---
---
Review your holiday
Reviews
Read holiday reviews by Mountain Kingdoms travellers.
Overall score: 5.0 (Based on 5 reviews)
Winter Walk in the Jebel Sahro
Helpful staff 07/09/2013
Excellent itinerary with a very high standard of trekking support; helpful and responsive staff.
Mr S, Berkshire
Winter Walk in the Jebel Sahro
Friendly guide
Brilliant, friendly, knowledgeable guide.
Ms S, Wiltshire
Winter Walk in the Jebel Sahro
Excellent trip
The trip was excellent, as was the travel arrangements and meals Ð comfortable mattresses in the tents.
A & C, Yorkshire
Winter Walk in the Jebel Sahro
Well-planned itinerary
A skilfully devised trek linking footpaths to provide variation and interest. Hassle free organisation, good guides, food and service. Special praise to the camp staff!
Mr & Mrs B, Wiltshire
Winter Walk in the Jebel Sahro
Varied
We think itÕs well organised and we enjoyed the mixture of walking and culture.
D & M, Hertfordshire
---
Extend your holiday
After your trek relax in the coastal town, Essaouira
Stroll along the ramparts and beach
Explore the whitewashed medina, now a UNESCO World Heritage Site
More Details
For a complete change of scene from the frenetic activity of Marrakesh, or after a tough mountain trek, the coastal town of Essaouia is a delightful place to relax. Its whitewashed buildings and city walls add to its calm ambience and a stroll along the ramparts or beach at sundown is an excellent way to unwind.
Contact us for more details: 01453 844400 or info@mountainkingdoms.com