/
Holiday
/
Cultural Highlights of Armenia Georgia
Yerevan, Armenia, Tbilisi, Georgia | Tours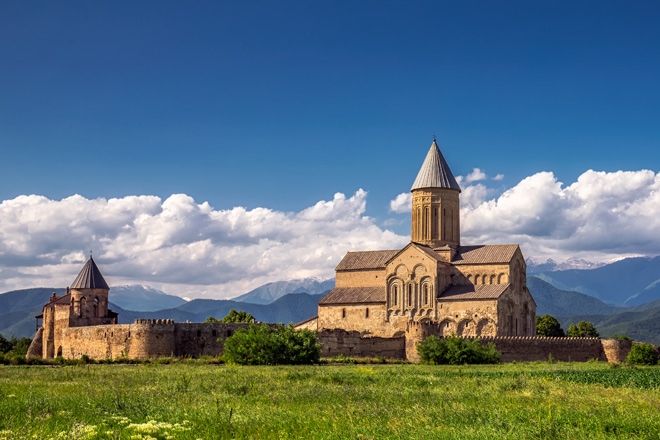 Duration: 12 days from the UK
Private Departures Available
Flight inclusive from £3185, Land only from £2595
Uncover the historic treasures of Armenia and Georgia on a cultural journey through the Caucasus Mountains.
Highlights
Explore five different scenically stunning UNESCO World Heritage sites
See the picturesque High Caucasus mountains and snow-capped Mount Ararat
Spend a night at a winery and sample Georgia's world-renowned wines
Uncover layers of history in Georgia with a tour of Tbilisi and the birthplace of Stalin
Try your hand Lavash bread making and visit an Armenian arts and craft market
Discover off-the-beaten-track monasteries and fascinating ancient temples
Reviews
Long on my travel wishlist, I wasn't disappointed with my visit to Armenia. The spectacularly situated medieval churches and monasteries are ridiculously photogenic and well worth the effort to get to them, often sitting loftily above valleys with mountainous backdrops. I loved the delicious food and wine and the Armenian people were so welcoming and friendly, keen to share their country with...
Seraphina Berry, Reservations Manager, Mountain Kingdoms
Next
We believe that our twelve-day tour of Armenia and Georgia provides the perfect introduction to these two neighbouring countries that bestride the Caucasus Mountains. In size they are both relatively small, but in history and culture they are giants! Set at the very edge of Europe, they have been fought over for centuries and occasionally conquered by powerful neighbours, but have always retained a strong sense of individual identity. The world's oldest Christian nations, they have preserved a trove of historic treasures, most notably revealed in the ancient churches and monasteries dotted throughout the varied landscapes.
In Armenia, you delve into the country's rich heritage as you visit the main historical sites of the capital Yerevan, learn how to cook an Armenian meal including their traditional 'lavash' bread and enjoy a wine tasting experience. The astonishing churches and monasteries that are found all over this mountainous country are visited as you wind your way over mountain passes and through remote valleys and canyons. You will also walk on the walls of an ancient hilltop fortress and stand on the shores of beautiful Lake Sevan.
After driving across the border to Georgia you spend time in its attractive and vibrant capital Tbilisi before heading east to the vinyards of Kakkheti where you can sample some of Georgia's world-renowned wines. Next you drive north towards the mighty snowclad Caucasus Mountains, to discover remote churches and admire the majestic mountain views. You'll also visit the birthplace of Stalin, one of Georgia's most infamous sons.
Staying in comfortable, well-located hotels throughout, you will be accompanied by expert, English-speaking local guides who will help unveil the history and culture of these two remarkable, yet under-explored, countries.
Private Departures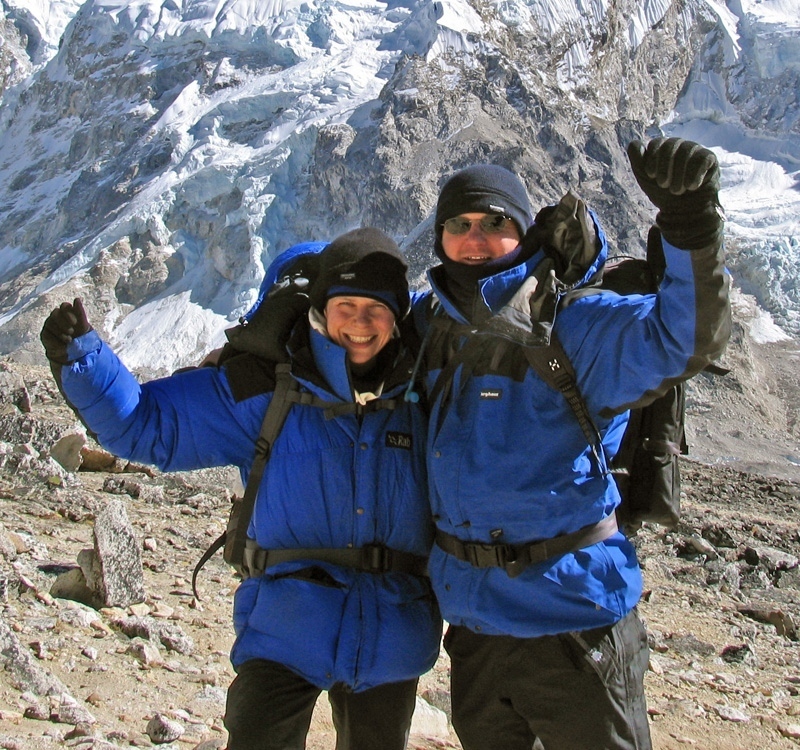 Cultural Highlights of Armenia & Georgia - Private Departures
If you would prefer to travel just with your partner, friends or family, we can arrange a private departure of this holiday. You follow the same itinerary, but travel on dates that suit you. Alternatively we can include elements of this holiday in a bespoke Tailor Made itinerary. Contact our friendly team for details and prices, and to make a booking.
---
At a glance
Duration: 12 days from the UK
Max. Altitude: 2,410m/7,907ft, driving across Selim Pass, Day 5
Private Departures Available
Guaranteed to run for a minimum of 4 clients
Maximum group size: 12
Accommodation types: Hotels
Meal arrangements: 11 breakfasts, 10 lunches, 7 dinners.
Itinerary overview
| Day | Activity |
| --- | --- |
| 1-2 | Fly to Yerevan in Armenia. Explore the city and visit Etchmiadzin and Zvartnots Cathedral. |
| 3 | Visit Geghard Monastery and Garni Temple. |
| 4 | Drive to Khor Virap with views of Mount Ararat. Enjoy wine tasting in Areni. Visit Noravank Monastery. |
| 5 | Drive to Smbataberd Fortress and continue on to Selim Caravanserai and Noratus. |
| 6-7 | Visit Sevanavank Monastery on Lake Sevan and cross the border into Georgia. Walking tour of Tbilisi. |
| 8-9 | Visit Georgia's Kakkheti wine region and the High Caucasus Mountains including Gergeti Church. |
| 10 | Drive to Gori, the birthplace of Stalin, and on to Borjomi National Park. |
| 11-12 | Return to Tbilisi via the World Heritage site of Mtskheta and fly home. |
Leader: Local leaders Armenia & Georgia
On this holiday in Armenia and Georgia you will have a different guide in each country. We use friendly, experienced guides who are fluent in English such as Mary (pictured here) who is one of our guides in Armenia.
---
Holiday Itinerary
Day 1 - Fly London to Yerevan
You will be met on arrival at Yerevan airport and transferred to your centrally located hotel in the city.
Overnight: Republica Hotel Or Similar, Yerevan
Day 2 - Explore Yerevan. Visit Etchmiadzin and Zvartnots Cathedral ruins
Today is spent thoroughly exploring the capital of Armenia, starting with a visit to Mother Armenia, the huge statue that dominates the city and gives a great overview of the area. This is followed by a visit to the Mantenadaran museum which houses around 17,000 manuscripts. An expert guide will give you an insight into several ancient and beautiful examples. The Armenians are rightly proud of the stylish Cascades area that you visit next, and the nearby modern Tamanyan sculpture park.
The spiritual centre of Armenia since the 4th century is situated outside the city at Etchmiadzin. Your visit starts with a cooking demonstration at the delightful Machanents Charity Centre, before eating a delicious lunch in their courtyard garden. The vast cathedral complex, known as the Mayrator or Mother seat, houses a religious seminary and offices, and is a major pilgrimage site. The cathedral itself dates from the 5th century and is surrounded by gardens full of khachkars, both original and replica, from Greater Armenia. Nearby are the ruins of another once great spiritual centre, Zvartnots Cathedral. Dedicated to St Gregory the complex dates back to the 7th century but was destroyed by an earthquake some 300 years later. Rediscovered in the 20th century it is now a protected World Heritage Site (along with Etchmiadzin Cathedral) and its delicate arches are immensely picturesque, framing the snow-clad summit of Mount Ararat behind.
In the evening you will have dinner in a traditional restaurant with music and dancing - these are popular with local groups of friends and family who join in with the dancing and singing.
Overnight: Republica Hotel Or Similar, Yerevan
Day 3 - Visit Geghard Monastery, Garni temple and Vernissage Market.
is surrounded by mountains, and today you drive up into the hills to visit one of the most spiritual places in Armenia, the Geghard Monastery. A UNESCO World heritage site. Geghard is set in a dramatic gorge, partially carved out of the rock cliffs. You can explore the atmospheric cave chapels the earliest of which dates back to the 4th century. You next visit the pagan Graeco-Roman style Garni temple. This is set on a promenantory above dramatic cliffs and is thought to have been built in 175AD. There are superb views down into the Azat River Valley far below.
Armenia is famous for its Lavash flat bread and there will be a chance to make some before you have lunch and return to Yerevan. In the afternoon you are free to visit the Vernissage arts and crafts market. This huge market is set in the centre of Yerevan in a lovely square. You may like to investigate further around Yerevan on foot - this is easily done and the relaxed outdoor café culture makes exploring a joy.
Overnight: Republica Hotel Or Similar, Yerevan
Day 4 - Visit Khor Virap. Wine tasting at an Areni Vineyard. Visit Noravank Monastery.
One of Armenia's most iconic landmarks is the ancient prison - now monastery - of Khor Virap. This is the closest point in Armenia to Mount Ararat, now in Turkey, and you can see the border from the monastery just a few hundred yards away. Those feeling brave can descend a steep ladder to see where Gregory the Illuminator was imprisoned for preaching Christianity - he was freed after 14 years and Armenia became the first country in the world to adopt Christianity as a state religion. There are numerous photo opportunities here.
You then drive south into the hills to the wine region of Areni, where you will visit a vineyard and sample some local wine. After lunch you will drive up the narrow gorge of the Gnishik river to visit the spectacularly set Noravank monastery. After exploring the site, you drive further uphill to the remote Yeghegis valley. The small village of Yeghegis is home now to a small population of farmers who live a very traditional lifestyle.
Overnight: Arevi Hotel Or Similar, Yeghegis
Day 5 - Jeep drive to Smbataberd fortress, then continue to Selim Caravanserai and Noratus.
High above the valley floor, just visible on the skyline is the fortress of Smbataberd. It can only be reached by jeep on a rough track, or on foot. It is a bumpy drive up but well worth it for the amazing views from this ancient fortress built into the cliff walls of the valley. Dating from the 5th century it has been remodelled and restored many times. After descending you drive north up into the high mountains to cross the Selim Pass - 2,410m - the highest point on the tour. Just before the pass is the well-preserved caravanserai built in about 1330 to provide a refuge for travellers in these often snowy mountains. After crossing the pass and a plateau you descend to Lake Sevan, one of the world's largest freshwater, high altitude lakes. En route you stop off at Noratus or the Field of Khachkars. Set on the edge of a village, this field of 900 ancient and modern crosses is an astonishing site, and a great place to wander and photograph this amazing array.
Overnight: Best Western Bohemian Resort, Sevan
Day 6 - Visit Sevanavank, drive via Dilijan to Hagphat and Sanahin. Cross the border into Georgia.
The much photographed monastery of Sevanavank is set on a small hill that dramatically soars over the western end of Lake Sevan. The monastery was founded in 874 and the complex now also houses a seminary - the first to reopen after the end of the Soviet area. It will be an early start today to visit the monastery before the arrival of the crowds that drive up from Yerevan as this is a popular site. From here you drive to Dilijan via the road tunnel built in 2003. The scenery, once through the tunnel, is a real contrast to the Sevan area with densely forested hillsides and pretty mountain streams.
Beyond Dilijan lie the two UNESCO monasteries of Hagphat and Sanahin. Located in the Lori region, they are situated high above the Debed river gorge and were built at similar times in the 10th century. Once very important pilgrimage sites, the picturesque ruins are now visited for their dramatic setting which make for a great photo opportunity. From here you continue north to the Georgian border where you will say farewell to your Armenian guide and driver and meet their Georgian counterparts.
Overnight: Amante Narikala Hotel, Tbilisi
Day 7 - Walking tour of Tbilisi. Free time in the afternoon.
Tbilisi is a beguiling mixture of east and west, and despite being sacked several times by different invaders has architectural remnants of the Persian, Tartar, Jewish and Armenian inhabitants who once lived here. Freedom Square, laid out by the Russians in the 19th century, is the heart of modern Tiblisi but it's only a short walk from here to go back in history to visit the old winding streets. On the other side of Freedom Square is an atmospheric area of crumbling Art Nouveau houses, slowly being restored. Your walking tour will include the Sioni cathedral, the Treasury of the State Museum, the aerial tramway to Narikala, Rike Park and the Bridge of Peace. The afternoon is free for you to explore further at leisure. .
Overnight: Amante Narikala Hotel, Tbilisi
Day 8 - Tour of Kakkheti region with winery visits.
Like Armenia, Georgia is famous for its wine and today you drive to the east of the country to the main wine region. The walled town of Sighnaghi is situated on a ridge above the Alazani valley and has fine 18th and 19th century houses, many with attractive balconies. This former royal town is surrounded by a defensive wall with 23 towers and was built by King Erekle II in 18th century. The town had many gates through which Georgia was connected to Europe and Asia by various trade routes.
You continue to Alvani Village where you visit the 11th century Alaverdi cathedral and enjoy lunch at a local winery with a chance to sample some of their wines. Later in the afternoon you visit the 16th century citadel of Gremi built by King Levan of Kakheti. The crumbling remains of the fort and palace pay testament to the town that was once the capital of Kakkheti before being destroyed.
Finally you drive to the Tsinandali Estate and First Winery, founded by the famous public figure and poet Alexander Chavchavadze in 19th century. There is time to explore the lovely gardens, museum and, of course, the wine cellar, where the oldest bottle of wine dates back to 1814.
Overnight: Twins Wine House, Napareuli
Day 9 - Visit the High Caucasus and the Gergeti Trinity Church at Kazbegi (Stepantsminda).
The Georgian military highway has been an important route since the 1st century, and was only converted into a carriage route in the late 18th century. This ancient road is still important as a main link connecting all the south Caucasus countries with Russia. Today you will drive north to the High Caucasus Mountains, first stopping to visit the amazing Ananuri Architectural Complex dating from the 16th-17th century. The impressive churches and towers here were saved from being flooded by a proposed dam in Soviet times.
There will be plenty of stops en route to photograph the stunning scenery as you make your way deep into the mountains. Your next stop is at the 14th century Gergeti Trinity Church but you will need to switch to 4x4 vehicles in order to reach it. This remarkable building is situated at an altitude of 2,170 m and, weather permitting, you will enjoy some truly spectacular views of the glacier covered Mount Kazbeg. At a towering 5,054m it is the highest peak in Eastern Georgia and the third highest in the country. From here you continue to Gudauri for your overnight stop.
Overnight: Marco Polo Hotel, Gudauri
Day 10 - Drive to Gori, visit Gori Fort and Stalin Museum. Continue to Borjomi National Park.
breakfast you drive to Gori, the birthplace of the dictator Joseph Stalin and one of the oldest cities in Georgia. The city is situated at the confluence of two rivers and was once an important military stronghold. You will visit Gori's landmark 7th century fort perched high on top of the city's only hill with the walls spilling down to the river on one side. There will also be time to view the exhibits at the Josef Stalin Museum.
After lunch you continue west to Borjomi National Park. This picturesque highland area is heavily forested with 75% of the park covered by a conifer and broadleaf trees. The park famous for its mineral springs and is a haven for many different animals including deer, brown bear, lynx, wolf, badgers and otters.
Overnight: Borjomi Palace Hotel, Borjomi
Day 11 - Return to Tbilisi, visiting Mtskheta en route.
You return to Tbilisi today via the important World Heritage Site of Mtskheta. This spiritual site has been a place of worship for 5,000 years. With the royal family's conversion to Christianity in the 5th century AD it became the seat of the Georgian Church until the 12th century. The city has several otustanding churches and cultural monuments which together have been designated a UNESCO World Heritage Site. The most famous of all of Mtskheta's landmark buildings is the 6th century Jvari Church which appears to grow out of the rock of the spur of hill that it stands upon. The church is a significant example of early medieval Georgian architecture but it's the sweeping views from its courtyard that are perhaps its most impressive feature.
From here you continue to Tbilisi where the rest of the day will be at leisure.
Overnight: Amante Narikala Hotel, Tbilisi
Day 12 - Transfer to airport and fly to London.
After breakfast there will be a group transfer back to Tbilisi airport to catch your flight home.
---
2023
| Dates | Availability | Land Only | Flight Inclusive from |
| --- | --- | --- | --- |
| Wed 4 Oct - Sun 15 Oct 2023 | Available | £2595 Book | £3185 Book |
2024
| Dates | Availability | Land Only | Flight Inclusive from |
| --- | --- | --- | --- |
| Thu 16 May - Mon 27 May 2024 | Available | £2695 Book | £3545 Book |
| Wed 2 Oct - Sun 13 Oct 2024 | Available | £2795 Book | Contact Us |
Hold your place
Not quite ready to book? Why not call us on +44 (0) 1453 844400 to hold a no obligation place while you make up your mind?
---
Optional supplements
Single Room Supplement
£490
No Surcharge Guarantee
No surcharges will be applied to your holiday after you book. Prices on this website are updated regularly. The Flight Inclusive holiday price, or Land Only holiday price, will be confirmed to you at the time you make your booking. There will be no surcharges after your booking has been confirmed.
Flight inclusive holidays
The 'flight inclusive' holiday prices shown on this website are based upon our preferred airlines and the best priced economy class fares we are able to secure at the time of publication.
We will be able to advise on fares with alternative airlines, upgrades to Business Class, and the options for flights from regional UK airports, please contact us for more details.
Booking your holiday
For the majority of our holidays, a deposit payment of £400.00 per person is required to secure your place(s), however a small number of holidays require a higher deposit - please refer to the holiday itinerary for more details. If the holiday departs within 60 days, a deposit of £1,000.00 per person is required.
Book now!
Book your small group holiday securely online – click the 'Book' button next to your chosen departure or visit our How to Book page
Complete and return a Booking Form available to download here.
Call us on +44 (0)1453 844400 and one of our travel specialists will talk you through the booking process.
What's included
Local English-speaking leaders
Economy class return air fares from the UK (flight inclusive option). If you are travelling land only, check with our office for joining time at the airport
Single timed group transfer to/from Yerevan and Tbilisi airport at the start and end of the holiday
All other transfers as per the itinerary
Good standard of hotel accommodation on a twin share basis
All road transport by private vehicles
11 breakfasts, 10 lunches, 7 dinners.
Sightseeing and activities as specified
A free Mountain Kingdoms Water-to-Go bottle
Carbon offsetting with the Ecoan Tree Planting Project (for clients taking our flight inclusive option)
What's not included
Travel insurance
Locally paid bar bills and laundry
Optional activities
Tips
---
---
---