/
Holiday
/
Silk Road Mountains Monuments Uzbekistan
Tashkent, Uzbekistan | Walking & Trekking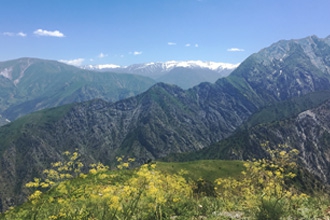 Grade:

?

Gentle / Moderate

Gentle: Suitable for people who enjoy easy-paced walks or exploring the countryside on foot.

Moderate: Suitable for anyone who enjoys hill walking.

Find out more...

Gentle / Moderate

Duration: 15 days from the UK
Walks on: 9 days
Private Departures Available
Flight inclusive from £2755, Land only from £1875
Combining the cultural wonders of four great Silk Road cities with delightful day walks in the scenic Chimgan and Nuratau mountain ranges.
Highlights
Discover the four fabulous cities of the Great Silk Road - Tashkent, Khiva, Bukhara and Samarkand
Explore the Nuratau Mountain range on a series of delightful village walks offering a real insight into traditional rural Uzbek life
Enjoy three days of walking in the picturesque Chimgan mountains with high peaks and alpine-style meadows
Stay in welcoming accommodation including good city hotels and friendly, family guesthouses
Reviews
I loved walking from village to village and staying with the families in the guest houses, we were made to feel so welcome, the food was delicious and we particularly enjoyed relaxing in the beautiful gardens after our walks. A truly wonderful combination of the magnificent well known monuments of Uzbekistan combined with the little explored rural life.
Linda, Operations Team, Mountain Kingdoms
Next
We are delighted to offer this superb new two week trip to Uzbekistan combining the cultural wonders of the foremost cities of the ancient Silk Road with delightful walks in the country's two most beautiful mountain ranges.
Uzbekistan lies along the route of the ancient Silk Road, and the four great cities of Samarkand - Khiva, Bukhara and Tashkent - grew powerful and prosperous on the trade along this route. The influence of rulers such as Genghis Khan and his descendants is still strongly felt throughout the region as are the many and varied cultural influences that derived from the cosmopolitan traders. Your trip starts in Tashkent, a meeting point on the Silk Road, and now the modern-day capital of Uzbekistan. Here you will see some of the modern architectural achievements of the city such as the famous Russian built Metro and you will visit the old city with its ancient bazaar and mosques.
From Tashkent you fly to Khiva, a UNESCO World Heritage site dating back to the 10th century. Stepping through one of the city's four enormous gates, you will enter the incredible Ichan Kala, the inner fortress of Khiva. Within its walls are over 180 historical monuments, mausoleums, mosques and madrasahs, as well as a castle and a palace. The cultural and architectural delights continue at Bukhara, your next stop, which is a unique 'open air' museum whose historic centre boasts countless blue-domed mosques and madrasahs, embroidery workshops, craft workshops and bazaars.
From Bukhara you drive to the first mountain range of your trip, heading deep into the Nuratau mountains northwest of Samarkand. Here local people open their homes as simple guesthouses as part of a fantastic ecotourism project which aims to provide an income for families and to help preserve the nature and wildlife of this region. You will stay in some of these guesthouses, and on your walks through this lovely area you have the chance to see every-day rural life as well as some of its rare and endangered wildlife. Onwards then to Samarkand, jewel of Uzbekistan and the most celebrated of all the Silk Road cities - declared by Marco Polo to be "a very large and splendid city". Samarkand is home to many remarkable and fascinating sights, prime among them are Tamerlane's Mausoleum, the Observatory of Ulugh Beg, and the famous Registan Square, one of the most visually stunning examples of Islamic architecture to be found anywhere in the world.
You will have ample time to explore its many ancient wonders on foot before catching a train back to Tashkent and driving into the Chimgan Mountains. The mountains are part of the Chatkal range of the Western Tien Shan and are located just 80km from Tashkent. This beautiful, alpine-like area of high peaks, valleys, rivers, lakes and forested hills has been dubbed the 'Uzbek Switzerland'. The highest peak is Big Chimgan, 3,309m/10,856ft, which towers over the entire region. After three days of delightful walks, including the easily accessible summit of Small Chimgan, you return to Tashkent for the final time.
Accommodation has been carefully selected and is twin-share throughout. The hotels have been hand-picked for comfort, location and character, and the warmly welcoming guesthouses of the Nuratau Mountains give you a real sense of the rich heritage and generous hospitality of this enthralling part of the world.
Private Departures
Silk Road Mountains & Monuments, Uzbekistan - Private Departures
If you would prefer to travel just with your partner, friends or family, we can arrange a private departure of this holiday. You follow the same itinerary, but travel on dates that suit you. Alternatively we can include elements of this holiday in a bespoke Tailor Made itinerary. Contact our friendly team for details and prices, and to make a booking.
---
At a glance
Duration: 15 days from the UK
Walks on: 9 days
Max. Altitude: 2,100/6,890ft, Small Chimgan, Day 13
Private Departures Available
Guaranteed to run for a minimum of 4 clients
Maximum group size: 12
Land only joining city: Tashkent
Accommodation types: Hotels, Guesthouses
Meal arrangements: All meals on tour except lunch on departure day.
Itinerary overview
| Day | Activity |
| --- | --- |
| 1-2 | Fly to Tashkent. Guided walking tour. |
| 3 | Fly to Urgench. Drive to Khiva. Walking tour of Ichan Kala. |
| 4-5 | Fly or take train to Bukhara. City walking tour. Explore region outside of Bukhara city. |
| 6 | Drive to Asraf in the Nuratau mountains. Village walk around Asraf. |
| 7-9 | Walks between villages in the Nuratau mountains. |
| 10-11 | Drive to Samarkand and explore the city on foot. Train to Tashkent. |
| 12-14 | Drive to Beldersay. Local walks in the Chimgan mountains. Return to Tashkent. |
| 15 | Fly to London. |
| | |
Leader: Local leader, Uzbekistan
Our tour is led throughout by a knowledgeable, English speaking, Uzbek guide. In addition to helping you get the most out of your visit and taking care of you, your leader will co-ordinate all your arrangements, ensuring that everything runs as smoothly as possible.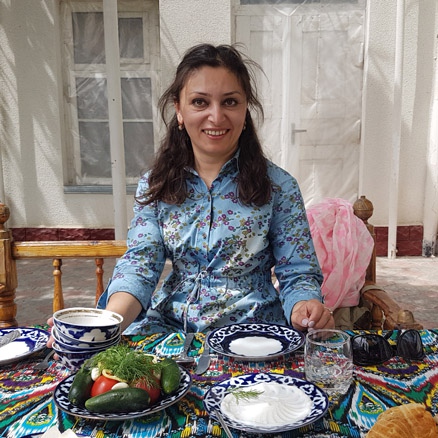 ---
Holiday Itinerary
Day 1 - Fly London to Tashkent
Depart London on an overnight flight to Tashkent.
Overnight: In flight
Day 2 - Arrive Tashkent. Group transfer to hotel. Afternoon walking tour of old Tashkent.
On arrival in Tashkent you will be transferred to your hotel. Tashkent is the capital of Uzbekistan and claims to be the biggest and most cosmopolitan city of Central Asia. Although it has been continuously inhabited for over 2,000 years, a massive earthquake in the 1960s levelled the entire city and a modern city was born. The city is noted for its tree lined streets, numerous fountains and pleasant parks.
In the afternoon, you will be taken on a walking tour of Old Tashkent. This will include visits to Chorsu Bazaar, Kukuldash Mosque and Khast Imom. Khast Imon is the official religious centre for Muslims in Central Asia and consists of Barak Khan Madrasah (16th century), Tilla Shaykh Mosque (the Osman Koran, believed to be world's oldest Koran, is kept in the library of this mosque) and the mausoleum of Abu Bakr Kaffal Shoshi (a 13-14th century Islamic scholar).
Overnight: Bek Hotel Or Similar, Tashkent
Day 3 - Fly to Urgench - 1½ hours. Drive to Khiva. Tour of Ichan Kala complex.
After breakfast you will transfer to the airport for your flight to Urgench. On arrival you will be met and driven to Khiva. The short drive is interesting in itself with the many different modes of transport seen on the roads in Uzbekistan. You can expect to see anything from modern cars and motorbikes to beaten up Soviet style cars and carts pulled by donkeys.
Khiva is an ancient city of the Great Silk Road, once famous as a trading post for slaves. Nowadays the city is a delightful labyrinth of narrow mud-walled alleyways and spectacular blue mosaics that transport you back in time.
After settling into your hotel and having lunch you take a walking tour of the magnificent Ichan Kala architectural complex, built over the 12th to 19th centuries. This is a UNESCO World Heritage Site and was the site of the residence of the last Khan; high officials, clergy and rich merchants used to live here. The complex includes the Ismail Khodja mausoleum, Mohammed Amin Khan madrassa, Kunya-Ark Castle (16-17th century), Kalta Minor Tower, Tash-Hovli Palace (19th century), Pahlavan Mahmud Mausoleum (14-18th century), and the Juma Mosque (10th century).
Overnight: Hotel Malika Khiva Or Orient Star Or Similar, Khiva
Day 4 - Train journey to Bukhara - 5 hours. Half day walking tour of the city.
This morning you catch the train to Bukhara, a journey of 5 hours. Once you have reached Bukhara you will have the remainder of the day to discover some of the city's wonderful ancient monuments, a welcome chance to stretch your legs after the long train ride.
You will have a half day walking tour of the city where you will visit the Lyab-I Hauz religious complex, one of Bukhara's oldest mosques that now houses a carpet museum, and also the Magok-i-Attari Mosque. To appreciate the fine artisan traditions of the Silk Road you will visit three trading domes, famed for their handmade carpets and colourful hand-embroidered fabrics. Your day ends at Poi Kalyan complex which includes four monuments: the Kalyan mosque; the Miri-Arab Madrasah; the Kalyan minaret and the smaller Amir-Allimkhan Madrasah.
Overnight: Kukeldash Hotel Or Similar, Bukhara
Day 5 - Sightseeing in and around Bukhara. Evening show.
You have a full day of sightseeing ahead of you today, by foot and vehicle. You begin at Chor Minor, a quirky construction with four distinctive 'towers'. Next you travel to the massive Ark Fortress, formerly the residence of the Khans of Bukhara and a symbol of their great power. Then it's on to Bolo Haouz Mosque, also known as the Forty Pillar Mosque. This mosque dates back to the early 18th century and its slender, elegantly carved wooden pillars hold up a beautifully restored painted coffered ceiling.
Next on your itinerary is Samanid Mausoleum, burial place of Ismail Samani and other members of the Samanid dynasty, who ruled in central Asia in the 9th and 10th centuries. From here you continue to the nearby Chashma-Ayub Mausoleum, said to be the site of Job's (Ayub's) well, a holy spring connected in legend to the Prophet Job and known for its pure water and healing properties. Your next port of call is the impressive Summer Palace of the last emirs of Bukhara which was built outside the city so the ruler could escape the summer heat - the building fuses European and oriental features.
Finally, if time permits, you will stop at Bukhara's famous bazaar, one of the oldest and largest in the world and an important stop on the Silk Road. Nowadays the bazaar is famed for its handmade carpets and colourful hand-embroidered fabrics and is also a great place for buying dried fruits, nuts, spices, rice and bread.
In the early evening you will be able to relax and enjoy a pre-dinner drink while watching a traditional Uzbekistan dance and fashion show, an experience not to be missed!
Overnight: Kukeldash Hotel Or Similar, Bukhara
Day 6 - Drive to Asraf in the Nuratau Mountains - 2-3 hours. Village walk around Asraf - 4½ km with 50m ascent/descent.
You leave Bukhara this morning and drive to the Nuratau mountains which form a natural corridor of rock, water and trees in contrast to the harsh desert climates of neighbouring regions. Formerly the area was a caravan route between Bukhara and Tashkent, and during long, hard and dangerous trips the fortresses and wells of the Nuratau valleys and the Kyzylkum plains were used as stopover points by traders. Today the mountains are better known as a centre for a forward-thinking ecotourism project, providing village stays and activities for visitors to the area. Here you will stay in traditional guesthouses, meet the friendly local people and learn about their traditions and daily activities.
On the way to Asraf you will stop to visit a holy spring and ruins said to date back to Alexander the Great before continuing on to the village of Asraf, just outside the Nuratau Nature Reserve. The reserve is home to various endangered species such as rare Severtsov wild sheep, as well as lynx and wild goats. Although the reserve itself is not accessible to the public the surrounding countryside is beautiful with a good many hiking paths close by.
Eighteen families currently live in Asraf, and the village has its own small elementary school. Settle into your simple guesthouse, and explore its pretty gardens, stocked with with fruit and walnut trees. Or join the locals outside on a tapchan or supan, comfortable outdoor platforms where people traditionally rest and take tea.
Later your guide will take you on a walk to explore the village and nearby countryside. On your return you might have the opportunity to watch/help the family in the preparation of an Uzbech traditional dish, plov, with home grown vegetables and mountain spices. You will have dinner with your hosts.
Overnight: Guesthouse, Nuratau Mountains
Day 7 - Walk from Asraf Village to Uhum Village – 13km, 5-6 hours with 600 m of ascent/descent.
Today you will walk to your next guesthouse in Uhum Village, with your main luggage being transported for you.
The Nuratau mountains are home to many ancient villages and settlements, of which Uhum is the largest. Three main ethnic groups, Uzbeks, Tajiks and Kazakhs populate the region and the nearby Kyzyl-Kum steppe. The biggest group, Uzbeks, arrived to the area in the 13th century from the north of the present day Kazakhstan. The second biggest group are Tajiks who have a more ancient settlement history dating back to the time of Alexander the Great's reign in Central Asia. The third small group is Kazaks, who before settling in the beginning of the 20th century, were living nomadically in yurts and moved from place to place in the Kyzyl-Kum desert.
Leaving Asraf village, you ascend through a small gorge and after one hour of walking reach a summit where you will have amazing views of the surrounding mountains and Ayarkul Lake, famous for its rich aquatic birdlife. Your walk continues along a ridge before descending to the next valley and Uhum village, your overnight stop.
Uhum is a beautiful traditional village, with two schools, several small shops where basic groceries can be obtained and a new technical college built in 2009. You will have time to walk around and get to know the village, where people may be out relaxing on tapchan or supa, under the walnut trees. You may also visit a community water mill and the ruins of a Mongol fortress.
Overnight: Guesthouse, Nuratau Mountains
Day 8 - Walk to view petroglyphs. Continue to Hayat Village - 11km, 4-5 hours with 450m ascent/descent.
After breakfast you walk alongside a beautiful stream past lots of mulberry and walnut trees, to reach the site of some ancient petroglyphs which are said to date back to the Bronze Age. You will have a bit of scramble over rocks to get a good view before retracing your steps to Uhum and continuing your walk over the next mountain ridge to Hayat village. You will pass lots of shepherds' summer huts and see locals going about their daily lives, tending to their animals and crops and pursuing other daily activities such as making butter, baking bread in tandoor ovens, picking fruit and collecting firewood.
Hayat is a typical village of the region, with flat roofed houses, flower gardens, and pretty orchards with walnut, apricot and mulberry trees.
Overnight: Guesthouse, Nuratau Mountains
Day 9 - Local walk around Hayat Village – 7km, 4 hours with 70m ascent/descent. Bread making lesson.
This morning your walk will take you out to explore the area around Hayat village. With luck you may see some of the wild and endangered Severtsov's sheep, the handsome rams sporting their huge, distinctive, curly horns.
You return to your homestay for lunch and in the afternoon you can explore further or simply relax in the pretty garden by the stream. Later you might join your hosts to learn how to make delicious Uzbekistan bread in a tandoor oven.
Overnight: Guesthouse, Nuratau Mountains
Day 10 - Drive to Samarkand – 3 hours. Visit Ulugh Beg Astrological Museum and Gul Amir Mausoleum.
Saying a sad farewell to the mountains you leave Hayat and drive to Samarkand. Located in the magnificent region of the Oxus and Syr Darya rivers, Samarkand occupied a strategic and advantageous geographical position on the Great Silk Road. It is one of the world's most ancient cities, with a history that stretches back over 2,750 years, which makes it as old as Rome, Athens and Babylon. It served as the capital city for Tamerlane. There are magnificent examples of medieval architecture preserved in Samarkand, striking in their shape and rich colours.
After lunch you visit Ulugh Beg Astrological Museum. Ulugh Beg was notable for his work in astronomy-related mathematics, such as trigonometry and spherical geometry. He built the great Ulugh Beg Observatory in Samarkand between 1424 and 1429, considered by scholars to be one of the finest observatories in the Islamic world at the time and the largest in Central Asia. Ulugh Beg was subsequently recognized as the most important observational astronomer of the 15th century by many scholars in Central Asia and Europe.
Continuing your tour you then then visit the Guri Amir Mausoleum. Built in the 15th century this mausoleum is a masterpiece of medieval Islamic architecture. The great Mongol conqueror Timur (also known as Tamerlane) is buried here along with his two sons and two grandsons. The Guri Amir is a fine example of medieval craftsmanship and is important architecturally as being the prototype of much Mughal architecture found in buildings in India such as the Taj Mahal.
Before dinner you have the opportunity to try some local wines at an optional wine tasting (payable locally).
Overnight: Zilol Baxt Hotel Or Similar, Samarkand
Day 11 - Full day in Samarkand – walking and sightseeing tour. Late afternoon train to Tashkent - 2½ hours.
You will have most of today to explore Samarkand on foot. Firstly you visit Registan Square, one of the most impressive squares in the world. It was the heart of the ancient city of Samarkand - a public square where people gathered to hear royal proclamations and enjoy celebrations as well as having a more grisly role as a place of public executions. The square is bounded by three madrasahs, masterpieces of Islamic architecture, the Ulugh Beg Madrasah, The Sher-Dor Madrasah and the Tilya-Kori Madrasah.
After lunch you visit the Bibi Khanym Mosque, one of the most important monuments of Samarkand which commemorates Tamerlane's favourite wife, Bibi-Khanym - indeed, according to legend the mosque was built by Tamarlane's wife to celebrate his safe return from a trip to India.
In the late afternoon you make the exciting train journey to Tashkent where you will be met at the station and driven to your hotel.
Overnight: Bek Hotel Or Similar, Tashkent
Day 12 - Drive to Beldersay, 1,600m/5,249ft – 2 hours. Walk from Beldersay - 10km, 4 hours with 450m ascent/descent.
Today after breakfast you will drive to the Chimgan mountains, approximately 80km from Tashkent. The Chimgan, part of the western Tien Shan mountains, are sometimes called the 'Uzbek Switzerland'. This is a beautiful area of mountains, valleys, rivers, and forested hills. The main summit of the range is Greater Chimgan, 3309m/10,856ft.
You drive firstly to the mountain resort of Beldersay, situated on the slopes of Kumbel Peak, and from there take a first, pleasant walk in the Chimgan. Initially you climb to reach beautiful flower meadows which are carpeted with iris in the spring. You walk alongside the River Mramornaya (Marble River) and after a couple of hours walking, reach a birch grove where you will stop for a picnic lunch in the shade of the trees. You then climb to Urta Kumbal Pass at 1,820m/5,971ft and on to a further highpoint, Chet Kumbal Pass at 1,850m/6,069ft, from where you will have fine, far reaching views of the surrounding mountains, including Greater Chimgan. As you walk look out for some typical birds of the Chimgan such as eagles and vultures, woodpeckers, white-throated dippers, Eurasian rollers and crested larks. Having finished your walk you descend to the cable car station and drive to your hotel.
Overnight: Nebesa Guesthouse Or Similar, Chimgan
Day 13 - Walk to Small Chimgan peak, 2,097m/6,880ft – 10km, 4-5 hours with 600m ascent/descent.
From your hotel you walk for about 30 minutes to reach the start of the climb up to Small Chimgan. First you will walk up through meadows and forest to reach a pass. The path is steep in places and there is a small section where you will need to scramble to reach the first summit, Pisochniy, at 1,825m. From here the path levels out along a ridge and continues to the summit of Small Chimgan. In spring you may see lots of small red tulips which are said to grow only here. At the summit of Small Chimgan you can rest, enjoy your picnic lunch and take in the panoramic views of snow-capped Chimgan, Charvok Lake and the Karjantor mountains on the Kazakhstan border.
Your descent should take you less than two hours and you will be able to look back to the summit of Small Chimgan with a real sense of achievement.
Overnight: Nebesa Guesthouse Or Similar, Chimgan
Day 14 - Walk towards Charvak Lake - 12km, 5-6 hours with 210m ascent/760m descent. Return to Tashkent - 1½ hours.
Today your walk towards Charvak Lake will take you along the opposite ridge to where you have been walking on the previous two days. The beautiful trail leads you through flower filled alpine meadows where horses and cows graze and almond and cherry trees flourish. You will also see lots of bird life and myriad butterflies. You stop for your picnic lunch at a shepherds' summer encampment; this is where they make the dried cheese that you may have seen for sale. After lunch the walk continues along the ridge with views down over Charvak Lake, the uppermost of several reservoirs created on the Chirchiq River. Construction of the dam was completed in 1970 and many archaeological sites were submerged under water when the reservoir was filled. Although its construction was controversial, the lake is very scenic with incredible aquamarine waters.
Finally you descend to meet your vehicle for the drive back to Tashkent.
Overnight: Bek Hotel Or Similar, Tashkent
Day 15 - Morning at leisure in Tashkent. Group transfer to the airport and fly to London.
There is some time this morning for some last minute sightseeing or shopping before the group transfer to the airport for your flight home, arriving back in London on the same day.
Map
Map Key
Airport
Point of interest
Mountain Peak
Day walk in this area
Flights
Internal Transfers
Trek
---
2022
| Dates | Availability | Land Only | Flight Inclusive from |
| --- | --- | --- | --- |
| Fri 2 Sep - Fri 16 Sep 2022 | Available | £1875 Book | £2755 Book |
| Fri 7 Oct - Fri 21 Oct 2022 | Fully Booked | Contact Us | Contact Us |
2023
| Dates | Availability | Land Only | Flight Inclusive from |
| --- | --- | --- | --- |
| Fri 12 May - Fri 26 May 2023 | Available | £1875 Book | Contact Us |
| Fri 1 Sep - Fri 15 Sep 2023 | Available | £1875 Book | Contact Us |
| Fri 6 Oct - Fri 20 Oct 2023 | Available | £1875 Book | Contact Us |
Hold your place
Not quite ready to book? Why not call us on +44 (0) 1453 844400 to hold a no obligation place while you make up your mind?
---
Optional supplements
Single Room Supplement Hotels Only
From £250
Insurance
No Surcharge Guarantee
No surcharges will be applied to your holiday after you book. Prices on this website are updated regularly. The Flight Inclusive holiday price, or Land Only holiday price, will be confirmed to you at the time you make your booking. There will be no surcharges after your booking has been confirmed.
Flight inclusive holidays
The 'flight inclusive' holiday prices shown on this website are based upon our preferred airlines and the best priced economy class fares we are able to secure at the time of publication.
We will be able to advise on fares with alternative airlines, upgrades to Business Class, and the options for flights from regional UK airports, please contact us for more details.
Booking your holiday
For the majority of our holidays, a deposit payment of £300.00 per person is required to secure your place(s), however a small number of holidays require a higher deposit - please refer to the holiday itinerary for more details. If the holiday departs within 60 days, a deposit of £750.00 per person is required.
Book now!
Book your small group holiday securely online – click the 'Book' button next to your chosen departure or visit our How to Book page
Complete and return a Booking Form available to download here.
Call us on +44 (0)1453 844400 and one of our travel specialists will talk you through the booking process.
What's included
An English-speaking Uzbek guide
Economy class return air fares from the UK & UK Departure Tax (flight inclusive only)
Single, timed group airport transfers for international flights on arrival and departure
All internal flights and domestic transfers
Hotel or homestay accommodation on a twin share, full board basis
All road transport by private vehicles
Sightseeing and entrance fees where specified
14 Breakfasts, 13 Lunches, 13 Dinners
Carbon offset for clients taking our flight-inclusive option
A free Mountain Kingdoms Water-to-Go bottle
The opportunity to join one of our pre-trip meets in the Cotswolds
What's not included
Travel insurance
Visa fees
Camera fees (this is a very small charge levied to take photos inside some of the museum complexes)
Lunch on Day 15
Optional wine tasting in Samarkand
Tips
---
---
---
Extend your holiday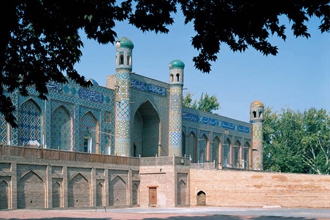 A three day pre-tour extension for our Silk Road group holiday
Meet some of the famous craftsmen of the region and see them at work in their artisan workshops
Tour the magnificent Khudoyar-Khan Palace and the impressive Jami Mosque in Kokand
English-speaking guides, transfers and comfortable hotel accommodation included
The Fergana Valley is the most fertile area in Uzbekistan and is the agricultural heartland of the region. It was an important stopping point on the Silk Road between Kashgar and Samarkand and was celebrated for its fine, artisanal craftsmanship. On your visit to the Fergana Valley you will meet some of the local craftsmen engaged in their traditional crafts for which Fergana has remained justly famous - fine ceramics, the production of silk and the weaving of carpets. You will also tour the magnificent Khudoyar-Khan Palace and the impressive Jami Mosque in Kokand. You will be accompanied by an English-speaking guide and your accommodation will be in comfortable, well-located hotels.