What's included
An English-speaking Sherpa leader
Economy class return air fares from the UK & UK Departure Tax (flight inclusive only)
Single, timed group airport transfer for international flights on arrival and departure
All internal flights and domestic hotel/airport transfers
All road transport by private vehicles
Excellent hotel accommodation (5-star) in Kathmandu, bed and breakfast basis
Luxury lodges/tea houses on trek
Free use of a good quality down jacket on trek plus a sleeping bag for nights in tea houses.
All meals on trek
Costs of all porterage and porter insurance
A free high-quality Mountain Kingdoms kit bag
A map of the Everest region
Carbon offsetting with the Ecoan Tree Planting Project (for clients taking our flight inclusive option)
The opportunity to attend a pre-trip meet in the Cotswolds
and much more...
Call our
friendly team
Nepal, Everest Region | Walking & Trekking
Strenuous
Suitable for fit individuals who have regular experience of mountain walking.
Find out more...
Grade: Strenuous ? Strenuous
Duration: 20 days from the UK
On trek: 15 days
Private Departures Available
Flight inclusive from £3,815,
Land only from £2,865
Book now or call 01453 844400
Trek to Everest Base Camp and Kala Pattar, staying in the Khumbu's very best lodges.
Highlights
For ten nights on trek stay in luxury lodges with excellent facilities, food and service.
Five other nights are spent in the best tea houses available on the trail.
Visit the Base Camp of beautiful Ama Dablam and trek to both Everest Base Camp and Kala Pattar to gain the most stunning views of Everest
Excellent acclimatisation and first rate leaders
Stay in Kathmandu's best hotel - the Dwarika's Hotel - a 5-star heritage property
We have designed this trek to take you to the heart of the Khumbu region, with the ultimate objectives of visiting Everest Base Camp and standing on top of Kala Pattar for superb views of Everest and her surrounding peaks.
Staying in the same lodges as our two Luxury Lodges treks in the Everest region, this trip goes a few days further (and higher!) to reach Everest Base Camp itself. Your Everest adventure begins though with a spectacular flight from Kathmandu to Lukla, gateway to the Khumbu and the start of your trek through the heart of Sherpa country. Good acclimatisation is the key factor in ensuring that you reach and enjoy your trek objective. You will spend a night at Namche Bazaar, the Sherpa capital where you can enjoy wandering around the shops and even surf the internet. Our side trek to the lovely village of Thame then takes you off the beaten track and more importantly, builds in an additional acclimatisation day. Other companies offer the standard Base Camp route, but this diversion, which also takes you through the beautiful Sherpa villages of Kunde and Kumjung, is an added bonus. It is a much more interesting route and all importantly gives you so much better acclimatisation. As you trek ever closer to Everest you will also take a further 'side trail' to reach Ama Dablam Base Camp, the starting point for mountaineers attempting to summit this foreboding yet beautiful peak. Now, well-acclimatised, you make your way to Everest where you will set foot on the most iconic of all Base Camps and also climb the small peak of Kala Pattar, 5,545m/18,188ft, giving you breathtaking, panoramic views of Everest and other Himalayan giants.
You spend ten nights in five 'luxury' properties, which far surpass anything else that exists in the Everest region and will enable you to trek in the shadow of Everest in relative comfort. The luxury lodges employ local staff, are ecologically sympathetic and have a high level of service. Bedrooms have en suite bathrooms with flush toilets; there are landscaped gardens and a dining room/lounge/library for relaxation after your day's walk. There are no luxury lodges beyond Pangboche, 3,985m/13,074ft, but we'll stay at tea houses offering the very best facilities on the four days it will take us to reach and return from Kala Pattar, 5,545m/18,192ft, and Everest Base Camp. Trekking back via Namche, we end our trip with time to relax and explore Kathmandu.
Everest Base Camp in Style Private Departure
We can offer a private departure of this trekking holiday to Everest Base Camp in Style for a minimum of two people sharing. Please contact the office for further details or to book your private departure.
Call 01453 844400 or Email us
---
At a glance
Grade: Strenuous
Strenuous
Duration: 20 days from the UK
On trek: 15 days
Max. Altitude: 5,545m/18,188ft, Kala Pattar, Day 14
Guaranteed to run for a minimum of 4 clients
Maximum group size: 10
Land only joining city: Kathmandu
Accommodation types: Hotels, Luxury Lodges, Tea Houses
Hotels:
| | | |
| --- | --- | --- |
| Dwarika's Hotel | | |
| | | Dwarika's Hotel is built in Nepalese style and features many architectural relics rescued from palaces and temples in the valley as well as Nepalese furniture, carvings and statues. The building has a palace-like atmosphere and you really feel as if you are stepping back into Nepal's history. It is filled with fascinating original carvings and artefacts. Its elegant restaurant is one of the places to eat in Kathmandu. It also has a pleasant courtyard garden with swimming pool. |
| | | |
| Luxury Lodges | | |
| | | In both the Annapurna foothills and the Everest region, there are high quality lodges that offer a greater level of comfort then the more traditional tea houses. The lodges have comfortable lounges, excellent food and service, and ensuite bedrooms with hot and cold running water and flush toilets. They are built in eco-friendly style with landscaped gardens and are situated to take full advantage of the beautiful surrounding scenery. |
Meal arrangements: Bed and breakfast in Kathmandu, all meals on trek.
Itinerary overview
| Day | Activity |
| --- | --- |
| 1-2 | Fly to Kathmandu. |
| 3-4 | Fly to Lukla. Trek to Monjo. Acclimatisation day. |
| 5-6 | Trek to Namche Bazaar. Sightseeing and trek to Mende. |
| 7 | (Itineraries may vary by departure. Detailed itineraries for all departures can be downloaded below). Trek to Thame and return to Mende. |
| 8-9 | Trek to Pangboche via Tashinga and Thyangboche. |
| 10 | Walk to Ama Dablam Base Camp, return to Pangboche |
| 11-12 | Trek to Dingboche and on to Lobuche. |
| 13 | Trek to Everest Base Camp, 5,300m/17,384ft. Descend to Gorak Shep. |
| 14 | Ascend Kala Pattar, 5,545m/18,188ft and descend to Pheriche. |
| 15-17 | Trek to Namche. Trek back to Lukla. |
| 18-20 | Fly to Kathmandu. Sightseeing and time at leisure. Fly to London. |
Leader: Local leader, Everest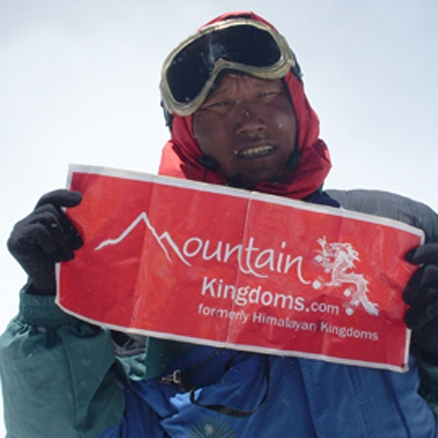 Your Everest Base Camp trek will be led by one of our highly experienced Sherpa Sirdars, the majority of whom have climbed on, or summited, Everest. They have an intimate and expert knowledge of the history, culture and nature of Nepal and will make your trip a memorable experience.
---
Everest Base Camp in Style Itinerary
Day 1 - Fly London to Kathmandu

Depart London on your overnight flight to Kathmandu.

Overnight: In flight

Day 2 - Arrive Kathmandu. Group transfer to hotel.

You will be met at the airport and transferred to Dwarika's Hotel, a luxurious and stylish 5* hotel filled with Nepalese furniture, carvings and statues. The hotel has a swimming pool and an elegant courtyard where it is a pleasure to relax. There is also a superb restaurant at Dwarika's which is renowned for its traditional Newari cuisine. It is a peaceful haven and an excellent place to unwind after the long flight from London.

Overnight: Dwarika's Hotel, Kathmandu

Day 3 - Fly to Lukla. Trek to Monjo, 2,850m/9,301ft - 5-6 hours.

You will be transferred from your Kathmandu hotel to the airport for the flight to Lukla. This is one of the most spectacular flights in the world. As you fly east, the snow line of the Himalayan range to the north will be on your left, with the rugged foothills of Nepal immediately below and stretching away to the south on your right. Lukla is situated high above the river on a shelf at 2,800m and arriving there is a one-off experience because the runway is on a slope and there is a difference of almost 60 metres between its lower and upper ends which makes for an interesting landing. On arrival you can have a cup of tea while your baggage is being retrieved. From the airstrip you will head north-west, through the village of Lukla and descend to the Dudh Khosi River at Phakding. The path leads upstream along the valley, through areas of conifer trees and several more small villages. Another 2-3 hours walking will bring you to Chumoa, 2,743m/8,997ft, a small and picturesque village of about 25 houses located below Thamserku Mountain, 6,608m/21,680ft, and close to the entrance to the Sagarmatha (Everest) National Park. Cross the Monjo Khola and shortly arrive in the village of Monjo for your overnight stop.

Overnight: Luxury Lodge

Day 4 - Acclimatisation walk near Monjo.

Monjo is a picturesque small village comprising about 25 houses and located at a small, narrow valley at the base of the peaks Thamserku, 6,608m/21,680ft, and Kaysaro. It is also at the junction between the Thamserku & Dudh Kosi kholas and is just on the edge of the Sagarmatha National Park.

Today, to help you acclimatise, your Sherpa sirdar will take you on a day walk to Thakcho Hill, which lies a little above 3,000m/9,843ft. From this vantage point the views of the Kongde Ri, Thamserku and the Numbur Himal are quite spectacular. The total excursion should take about 4 hours.

Overnight: Luxury Lodge

Day 5 - Trek to Namche Bazaar, 3,445m/11,300ft - 6 hours.

Starting from Monjo today you can walk up the steep hill to Namche when fit and fresh in the early morning.

You leave Monjo and continue to the park gates of the Sagarmartha National Park at Jorsale where you complete entry formalities. You then walk on alongside the river to arrive at the confluence of the Imja Drangka and the Nangpo Drangpo, which combine to form the Dudh Khosi. Crossing the river on a high bridge you start the steep climb to Namche. Near the halfway point up the hill, if the sky is clear, your first views of Everest and Lhotse come into sight. You then continue the climb, less steeply now, to Namche.

Namche is the largest and most prosperous village in the Khumbu. Thamserku, 6,608m/21,680ft, and Kwangde, 6,224m/20,420ft, loom to the east and west and the sacred mountain Khumbila, 5,707m/18,724ft, dominates the skyline to the north behind the village. The narrow streets at its centre are a mixture of traditional and modern, with Sherpa homes mingled with cafes, handicraft shops and shops selling, or renting, trekking and climbing equipment, foodstuffs and vegetables, tennis shoes and Tibetan boots. Don't be surprised if, after the exertion of the climb and the rise in elevation, you feel a little tired and head-achey. You will feel better after a cup of tea and a rest.


Overnight: Tea House - Namche Hotel Or Sherpaland

Day 6 - Sightseeing in Namche. Trek to Mende, 3,700m/12,139ft - 3-4 hours.

This morning you will walk up the hill to the Park Headquarters and visit the very interesting Sagarmatha National Park Museum. From here you will see the wonderful panorama and really good views of Everest and Ama Dablam. If you are feeling energetic, you might also make the worthwhile excursion to the Everest View Hotel, situated above the village of Khumjung. Although rather an ugly building and out of keeping with its surroundings, there are very good views from its terrace and you can have a cup of tea or a glass of hot lemon there and take in the mountain scenery. Alternatively you can visit here on day 8.

After lunch in Namche, you head north-west, up the Nangpo Drangpo valley (Bhote Khosi). As you walk up the valley, to your left you have fine views of Kwangde, 6,343m, and the waterfalls cascading off its flanks. You continue high above the river on a contouring trail through rhododendron forest that will provide a wealth of colour in the spring months. You should be on the lookout along here for colourful Impeyan Pheasant (the Nepalese national bird) and small deer. Just before the village of Thamo you cross a side valley (Kyajo Kola) and from there you can look back for fine views of Thamserku, 6,608m/21,680ft, and Kusum Kangru, 6,370m/20,896ft. Before you reach Thamo you take a path to the right which weaves steeply up the hillside for about 45 minutes to one hour until you reach the hamlet of Mende. The lodge has a commanding position and very fine views and once reached you will feel the effort has been worth it.


Overnight: Luxury Lodge

Day 7 - Trek to Thame, 3,801m/12,471ft, and return to Mende - 5 hours.

From the lodge a small path contours off, passing above the much larger villages of Dramo and Thomde. After ½ to ¾ hour, you connect with the Tibetan trade route and may well in fact meet Tibetan people who come over the Nangpa La, 5,716m/18,754ft, to trade in Namche Bazaar. The path then becomes an airy traverse, with big dark cliffs above and large drops to the river below. The path, however, is well formed and wide, but do stand on the uphill side if there are trains of yaks passing through. The path then descends to a bridge over a narrow fissure with water roaring below. Here there are large wall paintings of Guru Padmasambhava. The path up to Thame requires a very determined final push - time to Thame about 2 hours.

Zig-zagging across ancient moraine you come to a lovely stream with inviting pools on the left. Suddenly, you breast a slope and there is the village of Thame, one of the prettiest villages you will visit. It has scattered houses, enclosed fields and a backdrop of massive snow and ice peaks. Rest and have a cup of tea in one of the lodges and if you have the energy the walk up to the monastery it is well worthwhile. The walk up to the monastery, 3,940m/12,927ft, which being over 600 years old is one of the four oldest in Sherpa country, takes about one hour. The main temple has a fantastic atmosphere, and, not surprisingly, the monks smile permanently. Incidentally, Sherpa Tenzing Norgay's house where he lived with his first wife is situated near the top of the village.

The walk back to Mende in fact now only takes about 2-3 hours as it is mostly downhill.


Overnight: Luxury Lodge

Day 8 - Trek to Tashinga, 3,450m/11,023ft - 5 hours.

Today you descend back down the valley towards Namche. Crossing back over the Kyajo Khola you will take a high, scenic trail up to the left which by-passes Namche and ascends past the high airstrip at Syangboche and continues over the top of the ridge before descending to Khunde.

You may visit the controversial Everest View Hotel (lots of good stories about it). Situated above the village of Khumjung in a spectacular position this is an extremely ugly, Alcatraz-like building and although out of keeping with its surroundings there are really superb views from its terrace. You can enjoy a cup of tea or a hot lemon while looking out at Everest and other Himalayan giants. It might also be possible to visit the clinic in Khunde and the Khumjung School (both projects supported by the Himalayan Trust). The picturesque little gompa in Khumjung, set in a grove of trees above the houses of the village, is also well worth a visit. On payment of a small donation to the caretaker you may be allowed to see the so-called head of a yeti which is kept there. The trail descends from Khumjung with chortens forming a dramatic frame to a view of Ama Dablam, 6,696m/21,968ft, and Kangtaiga, 6,779m/22,241ft, flanked by the towering heights of Everest, Lhotse and Nuptse. You descend from the village, first through walled fields and then through rhododendron and blue pine forest to the village of Tashinga


Overnight: Luxury Lodge

Day 9 - Trek to Thyangboche and on to Pangboche, 3,860m/12,665ft - 4-5 hours.

This morning, looking across the valley, you will be able to see the path sloping diagonally up towards the famous monastery of Thyangboche, but first you have to descend to the river. This takes half an hour to an hour, descending steeply in a series of zig-zags to the Dudh Kosi River. Here you cross a suspension bridge in the lee of a gigantic overhanging cliff, 3,200m/10,499ft. A little way further on is a small hamlet, Phunki Tenga, where you could stop for a cup of tea. It is 2-3 hours from the bridge to reach the monastery at a slow, even pace. At first you climb steeply up through a pine forest, thankfully in the shade, and then emerge to walk up a long gentle straight path that rises like a ramp to the monastery.

Emerging at the top, there is a mandala gateway and a huge chorten which you pass before your first sight of the gompa. The setting is nothing short of magic and it is incredible to think that the temple was burnt down only a few years ago and was re-built largely through the efforts of the Sir Edmund Hillary Trust. There is a very good Visitors' Centre and in the afternoon it is possible to sit down inside the temple for afternoon prayers. Conch shells are blown, the monks arrive and visitors are expected to sit quietly on the right hand side of the temple. A small donation is appreciated.

Then, leaving Thyangboche, your path descends through trees to Deboche where the small and atmospheric nunnery is well worth a visit. You pass further houses and 'mani' walls as the path continues along the river valley amongst the trees. After crossing a bridge over a picturesque gorge, the path gradually climbs, with stunning views of Ama Dablam ahead. There are numerous fantastic photo opportunities in both directions, and frequent chortens and mani walls are passed as height is gained to reach the village of Pangboche. This is a very picturesque village with stone walled fields and there is a very interesting monastery set in trees at the top of the village. This is probably the oldest monastery of the Khumbu region, possibly dating back as far as the first introduction of Buddhism into the Khumbu. There used to be a 'yeti' scalp and claw kept here but they were stolen some years ago.

Overnight: Luxury Lodge

Day 10 - Acclimatisation day - excursion to Ama Dablam Base Camp, 4,576m/15,014ft - 6-7 hours.

Ama Dablam, 6,812m /22,349ft, is one of the most loved and admired mountains in Khumbu. After crossing the Imja Drangka River, followed by a gradual ascent until Lhabarma you are suddenly standing right in front of the mountain ridge. You can walk to its base and absorb the enormity of the mountain.

Ama Dablam Base Camp sits at 4,576m/15,013ft on an open yak pasture beneath the west face, with the summit some 2,300m almost straight up above. The climbing route follows the south-west ridge - the right hand skyline as you look at it - moving onto the face above the hanging glacier three-quarters of the way up. Base Camp affords particularly fine views of Kangtaiga, 6,783m/22,254ft, Thamserku, 6,608m/21,680ft, and Tawoche, 6,542m/21,463ft.

If your trek coincides with the main climbing season it is more than likely that you will find climbing groups at Base Camp either acclimatising, or fixing the route. With a pair of binoculars it may well be possible to see climbers descending the 50/60 degree ice-slopes from the summit. In 1998 an Austrian paraponted off the summit reaching base camp in less than 10 minutes; substantially quicker than the normal 2-day descent.

Overnight: Luxury Lodge

Day 11 - Trek to Dingboche, 4,360m/14,305ft - 4 hours.

You leave Pangboche on a path which ascends above the village with the height reflected in the sparse landscape. You pass some yak herders' cottages and walled fields at Orsho before crossing a stream and making a final steep ascent to Dingboche. The village of Dingboche is set in a stunning position, surrounded by high peaks. In summer months they grow barley here, which is possibly the highest altitude in the world at which this crop is grown. Depending on the time you arrive here and your energy levels, there may be time for an optional afternoon walk around Dingboche.


Overnight: Tea House

Day 12 - Trek to Lobuche, 4,931m/16,174ft - 5-6 hours.

This morning you ascend the ridge to a large chorten above Dingboche village and it is then an easy walk up a wide, grassy plateau. The peaks of Tawoche and Cholatse tower above you and it is possible to see Pheriche village in the valley below to your left. At the tiny hamlet of Duglha you reach a jumble of rocks which marks the terminal moraine at the base of the Khumbu glacier. You ascend steeply up this moraine to reach the top where there are many memorial cairns to those who have died on Everest. The landscape is now wild and rocky and there is a real feeling of being high in the mountains.

Following the often frozen stream at one side of the moraine you soon reach the cluster of houses at Lobuche. This rather bleak spot was once a yak grazing settlement and was then inhabited only during the summer months but now it is open throughout the winter serving trekkers and climbers and is the jumping off point for Everest Base Camp and Kala Pattar. Sunset over Nuptse is particularly spectacular from here. It is worth walking over to the moraine to view the moraine covered glacier behind it.

Overnight: Tea House

Day 13 - Trek to Everest Base Camp, 5,300m/17,384ft. Descend to Gorak Shep, 5,165m/16,941ft - 7 hours.

This is the big day for the trek to Base Camp. An early start is essential to get there before any cloud comes down and it will probably be very cold when you set off. Make sure to have something for breakfast even if you don't feel like it as you will need the energy. You are at high altitude, so take some snacks to keep you going along the way and be sure to have your water bottle filled when you set off.

Leaving Lobuche you head north-east, along the side of the Khumbu Glacier through jumbled moraine and shattered rock. There is almost no vegetation here. Even so, small coveys of the delightful Tibetan Snow Cock can often be seen along the way or heard calling from the hillsides. You make several energetic ups and downs across the moraine and descend to Gorak Shep where it is worth having a reviving cup of tea and a snack.

From Gorak Shep it is still a long, fairly arduous trek to base camp, initially following the top of the moraine and then descending onto the boulder-strewn glacier. In the climbing season you may follow mountaineering groups, or yaks carrying supplies, but at other times there are just a series of small cairns along the route. After a couple of hours you reach the base camp area from where, although you do not have views of the actual summit of Everest, there are sensational close-up views of the terrifying Khumbu ice-fall and the surrounding scenery of ice seracs and tumbled rocks. At this altitude the return to Gorak Shep will feel like quite a long way and will use up most of your remaining reserves of energy.


Overnight: Tea House

Day 14 - Ascend Kala Pattar, 5,545m/18,188ft, descend to Pheriche, 4,280m/14,042ft - 7-8 hours.

Although not far, this is a tough ascent of approximately 2-3 hours until you finally reach the rocky summit of Kala Pattar at 5,545m/18,192ft and quite literally the high point of your trek. From the summit of Kala Pattar there are great views of the summit of Everest as well as other Himalayan giants, Pumori, 7,145m/23,442ft, the Tibetan peak Changtse, 4,501m/14,767ft, Nuptse, Lhotse and countless other needles and snow fluted ridges. You can also look down on the Khumbu glacier to base camp.

You will then take the trail back down to Lobuche. From Lobuche you follow the path down as far as Dughla and then instead of taking the trail back to Dingboche you descend to the flat valley bottom. It is then quite a short distance on the flat to reach Pheriche, where you will stay for the night.


Overnight: Tea House

Day 15 - Trek to Tashinga, 3,450m /11,023ft - 5-6 hours.

This morning will seem much easier as you are descending and are at a lower altitude than you have been at for the last five days. From Pheriche you descend to join the valley of the Imja Khola and retrace your steps past Orsho and down the pleasant trail to Pangboche. If you did not have a chance to visit the gompa in Pangboche on the way up it would be worth a quick visit now.

Leaving Pangboche you descend to cross a bridge over a terrifying gorge before making a short climb in forest to Thyangboche - watch out for musk deer and pheasants in the woods along here. From Thyangboche you descend to the river at Phunki Tenga and then make the final climb of the day up through pine forest to reach the lodge at Tashinga. It will seem delightfully warm at this altitude and the air positively packed with oxygen.


Overnight: Luxury Lodge

Day 16 - Trek to Namche, continue to Monjo, 2,850m/9,301ft - 4-5 hours.

From Tashinga you walk to the little hamlet of Kyanjuma and take a delightful undulating trail with some of your last high altitude mountain views of the trek, looking across to the summits of Thamserkhu and Kangtaiga. You reach a corner in the trail and then you will find Namche below you. You descend into Namche and have time for a bit of souvenir shopping before making the knee crunching descent back down to the valley. If you arrive in Namche on a Saturday you will be able to enjoy the lively market where many traders will be selling their wares.

The warmer climate should offer a good opportunity to finally shed a layer or two. You will still have wonderful views, and the chance to relax in slightly warmer valley surroundings. Trek back down the Dudh Kosi valley for a short way past the checkpoint at Jorsale to Monjo.

Overnight: Luxury Lodge

Day 17 - Trek to Lukla, 2,804m/9,336ft - 6-7 hours.

Most people head towards Lukla with a heavy heart. There is something very special about the setting, the villages and the people of the high Khumbu hills and valleys and these memories will help you up the deceptively long, final climb into Lukla.

The trail to Lukla follows the main trail as far as Chablung, and then turns off above the village of Chaunrikharka towards Lukla. There are signs beyond the stream at Chablung pointing you in the direction of Lukla. The broad trail, leading uphill to the left, climbs steadily past a few bhattis and the school, then through scrub forests above the school and houses of Chaunrikharka. After a steep final climb there is a collection of houses and bhattis in Tamang Tole, a new settlement a short distance from the airport. As you approach the airstrip the houses and hotels rapidly proliferate. On arrival you can finally relax and perhaps enjoy a celebratory beer.


Overnight: Luxury Lodge

Day 18 - Fly to Kathmandu.

Today you leave the mountains behind and fly back to Kathmandu.

Please note that flights into Lukla are sometimes delayed due to weather conditions either in fog-bound Kathmandu or windy Lukla; be reassured that our staff in Lukla and in Kathmandu will be doing everything possible to minimise the inconvenience caused if this happens. Your patience in the trying circumstances, which can occur, will be greatly appreciated. Your final day of leisure in Kathmandu does of course provide a valuable 'cushion' against missing your flight home to the UK should the Lukla flight be delayed.


Overnight: Dwarika's Hotel, Kathmandu

Day 19 - Sightseeing and time at leisure in Kathmandu.

There will be time today to relax and reflect on your adventures and for sightseeing and last-minute shopping. In the morning there is a half-day guided sightseeing tour. You will visit Boudhanath Stupa then Kathmandu Durbar Square with its many temples and palaces. You will end your tour in Kathmandu's busy main bazaar, Thamel. Later you might also have time to visit the important Hindu temple complex of Pashupatinath on the banks of the Bagmati River not far from Dwarika's Hotel.

In the late afternoon or evening there will be a group transfer to the airport for your overnight flight to London.


Overnight: In flight

Day 20 - Arrive UK
Map
Map Key
Airport
Point of interest
Mountain Peak
Day walk in this area
Flights
Internal Transfers
Trek
---
2021
| Dates | Availability | Land Only | Flight Inclusive from |
| --- | --- | --- | --- |
| Sat 16 Oct - Thu 4 Nov 2021 | Available | £2865 Book | £3815 Book |
| Sat 6 Nov - Thu 25 Nov 2021 | Limited | £2865 Book | £3815 Book |
| Sat 18 Dec - Thu 6 Jan 2022 | Available | £2865 Book | £3860 Book |
2022
Hold your place
Not quite ready to book? Why not call us on 0044 (0)1453 844400 to hold a no obligation place while you make up your mind?
Optional supplements
Single room in lodges
From £455
Single room Kathmandu
From £200
Insurance
No Surcharge Guarantee
No surcharges will be applied to your holiday after you book. Prices on this website are updated regularly. The Flight Inclusive holiday price, or Land Only holiday price, will be confirmed to you at the time you make your booking. There will be no surcharges after your booking has been confirmed.
Flight inclusive holidays
The 'flight inclusive' holiday prices shown on this website are based upon our preferred airlines and the best priced economy class fares we are able to secure at the time of publication.
We will be able to advise on fares with alternative airlines, upgrades to Business Class, and the options for flights from regional UK airports, please contact us for more details.
Booking your holiday
For the majority of our holidays, a deposit payment of £100.00 per person is required to secure your place(s), however a small number of holidays require a higher deposit - please refer to the holiday itinerary for more details. If the holiday departs within 60 days, a minimum deposit of £750.00 per person is required.
Book now!
Book your small group holiday securely online – click the 'Book' button next to your chosen departure or visit our How to Book page
Complete and return a Booking Form available to download here.
Call us on 01453 844400 and one of our travel specialists will talk you through the booking process.
Loyalty discount
Find out more
What's included
An English-speaking Sherpa leader
Economy class return air fares from the UK & UK Departure Tax (flight inclusive only)
Single, timed group airport transfer for international flights on arrival and departure
All internal flights and domestic hotel/airport transfers
All road transport by private vehicles
Excellent hotel accommodation (5-star) in Kathmandu, bed and breakfast basis
Luxury lodges/tea houses on trek
Free use of a good quality down jacket on trek plus a sleeping bag for nights in tea houses.
All meals on trek
Costs of all porterage and porter insurance
A free high-quality Mountain Kingdoms kit bag
A map of the Everest region
Carbon offsetting with the Ecoan Tree Planting Project (for clients taking our flight inclusive option)
The opportunity to attend a pre-trip meet in the Cotswolds
What's not included
Travel insurance
Visa fees
Lunch and evening meals in Kathmandu
Tips
---
---
Review your holiday
Reviews
Read holiday reviews by Mountain Kingdoms travellers.
Overall score: 5.0 (Based on 14 reviews)
Everest Base Camp in Style
A real life affirming experience 24/01/2020
A real life affirming experience. I have always dreamed of making this trip and a recent sabbatical from work allowed me to do so. I cannot remember the last time I wrote to a company to commend their service but felt compelled to do so on this occasion! The obvious planning that has gone into the itinerary shows through. Some off the best days were the acclimatisation days off the beaten track. Our guide was sensational. He really fostered a great group spirit and got all 10 of us onto the Base Camp. An incredible achievement. Nothing was too much trouble for the whole team. I cannot praise him and his team highly enough. I have already recommended this trip to three people who were contemplating the trek. Already looking at your brochure for next year! Good Job!
Mr Coley , Warwickshire
Everest Base Camp in Style
EBC in Style - November 2019 11/01/2020
Outstanding experience, from beginning to end! This trip is definitely a life-list adventure for anyone who loves the mountains. The scenery is world class, and the infrastructure provides an accessible means to high-altitude trekking. The local staff were exceptional, from our guides, Kami and Phurba, who were very knowledgeable, experienced, and attentive, to the hard-working porters and excellent service at the Everest Summit Lodges. To top it off, the weather in November was perfect. Throughout the process, Mountain Kingdoms made the journey a pleasure to accomplish. Highly recommended!
Brian M., Missouri
Everest Base Camp in Style
Base Camp in Some Style! 22/11/2019
A real life affirming experience. It was a trip I had always dreamed of making. The trip from start to finish was everything I had hoped it would be. The attention to detail in the planning and the top notch guide made sure our group of 10 with an average age of 55 bonded really well and we all made our objective. The itinerary and the knowledge of our guide delivered a wonderful insight into the history of the Khumbu valley and the culture of the Sherpa People. For anyone else like me who has always dreamed of doing this- do it- you will not be disappointed!
Mr Jonathan Coley, Warwickshire
Everest Base Camp in Style
Everest Base Camp in Style 04/06/2019
Personal first class service from lovely people, well done everyone, we will be back and would not hesitate to recommend.The holiday was fantastic, I thought the itinerary and acclimatisation program was spot on. Our Guide deserves a special mention, he was outstanding and saw to our every need.
Mr A Cracknell, Essex
Everest Base Camp in Style
Xmas Holiday in Himalayas 21/01/2019
An amazing trip!!! MK took care of all the logistics, provided us an amazing hotel stay, and we were on our way to our trek. We were fortunate to have on of the most amazing guides, Kami T Sherpa, who made us feel very welcome and was always quick to provide us with anything we needed to make us feel comfortable during the trek. He was such a positive, and happy person. Travelling with him was a joy! Thank you MK for an amazing holiday.
Mr Nasir Ahmed, Canada
---