What's included
An English-speaking Sherpa leader
Economy class return air fares from the UK & UK Departure Tax (flight inclusive only)
All internal flights and domestic transfers
Single, timed group airport transfers for international flights on arrival and departure
High quality hotel accommodation in Kathmandu, bed and breakfast, twin share basis
Luxury lodge accommodation and all meals on trek
All road transport by private vehicles
Costs of all porterage and porter insurance
Sightseeing where specified
Free down jacket hire for trek (available in Monjo for the duration of the trek, you may use your own if preferred)
A free high-quality Mountain Kingdoms kit bag
The opportunity to attend one of our pre trip meets in the Cotswolds
and much more...
Call our
friendly team
Nepal, Everest Region | Walking & Trekking
Moderate / Vigorous
Moderate: Suitable for anyone who enjoys hill walking.
Vigorous: Suitable for enthusiastic hill/mountain walkers.
Find out more...
Grade: Moderate / Vigorous ? Moderate / Vigorous
Duration: 14 days from the UK
On trek: 9 or 10 days
Private Departures Available
Flight inclusive from £2,900,
Land only from £2,150
Book now or call 01453 844400
A thorough exploration of the Khumbu region staying in super comfortable lodges.
Highlights
En suite bathrooms, excellent food and top quality service – the Everest region in style
Superb trekking with wonderful views of Mount Everest and many other Himalayan giants
A luxury hotel in the heart of Kathmandu
Guided walking tour of the highlights of Kathmandu
Your holiday begins with a night in a stylish hotel in Kathmandu. From here you fly high into the Himalaya, to Lukla and begin your trek in the heart of Sherpa country – the Khumbu. We have designed this trek to take you to some of the prettiest villages within easy walking distance of the Sherpa capital, Namche Bazaar.
Throughout your trek you stay in delightful 'luxury' lodges that far surpass anything else that exists in the Everest region and will enable you to trek in the shadow of Everest in relative comfort. The lodges are ecologically sympathetic and have a high level of service. Bedrooms have en suite bathrooms with flush toilets; there are landscaped gardens and a dining room/lounge/library for relaxation after your day's walk. To add to the comfort of the trekking experience you will be supplied with a down jacket for the duration of the trek.
The trek has three main areas of focus. Firstly, Namche Bazaar, the colourful and vibrant 'heart' of Sherpa country; secondly, the Everest Trail and the monastery of Thyangboche and thirdly, part of the trail that leads ultimately over the old trade route to Tibet, the track that leads to the Nangpa La. There are good views of Everest, Ama Dablam, Nuptse and many other famous Himalayan giants as you walk up the Everest trail to the famous Tibetan Buddhist monastery of Thyangboche. In fact the whole trek has magnificent mountain scenery throughout and we were the first British operator to offer these luxury lodges in the Everest region.
Luxury Lodges of Everest Private Departure
We can offer a private departure of this Everest trekking holiday in Nepal for a minimum of two people sharing. Prices from £2,195 per person, land only. International flights available from £750. Please contact the office for further details or to book your private departure.
Call 01453 844400 or Email us
---
At a glance
Grade: Moderate / Vigorous
Moderate / Vigorous
Duration: 14 days from the UK
On trek: 9 or 10 days
Max. Altitude: 3,873m/12,707ft, Thyangboche, Day 7
Guaranteed to run for a minimum of 4 clients
Maximum group size: 12
Land only joining city: Kathmandu
Accommodation types: Hotels, Luxury Lodges, Tea House
Meal arrangements: Bed and breakfast in Kathmandu, all meals on trek.
Itinerary overview
| Day | Activity |
| --- | --- |
| 1-2 | Fly to Kathmandu. |
| 3-4 | Fly to Lukla. Trek to Monjo. Day walk from Monjo. |
| 5-6 | Trek Namche Bazaar and on to Tashinga. |
| 7 | Trek Thyangboche and back to Tashinga. |
| 8-9 | Trek to Mende via Khumjung. Then to Thame and return to Mende. |
| 10-11 | Trek to Lukla via Monjo. Visit the Gumila Monastery en route. |
| 12-14 | Fly to Kathmandu. Sightseeing tour. Fly to London. |
Leader: Local leaders, Everest luxury lodge treks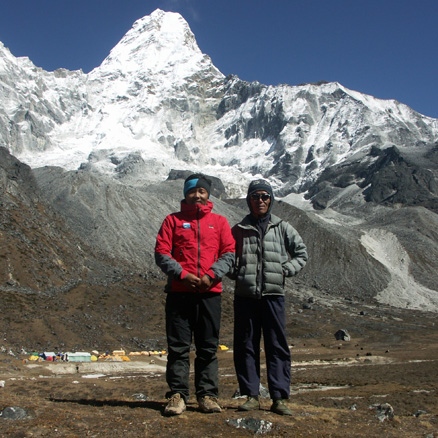 Our Nepal 'lodge' treks are led by professionally trained English speaking Sirdars. They have an intimate and expert knowledge of the trekking regions of Nepal and will make your trek a memorable experience.
---
Luxury Lodges of Everest Itinerary
Day 1 - Depart London.

Fly overnight London to Kathmandu.

Overnight: In flight

Day 2 - Arrive in Kathmandu. Group transfer to hotel.

You will be met at the airport and transferred your hotel in central Kathmandu. The hotel is a peaceful haven and an excellent place to unwind after the long flight from London. However, should you wish to venture out, you are close to the Thamel tourist area and other major cultural sights.

Overnight: Nepali Ghar Hotel, Kathmandu

Day 3 - Fly to Lukla, 2,743m/8,999ft. Trek to Monjo, 2,835m/9,301ft - 5-6 hours.

The flight from Kathmandu to Lukla and the landing at the small mountain airstrip is something you will be talking about for many years to come. The scenery is fantastic and as you fly up the vast valleys towards Lukla, the giants of the world appear on the horizon. After landing, you will probably have a cup of tea in one of the lodges in Lukla before starting the trek. It is about 2 hours to Phakding, 2,652m/8,701ft, where you will probably stop for lunch. First the path drops down a steep, stony route to meet the trail coming up through Chaurikhirka. Here you will encounter porters, sherpas, trekkers and the common beast of burden, the dzo. Then the path contours the mountainside, past lodges and the small hamlets of Ghat, 2,490m/8,169ft, and Chuthrawa, 2,591m/8,501ft. The trail takes you past large stones carved and painted with prayers, a couple of suspension bridges and under large cliffs with trickling waterfalls. From Phakding it is another 2-3 hours to Monjo, 2,835m/9,301ft, which lies just past Chumoa. Before you get to Monjo there will be time for tea at Benkar, a lovely lodge in a wild spot. Memories of the day will include the sights of porters with their heavy loads, a cacophony of different languages, strange sounding birds, tired trekkers on their way back to Lukla, prayer flags, the colourful tea houses and of course the dramatic scenery.

Overnight: Luxury Lodge

Day 4 - Day walk from Monjo, 2,835m/9,301ft - 4 hours.

Monjo is a picturesque small village comprising about 25 houses and located at a small, narrow valley at the base of the peaks Thamserku, 6,608m/21,680ft, and Kaysaro. It is also at the junction between the Thamserku & Dudh Kosi kholas and is just on the edge of the Sagarmatha National Park.

Today, to help you acclimatise, your Sherpa sirdar will take you on a day walk to Thakcho Hill, which lies a little above 3,000m/9,843ft. From this vantage point the views of the Kongde Ri, Thamserku and the Numbur Himal are quite spectacular. The total excursion should take about 4 hours.

Overnight: Luxury Lodge

Day 5 - Trek to Namche Bazaar, 3,445m/11,303ft - 3-4 hours.

This will be one of the harder days physically on your trek, so take it slowly. The path itself is full of interesting sights. Not least of these will be your first view of Everest as you get higher up the trail. From the lodge it is 15 minutes to the Everest National Park boundary and already the scenery is inspiring, with deep gorges, bare vertical rock faces, pine forests on some steep slopes and wispy waterfalls. Having completed the paperwork, it then takes 15 minutes following the right bank of the river to where it starts to climb to the Hillary Bridge, named after Sir Edmund of Everest fame. This is a tremendously impressive suspension bridge, spanning a deep chasm. The path then zigzags up through the forest where trees pack themselves in between giant boulders and cliffs. If you are lucky, you may well see small herds of thar, a small deer-like animal.

Eventually, you pull into Namche Bazaar, its Sherpa houses built one above the other on the steep sides of a sloping mountain bowl. The narrow streets at its centre are a mixture of cyber cafés, souvenir shops and places where you can rent/buy any piece of equipment under the sun. Namche is a bustling place and the hub of everything that goes on in the Everest region. All expeditions pass through here on their way to the peaks and there is a huge cross section of nationalities staying in lodges, or camping.


Overnight: Namche Hotel or Sherpaland

Day 6 - Trek to Tashinga, 3,360m/11,024ft - 2 hours.

It is only a short trek, less than 2 hours, to Tashinga, on the classic route towards Everest. First you have the steep pull up the hill out of Namche to the national Park HQ (good views of Everest here). Then the path is more or less level as it winds its way around the mountainsides. It then drops down the hill to the river below Thyangboche and after a couple of lodges the path breaks off to the small hamlet of Tashinga. The afternoon can be spent relaxing in the lovely lodge gardens.

Overnight: Luxury Lodge

Day 7 - Trek to Thyangboche, 3,873m/12,707ft and back to Tashinga - 3-4 hours.

This morning, looking across the valley, you will be able to see the path sloping diagonally up towards the famous monastery of Thyangboche, but first you have to descend to the river. This takes between half an hour to one hour, descending steeply in a series of zig-zags to the Dudh Kosi River. Here you cross a suspension bridge in the lee of a gigantic overhanging cliff, 3,200m/10,499ft. A little way further on is a small hamlet, Phunki Tenga, where you could stop for a cup of tea. It is 2-3 hours from the bridge to reach the monastery at a slow, even pace. At first you climb steeply up through a pine forest, thankfully in the shade and then emerge to walk up a long, gentle, straight path that rises like a ramp to the monastery itself.

Emerging at the top, there is a mandala gateway and a huge chorten which you pass before your first sight of the gompa. The setting is nothing short of magic and it is incredible to think that the temple was burnt down only a few years ago and was re-built largely through the efforts of the Sir Edmund Hillary Trust. There is a very good visitors' centre and in the afternoon it is possible to sit down inside the temple for afternoon prayers. Conch shells are blown, the monks arrive and visitors are expected to sit quietly on the right hand side of the temple. A small donation is appreciated. Then sadly, it is time to leave and return down the trail and back up through the forest to Tashinga.

Overnight: Luxury Lodge

Day 8 - Trek via Khumjung and Khunde to Mende, 3,738m/12,264ft - 5 hours.

Today, you will trek by the villages of Khumjung and Khunde, across the top of Namche Bazaar and then up the Nangpo Dzangpo valley to the lodge at Mende. Leaving Tashinga Lodge you contour on a small path to reach the main trail leading to Khumjung, approximately one hour. The path leads gently up the shallow valley and Khumjung itself is built into a mountain bowl. The village is surrounded by mountains and regular patterned terraced fields. It has the best bakery in the Everest region and a stop for coffee and cakes is a must. The village of Khunde is a short walk further on and contains the famous medical centre instigated by the Sir Edmund Hillary Trust. Take time also to visit the Edmund Hillary School.

Leaving Khumjung behind, there is a short climb out of the valley and the path then descends towards Namche. You in fact take the high level path across the top of the township, turning the corner to head north again. The valley ahead is extremely beautiful and you just wander along a dappled forest track, or in the open with wonderful views. Again, you may see monal pheasant or small herds of thar. Having turned the corner above Namche, after an hour you come to the small village of Phurte where there is a Sir Edmund Hillary forestry project, a large chorten and some very attractive mani walls (prayer walls).

The path continues quite easily and rounding a corner you look down at the small hamlet of Tshro. You now turn off the main trail and make your way slowly up a closed valley. This valley is closed off by the holy peak of Khumbui Yul Lha, 5,761m/18,900ft. As you move up to the head of the valley you come to one or two lone houses and small fields and then you will cross the river and climb steeply up the hillside to the hamlet at Mende. This is the sting in the tail at the end of the day!

This lodge has a commanding position and very fine views and once reached you will feel the effort has been worth it.


Overnight: Luxury Lodge

Day 9 - Trek to Thame, 3,801m/12,471ft and return to Mende - 5 hours.

A small path contours off, passing above the much larger villages of Dramo and Thomde. After ½-¾ hour, you connect with the Tibetan trade route and may well meet Tibetan people who come over the Nangpa La, 5,716m/18,754ft, to trade in Namche Bazaar. The path then becomes an airy traverse, with big dark cliffs above and large drops to the river below. The path is well formed and wide, but do stand on the uphill side if there are trains of yaks passing through. The path then descends to a bridge over a narrow fissure with water roaring below. Here there are large wall paintings of Guru Padmasambhava. The path up to Thame requires a very determined final push, (the time to Thame is about 2 hours).

Zig-zagging across ancient moraine, you come to a lovely stream with inviting pools on the left. Suddenly you crest a slope and there is the village of Thame, one of the prettiest villages you will visit. It has scattered houses, enclosed fields and a backdrop of massive snow and ice peaks. Rest and have a cup of tea in one of the tea houses and if you have the energy to walk up to the monastery it is well worthwhile. Incidentally, Sherpa Tenzing Norgay's house is situated near the top of the village where he lived with his first wife.

The walk up to the monastery, 3,940m/12,925ft, which being over 600 years old is one of the four oldest in Sherpa country, may take about one hour. The main temple has a fantastic atmosphere, and not surprisingly, the monks who live here smile permanently. The walk back to Mende in fact now only takes about an hour as it is mostly downhill, but you could opt to take the higher level traverse to visit another interesting monastery. It is not occupied, but well worth a visit if you can find the energy.


Overnight: Luxury Lodge

Day 10 - Trek to Monjo Lodge - 4 hours.

We would highly recommend the half hour steep walk up to the monastery above Mende. The main temple is only 40 years old and was used until recently as a school for Western Buddhists. It has a remarkable meditation room built underneath a huge rock. The main temple is also beautiful, the prominent figure here is Chenrizig, the Buddha of Compassion and there is a full set of Buddha's works. Four people still live here and a stout, old nun may well serve you tea in her house.

From Mende you will return to the lovely lodge at Monjo. You will take the lower path to trek back to Namche. There will be time for a short stop in Namche to do some last minute shopping before making the descent to Monjo. You'll cross the Edmund Hillary Bridge and will soon be in the familiar surroundings of the Monjo Lodge.


Overnight: Luxury Lodge

Day 11 - Trek via Gumila Monastery to Lukla, 2,743m/8,999ft - 5 hours

Today you will trek back to Lukla. You will pass through the village of Phakding where you will have a chance to view the monastery at Gumila above Phakding. Within the monastery reside 12-15 monks from the Gelukpa Sect; it is also a Buddhist teaching monastery. It takes about 30-45 minutes to reach the monastery from the main trekking route. From here you will retrace your steps back to Lukla and stay at the new Everest Summit Lodge.

Overnight: Luxury Lodge

Day 12 - Fly to Kathmandu.Time at leisure.

This morning you will take the small fixed wing flight back to Kathmandu, to be met on arrival and transferred to your hotel for some well-earned relaxation.

Please note that flights into and out of Lukla are sometimes delayed due to weather conditions either in fog-bound Kathmandu, or windy Lukla; be reassured that our staff in Lukla and in Kathmandu will be doing everything possible to minimise the inconvenience caused if this happens. Your patience in the trying circumstances which can occur, will be greatly appreciated.

Overnight: Nepali Ghar Hotel, Kathmandu

Day 13 - Half day sightseeing in Kathmandu. Transfer to airport. Depart Nepal.

This morning you will be able to enjoy the medieval atmosphere of Asia's former hippy capital which has a wonderful mixture of crowded bazaars, Hindu and Buddhist temples, shrines and stupas, colonial and ancient architecture as well as modern buildings. We include a half day sightseeing tour of Kathmandu with an English-speaking guide visiting the Monkey Temple, Durbar Square and Boudhanath Stupa.

Later in the afternoon there will be a group transfer to the airport for your overnight flight back to London.

Overnight: In flight

Day 14 - Arrive London.
Map
Map Key
Airport
Point of interest
Mountain Peak
Day walk in this area
Flights
Internal Transfers
Trek
---
2020
| Dates | Availability | Land Only | Flight Inclusive from |
| --- | --- | --- | --- |
| Wed 8 Apr - Tue 21 Apr 2020 | Available | £2150 Book | £2900 Book |
| Tue 13 Oct - Mon 26 Oct 2020 | Available | £2150 Book | £2950 Book |
| Sat 7 Nov - Fri 20 Nov 2020 | Available | £2150 Book | £2950 Book |
| Sun 20 Dec - Sat 2 Jan 2021 | Available | £2150 Book | £3050 Book |
2021
Hold your place
Not quite ready to book? Why not call us on 0044 (0)1453 844400 to hold a no obligation place while you make up your mind?
Optional supplements
Single room supplement
From £415
Insurance
No Surcharge Guarantee
No surcharges will be applied to your holiday after you book. Prices on this website are updated regularly. The Flight Inclusive holiday price, or Land Only holiday price, will be confirmed to you at the time you make your booking. There will be no surcharges after your booking has been confirmed.
Flight inclusive holidays
The 'flight inclusive' holiday prices shown on this website are based upon our preferred airlines and the best priced economy class fares we are able to secure at the time of publication.
We will be able to advise on fares with alternative airlines, upgrades to Business Class, and the options for flights from regional UK airports, please contact us for more details.
Loyalty discount
Find out more
What's included
An English-speaking Sherpa leader
Economy class return air fares from the UK & UK Departure Tax (flight inclusive only)
All internal flights and domestic transfers
Single, timed group airport transfers for international flights on arrival and departure
High quality hotel accommodation in Kathmandu, bed and breakfast, twin share basis
Luxury lodge accommodation and all meals on trek
All road transport by private vehicles
Costs of all porterage and porter insurance
Sightseeing where specified
Free down jacket hire for trek (available in Monjo for the duration of the trek, you may use your own if preferred)
A free high-quality Mountain Kingdoms kit bag
The opportunity to attend one of our pre trip meets in the Cotswolds
What's not included
Travel insurance
Visa fees
Lunch and evening meals in Kathmandu
Optional trips
Tips
---
---
Review your holiday
Reviews
Read holiday reviews by Mountain Kingdoms travellers.
Overall score: 5.0 (Based on 8 reviews)
Private Departure - 15 day trek of Nepal' s Everest region 11/11/2018
This was a wonderful experience which I would recomend to anyone who is reasonably fit [I am 77]. It opened my eyes to many important matters, social, environmental and personal. The scenery is breath takingly magnificent, the people wonderful, friendly and kind. The whole trip was perfectly organised. The guides excellent Good value.
Mr Benjamin Weager, Glos
Excellent local guide 10/03/2017
This was our first experience of a holiday like this and we were far from disappointed. We were lucky enough to have perfect weather and the best guide, Nima, a group could ask for. He was truly inspirational and made our trip very memorable, such a credit to your company.
Mrs S and Mr F, Gloucestershire
Luxury Lodges of Everest - Good accommodation 05/11/2011
This was a well organised trek with as good accommodation as could possibly be expected in the Everest region. The whole trip was enhanced by a superb leader whose knowledge and organisational skills really contributed to its success - and his three support staff all of whom could not have been better.
Mr & Mrs R, Lancashire
Most fantastic experience 16/10/2010
This was the most fantastic experience and credit goes to Mountain Kingdoms for their care in arranging such a well thought out itinerary and using knowledgeable, well trained local staff. The hotel Dwarika's was fantastic.
Mr F, Gloucestershire
Luxury Lodges of Everest - Magical scenery 16/10/2010
This was a fantastic holiday! The route was just right- challenging but do-able and magical scenery every day. Pace and acclimatisation were both very well judged by our trek leader, who could not have done more to ensure that we had the best possible experience. Absolutely no complaints - more holidays of this type please.
Mr & Mrs T, London
---