/
Holiday
/
Annapurna North Base Camp Trek
Kathmandu, Nepal, Pokhara, Annapurnas | Walking & Trekking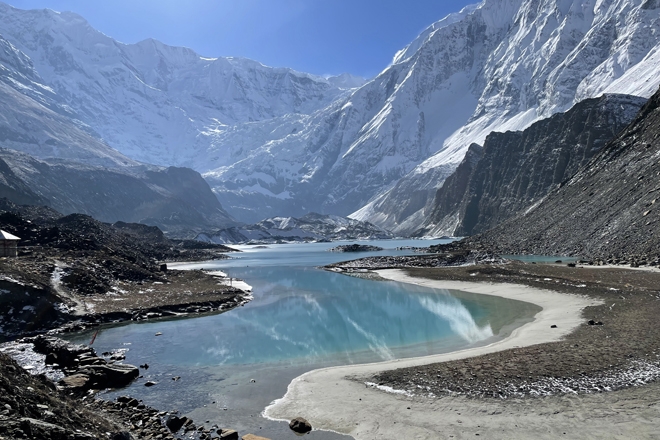 Grade:

?

Moderate / Vigorous

Moderate: Suitable for anyone who enjoys hill walking.

Vigorous: Suitable for enthusiastic hill/mountain walkers.

Find out more...

Moderate / Vigorous

Duration: 14 days from the UK
On trek: 6 days
Private Departures Available
Flight inclusive from £3475, Land only from £2195
A sensational new short but remote trek into the majestic heart of the Annapurnas, following in the footsteps of Maurice Herzog's fabled 1950 expedition to Annapurna I.
Highlights
A scenically spectacular little-known alternative to the Annapurna Sanctuary trek
Wild terrain with towering cliffs, waterfalls, glaciers, a brilliant blue lake and a host of Himalayan giants
Trek high point at French Advance Base Camp, 4,305m, with staggering 360-degree mountain views
Four-star hotel in Kathmandu, exciting mountain road to the start of the trek, and a well-paced ascent
Remote camping trek - the equal of anything in the Himalaya but in just two weeks London to London
Reviews
I can honestly say I feel privileged to have had the chance to have visited this inner sanctum of Annapurna. When you arrive at the Base Camp you are surrounded by a collection of such massive peaks that you cannot help but leave the tents every ten minutes just to soak up the views!  The approach trek is also a great fun outing and constantly changing. The cliffs in the Miristri Khola gorge are...
Steve Berry, MD, Mountain Kingdoms
Next
The tea house trek to the foot of the beautiful Annapurna range, better known as the Annapurna Sanctuary Trek, is a well-established Himalayan classic, and deservedly so. However, for those prepared to camp there is now a superb alternative trail which approaches Annapurna I, the world's tenth highest mountain, from the west rather than the south.
This new trekking route, which has only recently been made accessible thanks to the combined efforts of a local politician and the exciting access road built for two new hydro projects at the foot of the valley, is truly stunning. It follows in the historic footsteps of a 1950 French expedition led by esteemed mountaineer Maurice Herzog, the first to successfully climb Annapurna I and the first ever ascent of an 8,000m peak. Panoramic views of the Annapurnas, Nilgiri, Hiunchuli, Machhapuchare and Dhaulagiri unfold as the hiking trail ascends through forest, passing beneath dramatic cliffs and hanging waterfalls. The final campsite above brilliant blue Narchang Lake at 4,050m is the equal of any in the Himalaya.
Although the route only takes six days, the terrain feels pristine and a million miles away from the relative civilisation of Annapurna's popular tea house trails. And, with the highest camp at an altitude of just over 4,000m, it ensures that acclimatisation isn't compromised.
This is the perfect Nepal adventure for anyone who has only a couple of weeks to spare but wants an unforgettable trek right up to the foot of some of the world's highest mountains. Go now before word gets out.
Private Departures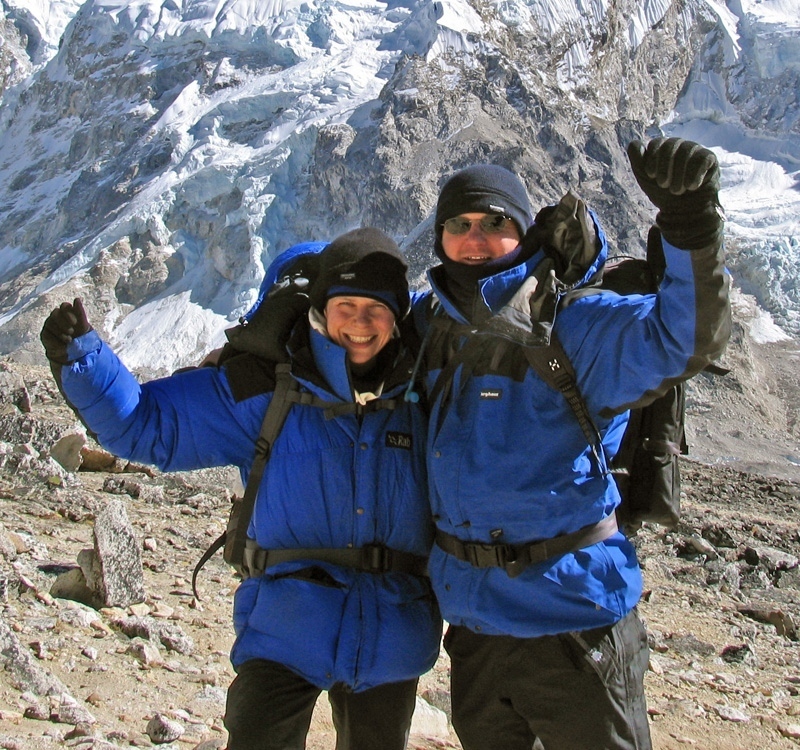 Annapurna North Base Camp Trek - Private Departures
If you would prefer to travel just with your partner, friends or family, we can arrange a private departure of this holiday. You follow the same itinerary, but travel on dates that suit you. Alternatively we can include elements of this holiday in a bespoke Tailor Made itinerary. Contact our friendly team for details and prices, and to make a booking.
---
At a glance
Grade:
Moderate / Vigorous
Duration: 14 days from the UK
On trek: 6 days
Max. Altitude: 4,305m/14,124ft, Advance Base Camp, Day 8
Private Departures Available
Guaranteed to run for a minimum of 4 clients
Maximum group size: 12
Accommodation types: Hotels, Camping
Festival:
Laxmi Pooja Festival - October 22nd departure
Meal arrangements: Bed and breakfast in Kathmandu and Pokhara. All meals on trek.
Leader: Local Leader, Nepal
Whether it's a cultural tour, gentle walking holiday or strenuous trek, our holidays in Nepal are led by professionally-trained English speaking leaders. They have an intimate and expert knowledge of the history, culture and nature of Nepal and will make your trip a memorable experience.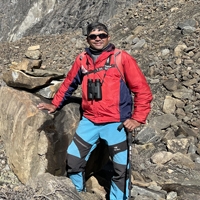 ---
Holiday Itinerary
Day 1 - Fly London To Kathmandu
Depart London on your overnight flight to Kathmandu.
Overnight: In Flight
Day 2 - Arrive Kathmandu. Group transfer to hotel.
The overnight flight from London, with a stop usually in the Middle East, typically arrives in Kathmandu in the afternoon. Your guide will meet you at the airport to welcome you to Nepal and then you transfer in a private vehicle to your hotel. Once you have settled in you can enjoy a short tour of the Museum of Nepalese Art (MONA) which is part of the hotel - free entrance is included for Mountain Kingdoms clients. In the evening you may like to wander the back streets of the old part of town, Thamel.
Overnight: Kathmandu Guest House Or Similar, Kathmandu
Day 3 - Fly to Pokhara - 25 minutes flight time. Sightseeing tour and local walks.
After breakfast you will transfer to the airport for the short domestic flight to Pokhara, Nepal's second city. There are fantastic view of the Himalaya including of course, Annapurna. Pokhara has a wonderful location, being set on the banks of picturesque Phewa Tal (lake) and enjoying magnificent views of the Annapurna range of mountains. On arrival in Pokhara you will be taken to your hotel before heading out to enjoy some sightseeing. First stop is the lakeside area where you will take a boat ride out across the lake. You can soak up the wonderful views of the not-so-distant mountains and the terraced hillsides around the lake and watch the daily life of local people along the shores of the lake; boats loaded with produce crossing from shore to shore, water buffalo wallowing up to their noses in the water and children splashing about in the shallows. You will also visit the two-storied pagoda style temple of Tal Barahi which is located on a small island in the lake. After this you head into the centre of town to visit the Mountaineering Museum which has interesting displays on expeditions in the Annapurna Range and on the mountain peoples living in the region. It is worth seeking out the artifacts and historical record of the 1950 French expedition which made the first ascent of Annapurna I in 1950. You may then drive to Devis Falls Tibetan Centre to see some carpet weaving and to see the Devis Falls themselves.
Overnight: Waterfront Lakeside Resort, Pokhara
Day 4 - Drive to Tatopani, 1,216m/3,990ft, via Beni - 5 to 6 hours drive, approximately 70 to 80 kms.
This morning you watch the Nepalese world go by as you head away from Pokhara toward the countryside and climb into the hills. For some unbeknown bizarre reason there is even a six lane carriageway for a short stretch, but then you are into the countryside and climbing into the hills. The views are always interesting and impressive as you traverse the Naudanda ridge (with good views of the Annapurna range) before you pass through the Modhi Khola Valley. The geology is fascinating and the gorges get grander and grander. You pass through hamlets, villages, and highly cultivated terraced farmland. The Modhi Khola joins the Kali Gandaki River Valley to arrive at the town of Beni. This is a District headquarters and pretty typical for Nepal - a busy, noisy, bazzar town of ramshackle shops and offices. It should take around four to five hours to Beni, and another hour or so to Tatopani. The road deteriorates somewhat beyond Beni, but the scenery does not. In fact there are beetling cliffs and the occasional girder bridge across the swift and powerful river. If you stayed on this road it would eventually reach up to the kingdom of Mustang, much further north. Instead, you branch to the right to head up to Tatopani.
Arriving at Tatopani on a clear day you will see the Nilgiri peaks framed at the end of the valley. A new hotel has been built here where you will stop for the night. It is well worth exploring the town after you have settled into your room.
Overnight: Hotel Natural Springs, Tatopani
Day 5 - Drive to Hum Khola Dovan, 2,751m/9,027ft - 1½ hours drive, 20km. Begin trek to Sadhi Kharka, 3,182m/10,439ft - 2½ to 3 hours trek.
What a drive! Shortly after leaving Tatopani you cross the river on another girder bridge. On this day there is little or no tarmac, just a dirt road, and to begin with you are passing through farmland and driving past small villages, soon however, the road begins to climb. The vehicle changes into low gear ratio and you zig zag ever upward. First through forest and eventually you begin to traverse steep mountainsides. The higher you go the more exciting the road becomes.
You pass a group of buildings (storerooms, garage and office) squeezed onto a small level area. Further on and you marvel, astonished at the outrageous vision of the road builders. The road is literally carved out of cliff faces. Much of this must have been accomplished by the liberal use of dynamite. It is wide enough for lorries, and occasionally there are constricted passing places. Clearly the road is used regularly, and on a daily basis, but knowing this will not diminish the thrill of this hair-raising journey. Eventually you come to the upper hydro project at Hum Khola Dovan, which is still under construction. Construction workers wave a surprised greeting. The road ends just above this point, and soon you will be donning walking boots and rucksacks and heading off on the start of the trek proper.
The trek is a delight and the path well-constructed. Soon the valley tightens further, and you wonder how the path will be able to go up, but it does. You cross the river twice on suspension bridges. The cliffs and waterfalls are staggeringly impressive - some of the cliffs must be in excess of 1,200ft above your dizzy gaze. If you see a large white splodge high on a cliff that is likely to be an eagle's nest and you will almost certainly see these birds high on the thermals. At some point on the right-hand side of the valley there are a set of giant rock slabs. Above the first night's camp on the left are cliffs to beat them all. Arriving at Sandhi Kharka you will see a 'porter shelter'. This is a simple, fairly recently built, wooden, one-room structure with a corrugated iron roof. The crew will use this as a kitchen and as their sleeping quarters. Although you are in among some forest there are views of big peaks appearing, and of the cliffs opposite.
Overnight: Camp
Day 6 - Trek to Bhusket Mela, 3,546m/11,635ft - 3 to 4 hours.
Another fantastic day for scenery! Firstly, you cross the river on a good suspension bridge (the remains of a much older bridge made of logs can be seen here) leading to a set of cleverly made steps below cliffs and above a small waterfall. Up from here you come to a spooky place that is hemmed in by lowering cliffs. The wide staircase is a little overgrown with weeds and it feels like the approach to Count Dracula's castle. For some long while you are still in and out of forest but you slowly gain height with gigantic cliffs on your left. On your right tumbles the river stacked with huge boulders, and hanging waterfalls drop many hundreds of feet. Another bridge below PhutPhute Waterfall takes you up another staircase of steps. At some point the path and its steps almost corkscrews steeply upwards through the forest. Take care not to stumble and admire the skill of the builders of the impressive path. As you crest the highest point it levels out somewhat and continues high above the river.
The route becomes easier much to your relief! Soon you reach another porter's shelter at Gupha Pant, 3,306m/10,847ft, among birch trees, about 1½ hours from camp. There is a small shrine here. After this the path starts to gain height again after another suspension bridge and bears round to the left. There are incredible views of Tilicho Peak, 7,134m/23,996ft, framed in the valley, and you can see parts of the Annapurnas on the right. Ice slopes glistening in the sun, ridges disappearing into clouds.
Leaving the forest behind you come to open scrub and a rockier path. There is a point somewhere here on the left where Herzog and his expedition came down from the Fanche Pass on their way to Annapurna. Just near here, marked by a sign that says 'Sky Caves', are a strange set of what looks like caves high above, formed by erosion of ancient glacial moraine. They are shown on some maps as Narchang Pit Hole. The views of the Annapurnas, and Annapurna Fang (a peak on the great Annapurna ridge), 7,647m/25,089ft, are sensational from here. Just on a bit there is a grand waterfall dropping over a vertical cliff. The path passes close by it.
It is a much easier ramble now to Bhusket Mela still stopping every few minutes to soak up the views. Everywhere you look are either gigantic cliffs or major Himalayan giants poking their heads over ridges. All the time you are walking towards Tilicho Peak which looms larger and larger. You cross a fine suspension bridge, Bhusket Mela is close now.
Arriving at the night stop you'll notice there are some weird rock spires behind camp. The hut here has stone walls and a good roof, though the front is open to the elements. In 2023 this is where Steve Berry first met Mr Tez Gurung, the instigator and project manager behind the building of the trail. A very convivial evening was spent sharing stories. Tez Gurung has been up to the old French base camp some 70+ times. In that period, of around 10 years, he has seen snow leopard, blue sheep, thar (deer type animal), musk deer, and pikka (small rodent). Indeed, we saw much evidence of blue sheep, and saw the friendly little pikkas that hang around camp.
Overnight: Camp
Day 7 - Trek to Annapurna North Base Camp, 4,050m/13,287ft - 3½ to 4 hours.
Another sensational day, but very tiring. It is only a height gain of 490m/1,600ft but it seems much harder, all down to the effects of altitude. Go slowly! There are cliffs everywhere and now you have a sense of achievement looking back down the mammoth valley you have come up. The path is well-made and clear and climbs gradually most of the time. There are one or two steepish bits and care is needed but by-and-large it is a good trail. It roughly follows the roaring river with its unreal boulders. There are more surreal ribbon waterfalls. Look out for soaring eagles.
Eventually you will see the high wall of an ancient glacial moraine ahead, and there is an obvious rectangular rock with a small cairn on top, 3,756m/12,323ft. Sure enough when you reach it the path levels out somewhat. Ahead now is a giant jumble of moraine, a positive maze, but the path is still clear. You pass a great yellow sandstone cliff with a waterfall falling down a chute on its left hand side.
Finally, you come to a rise and a sign which says Kagbhusundi Danda, 4,060m/13,320ft, and there below is Lake Narchang. Ahead are cliffs like something out of a sci fi movie. Black, regular, horizontal, buttresses strong enough to support the weight of Tilicho Peak which seems to sit on top of them, but this just a small part of the view. You have arrived at a huge valley hemmed in on all sides by icy peaks. Annapurna's receeding glaciers feed the lake. It was from here that in 1950 the French mounted their audacious climb of the world's 10th highest peak. The first of the 8,000m peaks to be climbed successfully. Maurice Herzog's book, 'Annapurna' is a must read if you undertake this trek!!
Tonight you are camping at the original base camp used by Herzog's French team in 1950. Tomorrow you will explore to the modern day base camp and the French Advance Base Camp. If time and inclination allow you could explore some way towards Tilicho.
Overnight: Camp
Day 8 - Trek to the modern day Annapurna I Base Camp, 4,190m/13,728 ft. Visit the French Advance Base Camp, 4,305m/14,124ft. Possible foray toward Nilgiri Base Camp. Return to Annapurna North Base Camp. Total trek time - 5-6 hours.
No kind of superlatives do justice to this hidden valley and today you will see the very best of it. After another tasty breakfast designed to give you plenty of calories, you descend the short distance to the end of the lake. Now you have to cross the stream. There may be planks in place for this purpose or you might have to wade across. A short rise brings you to a couple of small temples/shrines, one Hindu, the other Buddhist.
From here the path can be seen easily snaking up to a smaller drier valley. Today's expeditions use this as their base, and you might very well meet climbers and their Sherpas attempting one of the Annapurna summits.
From this good level campsite you wander up a gully leading up on to the top of the moraine, and in the direct opposite direction of the Nilgiris. You arrive after some time on top of the moraine and, keeping away from the edge which drops steeply down to the lake far below, you continue to follow a vague path. At the very end is the remains of a very old building and a large memorial chorten. The latter has many inscribed stones and tablets to those who perished on their climbs. One name seen engraved here is Alison Chadwick who died attempting Annapurna in 1978.
The views from here are the best on the whole trip and that is saying something. You cannot help but speculate what was the route that the French took - it all looks exceedingly dangerous. The main views are of the Annapurnas which hog the stage but there are a host of other big stars surrounding you. There are glaciers, gigantic cliffs, impossibly steep snow faces, seracs, and pencil thin waterfalls crashing into the depths.
Walk back along the top of the moraine being careful not to get too close to the edge. Large crashes may be heard as the moraine sheds a regular stream of debris into the lake below. Lots of interesting small birds and the more confident cheeky choughs may come looking for scraps when you stop for a picnic lunch. Back at the modern day Annapurna I Base Camp head off now in the opposite direction. This too is fun exploration and there are many possibilities. You have plenty of time if the weather is settled. Please follow your Sherpa's advice and stay as one party; it would be easy enough to get lost.
You will almost certainly end the day celebrating the fact that few foreigners have been here before you and you have seen what it is like to be high up in a remote Himalayan valley.
Overnight: Camp
Day 9 - Return trek to Sadhi Kharka, 3,182m/10,439ft - approximately 6½ to 7 hours.
You have the pleasure now of enjoying the descent of the huge valley and gorges you laboured up on your way to pay obeisance to the Gods of Annapurna. It may take about three hours to reach Bhusket Mela and a little less to Sadhi Kharka, depending on how many photos you take.
No doubt you will leave with a sad feeling because unlike Mr Tez Gurung you might not come up here again, and it is a wrench leaving somewhere quite so beautiful. You know the route now but accidents often happen descending a mountain. Take care, go slowly - you have plenty of time. There are a couple of places where there has been minor avalanche debris but they are easily managed. There is a section in the forest where the path is 'exposed' - the path is good, but you know to take care here. You will watch out no doubt for that spot where the walls of the gorge narrow to 50 to 100m wide. Very impressive. Remember that place where there were five ribbon waterfalls all in a row – magical stuff.
Overnight: Camp
Day 10 - End trek. Descend to Hum Khola Dovan - 2½ to 3 hours, descent of 430m/1,412ft. Drive to Pokhara - 5 to 6 hours.
The thoughts of hot showers and a comfy bed with duck down pillows, perhaps a glass of wine or two, begin to creep into your mind. Still you need to focus, and the path is terribly exciting. You know you are not far from the end when you come into cane thickets. Before you drive off down that amazing road don't forget to tip your porters who have worked so hard. Perhaps last night you had a celebration meal, and you had a party with them and your guide and cook. Perhaps you did the tipping then. In any case they will be like friends now, and there will be fond farewells for those not driving back to Pokhara with you.
Again, the thrill of the 20km drive to Tatopani but you are 'old hands' by now. We recommend one of those blow-up pillows for naps on the drive back from Tatopani to Pokhara. You will probably stop for a Nepalese lunch at a roadside restaurant.
The hotel we have chosen is the Himalayan Front Hotel. It is up above Pokhara at a place called Sarangkot. It is a much quieter location than the Waterfront Resort and has fantastic views of the mountains. Every room has a mountain view. It will seem unreal that only a few days ago you were up there among those very peaks!!
Overnight: Himalayan Front Hotel, Sarnagkot Pokhara
Day 11 - Day at leisure in Sarangkot, Pokhara. Laxmi Pooja Festival at end of October.
There are numerous options in Pokhara although after such a wild adventure you might like a day simply to relax. If you are travelling on our 22nd October departure you will be able to enjoy the Laxmi Pooja festivities that are taking place in Pokhara this evening as well as in Kathmandu tomorrow night. During the Light Festival of Laxmi Pooja all houses, streets, entire villages, towns and cities are lit up by hundreds of thousands of pure-oil earthen lamps and candles to welcome Laxmi, Goddess of Prosperity, into the home and the community. Groups of people, mostly girls and boys will be seen out in the streets singing and dancing, they go from house to house playing "bhailo" and "deusi", similar to carol singing at Christmas. It is a joyous occasion and you will have fun mingling with the crowds if you travel down into Pokhara.
Overnight: Himalayan Front Hotel, Sarnagkot Pokhara
Day 12 - Morning fly to Kathmandu. Transfer to hotel. Afternoon half day sightseeing tour in Kathmandu.
After a morning to recuperate from your flight, you take an afternoon walking tour of central Kathmandu with an English-speaking guide. They will introduce you to the history, traditions and legends of Kathmandu and its people. The splendid royal palaces, temples and monuments of Durbar Square are amongst its most impressive sights and the bustling markets and shrines of Indra Chowk and Asan Tole are good places to stop and linger. Your afternoon ends in Thamel, the tourist heart of the city crammed with tourist shops, bars and restaurants. Then head by private vehicle to Swayambhunath temple, better known as the Monkey Temple due its vast troop of fearless monkeys. It's a great place to watch the sunset over Kathmandu.
Overnight: Kathmandu Guest House Or Similar, Kathmandu
Day 13 - Morning free. Evening transfer to fly to UK. Depart Kathmandu.
Today will be at leisure for some shopping, sightseeing or simply relaxing after your trek. If sightseeing, you might like to visit the important Hindu temple complex of Pashupatinath on the banks of the Bagmati River or the magnificent stupa of Boudhanath. You could also take a taxi in the morning (hotel reception can help you organise this) to visit one of the two old towns of the Kathmandu Valley, Bhaktapur or Patan. Later in the afternoon there will be a transfer to the airport for your overnight flight to London.
Overnight: In Flight
Day 14 - Fly Kathmandu to London.
Transfer to the airport for your flight to London.
---
2024
| Dates | Availability | Land Only | Flight Inclusive from |
| --- | --- | --- | --- |
| Sun 24 Mar - Sat 6 Apr 2024 | Available | £2195 Book | £3635 Book |
| Sun 14 Apr - Sat 27 Apr 2024 | Available | £2195 Book | £3475 Book |
| Sun 13 Oct - Sat 26 Oct 2024 | Available | £2195 Book | £3510 Book |
| Tue 22 Oct - Mon 4 Nov 2024 | Available | £2195 Book | Contact Us |
Hold your place
Not quite ready to book? Why not call us on +44 (0) 1453 844400 to hold a no obligation place while you make up your mind?
---
Optional supplements
Single Room Supplement
£205
Single Tent
£110
No Surcharge Guarantee
No surcharges will be applied to your holiday after you book. Prices on this website are updated regularly. The Flight Inclusive holiday price, or Land Only holiday price, will be confirmed to you at the time you make your booking. There will be no surcharges after your booking has been confirmed.
Flight inclusive holidays
The 'flight inclusive' holiday prices shown on this website are based upon our preferred airlines and the best priced economy class fares we are able to secure at the time of publication.
We will be able to advise on fares with alternative airlines, upgrades to Business Class, and the options for flights from regional UK airports, please contact us for more details.
Booking your holiday
For the majority of our holidays, a deposit payment of £400.00 per person is required to secure your place(s), however a small number of holidays require a higher deposit - please refer to the holiday itinerary for more details. If the holiday departs within 60 days, a deposit of £1,000.00 per person is required.
Book now!
Book your small group holiday securely online – click the 'Book' button next to your chosen departure or visit our How to Book page
Complete and return a Booking Form available to download here.
Call us on +44 (0)1453 844400 and one of our travel specialists will talk you through the booking process.
What's included
Experienced trekking guide
All accommodation as specified on a twin share basis
B & B in Kathmandu and Pokhara, all meals on trek
Single, timed group airport transfers for international flights on arrival and departure
All transport and transfers by private vehicles
Sightseeing where specified
Economy class return air fares from the UK & UK Departure Tax (flight inclusive only)
Free use of a good quality down jacket and sleeping bag with liner on trek
Costs of all porterage and porter insurance
All camping facilities and all meals on trek
Camp staff to carry out all camp work
Carbon offsetting with the Ecoan Tree Planting Project (for clients taking our flight inclusive option)
A free Mountain Kingdoms kit bag
What's not included
Travel insurance
Visa fees
Tips
---
---
---