What's included
An English-speaking Sherpa leader
Economy class return air fares from the UK & UK departure tax (flight inclusive only)
A single, timed group airport transfer on arrival and departure (to coincide with the timings of the group flights)
Good standard hotel accommodation (4 star) in Kathmandu, twin share, bed and breakfast basis
All road transport by private vehicles
All meals on trek including tea and coffee
An evening fill of your water bottle with drinking water
A good quality down jacket, four-season sleeping bag and fleece liner (supplied in-country)
A free high-quality Mountain Kingdoms kit bag
Trek staff and full porterage - Sherpa/porters properly insured and equipped
Park fees
The opportunity to attend a pre trip meet in the Cotswolds
Carbon offsetting with the Ecoan Tree Planting Project (for clients taking our flight inclusive option)
and much more...
Call our
friendly team
Nepal, Annapurnas | Walking & Trekking
Grade: Vigorous ? Vigorous
Duration: 16 days from the UK
On trek: 12 days
Flight inclusive from £2,435,
Land only from £1,640
Book now or call 01453 844400
The perfect first Himalayan trek through classic Nepali scenery into the heart of the Annapurnas.
Highlights
Trek to Annapurna Base Camp, 4,130m/13,550ft
Explore the heart of the Annapurnas, the Annapurna Sanctuary
Experience Sherpa culture and be escorted by highly experienced Sherpa leaders
Stay in traditional tea houses on trek and four-star hotels with swimming pools in Kathmandu and Pokhara
The Annapurna Sanctuary Trek is the perfect first Himalayan trek – It offers wonderful walking and superb views without undue acclimatisation problems and all within 16 days, London to London. The trek takes you right into the Annapurna Sanctuary, a high glacial basin located north of Pokhara and known as the 'Sanctuary' both because of its natural beauty and its religious significance to local people who believe in the divine presence there of the goddesses, Annapurna and Gangapurna, important figures in Hindu myth and folklore. The focus of the trek is Annapurna Base Camp, a magnificent spot at 4,130m/13,550 set below a ring of eleven of Nepal's major peaks. Here you will have a spectacular view of these giants including the immensely impressive south face of Annapurna 1.
Setting out from Pokhara through typical Nepali terraced farmland and villages, you trek through varied scenery toward the Annapurna Sanctuary, lying forty kilometres directly north of Pokhara. Beyond the village of Chomrong, from where the views of Machhapuchare are exceptionally beautiful, the trail enters a dense mountain bamboo forest clinging to the sides of the steep Modi Khola gorge. Waterfalls cascade down the cliffs to the river far below and you will often see troops of Langur or Rhesus Macaque monkeys and varied birdlife along the way. In the past, few people apart from a few hunters and shepherds, ventured beyond Chomrong up the narrow trail into the remote Annapurna Sanctuary and there are no permanent human habitations apart from at Kuldi Ghar where there are some shepherds huts and more recently small settlements built along the way to accommodate trekkers to the Sanctuary. The entrance to the Annapurna Sanctuary is 'guarded' by the mountain giants Machhapuchare and Hiunchuli, and you pass between them into a huge ice-clad cirque of some of the highest mountains in the world. You spend two days here exploring, with a visit to Sir Chris Bonington's Annapurna Base Camp, 4,130m/13,550ft, with some staggering views of the South Face of Annapurna.
The trek back to Pokhara is by a different route and includes a dawn hike up Poon Hill for sunrise over the Himalaya. This is one of the best first treks to do in the Himalaya, as the trail gets spectacularly close to the mountains but does not go dramatically high.
If you would prefer to do this trek in a bit more comfort take a look at our Annapurna Base Camp in Style itinerary which utilises luxury lodges where these can logically be incorporated into the itinerary.
---
At a glance
Grade: Vigorous
Vigorous
Duration: 16 days from the UK
On trek: 12 days
Max. Altitude: 4,130m/13,550ft, Annapurna Base Camp, Day 8
Guaranteed to run for a minimum of 4 clients
Maximum group size: 12
Land only joining city: Kathmandu
Accommodation types: Hotels, Tea Houses
Meal arrangements: Bed and Breakfast in Kathmandu, all meals are provided elsewhere.
Itinerary overview
| Day | Activity |
| --- | --- |
| 1-2 | Arrive Kathmandu. |
| 3 | Fly to Pokhara. Drive to Dhampus Phedi. Trek to Pothana. |
| 4-6 | Trek to Deurali via Sinuwa and Bamboo. |
| 7 | Trek to Machhapuchare Base Camp. |
| 8 | Trek to Annapurna Base Camp, 4,130m/13,550ft. |
| 9-12 | Trek to Dovan, then on to Tadapani and Ghorepani. |
| 13 | Climb Poon Hill and trek to Hille. |
| 14 | End trek at Naya Pul. Drive to Pokhara. Fly to Kathmandu. |
| 15-16 | At leisure in Kathmandu. Overnight flight to London. |
Leader: Local Leader, Nepal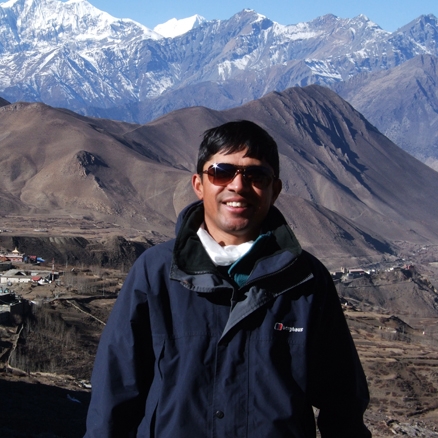 Whether it's a cultural tour, gentle walking holiday or strenuous trek, our holidays in Nepal are led by professionally-trained English speaking leaders. They have an intimate and expert knowledge of the history, culture and nature of Nepal and will make your trip a memorable experience.
---
Annapurna Sanctuary Itinerary
Day 1 - Fly London to Kathmandu

Depart London on your overnight flight to Kathmandu.

Overnight: In flight

Day 2 - Arrive Kathmandu. Group transfer to hotel.

On arrival in Kathmandu you will be transferred to the Shangri-La Hotel. Kathmandu is a wonderful mixture of the ancient alongside the modern. Crowded bazaars still throng with colourful ethnic people today as they have for the past hundreds of years while roads are crowded with rickshaws, cars, roaring motorbikes and buses. Ancient temples and crumbling shrines sit alongside modern offices, picturesque palaces slowly sag into dereliction while Buddhist stupas gaze over the bustling scene with their all seeing eyes. Although this is a crowded, noisy and polluted city it is also friendly, fascinating and vibrant. Tonight you may choose to eat at the hotel, or you could head off into Thamel to one of the famous restaurants there, such as Rum Doodle Restaurant, a place frequented by trekkers and climbers alike, with pride of place given to a board with the signatures of many Everest summiteers.


Overnight: Shangri La Hotel, Kathmandu

Day 3 - Fly to Pokhara. Drive to Dhampus Phedi, 914m/3,000ft. Trek to Pothana, 1,829m/6,000ft - 4-5 hours.

You will be met at your hotel and taken to the airport for your flight to Pokhara. This is a spectacular and exciting flight in its own right passing over the Himalayan foothills, with views of the main range. From Pokhara, it takes about 1-1½ hours to drive to Dhampus Phedi then it is a steep two-hour uphill walk to the village of Dhampus for lunch, with Annapurna as the backdrop. The trail then climbs more gradually for a few hours to Pothana, a small village in the middle of the woods, with a grand view of the Annapurna range including the majestic Mt. Machhapuchare ('Fish Tail'), a beautiful spot for your first overnight stay in a tea house.

Overnight: Tea House

Day 4 - Trek to New Jhinu Danda, 1,780m/5,839ft - 6½ hours.

From Pothana, the trail leads up through chestnut forest with occasional views of the snow-capped peaks. The trail climbs gradually for about an hour, before reaching the ridge top at Deurali. Deurali is a fabulous spot with enchanting views of the surrounding landscape. After a brief stop here, a steep half hour descent brings you down to Bheri Kharka. The trail is then almost level with a few undulations until you reach Landrung village (about an hour from Bheri Kharka). From Landrung, the route diverts north-west towards Chomrong, and an hour's walk brings you to the bank of the River Modi. From here the trail winds uphill gradually, alongside the river, for an hour until New Bridge is reached. From New Bridge you traverse round to cross a river and then climb very steeply to the houses of Jhinu Danda for your overnight stay. There are hot springs about a 20 minute walk below the village if you have the energy and wish to visit them!

Overnight: Tea House

Day 5 - Trek to Sinuwa, 2,340m/7,677ft - 4-5 hours.

From Jhinu Danda you ascend until you reach the main Ghandrung to Chomrong trail. The trail then climbs more gently to a corner before making a long descent on stone steps to Chomrong village, the gateway to the Sanctuary. Weather-permitting, you will be treated to a surfeit of fantastic mountain views, which include Annapurna South, 23,687ft/7,220m, Hiunchuli, 21,132ft/6,441m, Annapurna III, 24,786ft/7,555m, Machhapuchare, 22,943ft/6,993m, and Gandharba Chuli, 20,498ft/6,248m. From Chomrong the trail continues down on steps through terraced fields to cross the river. After the bridge, it is steeply uphill through farmland and forest for an hour and a half to Sinuwa Danda, a small settlement on the ridge with 2-3 teahouses and offering great views of the surrounding landscape.

Overnight: Tea House

Day 6 - Trek to Deurali via Bamboo, 3,200m/10,498ft - 7 hours.

From Sinuwa, an hour's walk through forest brings you to the small village of Khuldi-ghar, where your trekking permit and conservation ticket is checked and registered. From here you descend on slabs and then climb gently upwards to a small place called Bamboo, 2,347m/7,700ft, named after the dense vegetation in this area. Another hour's walk through bamboo forest, following the River Modi upstream, will bring you to another small settlement of Dovan, or Dobang. You then continue more steeply uphill, high above the river until you reach Himalaya at 2,870m/9,416ft. A few short steep climbs on and you arrive at Deurali.

Overnight: Tea House

Day 7 - Trek to Machhapuchare Base Camp, 3,658m/12,000ft - 3-4 hours.

You will now be feeling the altitude, as you get closer to the snowy peaks and the vegetation changes from forest to shrubs. From Deurali the valley narrows as you pass through the so called 'gates' of the Sanctuary, and then there are several steep climbs to reach the Machhapuchare Base Camp area for your overnight stay.

Overnight: Tea House

Day 8 - Trek to Annapurna Base Camp, 4,130m/13,550ft - 3-4 hours.

From Machhapuchare Base Camp the trail winds up steeply for 1 hour. As you reach the upper ridge in the open wide valley, you enter a hidden amphitheatre with a complete view of an array of snowy peaks spread out before you. Another 1-2 hours of slow and steady walking will bring you to Annapurna Base Camp in the heart of the Annapurnas.

Overnight: Tea House

Day 9 - Sunrise views at Annapurna Base Camp. Trek to Dovan, 2,630m/8,628ft - 6-7 hours.

Today you need to rise early to be rewarded with the most spectacular sight of the sun rising over Annapurna South and her awe-inspiring neighbours. You are now completely surrounded by soaring, snow-capped giants, including Annapurna 1, Tent Peak, Hiunchuli, Gandharba Chuli, and Machhapuchare. After this unforgettable feast of glorious mountain scenery, you retrace your journey back down to Himalaya and on to Dovan. The lungs respond well to the treat of going downhill and to the lower altitude.


Overnight: Tea House

Day 10 - Trek to Chomrong, 2,177m/7,144ft - 4-5 hours

Today's walk begins with a downhill walk through dense forest of oak, rhododendron, pine and bamboo, all the way to Bamboo, a small settlement built to cater to the needs of the trekkers. From Bamboo, a 45-minute steep climb brings you back to Khuldi Ghar where you have to sign out before you leave. You walk through forest back to Sinuwa and then descend steeply to the river. After crossing the bridge, an hour steeply uphill on steps brings you back to Chomrong village for your overnight stay.

Overnight: Tea House

Day 11 - Trek to Tadapani, 2,590m/8,497ft - 5-6 hours.

From Chomrong you climb stone steps out of the village back to the corner where the trail forks, one way down to New Bridge and the other round into the valley of the Kimrong Khola. You stay on the high trail and continue round to where the trail divides again, one branch going downhill to Kimrong Village and on to Gandrung and the other branch, on the right, staying high and going to Tadapani. You take the right branch and follow an easy wide trail which meanders through the farm fields and then descends to the Kimrong river valley and down to the river. Your route then leads west, very steeply uphill, through dense forest for three hours until Tadapani is reached for your night's stay. This is a magnificent spot in the midst of the magnolia and rhododendron forest, overlooking great views of Annapurna South, Machhapuchare and beyond towards the Manaslu range.

Overnight: Tea House

Day 12 - Trek to Ghorepani, 2,750m/9,022ft - 6 hours.

The path descends to cross a small stream and climbs to the village of Banthante. Then it is steeply uphill in a narrow forested gorge, often climbing on stone steps, to reach Deurali, four hours from Tadapani, from where there are good views down into the valley of the Kali Gandaki. From Deorali you climb again for a short while through fine forest before reaching an open ridge top from where there are fantastic views if the weather is still clear at this time of the day. There is another hour of easy descent through the rhododendron forest to Ghorepani, which is famous for its panoramic views of Dhaulagiri, Annapurna, Manaslu and beyond, from the nearby Poon Hill.


Overnight: Tea House

Day 13 - Climb Poon Hill, 3,210m/10,532ft, and trek to Hille, 1,520m/4,987ft - 5-6 hours.

You have the option of an energetic early morning hike to Poon Hill, 3,210m/10,531ft, to catch the sunrise over the Himalayan peaks (about 45 minutes steeply uphill). After this beautiful and memorable image of the mighty Himalaya, trek down on the busy trail of the old Trans-Himalaya trade route where you will often see laden mule trains, firstly through forest to Banthante, continuing to Ulleri, before the classic descent of 1,640ft/500 metres on a steep Gurung 'staircase' to Tirkedhunga, 1,540m/5,052ft. You then continue more gently down to Hille, 1,520m/4,987ft, for your final night in the mountains.

Overnight: Tea House

Day 14 - Trek to Naya Pul - 2½ hours. Drive to Pokhara - 1½ hours. Afternoon flight to Kathmandu and transfer to hotel.

After breakfast, you complete your trek by walking from Hille to the roadhead at Naya Pul. Your transport will be waiting here for you.

You then drive to the airport at Pokhara to catch your flight back to Kathmandu. On arrival you will be transferred to your hotel and have the rest of the day at leisure, perhaps enjoying some last-minute sightseeing or souvenir shopping.

Overnight: Shangri La Hotel, Kathmandu

Day 15 - At leisure in Kathmandu. Transfer to the airport. Depart Nepal.

Kathmandu, Asia's former hippie capital, has a wonderful mixture of c rowded bazaars, Hindu and Buddhist temples, shrines and stupas, colonial and ancient architecture as well as more modern buildings. You could explore the bazaars and temple complexes of Durbar Square to best absorb the myriad impressions assailing your culture-shocked senses.

Later in the afternoon there will be a group transfer to the airport for your flight back to London.


Overnight: In flight

Day 16 - Arrive London.
Map
Map Key
Airport
Point of interest
Mountain Peak
Day walk in this area
Flights
Internal Transfers
Trek
---
2021
| Dates | Availability | Land Only | Flight Inclusive from |
| --- | --- | --- | --- |
| Sat 27 Mar - Sun 11 Apr 2021 | Restricted | Contact us | Contact us |
| Sat 10 Apr - Sun 25 Apr 2021 | Restricted | Contact us | Contact us |
| Sat 16 Oct - Sun 31 Oct 2021 | Available | £1665 Book | £2685 Book |
| Sat 6 Nov - Sun 21 Nov 2021 | Available | £1665 Book | £2615 Book |
2022
Hold your place
Not quite ready to book? Why not call us on 0044 (0)1453 844400 to hold a no obligation place while you make up your mind?
Optional supplements
Single room Kathmandu & Pokhara
From £100
Single room Kathmandu
From £100
Insurance
No Surcharge Guarantee
No surcharges will be applied to your holiday after you book. Prices on this website are updated regularly. The Flight Inclusive holiday price, or Land Only holiday price, will be confirmed to you at the time you make your booking. There will be no surcharges after your booking has been confirmed.
Flight inclusive holidays
The 'flight inclusive' holiday prices shown on this website are based upon our preferred airlines and the best priced economy class fares we are able to secure at the time of publication.
We will be able to advise on fares with alternative airlines, upgrades to Business Class, and the options for flights from regional UK airports, please contact us for more details.
Booking your holiday
For the majority of our holidays, a deposit payment of £100.00 per person is required to secure your place(s), however a small number of holidays require a higher deposit - please refer to the holiday itinerary for more details. If the holiday departs within 60 days, a minimum deposit of £750.00 per person is required.
Book now!
Book your small group holiday securely online – click the 'Book' button next to your chosen departure or visit our How to Book page
Complete and return a Booking Form available to download here.
Call us on 01453 844400 and one of our travel specialists will talk you through the booking process.
Loyalty discount
Find out more
What's included
An English-speaking Sherpa leader
Economy class return air fares from the UK & UK departure tax (flight inclusive only)
A single, timed group airport transfer on arrival and departure (to coincide with the timings of the group flights)
Good standard hotel accommodation (4 star) in Kathmandu, twin share, bed and breakfast basis
All road transport by private vehicles
All meals on trek including tea and coffee
An evening fill of your water bottle with drinking water
A good quality down jacket, four-season sleeping bag and fleece liner (supplied in-country)
A free high-quality Mountain Kingdoms kit bag
Trek staff and full porterage - Sherpa/porters properly insured and equipped
Park fees
The opportunity to attend a pre trip meet in the Cotswolds
Carbon offsetting with the Ecoan Tree Planting Project (for clients taking our flight inclusive option)
What's not included
Travel insurance
Visa fees
Lunch and evening meals in Kathmandu and Pokhara
Tips
---
---
Review your holiday
Reviews
Read holiday reviews by Mountain Kingdoms travellers.
Overall score: 5.0 (Based on 12 reviews)
Annapurna Sanctuary Trek 01/12/2017
We had a brilliant time on our trek and it was even better as we had the same Guide that we had five years ago on another trek in Nepal - Was lovely to see him again and to know that we had a great Guide leading us. Our two Porters were the most happiest of guys and it was really good to share experiences with them and have a laugh. The walking was great and no matter how many times you visit Nepal and the Himalaya you are always taken back by the vastness and beauty of it all. Must say the provided sleeping bags and fleece liners worked a treat the higher up we went. Very enjoyable..
Mrs E Bettles-Hall, Hampshire
Another great trek. 22/11/2017
This trek proved to be another enjoyable experience, in some ways exceeding expectations in that the standard of accommodation and food in the tea houses has improved compared with a previous occasion. We had the good fortune in that our sirdar was K.C. He was unfailingly upbeat and amusing even when the weather was a little unkind. His knowledge of vocabulary and idioms was amazing, a real treasure! The organisation of the whole trek, both before and during was exemplary, the scenery splendid and the Nepalese as welcoming as ever.
Mr Bob Howe, Kent
Excellent Annapurna Sanctuary 22/11/2017
Great Countryside with wonderful Mountain Views. An unforgettable experience which I can Heartily recommend.
Mr C Williams, Gloucestershire
What a fantastic holiday! 11/01/2017
What I enjoyed was the faultless organisation, friendly office staff, and feeling of safety and being looked after. The porters were very kind and sociable - wonderful people.
Mrs B, Herefordshire
Annapurna Sanctuary - magnificent 17/10/2014
Annapurna Sanctuary is a fantastic trek with memorably magnificent scenery.
Dr & Mrs L, Essex
---