What's included
An English-speaking Sherpa leader
Economy class return air fares from the UK & UK departure tax (flight inclusive only)
Single, timed group airport transfer for international flights on arrival and departure
All internal flights and hotel/airport transfers
Good standard hotel accommodation (4 star) in Kathmandu, twin share, bed and breakfast basis
All road transport by private vehicles
All meals on trek plus tea and coffee
An evening fill up of your water bottle with drinking water and morning 'bed tea' on trek
Free use of a good quality down jacket, down sleeping bag and fleece liner (supplied in-country)
Oxygen (to be administered by the trek guide in the rare case of a medical emergency)
A free high-quality Mountain Kingdoms kit bag
Trek staff and full porterage
Sherpa/porters properly insured and equipped
Park fees
Carbon offsetting with the Ecoan Tree Planting Project (for clients taking our flight inclusive option)
Option to join one of our pre trip meets in the Cotswolds
and much more...
Call our
friendly team
Nepal, Everest Region | Walking & Trekking
Strenuous
Suitable for fit individuals who have regular experience of mountain walking.
Find out more...
Grade: Strenuous ? Strenuous
Duration: 21 days from the UK
On trek: 16 or 17 days
Flight inclusive from £3,175,
Land only from £2,225
Book now or call 01453 844400
A longer variant of the classic Everest Base Camp trek which includes an ascent of Gokyo Ri.
Highlights
Trek to both Everest Base Camp and Kala Pattar
Cross the Cho La and ascend Gokyo Ri
Excellent acclimatisation and highly experienced Sherpa leaders
Four-star hotel and time to relax and take in the sights of Kathmandu
Attend the Mani Rimdu Festival on one of our autumn departures
The Everest Base Camp trek is justifiably one of the world's classic treks as it offers spectacular scenery from start to finish as well as giving superlative, close-up views of the world's highest mountain. However, its very popularity does mean that the Everest Trail can get busy. We therefore wanted to create an itinerary that takes in all the must see views of the region but, by taking a circular route beyond the classic Everest Base Camp trail, you get a more rewarding, off-the-beaten-track experience. This trek offers the additional highlights of the beautiful Gokyo Lakes and the exciting and challenging Cho La Pass.
Starting in Lukla, your trek will take you up the valley of the Dudh Kosi and on up to Namche Bazaar. You will have time to acclimatise here with the chance to explore the Thame valley before crossing to Khunde and then heading up to Thyangboche Monastery.
One departure of this trek in the autumn is timed to coincide with the annual Tibetan-Buddhist, Mani Rimdu Festival at Thyangboche Monastery. At this spellbinding event, 'black-hat' dancers dispel evil spirits to the low resonant notes produced by long Tibetan horns, the clashes of cymbals and beat of drums. From Thyangboche, the trek ascends past towering peaks and stunning scenery to one of the high points, Kala Pattar. From the summit of Kala Pattar you look across to the Western Cwm where Everest and other Himalayan giants provide one of the most spectacular views on the planet. Next you will follow in the footsteps of Everest summitteers and trek to Everest Base Camp, where you will undoubtedly feel dwarfed and humbled as you stand at the foot of the highest mountain in the world.
Then, just when you think things can't get any better, you cross the Cho La, an impressive high pass at 5,418m/17,777ft, and descend to the Gokyo Valley. Here three large lakes hang like a string of pearls in a high valley sanctuary, located one above the other. You will stay at the settlement of Gokyo set near the middle lake, Dudh Pokhari, at 4,750m/15,580ft. From here you can make the steep ascent of the easily climbable peak called Gokyo Ri from which an entire panorama of summits is visible towering above the great glaciers below - Cho Oyu, Gyachung Kang, Pumori, Everest, Nuptse, Makalu, Ama Dablam, Kang Taiga, Thamserku, Khumbila, Tawoche and Cholatse. From the summit of Gokyo Ri you will also have unrivalled views over the Gokyo Lakes and the Ngozumba Glacier tumbling down from Cho Oyu. Finally, you trek back to Lukla and enjoy a well-earned beer to celebrate your fantastic achievement.
Call Mountain Kingdoms today on 01453 844 400 or enquire online to take the first step towards Everest Base Camp, the Gokyo Lakes, and beyond.
---
At a glance
Grade: Strenuous
Strenuous
Duration: 21 days from the UK
On trek: 16 or 17 days
Max. Altitude: 5,545m/18,188ft, Kala Pattar, day 11
Guaranteed to run for a minimum of 4 clients
Maximum group size: 12
Land only joining city: Kathmandu
Accommodation types: Hotels, Tea Houses
Festival:
The 16th October departure attends the Mani Rimdu festival at Thyangboche Monastery.
Meal arrangements: Bed and breakfast in Kathmandu, all meals on trek.
Itinerary overview
| Day | Activity |
| --- | --- |
| 1-2 | Fly to Kathmandu. |
| 3 | Fly to Lukla. Begin the trek. |
| 4-5 | Trek to Namche Bazaar. Explore the village and enjoy a short walk to aid acclimatisation. |
| 6-9 | Trek to Lobuche via Thyangboche and Dingboche. Attend the Mani Rimdu Festival at Thyangboche (16th Oct 2021 departure). |
| 10 | Trek to Everest Base Camp and see the Khumbu ice-fall. |
| 11 | Reach Kala Pattar, where there are fantastic views of Everest. |
| 12-14 | Cross the Cho La, 5,420m, and continue on to Gokyo and the lakes. |
| 15-18 | Climb Gokyo Ri, 5,483m, and trek back to Lukla via Namche and Phakding. |
| 19-21 | Fly to Kathmandu. Day at leisure. Fly to London. |
Leader: Local leader, Everest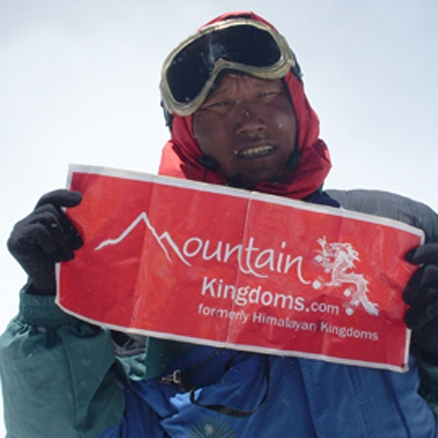 Your Everest Base Camp trek will be led by one of our highly experienced Sherpa Sirdars, the majority of whom have climbed on, or summited, Everest. They have an intimate and expert knowledge of the history, culture and nature of Nepal and will make your trip a memorable experience.
---
Everest Base Camp & Gokyo Lakes Itinerary
Day 1 - Depart London.

Depart London on your overnight flight to Kathmandu.

Overnight: In flight

Day 2 - Arrive Kathmandu.

On arrival in Kathmandu you will be transferred to the Shangri-La Hotel. This is a very comfortable hotel situated to the north of Thamel, the tourist district of Kathmandu. It has a lovely garden with a swimming pool and several excellent restaurants. The bustle of Thamel with all its restaurants, shops and bars is a 20 minute walk or 10 minute taxi ride away.

Overnight: Shangri La Hotel, Kathmandu

Day 3 - Fly to Lukla. Trek to Monjo, 2,835m/9,301ft - 5-6 hours.

You will be transferred from your hotel to the airport for the flight from Kathmandu to Lukla. This is one of the most spectacular flights in the world. As you fly east, the snow line of the Himalayan range to the north, will be on your left, with the rugged foothills of Nepal immediately below and stretching away to the south on your right. Lukla is situated high above the river on a shelf at 2,800m and arriving there is a unique experience because the runway is on a slope and there is a difference of almost 60 metres between its lower and upper ends which all makes for an interesting landing. On arrival you can have a cup of tea while the trek staff collect your baggage. From the airstrip you will head north-west, through the village of Lukla and descend to the Dudh Khosi River at Phakding, 2,652m. The path leads upstream along the valley, through areas of conifer trees and several more small villages. Another 2-3 hours walking will bring you to Chumoa, 2,743m, a small and picturesque village of about 25 houses located below Thamserku Mountain,and close to the entrance to the Sagarmatha (Everest) National Park. Just after leaving Chomoa you cross the Monjo Khola and shortly arrive in the spread out village of Monjo for your overnight stop.

Overnight: Tea House

Day 4 - Trek to Namche, 3,445m/11,300ft - 6 hours.

A principal benefit of walking as far as Monjo on the first day is that you can walk up the steep hill to Namche when fit and fresh in the early morning.

You leave Monjo and continue to the park gates of the Sagarmartha National Park near Jorsale where you complete entry formalities. You then walk on alongside the river to arrive at the confluence of the Imja Drangka and the Nangpo Drangpo, which combine to form the Dudh Khosi. Crossing the river on a high bridge you start the steep climb to Namche. Near the halfway point up the hill, if the sky is clear, your first views of Everest and Lhotse come into sight. You then continue the climb, less steeply now, to Namche - the largest and most prosperous village in the Khumbu. Thamserku, 21,713ft/6,618m, and Kwangde, 20,417ft/6,224m, loom to the east and west and the sacred mountain Khumbila, 18,729ft/5,707m, dominates the skyline to the north behind the village. The narrow streets at its centre are a mixture of traditional and modern, with Sherpa homes mingled with cafes, handicraft shops and shops selling or renting trekking and climbing equipment, grains and vegetables, tennis shoes and Tibetan boots. Don't be surprised if, after the exertion of the climb and the rise in elevation, you feel a little tired and head-achey. You will feel better after a cup of tea and a rest.

Overnight: Tea House

Day 5 - Rest day - acclimatisation.

'Climb high, sleep low' is the mantra for good acclimatisation. To aid acclimatisation it is a good idea, at the very least, to walk up the hill to the Park Headquarters and visit the very interesting Sagarmatha National Park Museum. From here there are the first really good views of Everest and Ama Dablam – a wonderful panorama. If you are feeling energetic, you might also make the worthwhile excursion to the Everest View Hotel situated above the village of Khumjung. Although not entirely in keeping with its surroundings, there are very good views from its terrace and you can have a cup of tea or a glass of hot lemon there and take in the mountain views.

Overnight: Tea House

Day 6 - Trek to Thyangboche, 3,873m/12,887ft – 5-6 hours. Attend Mani Rimdu Festival on selected October departures.

Today, you firstly have a steep pull up out of Namche village, past the Park HQ and Museum, to reach a corner of the trail turning north. You then follow a wonderful high trail which winds round the hillside high above the river. From this airy trail you have fabulous views of the mountains across the valley, principally Thamserkhu and Kang Taiga. You pass through the small settlement of Trashinga before dropping down to the river which you cross on a suspension bridge. You climb for a few minutes to the small hamlet of Phunki Tenga, remarkable for its series of water driven prayer wheels. From here it is a further 2-3 hours to reach Thyangboche, climbing through beautiful forest to arrive at a large welcome gateway and a huge chorten, which you pass to arrive at the monastery. The setting of Thyangboche Monastery is magical, with the most amazing mountain views. It will probably be cloudy by the time you arrive in the early afternoon, but is normally clear first thing in the morning so it will be worthwhile getting up early for the sensational views of Everest and Ama Dablam.

There is a good visitors' centre at Thyangboche and you should also be able to visit inside the temple for the afternoon prayer ceremony. Visitors are welcome but you should sit quietly on the right hand side of the temple. A small donation is appreciated!

Mani Rimdu Festival:
For those travelling on the 28th October 2020 or 16th October departure in 2021 you will arrive at Thyangboche Monastery in time to attend the Blessing Ceremony at the Mani Rimdu Festival. This Buddhist festival, the most important festival of the Sherpa people, celebrates the role of Guru Padma Sambhava in the founding of Tibetan Buddhism. The three days of the festival in Thyangboche begin on the first day with a special blessing ceremony by the re-incarnate lama of Thyangboche, followed on the second day by masked dances and celebration and concluding on the third day with the Fire Pooja Ceremony. The various mystical ceremonies and masked dances are performed to dispel evil spirits and to confer 'merit' to those attending. Long Tibetan horns blare, drums beat, black hat dancers twirl and the whole event has a magical ambiance. Each day of the festival is interesting in its own right and besides the masked dances, a sand mandala is created and butter tormas (symbolic offerings made of coloured butter and barley flour) are made. Please be aware that the 'running order' of the festival and even the dates can sometimes change with little notice.

Overnight: Tea House

Day 7 - Trek to Dingboche, 4,360m/14,268ft - 6 hours.

You will probably be woken in the early hours, while it is still dark, by the sound of horns and cymbals as the monks have their first prayers of the day. You will have time to visit the monastery in the morning if you did not go yesterday. If you attended the Mani Rimdu Festival the previous day (16th October departure only) your departure will be delayed, so that you can enjoy the early morning festival rituals.

Your path descends through trees to Deboche where the small and atmospheric Nunnery is well worth a visit. You pass further houses and 'mani' walls as the path continues along the river valley amongst the trees. After crossing a bridge the path gradually climbs, with stunning views of Ama Dablam ahead. There are numerous fantastic photo opportunities in both directions and you pass frequent chortens and mani walls, as height is gained to reach the village of Pangboche. This is a very picturesque village with stone walled fields and there is a very interesting monastery set in trees at the top of the village. There used to be a yeti scalp and claw kept here but they were stolen some years ago. From Pangboche the path ascends up the valley, the sparse landscape now reflecting the gain in elevation. You pass some yak herders cottages and walled fields at Orsho before crossing a stream and making a final steep ascent to Dingboche. The village of Dingboche is set in a stunning position surrounded by high peaks. In summer months they grow barley here, possibly the highest altitude in the world at which this crop is grown.

Overnight: Tea House

Day 8 - Rest and acclimatisation.

There are several opportunities for interesting acclimatisation walks in this area. It is possible to walk up the ridge behind the village to make an energetic ascent of Nagartsang Peak, a summit at 5,083 metres, from where there are stunning views of Makalu and Amphu Laptse. You can take in the small temple of Nagartsang Gompa on the way down where there is a nice sheltered terrace from where you can enjoy the views. In the afternoon you might care to walk across to the village of Pheriche to visit the Himalayan Rescue Association clinic; in the afternoon one of the doctors there often gives a talk about high altitude acclimatisation. If none of these options appeal it is possible to walk up the valley to the yak grazing pastures at Chukhung (a round trip of 4-5 hours).

Overnight: Tea House

Day 9 - Trek to Lobuche, 4,931m/16,175ft - 6 hours.

You ascend the ridge behind Dingboche village and then it is an easy walk up a wide, grassy plateau. The peaks of Tawoche and Cholatse tower above and it is possible to see Pheriche in the valley below to your left. At the tiny hamlet of Duglha you reach a jumble of rocks which mark the base of the Khumbu glacier. You ascend this terminal moraine to reach the top where there are many memorial cairns to those who have died on Everest. The landscape is now wild and rocky and there is a real feeling of being high in the mountains. Following the often frozen stream at one side of the moraine you soon reach the cluster of houses at Lobuche. This rather bleak spot was once a yak grazing settlement and was then inhabited only during the summer months, but now it is open throughout the winter and is the jumping off point for Everest Base Camp and Kalar Pattar. Sunset over Nuptse is particularly spectacular from here. It is worth walking over to the moraine to view the moraine covered glacier behind it.

Overnight: Tea House

Day 10 - Trek to Everest Base Camp - 5,300m/17,384ft, and return to Gorak Shep, 5,165m/16,941ft - 6-7 hours.

This is the big day for the trek to Base Camp. An early start is essential to get there before any cloud comes down and it will probably be very cold when you set off. Make sure to have something for breakfast even if you don't feel like it as you will need the energy. You are at high altitude, so take some snacks to keep you going along the way and be sure to have your water bottle filled when you set off. Leaving Lobuche you head north-east, along the side of the Khumbu Glacier through jumbled moraine and shattered rock. There is almost no vegetation here. Even so, small covoys of the delightful Tibetan Snow Cock can often be seen along the way or heard calling from the hillsides. You make several energetic ups and downs across the moraine and descend to Gorak Shep where it is worth having a reviving cup of tea and a snack.

From Gorak Shep it is still a long, fairly arduous trek to Base Camp, initially following the top of the moraine and then descending onto the boulder-strewn glacier. In the climbing season you may follow mountaineering groups or yaks carrying supplies, but at other times there are just a series of small cairns along the route. After a couple of hours you reach the base camp area from where, although you do not have views of the actual summit of Everest, there are sensational close-up views of the terrifying Khumbu ice-fall and a surrounding scenery of ice seracs and tumbled rocks. At this altitude the return to Gorak Shep will feel like quite a long way and will use up your remaining reserves of energy.

Overnight: Tea House

Day 11 - Ascend Kala Pattar, 5,545m/18,188ft, and trek back to Lobuche.

At Gorak Shep you will be ideally placed for an ascent of Kala Pattar in the clear of the morning before cloud comes in to obscure the summit of Everest. Although not far, this is a tough ascent of approximately 2-3 hours until you finally reach the rocky summit of Kala Pattar at 5,545m – quite literally the high-point of your trek!

From the summit of Kala Pattar there are great views of the summit of Everest as well as other Himalayan giants - Pumori, 7,145m, the Tibetan peak Changtse, 4,501m, Nuptse, Lhotse and countless other needles and snow fluted ridges. You can also look down on the Khumbu glacier where Base Camp is located.

You will then descend to Gorak Shep and take the trail back down to Lobuche.

Overnight: Tea House

Day 12 - Trek to Dzong La, 4,843m/15,880ft - 3-4 hours.

From Lobuche you follow the path down as far as Dughla. You then take a small path that contours around a steep and fairly exposed hillside. Again there are fabulous views and once the corner is reached it is possible to see a beautiful turquoise glacial lake, Cholatse Tso, far below. You gradually ascend to the small hamlet of Dzong La. This will be quite a short, easy day after the exertions of the last few days.

Note: If, due to snow or bad weather, a crossing of the pass is not possible you can go round to Gokyo by a lower path. In this event you may discuss possible options with your guide.

Overnight: Tea House

Day 13 - Cross the Cho La, 5,420m/17,777ft, trek to Dragnak, 4,700m/15,420ft - 5-6 hours.

To start the crossing of the pass you follow the wide valley, gradually climbing up towards the foot of the pass. Dependent on the time of year mixed snow and rock are encountered once the base of the pass is reached, and the ascent becomes much steeper on large blocks and boulders on a wide ramp that dissects the huge rock face of the pass. There are numerous small cairns to follow and the views when the snowfield is reached are amazing. The glacier gradually ascends through a stunning high valley until the high point of the pass is reached. The descent is initially steep and then flattens slightly on large boulders, which can be slippery. After climbing to cross a shallow grassy saddle you start the long descent to Dragnak.

Overnight: Tea House

Day 14 - Trek to Gokyo, 4,750m/15,580ft - 3 hours.

Today is a shorter, easier day after the rigours of crossing the Cho La yesterday. Dragnak is situated on the edge of moraine of the Ngozumpa Glacier and this is crossed on a winding path. The terrain of the glacier is like a giant pile of rubble with heaps of sand glistening with snow and numerous small lakes and pools that change each year with the movement of the glacier. Once the far side is reached the path joins the main track up to Gokyo, and a beautiful small river is followed to reach the second lake. A short walk leads to the third lake, Dudh Pokhari and the small settlement of Gokyo, which seems like a metropolis after the isolation of the last few days. After lunch it is well worth walking up the valley towards Cho Oyu and the fourth and fifth lakes.

Overnight: Tea House

Day 15 - Rest or climb Gokyo Ri, 5,483m/17,984ft, continue trek to Machermo, 4,410m/14,468ft- 8 hours.

The foot of Gokyo Ri lies just five minutes away across a stream that feeds the lake and a two to three-hour 'huff and puff' leads to the summit where the views justify all the effort involved. Everest, 29,028ft/8,850m, is showing more of its northern flank than from Kala Pattar, with Makalu, 27,798ft/8,475m, further to the east. To the north Cho Oyu, 26,741ft/8,153m, and all round snows, ice, glacial moraines and the giants of the world can be seen. After descending you trek down past the lakes to the snout of the Ngozumpa glacier to rejoin the Dudh Kosi valley. The trail clings to the west side of the steep sided valley and gradually the terrain becomes gentler as you descend through Pangka to Machermo.

Overnight: Tea House

Day 16 - Trek down to Phortse Tenga, 3,675m/12,073ft, and then climb to Mong La - 5 hours.

The trail continues along the side of the valley with fantastic views of the small hamlets on the opposite side of the valley, and final views behind of Cho Oyu, which despite its distance still appears to dominate the valley. The high hamlets that you pass through used to be primarily summer herding villages, though now most also contain a few lodges. As you descend you have dramatic views of sacred Khumbila, 18,720ft/5,673m, Kang Taiga ('The Yak Saddle', 22,235ft/6,779m), and Thamserku, 21,674ft/6,608m. After Dole the path descends through forest, home to pheasant and deer. Spectacular ice waterfalls can often be seen in this shady spot. The river is reached at Phortse Tenga.

Then there is a bit of a sting in the tail to the day's walking and the next section will seem like surprisingly hard work. Leaving the river there is a steep one hour ascent to the Mong La, 13,035ft/3,973m, a small settlement marked by a chorten. It was the birth place of Lama Sagwa Dorje. There are superb views from here of the village of Phortse and Thyangboche Monastery across the valley, with a stunning backdrop of big mountains.

Overnight: Tea House

Day 17 - Trek to Namche Bazaar, 3,445m/11,300ft, and descend to Monjo, 2,835m/9,301ft - 5-6 hours.

Leaving the pass at Mong La you descend to Tashinga and then take the beautiful undulating trail along the valley side with its wonderful views of Kang Taiga and Thamserkhu. Rounding a corner you see Namche below you and descend there for lunch.

From Namche, the steep descent back to reach the Dudh Kosi is a bit rough on the knees, but you will feel all that oxygen in the air and will also be able to shed a few layers of clothing. You will still have wonderful views and the chance to relax in slightly warmer valley surroundings.

Overnight: Tea House

Day 18 - Return trek to Lukla - 5-6 hours.

Today is quite an easy day's walking with a slight sting in the tail with the last climb back up to Lukla. You continue down the valley of the Dudh Kosi as far as Choplung, then turn off above the village of Chaunrikharka towards Lukla. There are signs beyond the stream at Choplung pointing you in the right direction. The broad trail leading uphill to the left, climbs steadily past a few bhattis and the school, then through scrub forests above the school and houses of Chaunrikharka. After a steep final climb, the last one of the trek, there is a collection of houses and bhattis in Tamang Tole, a new settlement a short distance from the airport, and then as you approach the airstrip the houses and hotels begin to proliferate. Lukla will seem like a veritable metropolis. Now you can finally relax and enjoy a celebratory beer.

Overnight: Tea House

Day 19 - Fly to Kathmandu.

You fly back to Kathmandu by scheduled flight. Sometimes these flights are delayed by bad weather; Nepalese pilots say they don't fly in cloud because their clouds have big rocks in them! In recent years though these delays are much less frequent than they used to be and people are not very often delayed. If you are delayed, we do ask that you are patient. Our local agents will be doing their best to get you a flight to Kathmandu.

On arrival you will be met and transferred to your hotel. Time to celebrate the successful completion of your trek, perhaps with an evening at the Rum Doodle Restaurant, a place frequented by trekkers and climbers alike, with pride of place given to a board with the signatures of many Everest summiteers – just the place to reflect on your achievements.

Overnight: Shangri La Hotel, Kathmandu

Day 20 - Day at leisure in Kathmandu. Transfer to airport and depart Nepal.

You will have time at leisure in Kathmandu today when you may do some sightseeing or shopping or simply relax by the pool at your hotel.

Later in the afternoon there will be a group transfer to the airport for your overnight flight back to London.

Overnight: In flight

Day 21 - Arrive London
Map
Map Key
Airport
Point of interest
Mountain Peak
Day walk in this area
Flights
Internal Transfers
Trek
---
2021
Dates
Availability
Land Only
Flight Inclusive from
Sat 16 Oct - Fri 5 Nov 2021
Available

Available

This departure attends the Mani Rimdu Festival
£2225 Book
£3175 Book
Sat 30 Oct - Fri 19 Nov 2021
Limited & Guaranteed
£2225 Book
£3195 Book
2022
Hold your place
Not quite ready to book? Why not call us on 0044 (0)1453 844400 to hold a no obligation place while you make up your mind?
Optional supplements
Single room Kathmandu
From £110
Insurance
No Surcharge Guarantee
No surcharges will be applied to your holiday after you book. Prices on this website are updated regularly. The Flight Inclusive holiday price, or Land Only holiday price, will be confirmed to you at the time you make your booking. There will be no surcharges after your booking has been confirmed.
Flight inclusive holidays
The 'flight inclusive' holiday prices shown on this website are based upon our preferred airlines and the best priced economy class fares we are able to secure at the time of publication.
We will be able to advise on fares with alternative airlines, upgrades to Business Class, and the options for flights from regional UK airports, please contact us for more details.
Booking your holiday
For the majority of our holidays, a deposit payment of £100.00 per person is required to secure your place(s), however a small number of holidays require a higher deposit - please refer to the holiday itinerary for more details. If the holiday departs within 60 days, a minimum deposit of £750.00 per person is required.
Book now!
Book your small group holiday securely online – click the 'Book' button next to your chosen departure or visit our How to Book page
Complete and return a Booking Form available to download here.
Call us on 01453 844400 and one of our travel specialists will talk you through the booking process.
Loyalty discount
Find out more
What's included
An English-speaking Sherpa leader
Economy class return air fares from the UK & UK departure tax (flight inclusive only)
Single, timed group airport transfer for international flights on arrival and departure
All internal flights and hotel/airport transfers
Good standard hotel accommodation (4 star) in Kathmandu, twin share, bed and breakfast basis
All road transport by private vehicles
All meals on trek plus tea and coffee
An evening fill up of your water bottle with drinking water and morning 'bed tea' on trek
Free use of a good quality down jacket, down sleeping bag and fleece liner (supplied in-country)
Oxygen (to be administered by the trek guide in the rare case of a medical emergency)
A free high-quality Mountain Kingdoms kit bag
Trek staff and full porterage
Sherpa/porters properly insured and equipped
Park fees
Carbon offsetting with the Ecoan Tree Planting Project (for clients taking our flight inclusive option)
Option to join one of our pre trip meets in the Cotswolds
What's not included
Travel insurance
Visa fees
Lunch and evening meals in Kathmandu
Optional trips
Tips
---
---
Review your holiday
Reviews
Read holiday reviews by Mountain Kingdoms travellers.
Overall score: 5.0 (Based on 10 reviews)
Everest Base Camp & Gokyo Lakes
Brilliant and memorable trip to EBC and Gokyo 11/11/2019
What a trip! Stupendous Himalayan scenery, blue skies, warm welcome and good food when we arrived at our tea houses after a long and hard day's trekking or a shorter and easier day. Two particular highlights for me - being at Everest base camp and imagining what it must have been like for the early mountaineers to climb from there with their unsophisticated equipment and having already walked from Kathmandu to get there - and standing on top of Gokyo Ri with the views of Everest and her surrounding peaks in the sunshine. The insight into Sherpa life and the experience of being without all of our Western life trappings was wonderful. The bond formed within our small trekking group was excellent as we supported and encouraged each other. Out of all the trees available I am so glad I picked this one for its challenge, huge sense of achievement and variety.
Mrs Sarah Moore, South Glamorgan
Everest Base Camp & Gokyo Lakes
Absolutely Fantastic Adventure 10/11/2019
From the time I first enquired about this trek I felt as if I was Mountain Kingdoms only customer. I mean that in a totally professional way. Nothing was to much trouble for the staff. I has lots of questions prior to the trek and they were all answered with enthusiasm and quality. The trek staff were outstanding at all times. The two young porters always had a smile on their faces. Our Sherpa guide 'Mingma Temba Sherpa' was nothing short of fantastic. At all times he ensured that our safety was never compromised, that we always had general information about our current location on the trek and the relevant cultural experiences we found ourselves in. For me he added great quality to my adventure for which I shall remain always appreciative. I would have no hesitation in recommending Mountain Kingdoms to anyone. they made a dream come true.
Mr Christopher Noel Gowler, Bristol
Everest Base Camp & Gokyo Lakes
Tough but doable 23/04/2018
The itinerary is well thought out to ensure acclimatisation to altitude is likely to be successful whilst providing interesting walking on the acclimatisation days. The staff are always friendly and helpful to ensure the smooth running of the trip but clients need to be aware some days are long and hard although the views do provide a welcome respite.
Mr Anthony Peter Whitehead, london
Everest Base Camp & Gokyo Lakes
Brilliant Experience 14/12/2017
The Trek was an outstanding experience! It is something I will never forget. The views were outstanding and leave a lasting impression on your mind. There were a number of challenges which push you but the rewards were amazing. The route was excellent and the extra Trek to the lakes were the 'icing on the cake'. I would recommend this adventure to those who love natural scenery and outstanding beauty. Words don't really do justice to the adventure, you need to experience it.
Alun, Merthyr Tydfil
Everest Base Camp & Gokyo Lakes
Truly amazing adventure 24/03/2012
The trek was a real challenge for me, especially as I arrived in Nepal not feeling well. But the whole team - leader, guides, porters and the other participants - encouraged and supported me all the way. It was a truly amazing adventure. Thank you.
Mr M, Hertfordshire
---