Best Places to Visit in Nepal
Since the first ascent of Everest in 1952 and the hippy invasion of the 1960s, Nepal has captured the imagination of travellers and adventurers alike. Whether in search of an exhilarating challenge or simply looking for a slice of Shangri La, Nepal continues to draw visitors with its incomparable Himalayan landscapes and living, sacred culture.
Although not geographically huge, it's a tad smaller than the combined size of England and Wales, Nepal can seem a little daunting for visitors, especially for first timers. With its many famous peaks, numerous trekking trails, ancient Newari cities and wildlife rich parks, it's difficult to know how to make the most of your time there. So, to help you navigate, we've put together this guide to the best places to visit in Nepal based on our many years of travelling and trekking there. Stopping off at all our favourite places along the way, our journey starts in Kathmandu before heading west to the Annapurnas, north to Mustang, east to the Everest region and south to the Terrai. Whether you are looking to go touring, walking or trekking in Nepal - Namaste and welcome to Shangri La!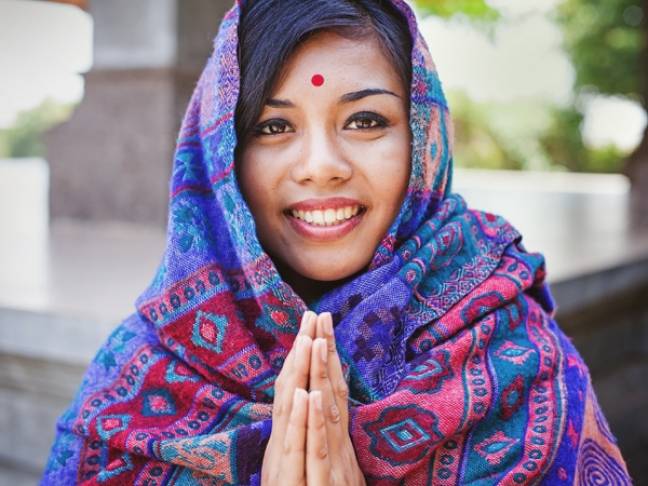 Kathmandu
Pretty much any visit to Nepal starts in the capital city of Kathmandu. It has the country's only truly international airport, Tribhuvan, and is the gateway to all of Nepal's other cities and regions. Home to over 1.5 million people, Kathmandu is an exhilarating and exhausting riot of sights, sounds and smells. It's tempting to get away from its sprawling, crowded streets as soon as possible but, devote at least a couple of days to exploring its many historic and cultural attractions, and you will be richly rewarded.
Thamel and the Old City
The base for most tourists in Kathmandu is the district of Thamel where the streets are lined with outdoor gear emporiums (not always selling the genuine article), cafes, hotels, bakeries, souvenir shops, bars, guest houses, tour agencies and eateries. It's a great place to grab any gear you've forgotten to pack, or to chill out and enjoy a drink or meal. Our top suggestion for a beer or bite to eat is the famous Rum Doodle restaurant – it's a local institution where you'll find photos and signed 'yeti feet' from all the great mountaineers who stopped by after their expeditions.
Within easy walking distance of Thamel lies Durbar Square, Kathmandu's most significant historic and cultural site and the top place to visit in the city. A UNESCO World Heritage Site since 1979, the central square is surrounded by striking, multi-tiered palaces and temples from various eras of royal rule. It is also home to the Kumari Devi, a young girl who is considered a living goddess until she reaches puberty and is immediately replaced with a new goddess. A little further afield, but still in the city, is Swayambanuth Temple, another of Kathmandu's essential tourist places to visit. Known as the 'Monkey Temple', Swayambanuth sits on a prominent hill above the city and has a dazzling white stupa, topped with the painted eyes of Buddha, as its centrepiece. It's a great spot to watch the sun set, as long as you don't mind being mobbed by the resident monkeys!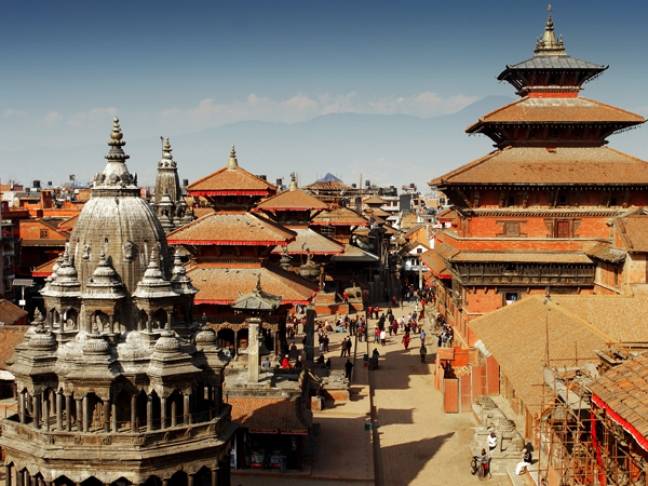 The Kathmandu Valley
Surrounding the central city is the Kathmandu Valley which has a wealth of cultural and historical sights to explore. The medieval Newari cities of Patan and Bhaktapur are the key attractions especially if you are interested in architecture and traditional artisan crafts. If you only have time to visit one then we'd recommend Bhaktapur due to its fascinating cobbled streets, exceptional artisan workshops and its beautiful ancient buildings that are extremely well-preserved.
There are two other sights in the Kathmandu Valley that you should make time to see: Pashupatinath Temple with its moving cremation ghats; and Bodhanath Stupa, an enormous white dome set beneath a gilded tower emblazoned with giant Buddha eyes. It's a wonderful place to visit as the sun goes down when the local Buddhists come out to light butter lamps, chant prayers and perform a ritual circuit of the stupa. It's also incredibly photogenic in the golden light before sunset.
If you would like to experience just a little walking or trekking in Nepal, but don't have time to acclimatise to a high mountain trek, then the rim of the Kathmandu Valley can provide just such an opportunity. The elevated settings of the towns of Dhulikhel and Nagarkot provide wonderful views of the high Himalaya – so long as the skies are clear – and they also have a good network of paths for day walks or overnight hikes. The rim is very rural with a lot of small-scale farming, making it one of the best places to visit near Kathmandu if you would like to see traditional, Nepali village life.
If Nepalese history and culture are of particular interest to you, then all of these sights, and many more besides, are included in our Definitive Cultural Tour of Nepal.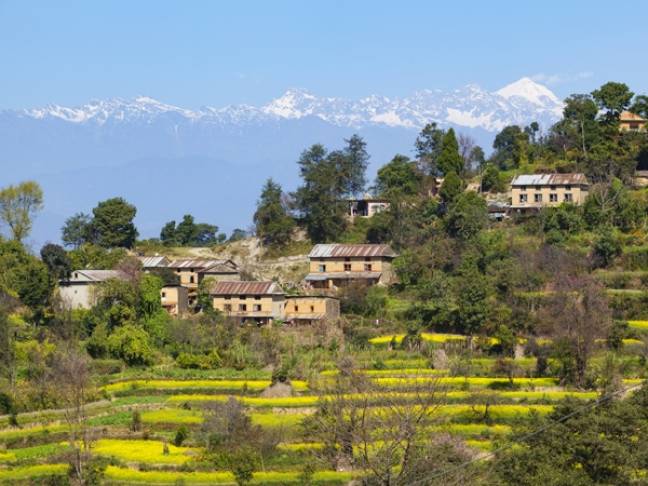 The Annapurnas
To the west of Kathmandu lie the great mountains of the Annapurna Massif soaring to over 8,000m at the summit of Annapurna I. Often considered the most beautiful mountains in the entire Himalaya, the most instantly recognisable is Machhapuchare with its distinctive fishtail peak. Along with their aesthetic appeal, the accessibility of the Annapurnas and the variety of trails on offer mean that they are immensely popular, with around two thirds of all trekkers who visit Nepal heading to their inviting slopes.
Pokhara
At the foot of the Himalayan giants, and running along the eastern shore of picture-perfect Phewa Tal Lake, is the city of Pokhara. Pokhara is easily reached from Kathmandu either by a short flight or by road - a journey of between 6-8 hours depending on traffic levels around Kathmandu. As the starting point for many trails into the Annapurnas, Pokhara is one of the best places to visit in Nepal for trekking enthusiasts.
Although unashamedly touristy with its numerous bars, shops and eateries, Pokhara's lakeside has a laid-back charm and plenty of attractions to keep any visitor happy for a couple of days. One of the best things to do in Pokhara is to take a rental boat out onto the sparkling waters of Phewa Tal for a leisurely row. If the weather is calm, the reflections of the snowcapped peaks of the Annapurnas on the mirror-like surface of the lake are simply stunning. If you want an aerial view of the lake and town you can take a hike up to the World Peace Pagoda which is balanced on a narrow ridge high above Phewa Tal and gives wonderful, far reaching views. If you are feeling a little more active, then the nearby Seti River Gorge offers some fine white water rafting. You can experience its rapids on a half day excursion from Pokhara or, take a couple of days to gently drift along the Seti with an overnight stop at a luxury tented camp on its banks.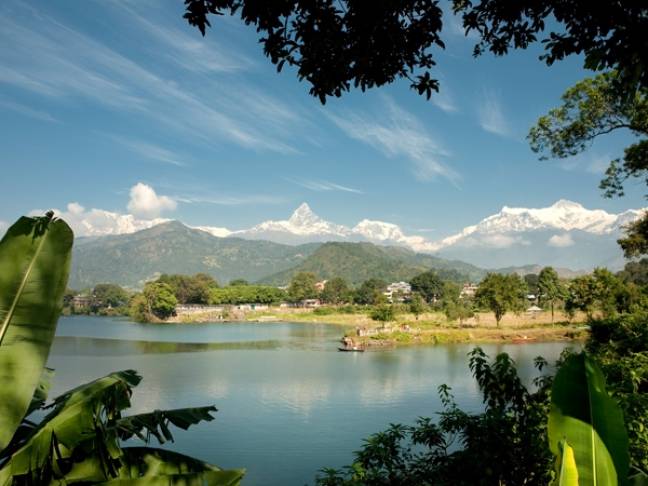 Annapurna Foothills
Although it's possible to see the mountains from Pokhara, it would be a waste not to at embark on at least a short trek to experience their majestic beauty from closer range. The village trails that criss-cross the foothills of the mountains provide relatively gentle trekking without the need for acclimatisation. The scenery of the foothills is characterised by verdant rice terraces, fruit orchards and fertile fields still cultivated using traditional methods. Pretty villages provide welcome tea stops and there are high quality trekking lodges for super-comfy overnight rests. But it is of course, the ever-present backdrop of the dazzling Himalayan peaks that makes trekking here so special.
Our Gentle Trekking & Luxury Lodges Trek is undoubtedly one of the best ways to experience the delights of the foothills.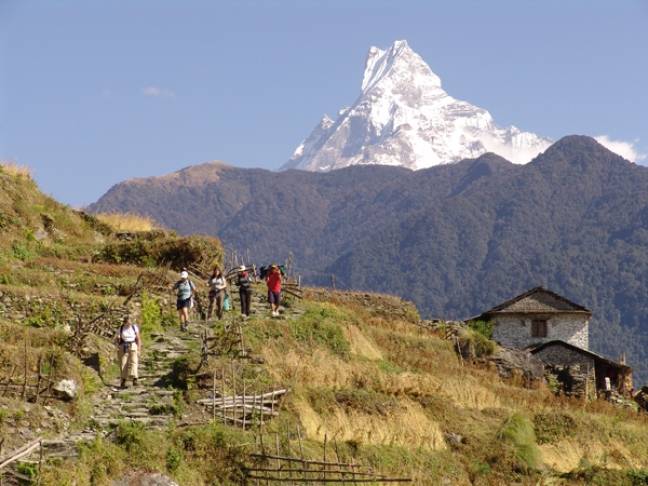 The Annapurna Sanctuary
One of Nepal's most celebrated places to visit, the Annapurna Sanctuary sits at the end of a week-long trek that starts close to Pokhara. The trek is rightly considered a classic and is a great introductory trek due to its relatively low altitude by Himlalayan standards – the highest point is 4,130m at Annapurna Base Camp within the Sanctuary. Annapurna Sanctuary is a mighty circque of mountains including Annapurna I, Tent Peak, Hiunchuli, Gandharba Chuli, and Machhapuchare. At sunrise, with the light gradually illuminating each towering peak, it is beyond magical. You can stay overnight at one of the tea houses in the Sanctuary so you don't miss any of nature's spectacular show.
We offer two treks that take you into the Annapurna Sanctuary: The classic Annapurna Sanctuary Trek that follows the well-established route staying in traditional tea houses or, for those seeking a little more comfort on the trail we have the Annapurna Base Camp in Style trek.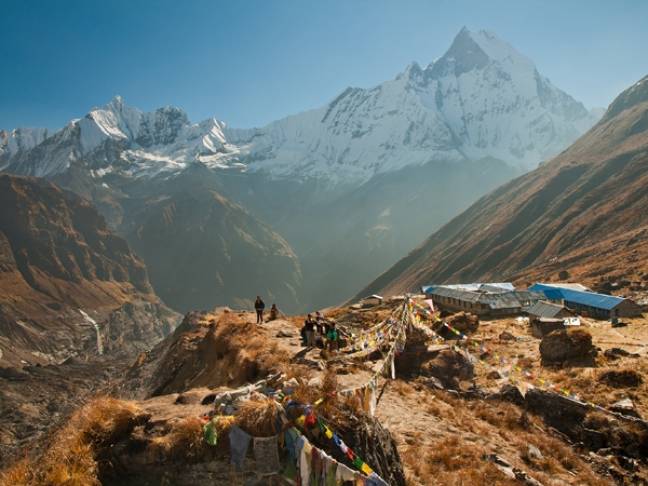 Mustang
Within the Annapurna Conservation Area, and touching the border with Tibet, Mustang offers a very different landscape, climate and culture to anywhere else in Nepal. In fact it's the only region in the country where you can go trekking during the summer months – which is why we wanted to include it as one of the best places to visit. Lying in the rain shadow of the Himalaya, Mustang is much more arid and desert like than the main Annapurna region. The scenery is very otherworldly with towering cliffs punctuated by 'sky caves', contorted rock strata and weirdly shaped rock pinnacles. Culturally Mustang is also quite different. The local ethnic groups practice ancient Tibetan Buddhism and it was once an independent kingdom, isolated from much of the outside world. The cultural traditions of Mustang can be evidenced in the ochre and white-striped gompas, the dress of the local people and the religious practices and festivals. The annual Tiji Festival, held in the main town of Lo Manthang, is a fabulous spectacle and an undoubted highlight of any visit to the region.
Our Wild Mustang Trek, is an unforgettable adventurous trek into the heart of Mustang, with one departure timed to coincide with the Tiji Festival.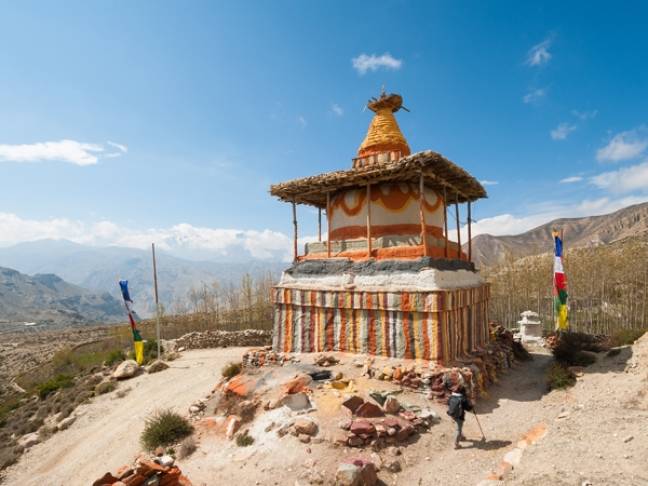 Everest Region - the Solo Khumbu
For a lot of people, if you say Nepal their very first thought is of Everest. The highest, most iconic and instantly recognisable mountain on the planet, Everest captivates with its spectacular scenery and dramatic, enthralling history. Although the summit of Everest is only for the few, the wider Everest region is an outdoor playground of well-established paths, accessible peaks and airy passes that can keep the enthusiastic trekker happy for years. Unlike the Annapurnas there are no roads or vehicles to contend with. It's also home to the Sherpa people who call the region the Solo Khumbu and have created a tea house culture that has been providing food, warmth and shelter to trekkers for decades. For all these reasons, if you're only likely to make the journey to Nepal once, then Everest has to be right at the top of your 'best places to visit' list.
Everest Base Camp
You don't have to go to base camp if you're trekking in the Everest region, but you'd be mad not to. It would be like going to Agra and not taking a peak at the Taj Mahal! To reach base camp takes nine days of slow, challenging, trekking from the small airstrip at Lukla. From here you'll climb through ever more dramatic scenery, and ever thinner mountain air, to reach base camp which sits at a dizzying height of around 5,300m.
This is the south base camp for Everest – one of two - the North Base Camp is on the mountain's opposite side in China. Sir Edmund Hillary and Sherpa Tenzing Norgay set out from the same base camp 70 years ago and it has remained the starting point for all Nepal based expeditions ever since – although its position does shift due to movements in the Khumbu Glacier on which it is situated. If you're trekking during the spring climbing season (March-May) you will no doubt see the colourful tents and equipment that belong to the many expeditions who are waiting for their weather window to make their attempt to climb Everest's forbidding 8,848m summit. There's also an annual marathon that starts from Everest Base Camp in the spring, and you may also find medical teams and scientists here studying the effects of high altitude and extreme conditions.
Outside of spring time there's not a lot to see at Everest Base Camp, in fact you can't even see the summit due to the lower peaks and the imposing Khumbu Icefall blocking your view. But you don't have to see the top to know that you've made it to the foot of the world's highest mountain and to savour your achievement. The big rock spray-painted with 'Everest Base Camp' also helps – and is an essential spot for taking your Insta pics before you start the (much quicker) trek back to Lukla.
We offer several treks to Everest Base Camp with the choice of staying in traditional tea houses or high quality trekking lodges, and also with an option to trek to Lukla rather than take a flight.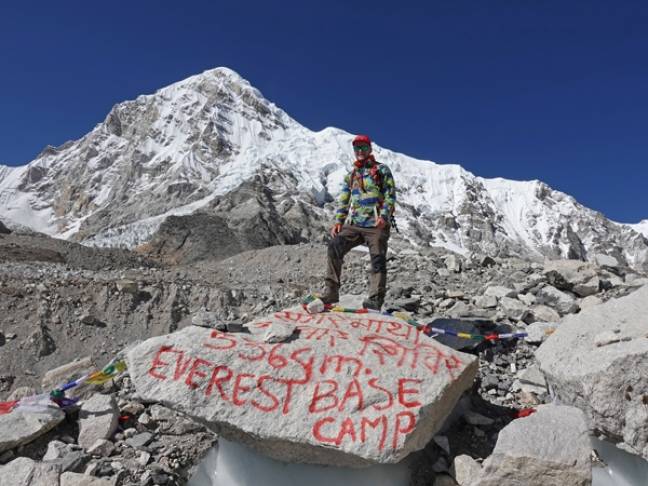 Thyangboche (or Tengboche) Monastery
If you don't have the time or energy to trek to base camp, but still want glorious views of its peak, then Thyangboche Monastery, 3,867m, is a great place to visit. The brightly coloured Buddhist monastery enjoys a commanding position on a small plateau at the head of a valley which faces directly towards Ama Dablam and the Everest range. The mighty peaks of Kantaiga and Thamserku rise up behind the monastery adding to the beauty and drama of its position. Firmly on the classic trekking route to base camp, Thyangboche is a good place to spend the night and there are several tea houses and lodges in the locale.
The monastery was established in 1916 but suffered substantial damage in the earthquake of 1934. It was rebuilt only for tragedy to strike again in 1989 when an electrical fault caused a major devastating fire. Raised from the ashes, today's monastery was consecrated in 1993 and provides a home to around 60 monks and trainees. You can enter the main hall of the monastery (a donation is appreciated) and also visit the onsite visitor centre. Each autumn the Mani Rimdu Festival is held at Thyangboche bringing a cacophony of sound and a whirl of brightly-coloured costumes as the monks recreate spiritual stories in music and dance.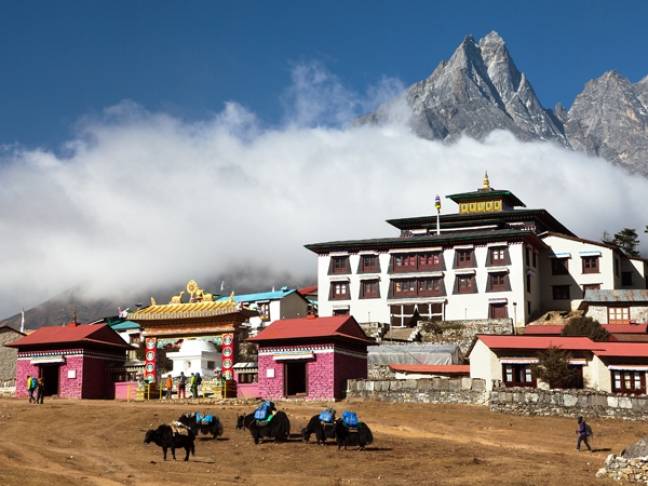 Namche Bazaar
If you're trekking in the Everest region, Namche is an essential place to stop and visit for a couple of nights as you acclimatise to the thin mountain air. Situated at around 3,450m it is the largest settlement in the Khumbu and has numerous lodges, shops and cafes catering to the trekking market. It's particularly well-known for its Saturday market which still attracts traders from Tibet who bring all manner of wares across on their yaks to sell here, and the apple cake at the German bakery is not be missed. But it's not just the facilities that make Namche such a welcome stopover, it also boasts an enviable location in a large natural bowl on a hillside surrounded by high mountains with wonderful views. Take a slow walk to the ridge above the village and you will also enjoy some breathtaking vistas of Everest and many other towering peaks.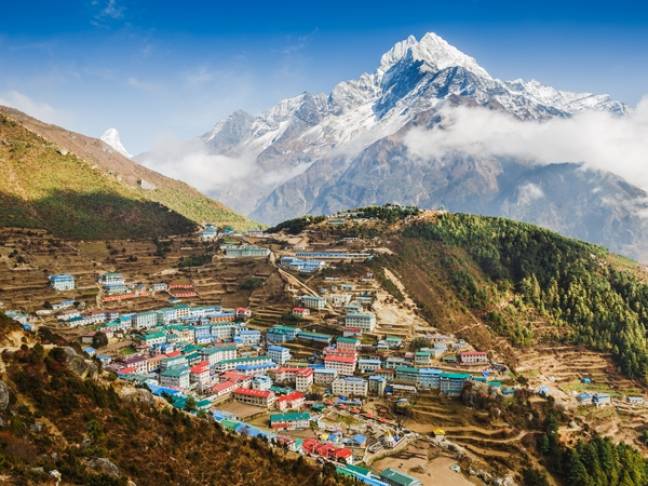 Gokyo Lakes
The three glittering, turquoise-blue lakes of Gokyo provide some of the most beautiful scenery in all of Nepal, making it one of our recommended places to visit. However, at around 4,800m, this is not a place you can easily drop into – you have to trek long and hard beyond Everest Base Camp to reach it but the rewards definitely justify the effort involved. The three lakes of Gokyo lie within an ablation valley, creating a strikingly dramatic avenue of jagged peaks including Cholatse, Taboche and Cho Oyu. The route leads between these immense mountains, eventually reaching the small settlement of Gokyo itself by the side of the largest lake. There are a few tea houses here making it a good base for exploring the area. From Gokyo there are several trails you can take but, an ascent of Gokyo Ri, which rises to 5340m directly above the northern shores of the lake, gives unparalleled panoramic views of the area, particularly if you can make it to the top for sunrise.
If the Gokyo Lakes or on your must-visit list for Nepal, click the link for full details of our Everest Base Camp & Gokyo Lakes Trek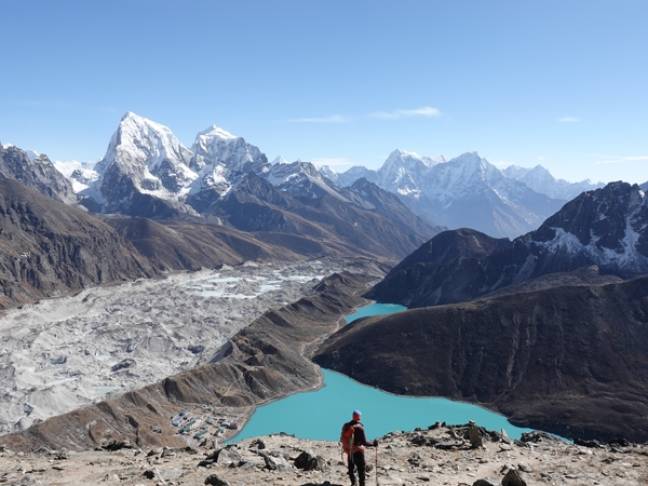 The Lowlands Terai
Mountains may be the obvious geographical feature to associate with Nepal, but it does also have a relatively flat, lowlands area called the Terai. Covering much of the southern part of the country, the Terai has its work cut out to compete with the mighty mountains of the Himalaya. But, with two impressive national parks and a World Heritage cultural site, it does provide some worthy competition to lure visitors.
The wildlife parks of Chitwan and Bardia
Chitwan National Park, in the steamy jungle of central Terai, is easily accessible either by small plane from Kathmandu or vehicle from Pokhara. The premier wildlife park in Nepal, Chitwan covers a variety of natural habitats including river, floodplain, dense forest and grassland. It boasts a wide range of mammals with the rare One-horned Indian rhinos, Royal Bengal Tigers, Asian elephants and sloth bears among its signature species. It's also home to crocodiles and numerous beautiful and exotic birds with over 450 different species recorded here. Lodge accommodation is readily available around the park and exploration can be done in jeeps, on foot and in small boats and canoes along the waterways.
Further west and, far less accessible than Chitwan, Bardia is the quieter, wilder and more pristine of the two national parks. It shares many of the same animal species as Chitwan but there are far fewer humans to be encountered here. It's often said that Bardia is what Chitwan was like 30 years ago, and if you like a sense of remoteness with your wildlife spotting, than Bardia is undoubtedly one of the best places to visit in Nepal.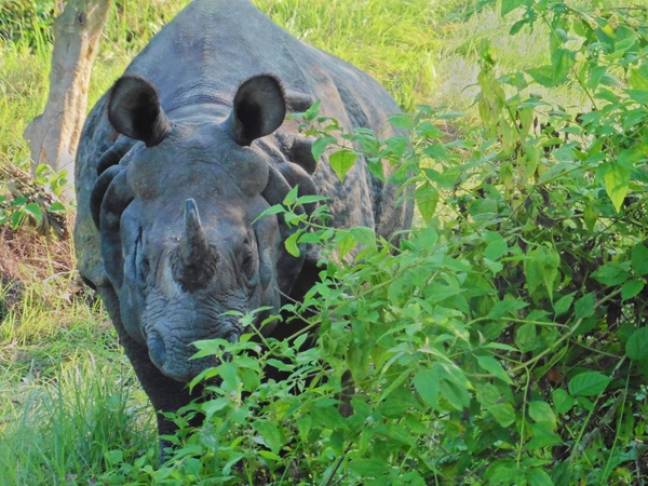 Lumbini
The birthplace of Lord Buddha, Lumbini is not only a World Heritage Site but one of Nepal's most culturally significant places to visit. The exact spot where Buddha (Siddhartha Gautama) was born in 563 BC beneath a Bodhi tree, is now marked by the Maya Devi Temple and is the spiritual heart of Lumbini. The temple is surrounded by landscaped parkland and many other temples, pagodas, monasteries, water features and other sacred places. Saffron-robed monks and Buddhist pilgrims congregate in the park, and many of the monasteries were built to reflect the diversity of the Buddhist faith throughout the world. It is a very large, busy site and we recommended staying overnight in the small, adjacent town of Lumbini Bazaar so that you can enjoy a visit in the more peaceful early hours.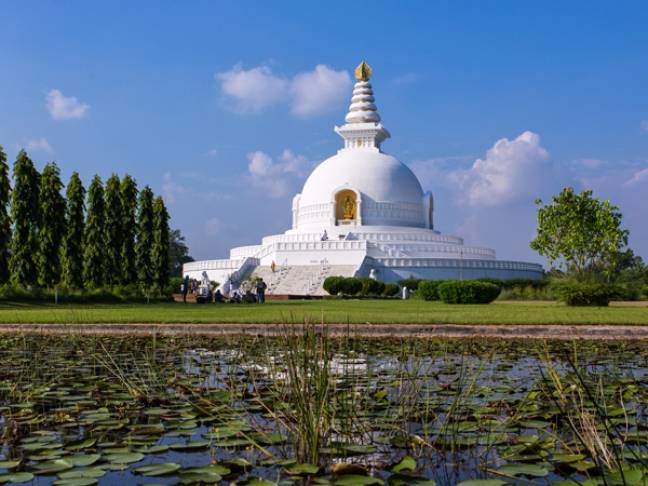 If you would like to visit Lumbini, or the wildlife parks at Chitwan and Bardia, we can add an extension to any of our small group adventures in Nepal or, alternatively, we can create a tailor made holiday to include any of our best places to visit in Nepal.