What's included
Local English-speaking guides and porters where required
Good standard hotel & lodge accommodation
A free Mountain Kingdoms Water-to-Go bottle (see below) or a Mountain Kingdoms fleece
10 Breakfasts, 6 Lunches, 7 Dinners
All road transport by private vehicles
Sightseeing as specified in the itinerary
National Park fees where applicable
Costs of all porterage and their insurance
Economy class return air fares from the UK & UK Departure Tax (flight inclusive only)
Single, timed group airport transfers for international flights on arrival and departure
Carbon offsetting with the Ecoan Tree Planting Project (for clients taking our flight inclusive option)
A free Mountain Kingdoms Water-to-Go bottle
The opportunity to join one of our pre-trip meets in the Cotswolds
and much more...
Call our
friendly team
Gentle Walking Nepal
Walking & Trekking
Nepal, Annapurnas | Walking & Trekking
Gentle / Moderate
Gentle: Suitable for people who enjoy easy-paced walks or exploring the countryside on foot.
Moderate: Suitable for anyone who enjoys hill walking.
Find out more...
Grade: Gentle / Moderate ? Gentle / Moderate
Duration: 13 days from the UK
Walks on: 5 days
Flight inclusive from £2,720,
Land only from £1,885
Book now or call 01453 844400
A journey into the mid hills of Nepal to discover its people, history and culture. Gentle walking on less travelled trails staying in a series of comfortable lodges
Highlights
Enjoy spectacular views of the Kathmandu valley and Himalayan peaks from Haatiban
Relax at the Summit River Lodge with the refreshing sound of the Trusili River below
See the real Nepal, go beyond the beaten track and discover untouched villages
Stay in beautifully located lodges with comfy beds, hot showers and great food
Sightseeing in Pokhara with a magnificent backdrop scenery of the Annapurna
Experience some of the best that Nepal has to offer in terms of tradition and cultural diversity as you journey into the middle hills on a path less travelled. On this captivating holiday, from Kathmandu to Pokhara and beyond, you will stay in comfortable lodge accommodation, all serving excellent food and set in beautiful natural locations. This is a relatively comfortable and easy paced exploration that both the first time visitor and seasoned trekker would enjoy. At first you will spend three nights just outside and perched high above the Kathmandu valley at Haatiban. Here there is a peaceful lodge with beautiful gardens looking down on the city below. From your lodge you walk up the ridge to the summit of Champa Devi with its fine views. You will also enjoy walks through mustard fields and terraces to discover local temples and heritage villages and you will head down to visit and marvel at Patan Durbar Square.
Leaving the Kathmandu Valley you have the option to drive or raft along the Trisuli River until you get to Brigands Bend and your superbly located river lodge for two nights. You will enjoy gentle treks along hills and valleys, above rivers and through untouched villages. Then you move onto to Bandipur which is like a living museum of Newari architecture. A walk of around three hours takes you to another sublimely located lodge where you will stay for two nights with superb views of Manaslu, Annapurna and Dhaulagiri.
Walking back to Bandipur for lunch you will then descend to travel the city of Pokhara, with its beautiful lakeside position, for two nights. Pokhara sits on Lake Phewa and on a clear day there are astounding views of the Annapurna range of mountains including most famously the holy Machhapuchare or 'Fishtail' Mountain. You will take a boat ride and visit the famous Tal Barahi Temple located in the middle of the lake. Returning to Kathmanduyou will get to see the city in all its colour and vibrancy and visit two significant heritage sights in Pashupatinath and Boudhanath Stupa. There is also free time to enjoy the city, go shopping or just relax back at your hotel.
---
At a glance
Grade: Gentle / Moderate
Gentle / Moderate
Duration: 13 days from the UK
Walks on: 5 days
Max. Altitude: 2,278m/7,473ft, Champa Devi, Day 3
Guaranteed to run for a minimum of 4 clients
Maximum group size: 12
Land only joining city: Kathmandu
Accommodation types: Hotels, Luxury Lodges
Meal arrangements: 10 x Breakfasts, 6 x Lunches, 7 x Dinners
Itinerary overview
| Day | Activity |
| --- | --- |
| 1-2 | Arrive Kathmandu. Transfer to Haatiban. |
| 3 | Walk to Champa Devi. Visit local temples. |
| 4 | Visits to Khokana, Bungamati and Patan Durbar Square. |
| 5-6 | Drive or raft to Summit River Lodge. Village walk. |
| 7-8 | Drive to Bandipur. Lunch at Old Inn. Walk to lodge. Village walks. |
| 9-10 | Walk back to Bandipur via a different route. Drive to Pokhara. Sightseeing. |
| 11-12 | Fly to Kathmandu. Sightseeing of Boudhanath and Pashupatinath and time at leisure. |
| 13 | Transfer to airport. Fly to London. |
Leader: Local Leader, Nepal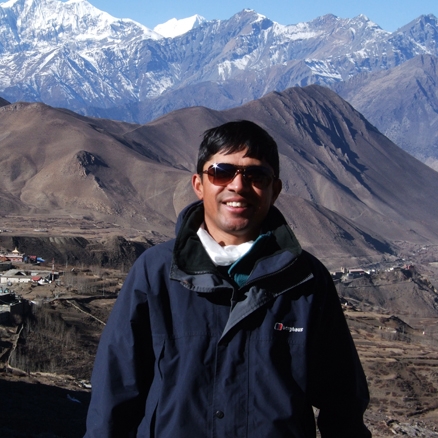 Whether it's a cultural tour, gentle walking holiday or strenuous trek, our holidays in Nepal are led by professionally-trained English speaking leaders. They have an intimate and expert knowledge of the history, culture and nature of Nepal and will make your trip a memorable experience.
---
Gentle Walking Nepal Itinerary
Day 1 - Fly London to Kathmandu

Depart London on your overnight flight to Kathmandu.

Overnight: In flight

Day 2 - Arrive Kathmandu airport. Group transfer to Haatiban, 1,852m/6,076ft.

You are met at the airport and then transferred to Himalayan Height Resort, Haatiban, around an hour's drive through the town and into the surrounding countryside. Located south-west of the city and around 400 metres above the valley, the last bit of the drive is a steep and bumpy climb through pine forest to the resort and is well worth it. The views from here and the peaceful environment are most welcoming after a long flight.

Overnight: Himalayan Height Resort, Haatiban

Day 3 - Walk to Champa Devi, 2,278m/7,473ft - 3-4 hours. Visit temples at Pharping and Dakshinkali.

An early morning hike up the Champa Devi hill is a good way to shake off the jetlag. It's a good path laid with cut paving stone in the most part. From the ridge on one side there are views down the hills to nearby villages and from the other side down into the Kathmandu valley. Once at the top of the hill, it is possible to have views across the valley and of the mountains stretching from Mount Manaslu in the west all the way towards the eastern Himalaya. Here there is a modest shrine with some offerings but the quality of the path tells you that at certain times of the year this is an important pilgrimage site visited by many people from Kathmandu.

After some lunch, in the afternoon you will visit nearby Pharping, 1,680m, the site of Sekh Narayan Temple, dedicated to Vishnu; the temple is at the base of an over hanging cliff. Above the village stands the 17th century Vajra Yogini Temple dedicated to the tantric Goddess Vajra Yogini or 'Durga'. Further up is the Padmasambhava Cave where Padmasambhava attained realisation. The Pharping Monastery comes under the Nyingmapa sect of Buddhism. On the way back visit Dakshinkali Temple, 550m, a shrine dedicated to the terrifying goddess Kali. The image of the goddess is not very big, but Hindus believe it possesses great power. Consequently, every Saturday and Tuesday, thousands of people descend on the shrine to make offerings to the goddess. Though many people bring offerings of fruits, rice, and flowers, Dakshinkali is better known as a place of animal sacrifices, primarily of young male goats and chickens. A walk back through the village for about an hour brings you to the parking lot beneath the lodge and return drive up to the resort.

Overnight: Himalayan Height Resort, Haatiban

Day 4 - Visits to Khokana, Bungamati and Patan Durbar Square.

Today you get to enjoy visits to UNESCO heritage villages of Khokana and Bungamati and then on to Patan Durbar Square. First drive down from Haatiban to Bansbari, 1,510m, then walk through to Khokana, 1,360m, and onto Bungamati a typical Newari village that dates back to the 16th century and is famous for its mustard oil mills. There is a Shikhara style temple in the middle of the village square and around the streets you will see women hand weaving and men playing board games and going about their daily lives. It is also the birthplace of Rato Machhendranath regarded as the patron guardian of the valley. In Patan there is a temple bearing his name and this is your next stop, arguably one of the oldest Buddhist cities in the world and believed to have been founded in the 3rd century AD. Patan Durbar Square is a living monument and all around are traditional crafts people at work and the architecture displays a rich artistic heritage. You will also have time to browse the craft shops in the vicinity and find some lunch. There are a variety of places in the nearby streets catering for all tastes. There is a good museum you might visit, yet it is fascinating to just sit on the steps of one of the temples and take in the sights and sounds.

Overnight: Himalayan Height Resort, Haatiban

Day 5 - Raft or drive to Summit River Lodge, Brigands Bend - 100 km.

Today you have the option to drive or raft to your next lodge. In either case you drive out of the Kathmandu Valley and descend to the valley of the Trisuli River and drive downstream along the banks of the river.

After about two hours, if you are rafting, you will leave your transport at the put-in point and walk down to the river bank where you will meet your rafting crew. Here you will be given life vests and helmets and your rafting captain will give you a full briefing before you set off downstream. You will raft as far as Kurintar, a small village on the banks of the Trusili River, where you will leave your rafts for the walk up to Summit River Lodge. If you prefer not to raft then it is about a three hour road journey to reach Kurintar which is located midway between Kathmandu and Pokhara.

In Kurintar porters will carry your luggage and you will follow them over a modern pedestrian suspension bridge across the rushing Trusili River, and walk on to the village of Thuguwatar on the other side. An easy walk of about 30 minutes takes you through farmland and a number of small villages to reach the lodge, which is set in a spectacular location above the river with tremendous views down to sandbanks and the river in either direction, giving way to views of terraced farmland and forested hills. In the afternoon you are free to take a walk, enjoy the swimming pool and relax around the lodge. Later, make your way down through the lodge gardens to a beautiful fire pit, with the best views, to soak up the atmosphere and enjoy a drink before dinner.

Overnight: Summit River Lodge, Brigands Bend

Day 6 - Village walks - 3-4 hours.

Today you get to enjoy the surrounding hills behind the lodge, with a gentle walk passing through the tiny hamlets and farmsteads of the minority Chepang and Magar people. The start is steep but after just a few minutes you are in a rural landscape untouched by roads or machinery and where life goes on much as life has been here for centuries. Walking through rice paddies and hand tended fields the occasional interactions with villagers are a rare privilege, virtually untouched by tourism and blessed by the backdrop of the mid hills and narrow gorges cascading down to the Trusili. People weave or tend to their animals and children make their way to school, always friendly and curious. There are some great photo opportunities but remember you should always ask to take someone's photo, you will rarely find anyone unwilling nor anyone not highly amused to see their picture if you have a screen on your camera to show them! You'll also ascend, following a small stream leading to a cascade of pools where at least one is deep enough to take a refreshing dip! Return along a lower route through fields and by the Trisuli's white sandy beaches to the lodge.

Overnight: Summit River Lodge, Brigands Bend

Day 7 - Drive to Bandipur - 1-2 hours. Lunch at Old Inn. Walk to lodge, 1,011m/3,316ft - 3 hours.

Soon after breakfast it is time to move on. Porters will collect your bags and take them back along the path and over the bridge to where your vehicle will be waiting to take you to Bandipur. The journey should only take around 1½ hours. Lunch will be at the Old Inn where you will meet your guide for the next couple of days. You will also have time to explore Bandipur, a well preserved and maintained traditional Newari village. It's very pleasant to stroll around as it is mainly pedestrianised and cafes and lodges coexist with the temples and traditional Newari houses.

After lunch, with porters carrying your luggage, the walk to the lodge takes around three hours. There is an initial descent followed by a walk through the valley which is in parts forested and in parts farmed. There are several hamlets and schools along the route. The final 40 minutes involve a steady climb to the lodge which is located on a small ridge at an altitude of 1011m or 3316ft. After settling into your room and having a hot shower, drinks will be served around the central fireplace before dinner is served in the dining room.

Overnight: 3 Mountain Lodge, Ghamalchhap

Day 8 - Village walks - 3-4 hours.

You will be woken with a cup of tea or coffee at your room. If the mountains are clear, you can sit on your private veranda and enjoy views of the spectacular mountain ranges of Dhaulagiri, Annapurna and Manaslu. After breakfast you will set off to visit two local schools passing two large orange groves on the way. There may also be the option to include a walk to a higher peak from where there are mountain views to the North and views to Chitwan in the south. You will then make your way back to the lodge. After lunch at the lodge, you will visit two local villages. To date few tourists have visited this area so it retains much of its charm. Over the years many Gurkhas have been recruited from these villages over the years and you will hopefully have the opportunity to visit the house of one of these retired Gurkhas.

Overnight: 3 Mountain Lodge, Ghamalchhap

Day 9 - Walk back to Bandipur via a different route - 3 hours. After lunch drive to Pokhara - 2-3 hours.

After breakfast, you will leave the lodge and trek for around three hours via a different route to Bandipur where you will have lunch. After lunch you will meet up with your driver and main guide for the drive to Pokhara and check into your hotel for the next two nights. The rest of the day is yours to explore this lakeside town with lovely views of the Annapurna range.

Overnight: Shangri La Village Hotel Or Similar, Pokhara

Day 10 - Pokhara sightseeing.

An early start this morning for a sunrise view. You will be transferred to the entry point for Sarangkot, followed by a short walk to Sarangkot. This viewpoint offers a fabulous view back over Pokhara but even more impressive are the mountain views of Annapurna, Dhaulagiri, Machapuchare, Lamjung Himal and more.

After such a great start you will return to the hotel for breakfast. Afterwards you will take a boat ride across Phewa Lake and visit the famous Tal Barahi Temple set in the middle of the lake and later take a walk to the Peace Pagoda from where on a clear day another a great view of the Annapurna range can be had. After Lunch your sightseeing continues visiting Brindawasini Temple, Devis Falls and the old town of Pokhara.

Overnight: Shangri La Village Hotel Or Similar, Pokhara

Day 11 - Fly to Kathmandu. Afternoon at leisure.

This morning you will take the short and, when the skies are clear, very scenic flight back to Kathmandu. On arrival at the domestic terminal you will be met and transferred to your hotel. You will then have time to explore the city, do some souvenir shopping and of course if you wish just relax at the hotel pool and savour the adventure you have just taken.

Overnight: Shangri La Hotel, Kathmandu

Day 12 - Half day sightseeing of Pashupatinath and Boudhanath. Transfer to airport and depart for London.

Pashupatinath is one of the holiest pilgrimage destinations for Hindus. Situated on the banks of the holy Bagmati River, it is also one of the oldest temples. The main temple is dedicated to Lord Shiva, one of the holy trinity and one of the guardians (similar to a patron saint) of Nepal.

You will then take a short drive to Boudhanath Stupa. A spectacular ancient stupa of the Kathmandu Valley, this is venerated exclusively by Buddhists. It is an iconic sight of Kathmandu, approximately 100m in diameter and nearly 40m high and among the largest stupas in the world. Here you will join Tibetan and Sherpa pilgrims as they walk clockwise round the stupa, spinning their prayer wheels as they go round. After 1959 many Tibetans came and settled in this area of Kathmandu. If you opt to spend more time here, it is easy to find a café or bar and while away some time people watching. Sunset at Boudhanath is particularly atmospheric.

Later there will be a group transfer to the airport for your overnight flight to the UK.

Overnight: In flight

Day 13 - Arrive London.
Map
Map Key
Airport
Point of interest
Mountain Peak
Day walk in this area
Flights
Internal Transfers
Trek
---
2021
| Dates | Availability | Land Only | Flight Inclusive from |
| --- | --- | --- | --- |
| Sat 2 Oct - Thu 14 Oct 2021 | Available | £1885 Book | £2720 Book |
| Sat 6 Nov - Thu 18 Nov 2021 | Available | £1885 Book | £2835 Book |
Hold your place
Not quite ready to book? Why not call us on 0044 (0)1453 844400 to hold a no obligation place while you make up your mind?
Optional supplements
Single Room supplement
From £470
Insurance
No Surcharge Guarantee
No surcharges will be applied to your holiday after you book. Prices on this website are updated regularly. The Flight Inclusive holiday price, or Land Only holiday price, will be confirmed to you at the time you make your booking. There will be no surcharges after your booking has been confirmed.
Flight inclusive holidays
The 'flight inclusive' holiday prices shown on this website are based upon our preferred airlines and the best priced economy class fares we are able to secure at the time of publication.
We will be able to advise on fares with alternative airlines, upgrades to Business Class, and the options for flights from regional UK airports, please contact us for more details.
Booking your holiday
For the majority of our holidays, a deposit payment of £100.00 per person is required to secure your place(s), however a small number of holidays require a higher deposit - please refer to the holiday itinerary for more details. If the holiday departs within 60 days, a minimum deposit of £750.00 per person is required.
Book now!
Book your small group holiday securely online – click the 'Book' button next to your chosen departure or visit our How to Book page
Complete and return a Booking Form available to download here.
Call us on 01453 844400 and one of our travel specialists will talk you through the booking process.
Loyalty discount
Find out more
What's included
Local English-speaking guides and porters where required
Good standard hotel & lodge accommodation
A free Mountain Kingdoms Water-to-Go bottle (see below) or a Mountain Kingdoms fleece
10 Breakfasts, 6 Lunches, 7 Dinners
All road transport by private vehicles
Sightseeing as specified in the itinerary
National Park fees where applicable
Costs of all porterage and their insurance
Economy class return air fares from the UK & UK Departure Tax (flight inclusive only)
Single, timed group airport transfers for international flights on arrival and departure
Carbon offsetting with the Ecoan Tree Planting Project (for clients taking our flight inclusive option)
A free Mountain Kingdoms Water-to-Go bottle
The opportunity to join one of our pre-trip meets in the Cotswolds
What's not included
Some meals (as indicated in the itinerary)
Travel insurance
Visa fees
Tips
---
---
Review your holiday
Reviews
Read holiday reviews by Mountain Kingdoms travellers.
Overall score: 5.0 (Based on 5 reviews)
Gentle Walking Nepal (formerly Mid Hills & Village Heartlands) 21/11/2017
We loved the contact with the villagers - it was a real education and insight. The lodges and their locations were well chosen - both peaceful, comfortable and interesting.
Mr C Gee, UK
Gentle Walking Nepal (formerly Mid Hills & Village Heartlands, Nepal) 11/01/2017
Excellent guide - knowledgeable, pleasant manner and flexible. Good choice of accommodation.
Mr W, Fife
Well-chosen accommodation 11/01/2017
The itinerary was well put together, a good mix of sightseeing and walking in non-touristy rural areas. The lodges were well-chosen - I love especially the locations of Himalaya Height Resort and 3 Mountain Lodge - fabulous views! Our trip leader was wonderful, and the staff at the lodges were delightful.
Ms M, Berkshire
Gentle Walking Nepal (formerly Mid Hills & Village Heartlands) 15/12/2016
We like the mix of sightseeing and walking and also the small groups.
Mr & Mrs H, Cumbria
Friendly locals 09/01/2015
The trekking is relatively easy going and takes us through many small villages in the mid-hills of Nepal. As a consequence we gain a far greater insight into regular village life largely untouched by tourism and get to see how the majority of Nepali's live. Off-the-beaten-path, incredible landscapes, plenty of interaction with friendly locals, and lovely lodges. This is for anyone who wants to get under the skin of Nepal in a degree of comfort with a good balance of exploring on foot with time to relax and savour the surroundings.
J Shillibeer, Former Mountain Kingdoms General Manager, Mountain Kingdoms
---