What's included
An English-speaking Sherpa leader
Economy class return air fares from the UK & UK departure tax (flight inclusive only)
Single, timed group airport transfer for international flights on arrival and departure
Good standard hotel accommodation in Kathmandu and Pokhara, twin share, bed and breakfast basis
All road transport by private vehicles
All meals on trek including tea and coffee
An evening fill of your water bottle with drinking water
A good quality down jacket, four-season sleeping bag and fleece liner (supplied in-country)
A free high-quality Mountain Kingdoms kit bag
Trek staff and full porterage
Sherpa/porters properly insured and equipped
Park fees
Carbon offsetting with the Ecoan Tree Planting Project (for clients taking our flight inclusive option)
The opportunity to attend a pre trip meet in the Cotswolds
and much more...
Call our
friendly team
Nepal, Annapurnas | Walking & Trekking
Vigorous / Strenuous
Vigorous: Suitable for enthusiastic hill/mountain walkers.
Strenuous: Suitable for fit individuals who have regular experience of mountain walking.
Find out more...
Grade: Vigorous / Strenuous ? Vigorous / Strenuous
Duration: 16 days from the UK
On trek: 9 days
Flight inclusive from £2,650,
Land only from £1,850
Book now or call 01453 844400
A shorter version of the circuit that still offers sensational views and excellent acclimatisation
Highlights
A shorter version of the classic Annapurna Circuit trek but with all the main highlights
Wonderfully varied scenery and cultural interest at every step
Crossing the Thorong La - a true high point at 5,416m/17,769ft
Four star hotel in Kathmandu
This is the ideal trek for those who wish to discover the variety and beauty of the Annapurna mountain range, on a shorter version of the full Annapurna Circuit. Following the Marshyangdi River our trek begins in Chamje, through paddy fields and sub-tropical rhododendron forest. Above the village of Manang the scenery changes as we enter higher, more arid landscapes and ascend steadily to cross the Thorong La at 5,416m/17,765ft, with fantastic views of the entire Annapurna massif.
Descending from our high point we spend a night at the small pilgrimage town of Muktinath, where Hindus and Buddhists come to see the 'burning' water, before completing our trek in Jomsom. Whilst trekkers on the full circuit continue on foot from here through the Kali Gandaki Gorge, we take to the air for the spectacular flight above the deepest gorge in the world to Pokhara and Kathmandu beyond.
---
At a glance
Grade: Vigorous / Strenuous
Vigorous / Strenuous
Duration: 16 days from the UK
On trek: 9 days
Max. Altitude: 5,416m/17,769ft, Thorong La, Day 11
Guaranteed to run for a minimum of 4 clients
Maximum group size: 12
Land only joining city: Kathmandu
Accommodation types: Hotels, Tea Houses
Meal arrangements: Bed and breakfast in Kathmandu and Pokhara, all meals on trek.
Itinerary overview
| Day | Activity |
| --- | --- |
| 1-3 | Fly to Kathmandu. Drive to Chamje. |
| 4-5 | Trek to Bagarchhap. Trek to Chame. |
| 6-7 | Trek to Pisang. Trek to Manang. |
| 8 | Rest day at Manang. |
| 9-10 | Trek to Yak Kharka. Trek to Thorong Phedi. |
| 11 | Cross Thorong La, 5,414m/17,764ft, trek to Muktinath. |
| 12-13 | Morning view temples, afternoon trek to Jomsom via Lupra. Fly to Pokhara. |
| 14 | Fly to Kathmandu. |
| 15-16 | At leisure. Overnight flight to London. |
Leader: Local Leader, Nepal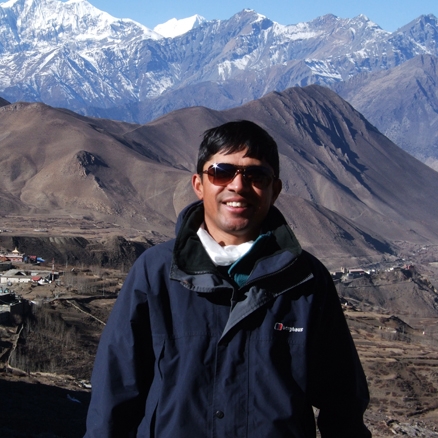 Whether it's a cultural tour, gentle walking holiday or strenuous trek, our holidays in Nepal are led by professionally-trained English speaking leaders. They have an intimate and expert knowledge of the history, culture and nature of Nepal and will make your trip a memorable experience.
---
Mini Annapurna Circuit Itinerary
Day 1 - Fly London to Kathmandu

Depart London on your overnight flight to Kathmandu.

Overnight: In flight

Day 2 - Arrive Kathmandu. Group transfer to hotel.

You will be met on arrival and transferred to your hotel. You might like to venture out to Thamel for your evening meal, or eat in the hotel restaurant if you are tired from your journey.


Overnight: Shangri La Hotel, Kathmandu

Day 3 - Drive to Chamje, 1,430m/4,692ft - 8 hours.

Today you will be picked up from your hotel for the drive to Chamje. Your journey takes you through deep gorges as you trace the Trisuli River westwards. You will pass through the small town of Mugling where the Trisuli and Marshyangdi rivers meet. The town also serves as the crossroads between Kathmandu, Pokhara and Chitwan in the south. You pass over an impressive suspension bridge and begin to follow the Marshyangdi River, which will become a familiar sight, as it will be your companion all the way to Thorong Phedi. On this section of the road you will gain your first sight of the Annapurna and Manaslu ranges. After Mugling you turn north and the Annapurna Massif looms as you approach Besi Sahar. From here you will join a jeep track for a couple of hours passing through the villages of Syange and Jagat to reach the trek start point of Chamje.

Jagat is a very old village. Its name means 'toll-station', as this was once a tax collecting point for the Tibetan salt trade. When Bill Tilman visited the area in 1950 this route did not exist. Instead he had to walk along a series of wooden galleries tied to the rock face!

Overnight: Tea House

Day 4 - Trek to Bagarchhap, 1,700m/5,577ft - 6-7 hours.

Leaving Chamje you soon come to a suspension bridge to cross to the Marshyangdi's east side. You continue through a series of overhanging rock formations. After a short climb the path begins to traverse the rock face on a broad ledge. You then come to a series of stone steps and pass a couple of "Bhattis" (historically liquor distilleries) on your way. "Bhattis" originally offered just alcoholic drinks and some lodgings, but since the advent of tourism they now stock all sorts of soft drinks and snacks.

After a while, the trail evens out and you will pass through an archway - this is the gateway to Tal and the Manang district. "Tal" is the Nepali word for "lake" and you will see the broad expanse where a lake used to be. The trail leads to the right of this expanse beneath a mighty rock wall on your right. The people of the Manang region are Tibetan in origin and you will see increasing evidence of this Tibetan influence as you continue your trek up to Thorong Phedi. The architecture changes and you will see more Buddhist chortens and gompas. Another hint of this influence can be seen with a plethora of guesthouses with names such as "New Tibetan", "Lhasa" and "Potala" Guesthouses.

The trail from Tal is level for a while, giving a welcome relief for your legs. The Marshyangdi is wide and calm at this point. After an hour you cross a bridge back to the western side of the gorge. Over on the eastern bank you will see the old trail which was used until recently - however due to landslides it is no longer safe. You continue to climb to reach the village of Dharapani, which has numerous hotels and a police check post. While you pass through the village you will see a valley coming in from the east along which the Dudh Khola flows. This is where the Manaslu circuit trek route joins the Marsyangdi River, coming down from the Larkya La.

From here there is a 'low path', or a 'high path" leading to Bagarchhap. The high path involves climbing a series of stone steps for at least 45 minutes, however, it is worth it for the view and the two small villages you pass through. The first is called Odar and the second Ghalan Chok. As this trail is little used by tourists, the villages have retained their character and there is not a guesthouse in sight. The villages are surrounded by high terraces of maze and soya beans. From here you make the short descent to Bagarchhap for the night. If you have time you may want to visit the splendid Gompa in Bagarchhap.

Ethnic groups found along your route:
The farmers of the lower Marshyangdi region are primarily Brahmins and Chetris, two high caste Hindu groups, with some communities of Gurungs and Magars in the nearby foothills.

The people of the Manang Valley are Tibetan-type in culture and dress, although their origins have been lost in history. For centuries they have monopolised trade in the upper Marshyangdi, as well as being notorious for their international trading activities. These expeditions take the Manang men as far from home as Singapore, Hong Kong and Bangkok.

The main villages in the Manang Valley - Pisang, Braga and Manang - are reminiscent of American Hopi communities. Consisting of tight clusters of flat-roofed stone buildings, the villages huddle against eroding sandstone cliffs for defence, as well as wind protection. One of the most interesting cultural sites in the Valley is the Braga Gompa, which dates back 400-500 years and belongs to the Kagyu-pa sect.

The upper Kali Gandaki valley is populated by Thakalis, prosperous traders who once held a monopoly over the Tibetan salt trade. Colourfully decorated mule caravans are frequently seen on the Kali Gandaki route, either carrying loads of sugar, kerosene and rice up the trail or salt and barley down to Pokhara. For agriculture subsistence the Thakalis grow potatoes and barley, their towns reflecting this with their flat roofs for grain-drying and a few elaborate irrigation systems.

Overnight: Tea House

Day 5 - Trek to Chame, 2,630m/8,628ft - 5 hours.

Leaving Bagarchhap, you proceed up the valley gaining great views of Annapurna II (7,937m/26,040ft) and Lamjung Himal (6,932m/22,743ft) directly in front of you. After half an hour you will pass through the village of Danakyu. You pass a mani wall and a huge prayer wheel on your left hand side. If you look back you should be able to see the lofty peaks of Manaslu (8,154m/26,752ft), the eighth highest peak in the world, and Peak 29 (7,833m/25,699ft). After Danakyu there is the possibility of taking a "low route". However we recommend you take the "high route" which offers spectacular scenery. You will have a steep climb of just under an hour through a forest populated by pines and firs. The trail then flattens out and you cross a log bridge. You might catch sight of the Langur monkeys, which are resident here.

The trail ascends again and looking back, Manaslu now appears closer than ever. The trail takes you through a natural amphitheatre, with high wooded hillsides all around. A short while after you will reach Timang Meadows - a small village. Continuing on, the path is level and after a river you will come to another village called Thanchok. Further up the trail you may get a sight of Annapurna II towering into the sky.

The path then rejoins the main trail and in this area the trail is scattered with huge boulders. Descending through woodland you pass through the village of Koto which sits in the shadow of Annapurna II and on your right you will see the Naw Khola joining the Marshyangdi from a northern valley. In Koto there is a small Gompa adorned with brightly coloured paints. The valley then opens out and it is a short level walk to Chame, where you will spend the night. Chame houses the headquarters of the Manang district and you will see district officials riding up and down the trail on horseback, which is still the fastest means of transportation in this area. You enter Chame through an archway and there is a large mani wall just inside. Chame is a good place to do last-minute shopping for the higher altitudes you will soon encounter - you can buy woolly hats and gloves, chocolate and batteries, the bank may be open to change money and you may even be able to make a telephone call. You cross the Marshyangdi to the north side to find your tea house. There are some hot springs just five minutes' walk from the tea house and excellent views of Lamjung Himal.


Overnight: Tea House

Day 6 - Trek to Pisang, 3,190m/10,465ft - 5 hours.

Today will be a shorter walk but the scenery is so wonderful that you will want to take your time. Leaving Chame you pass a few mani walls, one overshadowed by a huge wall of rock to your right. You pass through a small hamlet marked by chortens at each end. The trail here is level and for a while is bordered by an attractive dry stone wall. Soon, you arrive at a water-turned prayer wheel. You pass through the village of Bhratang and begin a 45-minute climb through forest, levelling off and then reaching a suspension bridge. Crossing the bridge there is a moderate climb in forest and you begin to move away from the Marshyangdi. The valley begins to broaden out and Pisang Peak (6091m/19,983ft) will be directly in front of you. The woodland here is made up of juniper, pine and fir. You pass a couple of small lakes where wading birds can sometimes be seen. Pisang is divided into upper and lower villages. You cross a small wooden bridge to arrive in Lower Pisang where you will stay in a tea house. It is well worth while crossing the Marshyangdi River and climbing up to the upper village, which is more traditional and has an ornately decorated gompa overlooking both villages.

Overnight: Tea House

Day 7 - Trek to Manang, 3,500m/11,482ft.

On this day there are two route possibilities; a lower route of 5 hours or a high route of 6-7 hours.

Either: If your group takes the lower, less strenuous route, the path out of the valley is pretty level and then once out of the valley you begin to contour round to your left and climb up onto a ridge. The view from this ridge is breathtaking looking down into the Manang valley and you will want to stay here all day to enjoy it! Dropping to the valley floor the path is wide and dusty. You will have noticed that the scenery here is becoming more arid, the air drier and the wind colder. Annapurna III (7,555m/24,786ft) rises to the left and passing through the village of Hongde you will see the deserted remains of the old village on its outskirts. The path then rises gradually and takes you into the next valley. After a couple of hours' walk you will pass through the village of Braga, just 30 minutes' walk from Manang. Overnight either at Hotel Yeti or Himalayan Singe - both offer en suite facilities.

Or: If your group are feeling fit and energetic then the high route on the east bank of the Marshyangdi is strenuous, but well worth the effort. You cross the river out of Pisang village and then take a reasonably level path through scrub land, passing a small picturesque lake on your right. You then pass a long mani wall and descend to cross a stream and begin a strenuous zigzagging climb up to the village of Ghyaru (3,673m /12,050ft). A welcome tea shop is the first house you reach in the village. It is well worth climbing up to visit the gompa at the top of the village. The views from here of Annapurna II and Annapurna IV are totally stunning. From Ghyaru you continue up the valley on a wonderful high level trail, passing the ruins of a castle set on a promontory, with views both ways up and down the valley. You then arrive at the village of Ngawal (3,650m/ 11,975ft) where there is a large newly built gompa up to the right. You leave the village near a long mani wall. Finally you descend back to the valley floor and re-join the main trail to continue to Braga and Manang. Before continuing it is well worth visiting Braga Gompa, which is the oldest in the area and is a wonderfully atmospheric building. Ask your guide to find the 'man with the key'!

Flora and Fauna
There are many interesting species you will see on this trek. In terms of flora, in the lower regions there are forests of broad-leafed trees such as spruce, silver fir, hemlock, Himalayan cypress, rhododendron and a variety of oaks. Higher up, birch, silver fir, blue pine and juniper trees grow. Flowers include gentian, edelweiss, primula and saxifrage.

You will see a wide variety of fauna while on trek, many of which are used as beasts of burden. It is common to see water buffalo, mules, horses and at higher elevations, yaks. Wild mammals you may see include the Langur money, the Indian muntjac (barking deer), the thar (wild goat) and blue sheep. The snow leopard also roams the higher elevations and they have been seen around the "snow lake" above Manang.

You will also see many varieties of birds. Common forest birds you may see are several types of thrush, while on the rivers and streams you may see white-capped river chat, the plumbeous redstart, forktails, dippers and kingfishers. Other species you may see are the griffon vulture and lammergeier.


Overnight: Tea House

Day 8 - Rest day at Manang.

It is essential to spend time for acclimatisation in this area. There are splendid views of the peaks from both Manang and Braga villages. Manang is a large village situated on a rise immediately across from the huge Gangapurna glacier. A beautiful emerald lake lies at its foot. There are plenty of good walks in the area and for at least a couple of hours you should try to climb as high as possible above the village. Side trips are recommended to a small summit with prayer flags about an hour above Braga village, or up the ridge behind Manang village, or to a viewpoint above the lake opposite Manang Village. It is also possible to walk up the valley towards Tilicho Lake to the village of Khangsar. In addition it is worth visiting the Manang Gompa or, if it is open, visit the clinic run by the Himalayan Rescue Association - they often have talks about altitude in the afternoon. There are also shops to explore for souvenirs.

Overnight: Tea House

Day 9 - Trek to Yak Kharka, 4,090m/13,418ft - 3-4 hours.

Today is a shorter day. However, it is essential for acclimatisation to stop between Manang and Thorong Phedi. You will leave Manang and take about 30 minutes to reach the upper village. After this you contour round the hillside and gain great views of the "grand barrier", the high ridge between Roc Noir and Nilgiri named by French climber Maurice Herzog. Below the grand barrier you will see down the Khangsar valley which leads up to Tilicho lake. Passing the hamlet of Gunsang you continue through the barren upper reaches of the Manang valley. The path ascends gradually but is still hard work due to the increased altitude. You will arrive at Yak Kharka and have lunch there. In the afternoon you could take a walk further up the valley or climb the ridge behind the village - if you make it to the top of the ridge there are great views of the north of the Annapurna range. Even if you only venture a short way above the camp there is the chance to see the large flocks of blue sheep which inhabit this area. Either of these walks would help with acclimatisation.


Overnight: Tea House

Day 10 - Trek to Thorong Phedi, 4,490m/14,730ft - 3-4 hours.

Again today is another short day, yet essential for proper acclimatisation. Leaving Yak Kharka you will pass through the small collection of lodges known as Letdar. You will take a high route, which winds its way around the eastern side of the Thorong valley, before dropping down to the valley floor. Crossing the river there is a short but sharp climb to Thorong Phedi. Phedi means "foot of the hill" and while it is the jumping off point for crossing the Thorong La it is not the prettiest place in the world! In the afternoon it is worth walking up beyond the first notch to the collection of huts known as upper base camp, as an acclimatisation walk, and then continuing up to the right to a small peak for superb all round views. Watch out here for blue sheep and snow leopard!

Overnight: Tea House

Day 11 - Cross Thorong La, 5,414m/17,764ft, trek to Muktinath, 3,810m/12,500ft - 8-10 hours.

Today you will need to have plenty of water and your down jacket with you. Starting early in the morning you first ascend steeply for 1½ hours to a rock ledge and notch at 4,679m /15,350ft, then continue up along an ascending and undulating trail. This ascent will seem endless and be warned - there are several false summits - but there are great views back down the valley as you go. Finally, after anything from 3 to 5 hours, you arrive at the top of the Thorong La (5,414m /17,764ft) with its large cairn and many prayer flags. You will have spectacular views of the Annapurna Range to the south and the Mukat Himal bordering Dolpo to the west. The peak immediately south of the pass is Thorong Peak - this is a 'trekkers' peak' and you may see people climbing here.

You will probably not want to linger too long at the pass as it can be very cold and you will probably be feeling the effects of altitude. The descent to Muktinath is very steep and takes some 3 to 4 hours. This is where you might appreciate having walking poles to take the strain off the knees. During the descent there are splendid views of Dhaulagiri (8,167m/26,794ft) and Tukuche Peak (6,920m/22,703ft) and all the way down into the valley of the Kali Gandaki below. Finally you see the buildings of Muktinath coming in to view. You descend to the main village below the temples, which is actually called Ranipawa and not Muktinath, a name which technically refers just to the temple.

The temples at Muktinath are one of the most important pilgrimage sites for Hindus and Buddhists. It is mentioned in the classic Indian epic, the Mahabharata. You may see pilgrims bathing in the holy water flowing from the 108 spouts carved in the shape of cows' heads surrounding the Vishnu Temple. The temple is built in Tibetan style and contains huge brass idols of Vishnu, Shiva, Brahma and Kali. Muktinath is home to many ethnic Tibetans and is holy to Buddhists as well as Hindus, particularly for the temple in which fire miraculously burns in a stream of water.

Pilgrims to Muktinath are able to gain Karma merit in a number of ways. The fire and water temple represents to Buddhists the life giving butter lamp that lights the path to enlightenment. Taking seven steps in devotion at Muktinath can help free you from the grievances of a bad rebirth. If you erect a silk banner at Muktinath you will be reborn in a future life as a universal monarch. Muktinath remains a place of atonement to its pilgrims in this modern age.


Overnight: Tea House

Day 12 - Morning view temples, afternoon trek to Jomsom via Lupra, 2,713m/8,900ft - 7 hours.

This morning you will have an opportunity to view the temples at Muktinath, after which you will begin your last day on trek. Here you leave the main trail and gradually climb to the grassy land on the southern side of Muktinath for 3 hours to reach the Lupra pass. The pass offers magnificent views of the mountains including Dhaulagiri, Tukuche, Dhampus peak, Nilgiri, Annapurna I, Tilicho and many others. From the pass you descend for nearly 2 hours to reach Lupra, the only village on the route following the Bonpo religion. You will have the opportunity to visit the monastery nearby. After lunch you walk along the river bank of Lupra Khola for another 45 minutes to meet the main trail of the Kali Gandaki. You then follow the normal route for an hour to reach Jomsom - a large settlement with a STOL (Short Take-Off and Landing) airstrip, police station and bank. The Kali Gandaki here is called the Thak Khola, from the ethnic group, the Thakalis, many of whom live in this area. Enterprising and ambitious, the Thakalis formerly dominated the salt trade with Tibet in this region and after its collapse diversified into running hotels along the trek route, construction and other businesses.

Overnight: Tea House

Day 13 - Fly to Pokhara.

You take the sensational flight from Jomsom to Pokhara, passing between the Annapurna and Dhaulagiri massifs, and transfer to your hotel. The rest of the day is free to relax and wander around this lakeside town.

Overnight: Shangri La Village Hotel Or Similar, Pokhara

Day 14 - Fly to Kathmandu. Afternoon at leisure.

In the morning you will take the exciting flight back to Kathmandu giving you the opportunity to view the Annapurna massif you have just trekked around. On arrival, you will be transferred to your hotel and have the rest of the day at leisure.

Overnight: Shangri La Hotel, Kathmandu

Day 15 - At leisure in Kathmandu. Transfer to the airport. Depart Nepal.

Kathmandu, Asia's former hippie capital, has a wonderful mixture of crowded bazaars, Hindu and Buddhist temples, shrines and stupas, colonial and ancient architecture as well as more modern buildings. You have the day free to explore the bazaars and temple complexes of Durbar Square, enjoy some last minute shopping or simply relax by the pool at your hotel.

Later in the afternoon there will be a group transfer to the airport for your flight back to London.


Overnight: In flight

Day 16 - Arrive London.
Map
Map Key
Airport
Point of interest
Mountain Peak
Day walk in this area
Flights
Internal Transfers
Trek
---
2021
| Dates | Availability | Land Only | Flight Inclusive from |
| --- | --- | --- | --- |
| Sat 9 Oct - Sun 24 Oct 2021 | Available | £1850 Book | £2650 Book |
| Sat 30 Oct - Sun 14 Nov 2021 | Available | £1850 Book | £2800 Book |
2022
Hold your place
Not quite ready to book? Why not call us on 0044 (0)1453 844400 to hold a no obligation place while you make up your mind?
Optional supplements
Single room Kathmandu & Pokhara
From £150
Insurance
No Surcharge Guarantee
No surcharges will be applied to your holiday after you book. Prices on this website are updated regularly. The Flight Inclusive holiday price, or Land Only holiday price, will be confirmed to you at the time you make your booking. There will be no surcharges after your booking has been confirmed.
Flight inclusive holidays
The 'flight inclusive' holiday prices shown on this website are based upon our preferred airlines and the best priced economy class fares we are able to secure at the time of publication.
We will be able to advise on fares with alternative airlines, upgrades to Business Class, and the options for flights from regional UK airports, please contact us for more details.
Booking your holiday
For the majority of our holidays, a deposit payment of £100.00 per person is required to secure your place(s), however a small number of holidays require a higher deposit - please refer to the holiday itinerary for more details. If the holiday departs within 60 days, a minimum deposit of £750.00 per person is required.
Book now!
Book your small group holiday securely online – click the 'Book' button next to your chosen departure or visit our How to Book page
Complete and return a Booking Form available to download here.
Call us on 01453 844400 and one of our travel specialists will talk you through the booking process.
Loyalty discount
Find out more
What's included
An English-speaking Sherpa leader
Economy class return air fares from the UK & UK departure tax (flight inclusive only)
Single, timed group airport transfer for international flights on arrival and departure
Good standard hotel accommodation in Kathmandu and Pokhara, twin share, bed and breakfast basis
All road transport by private vehicles
All meals on trek including tea and coffee
An evening fill of your water bottle with drinking water
A good quality down jacket, four-season sleeping bag and fleece liner (supplied in-country)
A free high-quality Mountain Kingdoms kit bag
Trek staff and full porterage
Sherpa/porters properly insured and equipped
Park fees
Carbon offsetting with the Ecoan Tree Planting Project (for clients taking our flight inclusive option)
The opportunity to attend a pre trip meet in the Cotswolds
What's not included
Travel insurance
Visa fees
Lunch and evening meals in Kathmandu & Pokhara
Tips
---
---
Review your holiday
Reviews
Read holiday reviews by Mountain Kingdoms travellers.
Overall score: 5.0 (Based on 7 reviews)
Amazing Annapurna Trek - Private Departure 31/12/2019
The "Mini Annapurna Circuit" was beautiful. Highly recommended for the incomparable, stunning scenery of the Annapurna Region. If you're up for a more rigorous trek, I'd recommend a less traveled area (Nar-Fu) because of increasing roads and crowds. This is an overall great introduction to Nepalese culture and beauty.
Ron & Stacey Rose, CT
Mini Annapurna Circuit 12/06/2017
Excellent organisation. Our leader Mani was an interesting guide with tremendous knowledge of local customs, flora and fauna. During the trip I wasn't feeling very well and the leader was very supportive. All staff we had contact with in Nepal were most helpful.
Mrs O, Greater Manchester
Extremely well-guided trek 29/03/2012
This trek was a very well put together, extremely well-guided and I thought that the pre-trip briefing notes were very comprehensive.
Mr S, Devon
Well organised 20/10/2011
I found that the trip was very well organised, particularly the trek itself. Nima Temang was excellent and was able to communicate well. It was noticeable that other guides regularly sought his advice and some other groups also sought his advice because they were unable to communicate effectively with their guide. Nima took particular care over keeping the group healthy - from putting out disinfectant hand washing facilities at lunch and dinner times and ensuring that disinfectant hand gel was available at each meal. He often also supervised the kitchen and the preparation of our food. The training and acclimatisation was also excellent with extra excursions etc. arranged, which meant that none of our party suffered from altitude sickness.
Mr C, Channel Islands
Mini Annapurna Circuit - a great trip 20/10/2011
Well planned trip - all the info as always is detailed and excellent, inc. equipment advice. Have travelled with you before and found this, as always, was up to your usual high standard. The Sherpa leader and porters were great and looked after us very well, sorry to say good-bye to them. A great trip, and as the only woman in the group at 60+ felt very happy that we made it all the way round.
Ms P & Mr S, Sheffield
---