Our grading system explained
Gentle
Gentle / Moderate
Moderate
Moderate / Vigorous
Vigorous
Vigorous / Strenuous
Strenuous
Expedition Grade
What makes Nepal so special?
Why are holidays in Nepal so special and memorable?
For visitors to Nepal, trekking is still the biggest draw but the bustling city life and rich cultural traditions provide plenty to keep you occupied away from the mountains. What many visitors think will be their one trip of a lifetime all too often turns into a long-term love affair with this wonderful country and its people. Whether you want to go trekking in Nepal or tour the highlights of the country, Mountain Kingdoms will have the perfect holiday in for you.
The epic scale of the Everest and Annapurna mountain ranges naturally make these the two most popular regions for trekking in Nepal – some of these routes, such as the Everest Base Camp Trek and the Annapurna Circuit, are regarded as being among the best walks in the world. Venture further afield into 'Wild Nepal' and you will find pristine mountain scenery, remote villages and a culture still relatively untouched by tourism.
We also offer lots of exciting options for extending your time in Nepal from going on safari at Chitwan National Park to gentle rafting on the Seti River and from an indulgent stay in a stylish lodge near Pokhara to a tour of the cultural sights of the Kathmandu Valley.
Nepal walking & trekking holidays

Nepal is the most exciting of the Himalayan nations, with the highest mountains and most vibrant culture, and has rightly been a favourite destination for travellers and trekkers for many years.
---
Introduction
Nepal is perhaps the most exciting of the Himalayan nations with the highest mountains, most vibrant culture, and a friendly charm that has made it a favourite destination for travellers and trekkers for many years.
For the majority of travellers to Nepal trekking in the world's great mountains is their primary objective but you don't have to go far or particularly high to get a sense of the scenic, natural and cultural attractions of the country. Most Nepalese holidays start in the bustling capital of Kathamandu where Durbar square, Swayambanuth Temple and the tourist heartland of Thamel are among the main attractions. In the surrounding valley, the beautiful hilltop villages and World Heritage Sites of Patan and Bhaktapur can be explored on our Gentle Walking Nepal holiday as well as on our in-depth Definitive Cultural Tour of Nepal.
If you want to get into the high mountains though, we can arrange Nepal trekking packages to most places in the country. The Annapurnas offer trekking at all levels from a gentle trekking holiday in the foothills, staying in luxury lodges, to a more vigorous trek into the heart of the Annapurna Sanctuary. There's also the classic Annapurna Circuit that crosses the Thorong La. Avoiding the crowds, you can trek across the high passes and remote valleys of the region with our Namun La, Langtang & the Laurebina La or Grand Annapurna Traverse treks. All of which offer a real sense of wilderness.
In the Everest region, completing the trek to Everest Base Camp is the goal for most experienced trekkers, and there's even an Everest Base Camp in Style trek for those who prefer a few home comforts on the trail. If you want to recreate the route of the original Everest pioneers then the Long Trek to Everest Base Camp might be just the Nepal expedition for you. For those looking to explore the Everest region beyond Base Camp there are several options. You can trek to the turquoise waters of the Gokyo Lakes, take the high altitude trek - the Three High Passes to Everest - or even challenge yourself on an Everest trekking peak such as Mera Peak. And if you can't decide between Everest of Annapurnas, enjoy them both on our Annapurna & Everest in Style trek.
If you prefer a more remote experience, Wild Nepal will take you off-the-beaten-track. The little-explored area of Ganesh Himal, the mysterious landscapes of the Kingdom of Mustang, the remote base camps of Kangchenjunga and the traditional Tibetan culture of Manaslu on the classic Manaslu Circuit, all offer a different perspective on this beautiful and welcoming land.
---
Key Facts
Capital city: Kathmandu
Arrival airport: Kathmandu
Population: 28,610,000 (2019 census)
Area of country: 147,181 sq km
Currency: Nepalese Rupee
Time difference: GMT +5.75 hours
Popular dishe/s: Dal bhat
Popular drink/s: Chai tea and Raksi (an alcoholic homebrew)
Power supply: 220v/240v
Sockets: Round-three pin but can also be European or British variety sockets
Official language: Nepali
Religion: Hindu 80.6%, Buddhist 10.7%, Muslim 4.2%, Kirant 3.6%, other 0.9%
Visa: British nationals require a visa to visit Nepal. This can be obtained in advance or on arrival
Did you Know: The flag of Nepal is the only national flag in the world that is not quadilateral in shape
FCDO link: FCDO travel advice for Nepal
---
Climate
When is the best time to travel to Nepal?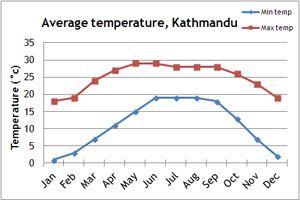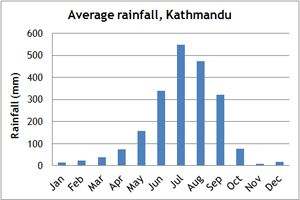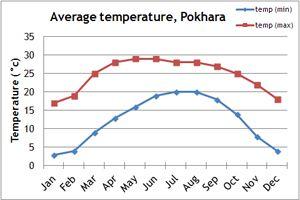 It is possible to travel to Nepal throughout much of the year, though for walking and trekking in Nepal, the best time to go is in spring (March-April) and autumn (October-November). Our temperature and rainfall charts will give you a guide to the climate in Nepal.


Autumn is thought to be the best time to visit Nepal. With dry weather and crisp, clear skies, the mountain views are at their best. The countryside is green and lush, following the summer monsoon. However, during this period the popular trails can be busy, and flights book up quickly, so do book in advance if you want to trek in Nepal during the autumn. We've introduced many treks which will get you off-the-beaten-path, and away from the crowds during this season.


In winter, the days are generally dry and bright, though at altitude the evenings will be extremely cold, and some high passes can be blocked by snow. Although a high-altitude trek may not be possible, winter can be a great time to visit Nepal, as there are fewer tourists. There are some fantastic walking and trekking holidays which are perfect for an adventurous winter holiday. You could spend Christmas day gazing at a perfect snowy mountain scene!


Between March and April, the weather warms up, and a whole range of trekking options are available. Skies may be more cloudy than in autumn, but the beautiful rhododendron and magnolia will be in bloom. Some of our holidays are timed to depart during the Easter period.


In summer, from June to August, the monsoon rains make a Nepal holiday a more challenging proposition. We consider that some destinations, such as Everest Base Camp, are unsuitable for trekking. Internal flight schedules can be affected and the mountain views are limited, even if the trails themselves are fine for trekking. Trekking in the Annapurna and Everest regions may not be possible, but Mustang and Dolpo, which lie in the rain shadow, make the perfect summer trekking destination.


If you would like to discuss your group or Tailor Made holiday to Nepal with one of our destination experts, then please call us on 01453 844400.