What's included
English-speaking local leaders
A free high-quality Mountain Kingdoms kit bag
A good quality down jacket, four-season sleeping bag and fleece liner (supplied in-country)
All internal flights and domestic airport transfers
Excellent standard hotel accommodation in Kathmandu and Pokhara on a twin share basis
All road transport by private vehicles
All meals on trek
Trek staff and full porterage
Economy class return air fares from the UK & UK departure tax (flight inclusive only)
Single, timed, group airport transfers for international flights on arrival and departure
Sightseeing where specified
The opportunity to attend a pre trip meet in the Cotswolds
and much more...
Call our
friendly team
Nepal, Annapurnas | Walking & Trekking
Grade: Moderate ? Moderate
Duration: 12 days from the UK
On trek: 6 days
Flight inclusive from £2,105,
Land only from £1,455
Book now or call 01453 844400
Trek between community run eco-lodges and tea houses on this scenic introductory trek in the little-visited foothills of the Annapurnas.
Highlights
Varied trekking through beautiful Himalayan scenery at relatively low altitudes
Experience traditional rural life in Nepal as you trek through small villages away from the main tourist trails
Enjoy a magical Himalayan sunset and sunrise at Mohare and panoramic views of the Annapurnas from Poon Hill
Stay in friendly community run lodges which provide a critical income source for local people
Reviews
It was wonderful trekking on quiet paths and spending time with the friendly villagers who run the community lodges along the trail. Nepal was everything that I dreamed it would be.
Harry Gray, Mountain Kingdoms Operations Manager
View All
You will start your trip in the hustle and bustle of Kathmandu, before flying to Pokhara, Nepal's second city and the gateway to the Annapurna region. Leaving the city behind you follow the Kali Gandaki River out into the foothills. Here you begin your trek in dramatic style crossing a suspension bridge over the Kali Gandaki Gorge, unofficially the deepest in the world, and certainly one of the most spectacular.
The Mohare Dandre Trail meanders through an area in the scenic lower reaches of the Annapurnas that has only been open to trekkers for the last few years. By day you will walk along well constructed paths whilst being treated to magnificent mountain vistas. Trekking through meadows, forests and verdant fields you pass through small settlements, meeting locals tending their crops using methods little-changed over generations. Enjoying relatively low altitudes by Himalayan standards, the trail reaches a high point of 3,310m/10,860ft at Mohare Danda, giving gorgeous, far-reaching views of the surrounding Himalayan peaks and an unforgettable sunrise over beautiful Macchupuchare – the famous Fish Tail Mountain.
On the Mohare Trail you will stay in homestays and community run eco-lodges that offer clean and comfortable accommodation, hearty food and a place to converse with fellow trekkers over a warming cup of chai. Most importantly, these lodges also provide much needed and sustainable income for the local communities who own and run them. The last few days on trek are on more popular Annapurna trekking trails and here you stay in welcoming tea houses, enjoying their famous Nepalese hospitality.
After your trek you have a night to relax and enjoy the charms of lakeside Pokhara, and then an afternoon to explore the sights of Kathmandu before you say farewell to the Himalayas and fly home.
---
At a glance
Grade: Moderate
Moderate
Duration: 12 days from the UK
On trek: 6 days
Max. Altitude: 3,310m/10,860ft, Mohare, Day 6
Guaranteed to run for a minimum of 4 clients
Maximum group size: 12
Land only joining city: Kathmandu
Accommodation types: Hotels, Community Lodges, Tea Houses
Meal arrangements: Bed and breakfast in Kathmandu & Pokhara, all meals elsewhere.
Itinerary overview
| Day | Activity |
| --- | --- |
| 1-2 | Fly to Kathmandu. |
| 3 | Fly to Pokhara. |
| 4 | Drive to Galeshor. Trek to Bans Kharka. |
| 5 | Trek to Naangi. |
| 6 | Trek Mohare Danda Hill station. |
| 7 | Trek to Deorali via Poon Hill. |
| 8 | Trek to Ghandruk village. |
| 9 | Trek to Nayapul and drive back to Pokhara. |
| 10-12 | Fly to Kathmandu. At leisure. Fly to London. |
Leader: Local Leader, Nepal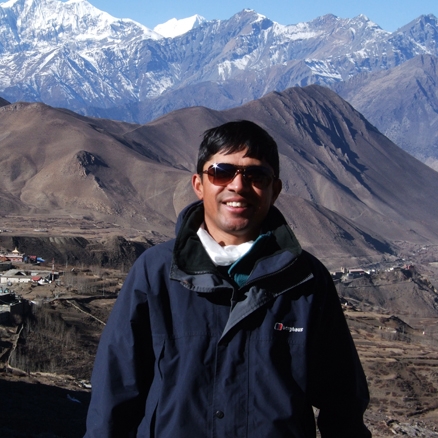 Whether it's a cultural tour, gentle walking holiday or strenuous trek, our holidays in Nepal are led by professionally-trained English speaking leaders. They have an intimate and expert knowledge of the history, culture and nature of Nepal and will make your trip a memorable experience.
---
Mohare Danda Community Lodge Trek Itinerary
Day 1 - Fly London to Kathmandu

Depart London on your overnight flight to Kathmandu.

Overnight: In flight

Day 2 - Arrive Kathmandu. Group transfer to hotel.

You will be met on arrival and transferred to your hotel. Kathmandu is a wonderful mixture of the ancient alongside the modern. Crowded bazaars still throng with people today as they have for the past hundreds of years while roads are crowded with rickshaws, cars, roaring motorbikes and buses. Ancient temples and crumbling shrines sit alongside modern offices, picturesque palaces slowly sag into dereliction while Buddhist stupas gaze over the bustling scene with their all seeing eyes. Although this is a crowded, noisy and polluted city it is also friendly, fascinating and vibrant.

Tonight you may choose to eat at the hotel, or you could head off into Thamel to one of the famous restaurants there, such as Rum Doodle Restaurant, a place frequented by trekkers and climbers alike, with pride of place given to a board with the signatures of many Everest summiteers.


Overnight: Shangri La Hotel, Kathmandu

Day 3 - Fly to Pokhara. Afternoon at leisure.

This morning you are transferred to the domestic airport for the short flight to Pokhara, 827m/2,730ft, Nepal's second city. This is an exciting flight in its own right passing over the terraced Himalayan foothills, with views of the main range to the north, overlooked by the stunning spire of Machhapuchare, known as the 'Fish Tail Peak. The town of Pokhara is the start point for treks to the Annapurna region, Mustang, Daulaghiri and Manaslu.

The afternoon will be free to relax in Pokhara, either at the hotel or you may venture out into Pokhara town. Along the lakeside are numerous bars and places to shop for souvenirs as well as internet cafes. There are also some nice walks in the area, or you could visit the Tibetan camps at either Hyenja, or Devis Falls, whichever is the closest. At Devis Falls be sure to take a look at the strange gorge and rock formation as well as the cute Tibetan children in the kindergarten. Here you may also watch carpets been woven, or elderly Tibetan ladies spinning and dying the wool. There are good opportunities to shop for souvenirs.


Overnight: Shangri La Village Hotel Or Similar, Pokhara

Day 4 - Drive to Galeshwor and trek to Bans Kharka, 1,526m/5,007ft - 3 hours.

As you leave Pokhara you will wind your way up through Sarangkot, leaving Pokhara far below. The route takes you through small villages and towns such as Beni and provides a beautiful scenic drive following the Kali Gandaki River. After around 4 hours you will reach the small town of Galaweshor, where you will stop for lunch. After lunch your trek begins; you will start by crossing the suspension bridge over the Kali Gandaki gorge. The Kali Gandki is known unofficially as the world's deepest gorge with Dhaulagiri to the west of the gorge, 8,167m/26795ft, and Annapurna to the east. From the bridge you will start your ascent in to the hills on well-maintained pathways and steps. With your guides and porters keeping a steady pace you can fully immerse yourself throughout this trek. As you draw into Bans Kharka it is apparent that this village is removed from the tourist trail, with few tourists to be seen. You'll be greeted with open arms and smiles as you reach the community dining hall and perhaps a glass of locally made refreshing mandarin juice.

The rest of the day is at leisure until dinner, which will be served in the dining room. Freshly made by the villagers, the food is a perfect way to rebuild your strength for the following day. After your meal you will head to your homestay, only a short walk away. Rooms are clean and comfortable, with proper beds, warm blankets and solar powered lights; they give a great insight into local living.


Overnight: Community Homestay, Bans Kharka

Day 5 - Trek to Nagi, 2,320m/7,612ft - 6-7 hours.

After a hot breakfast you will begin todays trek to Nagi. Continuing to follow the Mohare Community Trail you will pass through pretty villages, maybe a catching a glimpse of the towering mountains behind. As you ascend the path you will meet lots of locals carrying heavy loads of wood, hay and even farm animals. They make the ascent seem effortless as they nimbly tread the path before you. With the lush green valley now below, you arrive into the small village of Nagi where you will again be welcomed at the community hall.

This afternoon you will have the chance to visit an organic farm school and a Magar settlement. The Magar people are famed for their bravery as infantrymen when they helped to extend Nepal's borders to where they lie today. They were rewarded for their efforts with land for arable produce and livestock, and Magar men and women can be seen out in the fields tending to the crops.

Tonight's stay will be in your first in a community eco lodge. Similar to a traditional tea house the lodge has been set up by the village and supports the people of Nagi. As the sun sets over the valley you reflect on the days walk before heading to the dining hall for your evening meal.


Overnight: Community Eco Lodge

Day 6 - Trek to Mohare Danda, 3,310m/10,860ft - 6-7 hours.

This morning as the sun rises the glittering snow-capped mountains reveal themselves. Today's walk provides a good challenging climb and you will reach the highest altitude of the trip. Leaving the village you start to ascend the ridge towards Mohare Danda, trekking though beautiful forests of oak trees and rhododendons, Nepal's national flower. Towards the top the scenery starts to open up, and as you walk through Alpine meadows you look back down at Nagi and can see how far you have come. By now you will have settled into a slow but steady pace up the ridge, and what may have seemed a daunting task at the start of the day, can be thoroughly enjoyed. As you reach your lodge for the night you are presented with truly amazing panoramic views. Many of the Himalayan giants, Machhapuchhare, South Annapurna and Dhaulagiri I & II stand before you in all their glory. After sunset you will have an early night in preparation for your dawn start tomorrow.

Overnight: Community Eco Lodge

Day 7 - Trek to Deorali 3,090m/10,138ft, via Poon Hill, 2,860m/9,383ft - 5 hours.

It is well worth the early rise this morning as, weather permitting, dawn over the mountains is magical. After breakfast you begin your walk to Deorali, which will take around five hours, ascending Poon Hill for panoramic views of Dhaulagiri, Annapurna, Manaslu and beyond, en route.

Your trail takes you through rhododendron forest to the village of Ghorepani which was a resting place for Nepali traders, where water (pani) could be found. You then ascend the trail taking you through oak forest and colourful swathes of rhodendron until you are rewarded with a small open area of grass and yet more fantastic views. After this you continue along more level ground until you reach the village of Deorali. There are good views down into the deep valley of the Kali Gandaki River from the village.

Overnight: Tea House

Day 8 - Trek to Ghandruk village 1,940m /6,365ft - 5 hours.

Today the trail will take you across flatlands, forest, cultivated farm lands and a suspension bridge over the Khumnu Khola. After around around five hours you arrive at the attractive mountainside village of Ghandruk. Ghandruk is a busy, prosperous place, well known for the many people from here who have served as soldiers with the Gurkhas.

In the afternoon you may explore the village, perhaps visiting the small museum of traditional rural life or the simple village temple. There are some good vantage points in Ghandruk for breath taking views of Annapurna South, Gangapurna, Annapurna III, Machhapuchhare and Hiunchuli, along with places where you can look down over the terraces and villages far below as hawks swoop and soar on the air currents rising from the valley.

Overnight: Tea House

Day 9 - Trek to Nayapul, 1,070m/3,510ft – 4-5 hours. Drive to Pokhara.

Today is your final day on trek, and a chance to bid farewell to those who make trekking such an incredible experience in Nepal. Today's walk will see you descending along paved paths and some steeper stepped sections through the small farming villages of Kimche and Shaulibatti.

All around are the friendly people of the foothills, tilling the fields with their buffalo-drawn ploughs and you will share the path with their cattle and goats. The trail gives splendid views across the terraces to the River Modi far below. Each village passed offers a fascinating glimpse of Nepalese life - with families using traditional tools to pound corn, weave cloth, re-thatch their roofs and build neat dry-stone walls and houses.

Descending through the rice terraces, occasionally crossing a dirt road, you will make your way to Birethanti, from where it is only a short 30 minute walk to Nayapul, where your trek will come to an end. Your transport will be waiting here to drive you back to Pokhara, where the rest of the day will be at leisure. You may wish to go out and walk by the lakeside and experience some of the delicious Nepali / western restaurants that line the lake or just relax at the hotel with a cold drink.


Overnight: Shangri La Village Hotel Or Similar, Pokhara

Day 10 - Fly to Kathmandu. Afternoon at leisure.

This morning you fly back to Kathmandu where you will be met and driven into town to your hotel.

You will have the afternoon at leisure; you may like to visit nearby Pashupatinath, an important temple to the God Shiva which is a short way from the hotel. Pashupatinath has an important place in the lives of Kathmandu's Hindus and is one of the holiest pilgrimage destinations in Nepal. The temple is set on the banks of the holy Bagmati River and this is the principle place for cremations in Kathmandu which are thought to be particularly auspicious if performed here, because the waters of the Bagmati eventually flow into the sacred Ganges.

You could also visit the ancient Buddhist stupa at Boudhanath which is situated not far from Pashupatinath. Here you can join Tibetan and Sherpa pilgrims as they walk clockwise round the spectacular stupa, spinning their prayer wheels as they go round. Sunset at Boudhanath is particularly atmospheric.


Overnight: Shangri La Hotel, Kathmandu

Day 11 - At leisure. Group transfer to aiport. Depart for London.

You will have time at leisure today when you may do some sightseeing, shopping or simply relax by the pool at your hotel. Later there will be a transfer to the airport for your overnight flight home.

Overnight: In flight

Day 12 - Arrive London.
Map
Map Key
Airport
Point of interest
Mountain Peak
Day walk in this area
Flights
Internal Transfers
Trek
---
2021
| Dates | Availability | Land Only | Flight Inclusive from |
| --- | --- | --- | --- |
| Thu 18 Mar - Mon 29 Mar 2021 | Restricted | Contact us | Contact us |
Hold your place
Not quite ready to book? Why not call us on 0044 (0)1453 844400 to hold a no obligation place while you make up your mind?
Optional supplements
Single room hotels
From £190
Insurance
No Surcharge Guarantee
No surcharges will be applied to your holiday after you book. Prices on this website are updated regularly. The Flight Inclusive holiday price, or Land Only holiday price, will be confirmed to you at the time you make your booking. There will be no surcharges after your booking has been confirmed.
Flight inclusive holidays
The 'flight inclusive' holiday prices shown on this website are based upon our preferred airlines and the best priced economy class fares we are able to secure at the time of publication.
We will be able to advise on fares with alternative airlines, upgrades to Business Class, and the options for flights from regional UK airports, please contact us for more details.
Booking your holiday
For the majority of our holidays, a deposit payment of £100.00 per person is required to secure your place(s), however a small number of holidays require a higher deposit - please refer to the holiday itinerary for more details. If the holiday departs within 60 days, a minimum deposit of £750.00 per person is required.
Book now!
Book your small group holiday securely online – click the 'Book' button next to your chosen departure or visit our How to Book page
Complete and return a Booking Form available to download here.
Call us on 01453 844400 and one of our travel specialists will talk you through the booking process.
Loyalty discount
Find out more
What's included
English-speaking local leaders
A free high-quality Mountain Kingdoms kit bag
A good quality down jacket, four-season sleeping bag and fleece liner (supplied in-country)
All internal flights and domestic airport transfers
Excellent standard hotel accommodation in Kathmandu and Pokhara on a twin share basis
All road transport by private vehicles
All meals on trek
Trek staff and full porterage
Economy class return air fares from the UK & UK departure tax (flight inclusive only)
Single, timed, group airport transfers for international flights on arrival and departure
Sightseeing where specified
The opportunity to attend a pre trip meet in the Cotswolds
What's not included
Travel insurance
Visa fees
Lunch and evening meals in Kathmandu and Pokhara
Any optional trips or sightseeing
Tips
---
---
Review your holiday
Reviews
Read holiday reviews by Mountain Kingdoms travellers.
Overall score: 5.0 (Based on 1 reviews)
Mohare Danda Community Lodge Trek
An absolutely fantastic trek 16/10/2018
It was wonderful trekking on quiet paths and spending time with the friendly villagers who run the community lodges along the trail. Nepal was everything that I dreamed it would be.
Harry Gray, Mountain Kingdoms
---