/
/
Article
/
Mountain Culture: Three Sherpa Festivals
Mountain Culture: Three Sherpa Festivals
Visits to the Himalaya are packed with new and exciting experiences and include chances to immerse yourself into captivating cultures. Experiencing local villages and attending monasteries gives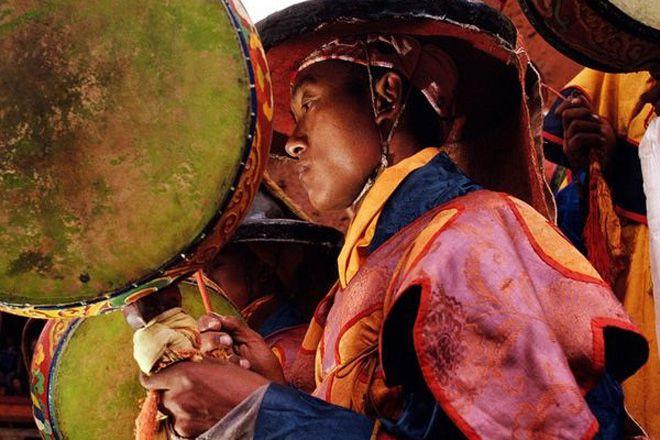 "Buddhist Monk, Mani Rimdu" © 2012 Biken2012, used under a Creative Commons
Visits to the Himalaya are packed with new and exciting experiences and include chances to immerse yourself into captivating cultures. Experiencing local villages and attending monasteries gives travellers time to explore and learn about absorbing traditions. One unique way to gain insight into a culture is by learning about its festivals - so here are some of the significant dates in the Buddhist calendar.
Losar
Buddhists in Bhutan, Nepal and Tibet traditionally follow the Tibetan lunar calendar, in which the New Year begins in late February. The New Year is marked with a festival known as Losar, rarely seen by visitors as it occurs outside of the Himalaya trekking season. Losar is a relatively quiet festival taking place over 15 days, with the first 3 days playing host to the majority of the main celebrations. Losar is a time for cleaning out the home and praying for good fortune for the community in the coming year, as well as feasts, singing and dancing. The Bhutanese are also known for their lively archery contests.
Harvest Festival
July sees the harvest festival Dumje, in which Sherpas give thanks and celebrate the success of their labour. The festival is celebrated partly at home and partly by visiting the nearest monastery to pay respects and attend ritual dances.
Mani Rimdu
Many festivals are centred on the family home, and are not often attended by visiting trekkers in the Everest Region, but one notable exception is Mani Rimdu. If you're visiting the Everest Region in late October or early November, you may be able to witness this vibrant celebration at Thyangboche Monastery. Made famous by its colourful masked dances and the incredible atmosphere, Sherpa people travel from miles around to witness the twirling 'Black Hat' dancers dispel evil demons and monks play Tibetan horns during the three-day festival.
Our Everest Base Camp & Gokyo Lakes trek attends the Mani Rimdu. You will be able to witness this vibrant celebration at Thyangboche Monastery - situated at 3,863 metres (12,674ft), the monastery is the largest gompa in the Everest region of Nepal and boasts stunning mountain-top views of breathtaking ice-capped mountains.