Three Must-Do Everest Base Camp Trek Experiences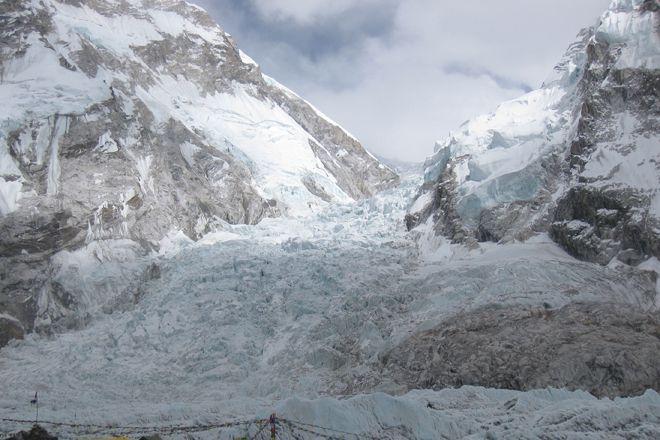 Everest Icefall. Photo courtesy of S Berry
An Everest Base Camp trek is, of course, an incomparable experience in itself, but there are many components that make up a journey - from the glory of the grandest views to the warmth of small moments shared with others. But for those in search of the quintessential Himalayan experience, here are our top recommendations for 'must-do' activities, sights, sounds – and tastes!

See: Khumbu Icefall
The prize for best sight on the Everest Base Camp trek trail has some strong contenders, but the most astounding might be the one that awaits just a little further above Base Camp: the Khumbu Icefall. Cascading ahead of the fast-flowing Khumbu glacier, this spectacular icefall is one of the most beautiful natural phenomena in the region, as well as being one of the most dangerous components of the South Col ascent route – though it can be viewed perfectly safely by those who don't intend to cross.
Listen: Thyangboche Monastery
All who travel in the Everest region are recipients of the Sherpa people's hospitality, and as a token of appreciation it is worth respectfully learning something of their culture. A visit to Thyangboche Monastery on the way to Base Camp lets the traveller hear the sounds of their strand of Tibetan Buddhism: the bells and prayers, accompanied by the high mountain wind. You may even be lucky enough to talk to members of the community and hear their stories. Some of our autumn departures coincide with the lively Mani Rimdu Festival – held at the monastery.
Taste: Sherpa cuisine
The Everest Base Camp trek route is regularly punctuated by tea houses, a welcome sight for the weary trekker at the end of a long day. Food in the harsh mountain climate needs to be hearty and nourishing, and Sherpa cooking has developed to suit the atmosphere perfectly. Try rikikul, the local potato pancakes, served with spiced sauces and yak butter, for a warming, replenishing meal.